Singapore Airlines and Changi fall on hard times
Analysis
SIA is reducing capacity to India and Europe and is cutting frequency on the all-Business Class Los Angeles and Newark non-stop routes from daily to five times weekly on each route. According to SIA, the Tuesday and Wednesday services, where demand is lowest, will be suspended - with some media reports this week suggesting load factors in the 30s on some flights.
An airline spokesman stated, "we don't want to be flying half-empty planes around the world any longer than we have to, because it increases our cost burden at a time when we can least afford that".
Further capacity cuts have not been ruled out by SIA.
Changi in the doldrums
The cuts come as the Civil Aviation Authority of Singapore (CAAS) released figures showing passenger numbers at Changi Airport fell in three of the last four months of 2008, taking the full year tally to 37.7 million, up 2.7%. Air freight volumes continued to plummet as the global economic slowdown accelerated late in the year, with volumes down 21.4% in Dec-08.
Changi International Airport passenger numbers growth and cargo volume growth: Jan-08 to Dec-08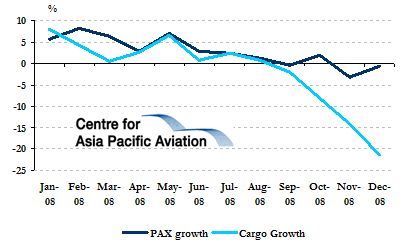 Air freight volumes at Changi have now declined in each of the past two years, and a third consecutive annual fall is likely in 2009 as the global economy weakens.
Changi International Airport passenger numbers growth and cargo volume growth: 2005 to 2008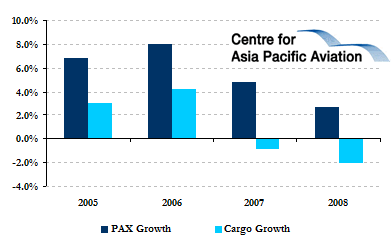 CAAS' Director General and CEO, Lim Kim Choon, stated, 2009 will be a "challenging year" and the body recognises the "tough operating environment that airlines and airport partners are operating in". He added, CAAS is committed to help its partners at Changi "ride out the downturn, through means such as the extension of the Air Hub Development Fund 1".