China Eastern to join SkyTeam; Singapore Airlines & China Southern witness load factor and pax gains
The move is a significant breakthrough for China Eastern which was kept afloat last year with massive government financial support. The airline was paired with Shanghai Airlines (whose days as a member of the Star Alliance must now be numbered) and has foreshadowed further cooperation with SkyTeam counterpart, China Southern. The two could provide an effective foil to the aggressively expanding Air China, which is continuing its domestic acquisition spree with moves to acquire Shenzhen Airlines.
China Eastern's accession into SkyTeam next year will also put further distance between it and Singapore Airlines, which failed in its bid for the airline in early 2008, as a result of effective interference in the bidding process by Air China. China Eastern, which is seeking an investment partner, is likely to be courting Air France-KLM and/or Delta, which missed out in its pursuit of Japan Airlines in Feb-2010 to the oneworld alliance.
The 'Battle for Shanghai' is meanwhile escalating on the cargo front, with Air China and Cathay Pacific last month sealing a long-awaited JV agreement to establish a Shanghai-based cargo airline.
In other Asia Pacific developments covered in detail in CAPA's flagship Asia Pacific Airline Daily report today, Singapore Airlines (shares down 0.6% yesterday) reported a 9.5% increase in passenger numbers in Mar-2010, to 1.4 million. Average load factors surged 11.4 ppts to 80.8%, driven by double-digit load factor improvements in all markets (except East Asia and Southwest West Pacific, which reported single-digit gains).
See related report: Asian premium air travel demand soars. Europe/US struggling: IATA
SIA's cargo volumes were up 9.8%. Capacity (ASKs), as has been the case in the past year, remained in negative territory in the month.
Singapore Airlines passenger numbers and PLF: Mar-2009 to Mar-2010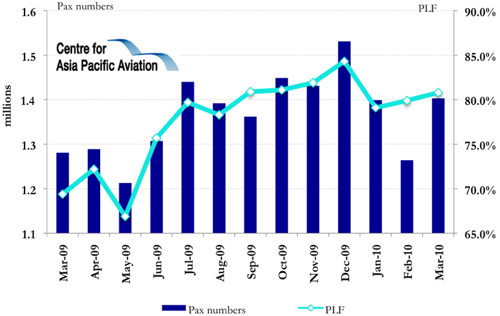 Singapore Airlines RPK growth and ASK growth: Mar-09 to Mar-2010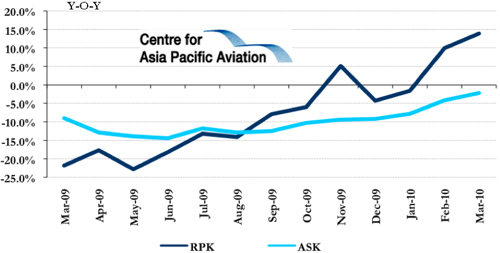 ANA witnesses growth in international operations; domestic market remains weak
Also reporting traffic results for Mar-2010 yesterday was the ANA Group. The carrier witnessed notable growth in its international operations on a year-on-year basis, with international passengers up 26% (to 455,541). It reported a 12 ppt load factor gain to 81.3% and international cargo volumes soared 64% (to 45,302 tonnes). It was a different scenario in the domestic market, as passenger numbers rose by 1.7 ppts to 3.7 million. Load factors however improved 3.5 ppts to 70% and domestic cargo volumes were down 5% (to 39,979 tonnes). Its shares slipped 1.3%.
'Big Three' Chinese carriers report double-digit pax and cargo growth; load factor improvements
In China, China Southern Airlines reported double-digit passenger and cargo growth in Mar-2010, of 21.2% (to 6.3 million) and 40.2% (to 91,0201 tonnes), respectively. Passenger load factors also gained in the month, up 4.8 ppts to 80.3%. China Southern's shares were up 0.5% yesterday, trailing the gains of China Eastern and Air China (up 2.9% and 5.1%, respectively).
Hainan Airlines return to profitability in 2009
Hainan Airlines reported a return to profitability in 2009, joining China Southern and Shandong (the two other Chinese carriers which have reported 2009 financial results to date). Hainan Airlines reported operating and net profits of USD71 million and USD49 million in the 12-month period, compared to losses of USD223 million and USD207 million, respectively, as revenues increased 15% (to USD2.3 billion) and passenger numbers gained 21% to 17.4 million.
The carrier expect to report a 139% increase in net profits in 2010, to USD117 million, and is expecting an 11% increase in passenger numbers to 19.4 million, with an 8% increase in cargo volume to 255,300 tonnes. Despite the profitable result and outlook, shares in the carrier were down 2.6% yesterday.
For this and more coverage of the region's aviation updates, subscribe to Asia Pacific Airline Daily. Other highlights in today's edition include:
Asia Pacific selected airlines daily share price movements (% change): 15-Apr-2010