Shenzhen Airport to expand by 58% – supporting nearby congested Guangzhou, Hong Kong Airports
Analysis
The expansion in late 2013 of Shenzhen Airport's terminal three will see capacity growth of up to 57.9% as hourly movements increase from 38 to 60. The capacity will grow the local market, a relatively prosperous area that was China's first free trade zone and has benefitted by tight relations with Hong Kong, just over the border. Shenzhen Airlines and majority owner Air China are the largest carriers and will benefit from the capacity increase.
But rivals are looking to establish a presence, mindful that capacity increases in key Chinese cities will be rare, having already experienced restraints in Beijing and Shanghai but also Guangzhou.
China Southern intends to launch international flights from Shenzhen despite being based in Guangzhou, 99km away. Spring Airlines has larger ambitions, eyeing Shenzhen as its first southern China base. Spring also wants to lure traffic from congested Guangzhou and Hong Kong. The distance from Guangzhou and Hong Kong is close but ground transport restraints make them far away. In other markets LCCs have established successful ground transport options – can Spring replicate that?
Shenzhen Airport's growth in hourly movements from 38 to 60 will occur as the airport opens an expanded terminal three, makes changes in surrounding airspace and implements a mixed-mode for runways, according to the airport. The opening of the terminal will also permit recently constructed runways to be fully utilised. Terminal three will be 1,000m long with a gross floor area of 459,000m2 and annual capacity of 45 million passengers.
Shenzhen ended 2012 as China's sixth largest airport ranked on passenger movements, placing it behind Beijing, Guangzhou, the two Shanghai airports, and Chengdu. The top three airports are comfortable in their position, with Beijing carrying 81.9 million passengers in 2012, Guangzhou 48.3 million and Shanghai Pudong 44.9 million.
But the ranking of the next three airports is close and could become fluid as Shenzhen Airport grows. The fourth largest airport, Shanghai Hongqiao, carried 33.8 million passengers while Chengdu carried 31.6 million. Shenzhen was just behind at 29.6 million. In 2011 Shenzhen lost the title of fifth largest airport to Chengdu, growing rapidly due to China's "Go West" policy to develop its western frontier.
China's 20 largest airports plotted against passenger volume (size of bubble) and year-on-year growth: 2012
Chengdu grew 8.7% in 2012 compared to 4.7% at Shenzhen, making Shenzhen the slowest growing of China's top 20 airports. Passenger numbers in 2013 are so far up 8.9% over 2012. The full year effect of Shenzhen's slot growth will be apparent once 2014 statistics are published.
While Shenzhen's growth could see it overtake Shanghai Pudong's current passenger volumes, a slot expansion due to occur at Pudong will see its volumes grow, likely firmly ahead of Shenzhen.
See related report: Shanghai Pudong Airport to have new slots. Allocating them strategically will help shape its future
Shenzhen Airport is home to namesake Shenzhen Airlines. The all-narrowbody operator accounts for 31% of seat capacity in early Oct-2013. 96% of Shenzhen Airlines' total capacity, and 95% of Shenzhen Airlines' Shenzhen airport capacity, is in the domestic market, giving it a higher exposure than peers. Air China has 81% of its seat capacity in the domestic market while the figure for China Eastern is 84% and for China Southern 88%.
Shenzhen Airlines joins peers in having focus cities throughout China, but Shenzhen remains its largest point by far.
Shenzhen Airlines top 10 hubs/bases/stations by available seats: 30-Sep-2013 to 6-Oct-2013
Air China owns 51% of Shenzhen Airlines and in late 2012 Shenzhen Airlines joined Star alliance, of which Air China is a member.
See related reports:
China Southern is the next largest operator at Shenzhen with a 23% share of seats. All of China Southern's capacity is in the domestic market. Air China is the fifth largest carrier at Shenzhen, and combined with Shenzhen Airlines the two account for 39% of seat capacity.
All of Air China's capacity at Shenzhen Airport is in the domestic market despite Air China usually having an international bent. Air China is the country's flagship carrier and has always been Beijing's preeminent international representative of China abroad.
Shenzhen Airport system seat capacity by carrier: 30-Sep-2013 to 6-Oct-2013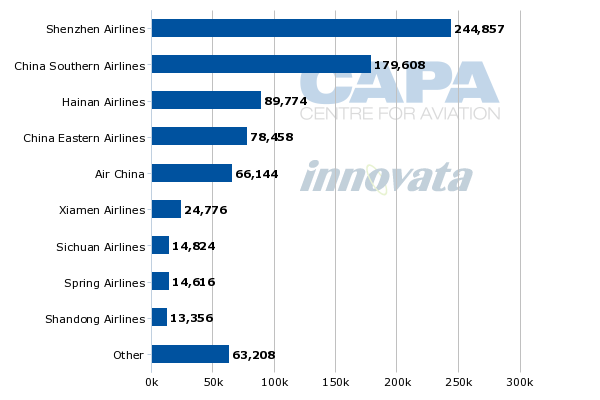 China Southern will grow Shenzhen as both an opportunity and a competitive need
All of China Southern's capacity at Shenzhen is in the domestic market but the carrier intends to launch international flights to Northeast and Southeast Asia from Shenzhen over the next two to three years. (The love is not lost: Shenzhen Airlines' second largest presence is at China Southern's hub of Guangzhou, accounting for 8% of capacity – a smaller percentage than China Southern at Shenzhen Airport.)
The plan comes as China Southern competes with Air China and Shenzhen Airlines. China Southern is China's largest domestic carrier and Air China the third, although Air China's position is considerably enlarged when considering subsidiaries including Shenzhen Airlines, Dalian Airlines and Tibet Airlines.
Air China also enjoys a privileged position in the key and high-yielding cities of Beijing and Shanghai. China Southern has a smaller presence there, relying on its main hub of Guangzhou, but the southern airport is now becoming constrained.
While China Southern has been bold in its announcement for international services from Shenzhen, it has been more reticent about domestic growth at Shenzhen. No doubt China Southern would love to increase domestic capacity, but doing so would bring it into contention with Shenzhen Airlines and Air China. The consequence would be political wrangling between China Southern's Guangzhou stronghold and the Shenzhen/Air China blocs in Shenzhen and Beijing.
China Southern's stated international ambitions from Shenzhen could be a compromise since Shenzhen Airlines and Air China are less interested in international markets from Shenzhen. The domestic mainland market is the most high yielding besides limited flights to Taiwan. International flights are lower yielding, so airlines are less interested in international growth.
Governments, however, are keen to grow international services. There are the typical tourism benefit flows (although China will probably always be a larger outbound than inbound market) but also concerns of national image and pride as foreign carriers clean up markets while Chinese counterparts focus on the domestic market. So China Southern could alternatively be promoting international services to placate all involved while being more muted about domestic growth.
Only five countries/territories and nine cities are served from Shenzhen Airport, creating ample opportunity for growth to new and existing cities. Japan, for example, is not served at all from Shenzhen.
Shenzhen Airport international seat capacity by country/territory: 30-Sep-2013 to 6-Oct-2013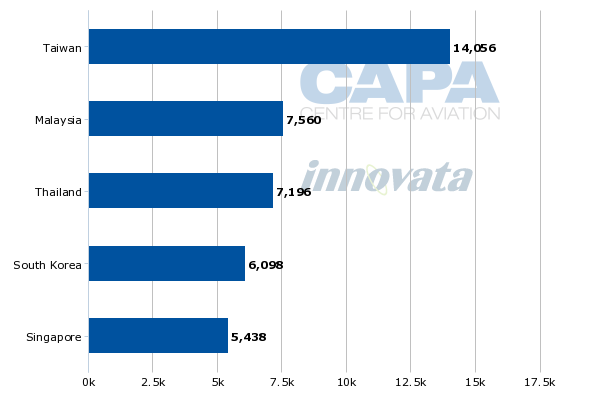 Shenzhen Airport international routes ranked on seat capacity: 30-Sep-2013 to 6-Oct-2013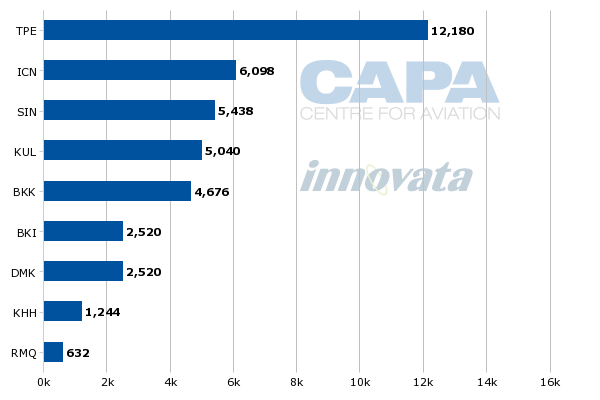 Spring Airlines also plans to grow in Shenzhen where the carrier is the eighth largest. Spring may be small but its vision is big: Spring sees opportunity to make Shenzhen its first southern China base. Spring is based in Shanghai with focus cities/hubs in particular at Shenyang and Shijiazhuang, both in China's northeast.
A presence in Shenzhen will allow Spring to rapidly grow its Southeast Asia network, which is anchored around Thailand. Services are exclusively from Thailand. Spring's Southeast Asia ambition is limited by its Shanghai base being about five hours from Southeast Asia, pushing the limit of how long Spring wants to operate its all-A320 fleet.
In Shenzhen, Spring could more easily secure regulatory approval than in Shanghai, where Spring has to compete with dominant carrier China Eastern and its Shanghai power bloc. China Eastern's Southeast Asian network is unprofitable at certain times of the year and not keen to see domestic competitors. Spring would also be able to tap the local Shenzhen market, and its growing affluence, for Southeast Asian flights.
While Spring's IT system means it is challenged to offer connecting flights, it could offer "connections" from around China by having a single flight number on the domestic and then international segment. Spring already has experience with this, having operated a Hong Kong-Shijiazhuang-Shenyang routing with a single flight number.
Spring's plan comes as Shanghai rival Juneyao Airlines plans to establish a LCC subsidiary in Guangzhou, near Shenzhen. Juneyao started as a quasi low-cost carrier but is now full-service (or perhaps hybrid). Juneyao's plan has received preliminary approval from a regional branch of China's regulator, the CAAC, and now awaits approval from Beijing.
LCCs small in China but account for 29% of Shenzhen's international market
International growth by Spring in Shenzhen would continue Shenzhen's LCC story. Across China LCCs account for only 6% of international scheduled seat capacity in the year through Sep-2013, according to OAG data. But in Shenzhen the figure is 29%. This is less the result of Shenzhen being a hot LCC destination and more a product of Chinese carriers being focused on the domestic market, thereby limiting their international capacity. While LCCs may account for 29% of Shenzhen's international seat capacity, this is off a low base: 5% of seats in Shenzhen are international/regional (including Taiwan).
The disproportionately large presence of LCCs is also evidenced by 54% of international seats being supplied by foreign carriers (such as Asiana and China Airlines).
Shenzhen sees LCC service from AirAsia with double daily flights to Kuala Lumpur and a daily to Kota Kinabalu, Thai AirAsia with a daily to Bangkok, and Tigerair with a five weekly service to Singapore. All three carriers in comparison have two or three daily flights from their bases to Hong Kong.
AirAsia transported nearly 400,000 passengers at Shenzhen in 2012 while Tigerair transported around 70,000 passengers, according to Shenzhen Airport.
Spring wants to target Guangzhou and Hong Kong for feed – but surface transport connections will be vital
In addition to tapping the local Shenzhen market and points across China, Spring sees opportunity for its Shenzhen base to lure passengers from Guangzhou and Hong Kong, as Spring Airlines chairman Wang Zhenghua, told the China International Air Route Forum in Shenzhen, according to local reports.
The selling point would be not only its low fares but the mere existence of flights: Guangzhou and Hong Kong are reaching saturation with no expansion due in the medium term. Already most peak hour slots in Hong Kong are gone, with mainly early morning or late night slots available.
Given the range of destinations already offered from Hong Kong and Guangzhou, Shenzhen's attraction in the medium term would be price and additional flight time options rather than new cities.
In theory the close distance from Shenzhen to Guangzhou and Hong Kong should mean Shenzhen could be an alternative airport. But logistics challenge that ambition. From Hong Kong's Kowloon, Hong Kong Airport is about 20 minutes away by express train or 30-40 minutes by bus.
Shenzhen Airport is two hours away, which is not necessarily a deal breaker, but the journey is made difficult by having to clear Hong Kong and Chinese immigration and switch buses – with luggage in tow. This process becomes especially complicated if a passengers flies internationally from Shenzhen, effectively requiring the passenger to enter mainland China only to quickly depart it. (Hong Kongers do not typically require a visa for Mainland China.) A ferry service from Hong Kong to Shenzhen Airport has been suspended.
Spring's options include first promoting the existing bus service, then at a later stage and with airport and government support, look to streamline the service. The ferry service could be reinstated, but catchment areas could prove challenging as the ferry services were mainly from the main piers in the centre of town, requiring backtracking from other areas of Hong Kong. While it is possible to access Shenzhen Airport via train from Hong Kong, this requires multiple transfers and stops, adding considerable time.
Easier for Spring and Shenzhen Airport would be ground transport from areas around Guangzhou to Shenzhen Airport. A bus would be the likely mode as high-speed rail will not directly link Guangzhou with Shenzhen Airport.
Airlines, and LCCs in particular, have worked with partners to introduce ground transport options where suitable arrangements do not exist. Ryanair in Europe has notably done this. In Asia, Jetstar Japan has worked with bus companies to provide cheaper access to its hub at Tokyo Narita Airport, and also to provide early morning access as Jetstar Japan's first flights depart before most public transport arrives at the far flung airport. AirAsia X and Scoot promote ground transport from Chinese airports to larger nearby main cities, such as Tianjin being a gateway for Beijing (Scoot and formerly AirAsia X), Hangzhou for Shanghai (AirAsia X, although it now serves Shanghai as well) and Nanjing for Shanghai (Scoot).
AirAsia when promoting its Johor hub in Malaysia just over the border from Singapore organised a bus from Johor Airport to Singapore. Thailand's Nok promotes air-ferry connections while Lion Air is looking to purchase a ferry to transport passengers from Singapore to nearby Indonesian island of Batam, where Lion has a growing hub. Lion intends to sell combined air-ferry tickets.
Elsewhere, passengers have sought their own ground transport options to access lower fares. Canadians along the US border will cross into the US to avoid a trans-border segment and its high taxes. Some, but fewer, Americans cross into Canada. There was some border crossing in Europe during short-lived carbon taxes.
While the use of secondary airports in the US is not as common as in Europe, LCC Allegiant is seeing passengers use ground transport to access alternative airports. Some ground transport options are run independently while others are coordinated and even funded by airports, such as a bus from Stewart Airport that connects with a commuter train serving New York City (but uptake has been low).
The large capacity expansion at Shenzhen provides Chinese carriers with much-needed growth in key cities that can attract sustainable yields. Faster growth rates have been in China's west, but these are lower yielding, reflecting the lower income compared to China's prosperous coastal area.
The growth potential however focuses on Shenzhen, now a major city in its own right. No doubt there will be some feed from Guangzhou or Hong Kong, and interested parties could achieve this. Feed will likely grow, especially from Hong Kong, as growth at Hong Kong International becomes more constrained until reaching a period of almost no growth. But any such growth will likely be around short-haul points, with long-haul carriers (and their premium traffic) preferring Hong Kong.
That creates another plot line to the already strong history of Shenzhen Airlines' growth and relations to Air China. And not to be forgotten is China Southern's wish to enter its competitor's den. There could be arm's length competition or alternatively China Southern could be permitted a more overlapping position in a sign of an increasingly competitive, and robust, Chinese domestic market.