Share price movements: BA soars on "buy" recommendation
A piece of counter-cyclical advice ("buy") from a Royal Bank of Scotland analyst gave British Airways' shares a much-needed boost yesterday, provoking a rally which drove the stock up 7.5%. RBOS said "we see BA as a low bankruptcy risk. At September 2008, it had gross cash of £1.83bn. Its capital expenditure plans are modest, as are its debt payments."
The other good performer was SkyEurope, whose announcement of a partnership with another LCC, MyAir, appealed to market sentiment.

Otherwise, European airline stocks drifted downwards against a market which had been buoyed by China's announcement of major government spending to help avoid economic decline. The FTSE ended almost 1% up.
European selected airlines daily share price movements (% change): 10-Nov-08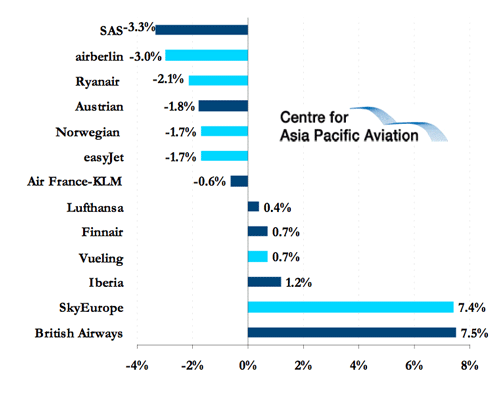 However, by the time Wall Street had run its course, any euphoria over China's move had evaporated and the Dow ended down almost 1%, after trading lower.
The more sombre tone allowed most airline shares to falter, with always-volatile US Airways (-9.5%) being chased down by Delta (-9.2%). Southwest took one of its steeper recent declines too.

North America selected airlines daily share price movements (% change): 10-Nov-08