Seoul Incheon airport: 49 million passengers in 15 years. Well on the way to 100 million in 2030
Analysis
Seoul Incheon airport has turned 15, having first opened in late Mar-2001. The all-new airport has accumulated 49 million passengers since then, making it the fifth largest major hub in Northeast Asia. Incheon is now setting its sights on 2030: it plans to double passenger volumes to 100 million, including 20 million transfer passengers. This is nearly a tripling of 2015's 7.4 million transfer passengers who made up 15% of total throughput.
Increasing the share of traffic as transfers to 20% will be difficult: transfer passengers have been on the wane at Incheon. The total transfer volume decreased in 2014, and in 2015 was still below the 2013 peak. The 15% transfer share in 2015 is below 2014's 16% and 2013's 19%. The growth in direct seat capacity from mainland China to North America has pressured Incheon's transfer business; Beijing Capital airport will likely exceed Hong Kong's North America capacity by the end of 2016 while Shanghai Pudong is not far behind.
Taipei Taoyuan has also emerged as a North America hub. Tokyo Narita joins Seoul Incheon in experiencing decreased transfer volumes as new hubs grow to challenge the incumbents. This is a pressing matter for Incheon but overall its outlook is bright, and the 100 million goal is attainable. Incheon is notable in Asia for being a hub airport adding capacity ahead of demand.
In 2015 Seoul Incheon reaches 49 million pax throughput; aims for 100 million by 2030
Seoul Incheon ended 2015 with an accumulation of 49.3 million passengers in its first 15 years, making it Northeast Asia's fifth largest major hub. Incheon's fifth place has remained unchanged since 2004: it overtook Tokyo Narita but was then surpassed by Shanghai Pudong. The passenger throughput at Shanghai Pudong was higher by 21% in 2015; at Hong Kong by 39%. Tokyo Haneda's rose by 53%, and at Beijing Capital there was an increase of 82%.
Incheon aims to double its traffic over the next 15 years, ending 2030 with 100 million passengers, cumulatively. But first Incheon wants to be one of the world's five largest airports by 2020. In 2015 Incheon was the 21st largest, according to CAPA's airport rankings. (Being one of the five largest for international passengers is a more attainable goal.)
Incheon is one of the world's rare major airports that have been continuously built ahead of demand: Incheon expects that it will reach maximum capacity in 2017, but its second passenger terminal to open during 2017/2018 will bring capacity to 62 million.
The second terminal is the third part of Incheon's design (first: terminal one; second: satellite terminal). The fourth part of Incheon's design is additional satellite terminals and runways (Incheon has three runways, which are not saturated). The fourth phase will take Incheon to capacity for 100 million.
Annual passenger traffic (millions) of selected Northeast Asian hub airports: 2004-2015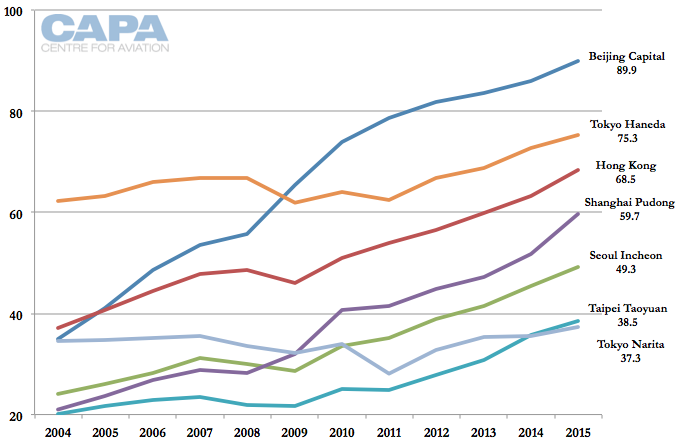 Without the MERS crisis, Incheon could have grown twice as fast
Seoul Incheon's passenger growth rate of 8.3% in 2015 was within Incheon's average of 6-11% annual passenger growth since 2012. Nor is 8.3% a shabby result for many airports, even some in Asia: in our sample of Northeast Asian hubs, Incheon's 8.3% was only outpaced by Hong Kong (8.4%) and Shanghai Pudong (15.5%).
Seoul Incheon International Airport annual passenger number growth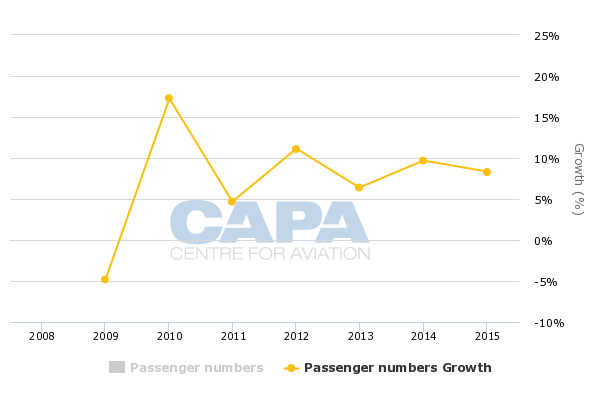 Yet Incheon's growth in 2015 could have been double that figure. Growth in the period Jan-2015 to May-2015 was 17% higher. This abruptly ended in Jun-2015 with the outbreak of MERS, which Korea initially struggled to contain – both the outbreak and the foreign public perception of what actually presented minimal public risk.
The resulting punishment was a slide in passenger figures: Jun-2015 and Jul-2015 passenger throughput slipped below 2013 levels. Fortunately the rebound was swift and Aug-2015 was only 1% below Aug-2014 levels. The Sep-2015 to Dec-2015 period actually shows 10% growth, faster than the annual average but well below the 17% growth observed at the start of the same year.
The MERS crisis occurred during what is usually the summer peak, when travel is significantly higher. Excluding Jun-2015 to Aug-2015, Incheon grew 14%. Without MERS, it would have likely been able to maintain its 17% trajectory. Growth in passenger throughput for the period Jan-2016 and Feb-2016 has been 14%.
Seoul Incheon International Airport monthly passenger numbers: 2012-2016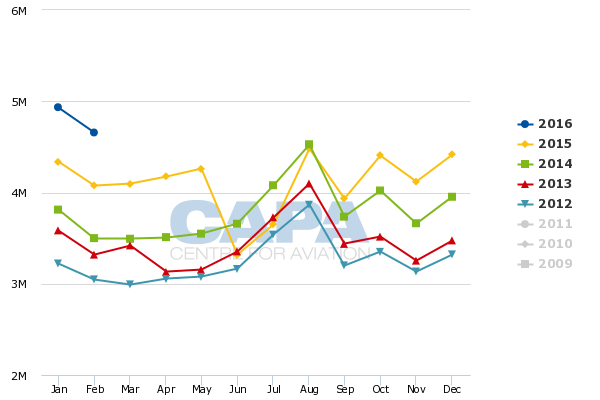 Seoul Incheon wants to boost transfer traffic from 15% to 20%
Incheon's target of 100 million passengers in 2030 includes having 20 million transfer passengers; put another way, it means 20% of its throughput to be transfer passengers.
Transfer passengers have been on the wane at Incheon. In 2013 they peaked at 19%, but declined (in absolute value and percentage) in 2014. In 2014 transfer passengers represented 16% of total throughput, whereas in 2015 this dropped to 15%, despite a slight increase in the absolute number of transfer passengers (from 7.3 million to 7.4 million).
Seoul Incheon International Airport transfer passengers (left axis) and transfer share of total passengers (right axis): 2004-2015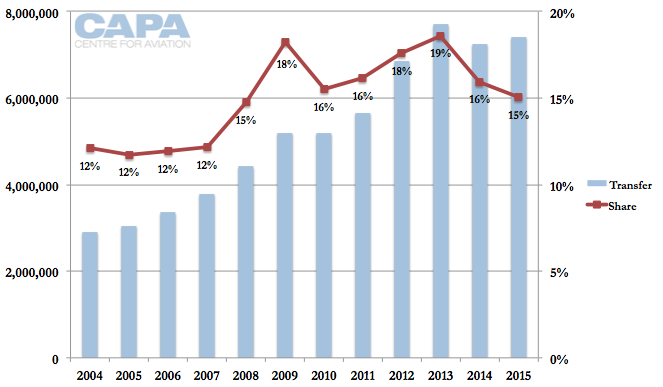 The number and proportion of transfer passengers had been steadily increasing at Incheon until the fall-off in 2014. 2015's rebound is still below the 2013 levels. Incheon is faring better than Tokyo Narita, where there has been a nearly constant decline in transfer passengers. In 2011, Seoul Incheon overtook Tokyo Narita's transfer passenger volumes.
Two of the factors affecting Narita were Tokyo Haneda's international expansion and the capacity reduction by US airlines at Narita.
Seoul Incheon and Tokyo Narita transfer passengers: 2004-2015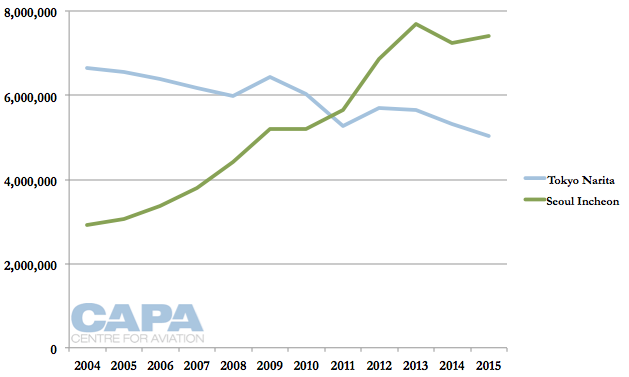 Despite Incheon having more transfer passengers than Narita, transfer passengers represent a higher share of overall passengers at Narita than Incheon. This figure is for Narita's international passengers and excludes the growing domestic business at Narita from LCCs.
In contrast, Incheon has minimal domestic traffic. The share of passengers transferring as a share of total was greater at Incheon than at Narita in 2013, but this has since reverted in favour of Narita. Still, the gap between Incheon and Narita has significantly narrowed.
Seoul Incheon and Tokyo Narita transfer passengers as share of passengers: 2004-2015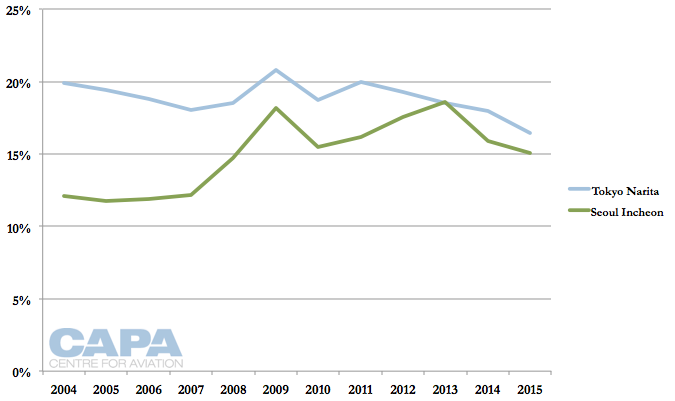 The transfer situation is the result of mixed circumstances. Positively, Korea as a destination has become significantly more popular, allowing Asiana and Korean Air to sell Seoul as a destination rather than a transit point, especially for passengers from China. This brings wider benefit to all of Korea since passengers are entering the country and spending money, instead of making a quick transit at the airport.
On the negative side, growth from elsewhere in Asia – chiefly mainland China – is putting pressure on the transit market that Seoul Incheon and Tokyo Narita have relied upon. The two airports were especially focused on mainland China-North America traffic as well as Southeast-North America. The increasing number of nonstop flights between mainland China and North America has pressured sixth freedom hubs.
There has been rapid growth in North American seat capacity at Beijing Capital and Shanghai Pudong since 2012. In 2012 Beijing Capital had 65% of the number of seats with North America that Hong Kong had; so far in 2016 Beijing Capital will have approximately the same as Hong Kong and will likely surpass it by year end. Shanghai Pudong is not far behind, having 90% of the number of North American seats that Hong Kong has.
Taipei Taoyuan has also sprouted as a hub for Southeast Asia-North America (but not mainland China-North America).
Annual North America seat capacity from selected Northeast Asian hub airports: 2011-2016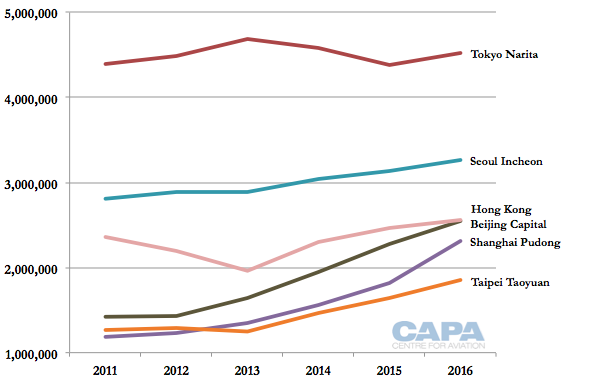 The expansion of North American capacity from Beijing Capital, Shanghai Pudong and Taipei Taoyuan is evident on the growth chart below. Traditional North American gateways of Hong Kong, Seoul Incheon and Tokyo Narita are experiencing slower growth, or, in some years – contractions.
Annual North America seat capacity growth from selected Northeast Asian hub airports: 2012-2016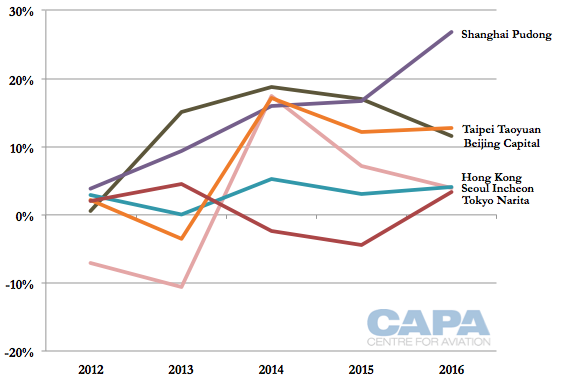 Incheon can easily reach its 100 million target for 2030, but transfer volumes are more challenging
To meet its cumulative 2030 goal of 100 million passengers, including 20 million transfer passengers, Incheon will need to double the overall volume, and in fact nearly triple its existing transfer passenger volume. Interest in Korea as a destination is relatively assured and capacity is being planned for, bringing comfort with the 100 million projection.
On average, Incheon will need to add 3.3 million passengers every year through to 2030 in order to reach 100 million. This is slower than growth in recent years: in 2015 Incheon added 3.7 million passengers; in 2014 – 4.0 million passengers; and in 2013 – 2.5 million additional passengers.
Incheon's 2030 target could be too conservative. Adding 4 million passengers per annum could mean that Incheon reaches 100 million passengers in 2028, two years ahead of schedule.
Seoul Incheon airport annual additional passengers (left axis) and total throughput (right axis): 2003-2030F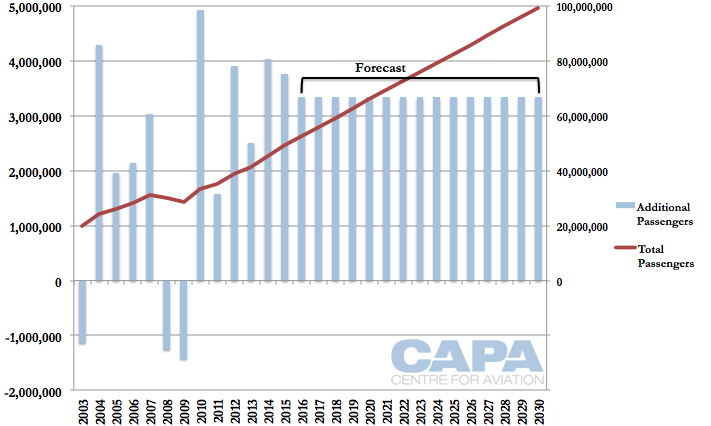 Less comforting is the transfer passenger objective. Growth will need to be higher to achieve this, and there is greater competition for this volatile and lower-yielding segment. It is dependent on air services agreements, and Korea is desperately in need of a significant expansion with China. Korea is unlikely to take part in ASEAN open skies, which would open Incheon to the fifth freedom flights for Southeast Asian airlines that have agreements in place with North American countries.
Fifth freedom rights would allow those airlines to supplement passengers originating elsewhere in Korea. Singapore Airlines (for one) would be keen to expand in North America via Seoul Incheon (its daily Seoul Incheon-San Francisco service is limited to 777-300ER and cannot be upgauged to A380).
Incheon has been hoping that Delta and Korean Air will form a partnership resulting in more Delta flights at Incheon and Korean Air having the role as a transfer partner.
See related reports:
Outlook: passenger traffic is strong but cargo is waiting for a recovery
Growing the transfer segment may be difficult for Incheon. In 2015 Incheon set about making increased transfer passengers one of its priorities, but this is still at an early stage. Overall, the passenger segment is robust at Incheon and the outlook is bright. It could reach its 100 million traffic projection significantly ahead of plan.
Not so rosy is cargo. Incheon is relatively a larger cargo hub than it is a passenger one, but with the downturn in the cargo industry, this has become less important. Still, Incheon had bet strongly on its cargo capability – allocating an entire runway just for cargo flights – and although cargo volume has grown in recent years, it is still below its 2010 peak.
Seoul Incheon International Airport annual cargo volume (Tons): 2008-2015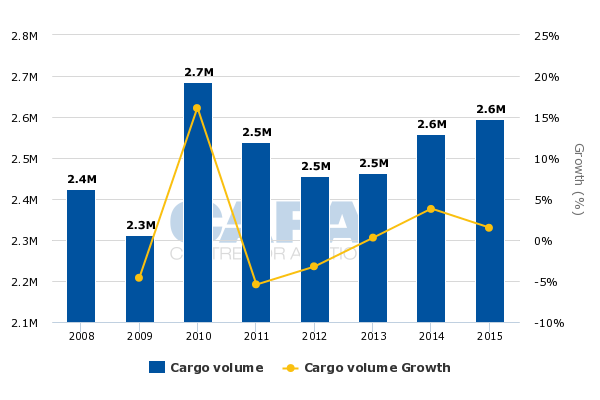 Cargo heavyweights Asiana and Korean Air have yet to come up with a long-term plan for cargo. Then again, few others have. The situation with cargo across Asian airports is generally not an upbeat story.
Cargo's weakness has dampened investors' interest in Korean aviation. This arguably undermines the passenger segment. Incheon has a successful marriage: a marriage of high demand with the creation of capacity, in time and efficiently. Few other airports can make such claim.