Seattle Tacoma Airport looks forward to strong summer, international seats to surge close to 20%
Seattle Tacoma International Airport (Sea-Tac) is the quiet achiever of the Pacific coast gateways. Reporting an encouraging 6.6% increase in international passenger traffic last year (or +14.8% when cross-border traffic to Canada is excluded), Sea-Tac is optimistic of another solid performance in 2011. As of Mar-2011, frequency enhancements and bigger aircraft will translate into a near 20% year-on-year lift in capacity in 3Q2011, including a 23% surge in Atlantic scheduled seats and a 16% increase for the Pacific.
Atlantic enhancements
Atlantic services are performing well and Sea-Tac is looking forward to additional capacity on Delta's lucrative Amsterdam route. The carrier has operated non-stop to Amsterdam since Apr-1998, utilising A330-300 equipment for since Mar-2009, which dovetails nicely with its Narita service. For the first time last summer, Delta added three weekly frequencies to Amsterdam with B767-300ERs for a total of ten times weekly service, combined with the daily A330-300. In Jun-2011, Delta is scheduled to add more frequencies to make it a double daily service, but this is likely to be for the summer peak season only.
Sea-Tac has several more Atlantic schedule enhancements to look forward to:
Condor is adding a new twice weekly seasonal service from Frankfurt with B767-300ER between 23-Jun-2011 and 24-Oct-2011;
Air France is upgauging daily Paris CDG-Seattle service from A330-200 to A340-300 this summer, resulting in a near 30% lift in capacity;
Icelandair is increasing Keflavik-Seattle service from five to six times weekly in May-2011 with B757-200 equipment. The service, which commenced as a four times weekly operation in Jul-2009, has steadily increased in popularity.
Riding the wave of Delta's Asian expansion
Much of the recent increases in international traffic is attributable to Delta's strategic expansion of its high-potential Asian network. The carrier launched five times weekly service to Beijing on 04-Jun-2010 and daily service to Osaka Kansai on 07-Jun-2010, both with B767-300ER equipment. Beijing frequency will rise to daily this June, reflecting the strength of the China market.
The summer schedule also sees EVA Air upgauging from B777-300 to B747-400 equipment on the Taipei-Seattle route, offering 15% more seats from 16-May-2011. While in the Korean market, Asiana will raise frequency from Incheon from five times weekly to daily from May-2011, but switch from B777-200 to A330-300 equipment. Korean Air is increasing Incheon frequency from five times weekly to a daily B777-200.
The Japan market however is expected to be depressed over the near term. Sea-Tac's Senior Manager, Air Service Development, Kazue Ishiwata, told CAPA that Japan is the airport's largest overseas O&D market, with have two daily services to Tokyo (United and Delta) and one to Osaka (Delta). Ms Ishiwata said, "We are bound to see some reduction in 2011 compared to 2010. Our arrival data just began to show some decreases on certain days of the week, when traditionally April should be the beginning of the peak."
United carries a larger proportion of Seattle-Narita point-to-point traffic with less connecting traffic on the US end. United also have significant traffic beyond Narita to other cities in Japan carried by its Japanese partner ANA, which SEA expects would also be affected. United announced the cancellation of 11 Seattle-Narita flights in May-2011, and carriers are still watching the forward-booking data closely to determine the schedules for Jun-2011 and beyond.
As for Delta, Sea-Tac doubts it would be the top of the target for the potential reduction, as its Narita service has been a strong performer. Ms Ishiwata said, "more than half of the onboard passengers are not Tokyo-bound, but are connecting beyond Narita to other points in Asia, which are unaffected by the events in Japan."
Delta currently has not made any announcement to reduce its Seattle-Osaka capacity, although it may decide to adjust the frequency downward. Ms Ishiwata said she expects the route to "survive well eventually", given Sea-Tac's position as the primary West Coast gateway with strong connections to behind points.
Delta was expected to upgauge Osaka service from B767-300 (216 seats) to A330-300 (298 seats) in mid-July through August, due to the very strong success of the route in Summer 2010. That would translate into a nearly 20% year-on-year increase in capacity for 3Q2011. A final decision will be made in coming weeks.
Alaska Air the dominant airline
The airport's capacity is dominated by Alaska Air, which is not currently a member of a global alliance. Alaska maintains bilateral codeshare agreements with carriers straddling the major groupings, including Qantas, American, LAN and Cathay Pacific (oneworld), Air France-KLM, Delta and Korean Air (SkyTeam) and Air New Zealand (Star) and several other non-aligned carriers. The lack of a mainland Chinese carrier partner is an opportunity, not only for the airline but Seattle Tacoma and its passengers.
Hainan Airlines, the fourth largest Chinese carrier operates four times weekly service from Beijing with A330 equipment (inaugurated in Jun-2008). Seattle is Hainan's only US service and has achieved a "solidly successful position", according to Ishiwata, with load factors at or above 90% last summer. Hainan is looking to join a global alliance to help build its presence in the US and other key markets.
One of Alaska's successful bilateral relationships is Icelandair. Nine US cities carry the Icelandair code on Alaska/Horizon Air flights currently. Icelandiar's service to Seattle is the only Nordic service to the US West Coast, providing an important gateway role for the Western US for the niche markets of Nordic and Scandinavian countries.
Seattle/Tacoma International Airport capacity (seats per week, to/from) by carrier (28-Mar-2011 to 03-Apr-2011)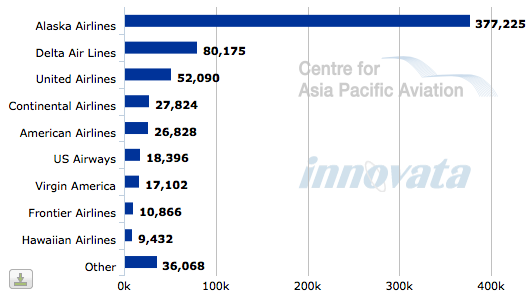 Reflecting Alaska's unaligned status, the global alliances have a relatively low share of total capacity at Seattle. Star is the biggest grouping, followed by SkyTeam, whose share is increasing thanks to Delta's ongoing expansion.
Seattle/Tacoma International Airport capacity share by alliance (28-Mar-2011 to 03-Apr-2011)
Seattle's got the strongest international growth rate
In a peer analysis of major West Coast gateways, Seattle recorded a 6.6% growth rate last year to 2.8 million passengers - a pace of growth only matched by Vancouver (to 8 million) - but ahead of San Francisco (+6.3% to 8.9 million) and Los Angeles (+5.5% to 15.9 million).
International pax numbers and pax numbers growth at selected US airports: 2010
Domestic improving
Seattle-Tacoma's domestic performance was somewhat sluggish in 2010, registering just a 0.5% increase in passenger throughput, to 28.7 million. LAX and SFO reported bigger increases in domestic traffic last year, coming off fairly depressed figures in 2009. (In 2009, the decrease was 3.0%; LAX -5.5%; SFO +0.3% as it regained what had been lost to OAK, -17.3%. In 2008, Sea-Tac was one of the few major US airports with positive growth over 2007).
What is striking about the graphic below is that Seattle is only fractionally smaller than its higher profile southern rivals in volume terms.
Domestic pax numbers and pax numbers growth at selected US airports: 2010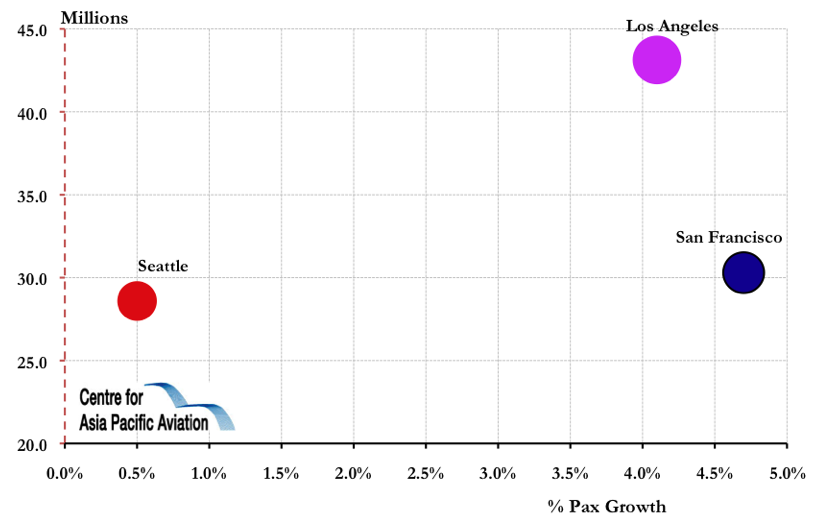 The domestic market is "doing well" in 2011, according to Ishiwata, with a 3.4% increase in traffic reported in Feb-2011, from the same month last year. Domestic accounts for roughly 90% of total traffic, which suggests Sea-Tac could support a potentially much larger international network - a significant motivator for the Sea-Tac team.
Seattle/Tacoma International Airport international vs domestic capacity share (28-Mar-2011 to 03-Apr-2011)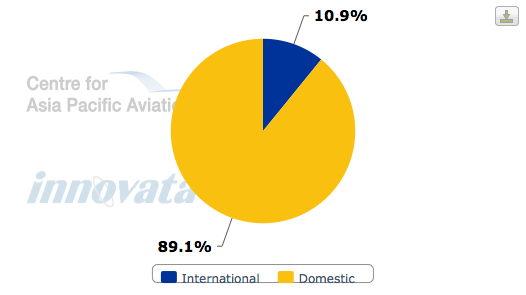 Outlook solid
Sea-Tac has come through the global financial crisis well and looks set for a very positive summer peak, building on the successes of 2010. It is very well positioned geographically for growth from booming Asian markets, connecting to and from points across the Midwest and continental US and beyond to Europe and Latin America. Its strong local corporate base, including the presence of Boeing and Microsoft, underpins the success of its long-haul portfolio.
Opportunities exist for expansion in Asia and in emerging markets of India and Middle East. Ms Ishiwata says, "Our data indicates that one out of four premium passengers to/from Asia are traveling through other West Coast gateways, mainly YVR, SFO and LAX, while our own Asian flights are full. This is particularly the case with high-yield Hong Kong and Shanghai Pudong travelers, for which we are working to gain nonstop services to enhance our international network."
Seattle may not enjoy the international passenger volume of traditional rivals Vancouver, San Francisco and Los Angeles, but the West Coast's quiet achiever is making healthy progress.