Saudi Arabia's flynas long-haul LCC to Europe and Asia, introducing a new low cost alternative
Analysis
In the Middle East, Emirates, Etihad and Qatar capture most attention, but the market is home to increasing numbers and varieties of airlines. Saudi Arabia's LCC flynas, recently re-branded from Nas Air, has embarked on its 20x20 plan that sees it aiming to fly 20 million passengers by 2020, a large increase from over 3 million in 2013. Central to boosting numbers is a long-haul low-cost operation that will by May-2014 serve an impressive – if challenging – eight destinations in five countries.
The plan has elements of other long-haul LCCs: targeting a large outbound market (as Jetstar has done in Australia) but also, in catering to religious traffic, taking a Cebu Pacific approach of a specific type of traffic, which can be voluminous but seasonal and flows in very specific directions. flynas will be a hybrid LCC from the start, embodied in its "LCC+" approach. Business class will be offered and all fares come with checked luggage. Some may find this counterintuitive to the basics of an LCC, but the approach seems adapted to cater to the nuances of the Saudi market, which has the appetite and wallet for travelling. Despite being close to Gulf mega carrier hubs, the Saudi market is ripe for more stimulation.
flynas started life in 2007 in Saudi Arabia's domestic market, where today it has the majority of seats (but minority of ASKs). The Saudi domestic market is a challenging segment to compete in due to its quirky local regulations.
International services offer more opportunities in both volume and profit, and the carrier already has a sizeable regional network (as well as services to Indonesia).
flynas international seat capacity by country: 17-Mar-2014 to 23-Mar-2014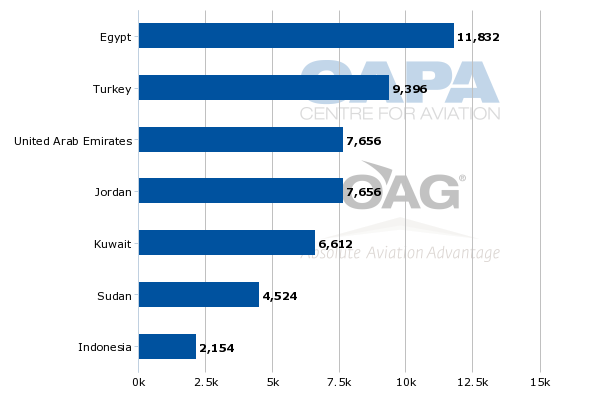 At the helm of flynas is former AirAsia X executive Raja Azmi, suggesting flynas will be well-versed in the principles of a long-haul LCC that it must now apply to the Saudi market, with all its nuances.
flynas primarily operates 23 A320s with another 20 on order, although Mr Azmi told Bloomberg he wants to restructure the order to include widebody aircraft, such as A350s that could replace the initial leased A330s. flynas is the third-largest LCC in the region, slightly smaller than Air Arabia and about half the size of flydubai.
flynas is privately-owned but has discussed an IPO for as early as next year. That would fund expansion and allow investors to further tap long-haul Middle East airlines, which are private or state-owned. Investors would likely be easier to sell on Emirates, Etihad or Qatar, although none of those has a planned IPO.
flynas' ambitious range of A330 operations start Apr-2014
flynas will have a rapid and ambitious launch, serving eight destinations in five countries on three continents within a month. The carrier has experience with operations to Pakistan and Jakarta, but much of this is new. flynas' schedule plans for short turn-around times, relying on high reliability, with some risk of over-extending itself in the critical early period.
Not only is this when the carrier will experience this new and intensive component of its operation, it is the time when passengers and the media will be paying very close attention to the slightest delay. Norwegian faced difficulties when it went long-haul as 787 difficulties were compounded by its operation of long-haul flights for the first time. Other long-haul LCCs, Cebu Pacific and Scoot, have favoured a more gradual launch that sacrifices short-term utilisation to secure comfort room to bed down routes.
But, apparently sensing that timing is everything, flynas appears anxious to establish a large international footprint before most of its would-be competition is able to react.
flynas will launch to two Southeast Asian destinations (Jakarta and Kuala Lumpur), two in the UK (London Gatwick and Manchester), three in Pakistan (Karachi, Islamabad and Lahore) and Morocco's Casablanca.
All will be served from flynas' base in Jeddah. The carrier is offering domestic connections, allowing passengers to go on its A330 network to/from Dammam and Riyadh, Saudi's other large cities. International connections, such as Lahore-Jeddah-London, are not offered – at least not yet.
Pricing is aggressive on westbound services, while eastbound fares are designed to exploit non-stop premium travel potential
Fares west of Jeddah to Europe and Casablanca are exceptionally discounted in economy and business classes. However, east of Jeddah economy fares are not loaded in the carrier's booking engine; only premium economy fares are offered at this stage. Here flynas' premium economy and business fares are more expensive than competitors' offerings, although only Jeddah-Kuala Lumpur has low-priced non-stop competing options.
The other lowest fares in the table below require a connection through a Gulf hub that typically doubles the journey time.
flynas' website indicates premium economy customers have the same seat as economy passengers but receive two 30kg checked luggage allowances and a hot meal, and are seated in the small economy class cabin behind business class.
Economy passengers receive one 30kg checked bag and must pay for meals and seat selection. Business class passengers are seated in a 12-seat 2-2-2 cabin with a 60-inch "full-flat" seat bed and receive two 30kg checked bags, a hot meal and lounge access. All three cabins have the same rules on ticket flexibility and refund policies. Bookings were gradually opened from 11-Mar-2014, leaving a limited lead period to sell tickets. Meals are sold from around SAR34 (USD9).
flynas launch A330 route competitive summary: Apr-2014 through May-2014 as of 11-Mar-2014
Schedules are initially less than daily, aiming for market coverage rather than daily service
Initial services to the destinations are either two or three times weekly. flynas told the Malaysian media Kuala Lumpur frequency will be doubled by the end of the year. flynas has also stated interest in operating to France, and its fare rules state long-haul travel is for the five countries it is launching to as well as France, suggesting French destinations will be added soon.
Mr Azmi told Bloomberg further expansion could reach China, India, Nigeria, the Philippines (and other Southeast Asian points) and South Africa.
With the ambitious schedule, there are scheduling quirks. Jakarta is served on three sequential days rather than being spaced out across the week. flynas is pushing aircraft utilisation, as evidenced by some flight times: Jeddah-Casablanca arrives in Casablanca at 03:00 and departs at 04:30 in the morning.
The London Gatwick service departs Jeddah at 4:45 in the morning. The Manchester flight leaves Jeddah at 03:55. High utilisation rates decrease costs, a factor of which long-haul LCCs are highly conscious; AirAsia X's A330s have pushed an outstanding 19 hours of utilisation while Scoot's 777-200s have a higher utilisation rate than those of owner Singapore Airlines. Scoot has multiple flights departing around 01:00.
High utilisation is one component to create cost differentiation. However, this may be more challenging in Saudi Arabia as national carrier Saudia has similar off-peak flight times: three weekly London flights leave Jeddah at two in the morning while flights to Casablanca depart Jeddah at five in the morning and return to Jeddah at three in the morning.
flynas may not have a large advantage, if any, over Saudia on aircraft utilisation on overlapping routes. But overall flynas should have a higher utilisation rate across its smaller network. It also has lower intrinsic costs.
However, latent demand in Saudi as well as spill to time-consuming one-stop itineraries is large enough that Saudia may be less of a competitive worry than might seem the case; flynas' advantage is a local carrier offering significantly reduced journey times. Even domestic connections through Jeddah could be faster than transiting in the Gulf, especially if the destination is west of Saudi, where connecting to the Gulf requires backtracking to the east.
However, even when the destination is to the east layover times in the Gulf can be lengthy. But Gulf carriers hold a large frequency advantage (for example serving London and Kuala Lumpur with multiple daily flights) and will likely have a significant lead in comfort. The long-haul LCCs in Southeast Asia, as well as Norwegian, have relied on markets trading down on some comfort to save some costs, however the Middle East is a very wealthy market where there is less inclination to trade down and save costs.
An unknown factor is how or if flynas' greater focus on the Saudi market will inspire European carriers to add capacity, either as they see opportunities or as bilaterals permit. Growing demand from Saudi carriers should mean European carriers are allowed more capacity too.
flynas appears to use Hi-Fly A330-200s in two-class configuration
flynas will wet-lease initial A330-200s from Hi-Fly, having four by the end of 2014 and six by the end of 2015, with three additional aircraft every year after that, which could allow flynas quickly to rival and expand beyond global long-haul LCCs including Norwegian and Scoot. It is unclear how long this arrangement will last. But it would seem likely given flynas' projected long-haul growth it will look to secure its own A330 fleet, which would allow for a more customised cabin configuration.
Seat maps indicate a configuration for one aircraft of 335 seats across 12 in business in a 2-2-2 configuration, 40 in economy plus in a 2-4-2 configuration and 283 in economy in a 2-4-2 configuration.
The configuration for the second aircraft is unclear. The use of the -200 is perhaps surprising given the -300 can cover flynas' target markets with better unit seat costs, provided the seats can be filled, which is likely. Although flynas is using a dense configuration, it does seem to be not as dense as most other long-haul LCCs, once adjusting for the different aircraft size. flynas will have a higher A330-200 density (335 seats) than Jetstar's A330-200s (303 seats), although Jetstar is phasing these out (and the two will not overlap). AirAsia X's A330-300s seat 377 in a two-class configuration while Cebu's A330-300 goes for nearly the certified limit with 436 seats.
AirAsia X and flynas will overlap on the Jeddah-Kuala Lumpur route, but flynas and Cebu will not overlap.
The largest difference seems to be flynas' selection of eight abreast in economy compared to AirAsia X and Cebu's nine abreast on the A330 (Jetstar used eight abreast). However, there are quality and comfort demands unique to the Saudi market, and nine abreast may not be tolerated as much as it is in other markets.
Widebody Long-haul LCC configurations: Mar-2014
Airline
Aircraft Type
Economy
Premium Seats
Total
AirAsia X
A330-300

365

(3-3-3)

12 Business

(2-2-2)

377
Cebu Pacific
A330-300

436

(3-3-3)

0
436
flynas (one configuration)
A330-200

283

(2-4-2)

12 Business

(2-2-2)

40 Economy Plus

(2-4-2)

335
Jetstar
A330-200

265

(2-4-2)

38 Business

(2-3-2)

303
Jetstar
787-8

314

(3-3-3)

21 Business

(2-3-2)

335
Norwegian
787-8

259

(3-3-3)

32 Business

(2-3-2)

291
Scoot
777-200

370

(3-4-3)

32 Business

(2-4-2)

402
Scoot
787-9

340

(3-3-3)

35 Business

(2-3-2)

375
Is flynas low-cost? Short-haul LCCs in the Middle East are hybrids
There are a few factors to flynas' initial operation that give rise to questioning if flynas is a LCC, or a "true LCC". Not only is checked luggage included on all fares, the allowance – 30kg – is generous. The relatively low density of the aircraft and inclusion of business class, as well as offering connections, may further suggest deviation from the LCC model, but in the real market the purist distinction is irrelevant.
flynas must find an approach that works for it, its own model – that it can modify if circumstances require.
Hybridisation – for example with business class, connecting flights – is popular, if not essential, with Southeast Asia's LCCs. Hybridisation adds cost but also permits more revenue or higher yields. The challenge is to find the right balance. There are now more hybrid LCCs than any airline that might be "true", "original", "ultra", or "stripped-down", terms coined before worthwhile innovation occurred.
If a "true LCC" definition had to be followed, it would be an abstract one, providing for reducing costs but with varying degrees of modifications to maximise yields while maintaining agility. Seat types, connections and luggage all fall in the categories of maximising yields.
Markets are similar but also different. Saudi Arabian travel to Europe is often with complete families, with a propensity to go shopping, so offering 30kg checked luggage is the basic; flynas' website for example, in recognition of this, gives an option to purchase an additional 30kg.
In comparison, AirAsia X starts offering checked luggage at a mere 15kg; this may be sufficient for passengers travelling light and not shopping. Business class can be sustained not just by the region's wealth but its aspiration for prestige; premium travel can be about status, not comfort. Price sensitivity in the existing Middle East travel market can be lower than many other markets.
These are not new conclusions. One of the early examples, Kuwait's Jazeera Airways, was forced to evolve quickly away from a more traditional LCC approach to a hybrid one, and it now offers all passengers a checked luggage allowance along with a European-style business class. "They are more hooked on product," then-Jazeera CEO Stefan Pichler once remarked of the airline's target market.
Dubai LCC flydubai in 2013 went a step further, offering full business class seats. Flydubai already offered an extensive range of ancillary services, such as in-seat IFE and food and beverages. Air Arabia, the Middle East's second-largest LCC however adopts a more conventional LCC model.
See related reports:
Saudi Arabia's outbound tourism will grow
While domestic Saudi tourism is rapidly growing, outbound tourism will more quickly grow as opportunities, such as flynas, permit.
Fuelling the growth is a young and affluent demography, with limited and restricted activities at home compared to relative freedom abroad, as well as opportunities for shopping and education. Foreign countries no doubt will be lining up to incentivise flynas; the typical Saudi visitor to the UK spends four times (GBP2354) as much as the average visitor (GBP600).
Outbound international tourism is growing at double digit clips, although exact statistics are difficult to come by. Singapore, for example, recorded 13% growth in Saudi visitor arrivals for the first three quarters of 2013.
flynas' long-haul LCC plans have familiar signs but also blending of other approaches
The low-cost long-haul carrier is still relatively new, despite attempts in past decades. Despite this, there is a wide variance in approaches.
AirAsia X and Scoot are more classical network carriers, with large amounts of connecting traffic. Indeed, they would probably not be able to sustain without onward feed; AirAsia X has the short-haul AirAsia units while SIA's Scoot interlines with Tigerair (partially indirectly owned by SIA) as well as partially with SIA and SilkAir.
Both target the leisure market but also attract small business travellers. Jetstar does interline and not just with its parent, but now relies less on a network approach and more on point-to-point routes, mainly Australian outbound leisure travel to Southeast Asia and Hawaii, and Japanese inbound leisure travel to Australia.
All three have a premium offering, but of varying standard: AirAsia X offers a lie-flat product flying mostly within Asia, whereas Cebu Pacific is a different breed of carrier, relying not on leisure or small business travel but rather on migrant worker flows to the Middle East. Norwegian is looking at leisure travel across the Atlantic and to Southeast Asia, and has a European short-haul network to rely on, but statistics for connecting traffic are not available.
flynas' approach has some familiar flavours: like Jetstar, it is relying on the outbound travel enthusiasm of its local market. Initial connectivity seems limited to domestic points but with time (and additional frequencies across the network) could grow to boost load factors. That would make connectivity supplementary, but it is unclear if in the medium and long term could be core; visas too could become a limiting factor.
There are similarities to Cebu Pacific in that flynas will carry a specific type of traffic (religious; migrant for Cebu) that is relatively low-yield but voluminous. There are large seasonal differences that also result in specific directional flows. Unlike Cebu, this will only be part of the network.
Long-haul LCCs have generally found an operational sweet spot of flights under eight or nine hours. Any longer means one-stop competition becomes more of a factor and fuel prices comprise a higher proportion of costs, limiting room for cost differentiation.
flynas' network largely fits in this best practice sweet spot, although Jakarta is at the margin, but that is not to say it will not work. There are other elements that could need refining – the low seating density, inclusion of checked luggage – but then again these may cater to the local market. Many of these factors are unknowns, depending on traveller response and varying levels of competition. The key to success, aside from the right route selection, is an ability to adjust rapidly to meet needs – to apply the old LCC maxim, "make mistakes quickly" – and adapt.
Outlook: long-haul LCC further shows the Middle East is about more than the Big 3
flynas is an exciting development from a part of the world often overlooked since the neighbouring Gulf hubs to the west capture so much attention. National carrier Saudia, gradually grooming for privatisation, is not standing still, and has signalled its ambitions for more long-haul routes, although burdened by high costs, legacy thinking and government ownership. Already it has made moves, both defensive and offensive, on flynas. Saudia has also disclosed it is considering a partnership with fellow SkyTeam carrier Garuda Indonesia, which could create a strong alliance in the large Saudi-Indonesia traffic corridor.
flynas has located an under-served segment which, in comparison to other long-haul LCCs, is familiar but also new. Like most other markets where long-haul LCCs sprout, incumbents will quickly move to respond. From these dynamics creativity will inevitably emerge at the LCC, but also at full-service carriers. There will be gains but also losses, lessons learned from other long-haul LCCs and lessons learned for other long-haul LCCs.
The low-cost long-haul model may not be for all markets, but flynas may prove it can be applied in different types. And for the Middle East, flynas' plans underscore how the region is not just home to the Big 3 – Emirates, Etihad and Qatar – but also to short-haul LCCs, long-haul LCCs and regional carriers. The Middle East is located at the cross-road of continents but is also a substantial market in itself, until now largely trapped in conservative and flag carrier-protective policies.
In short, it should be no surprise flynas wants to exploit similar opportunities that once existed in other markets.