SAS shares slump as traffic is down 20%; Vueling reduces capacity too, but load factor up.
Some calm was restored to the market on Friday after a dramatic week on sharemarkets, taking pressure off a number of airline stocks..
SAS fared worst, following its February traffic report. Despite cutting capacity by 12% y-o-y for the month, SAS load factors fell 6.1% as passenger numbers were down 20.1% in a rapidly softening market.

Spain's Vueling also reduced capacity sharply for the month, but managed an increase in load factor, along with an unspecified improvement in yield.
European selected airlines daily share price movements (% change): 06-Mar-09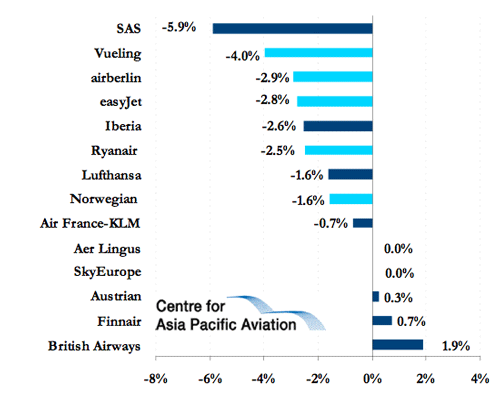 The Scandinavian airline's shares lost 5.9% in the wake of the announcement on Friday. One piece of good news was a slight increase in average yield, of 1%. An increasingly important competitor in SAS' backyard is LCC, Norwegian, which actually grew its passenger numbers in February, picking up some of the slack - although its shares too lost 1.6% on the announcement.

SAS' market capitalisation has more than halved in the first few weeks of 2009, as the carrier goes through the torment of downsizing, while hoping for a white knight to rescue the politically complex entity from disaster.
SAS Group Share price: 02-Jan-09 to 06-Mar-09 (SEK)