SAS' restructuring plan is still on course after improved 2Q2013 results
In 2QFY2013 (Nov-2012 to Apr-2013), SAS has turned around pre-tax losses to report a profit (before non-recurring items) and reversed the pattern of 1QFY2013, when its losses widened. It has made progress with cost reduction and looks to be on track to achieve its FY2013 financial targets. It has also recently agreed to sell its Wideroe subsidiary and made further progress in its fleet modernisation programme.
SAS' recent launch of new fare classes SAS Go and SAS Plus scarcely looks to be the "new service concept" that it claims, but at least the Nordic region's largest carrier is attempting to differentiate itself from its many and growing competitors. In 2012, President and CEO Rickard Gustafson said the restructuring plan was a "final call" for SAS. It seems that, at least for now, the group has not yet missed the flight.
Turn around in EBIT before non-recurring items
SAS Group reported a positive EBIT before non-recurring items of SEK277 million (EUR31.8 million) in 2QFY2013 (Feb-Mar). This compares with a loss of SEK377 million (EUR43.4 million) in 2QFY2012 and represents an operating profit improvement of SEK654 million (EUR75 million). Financial expenses of SEK200 million (EUR23 million) and non-recurring charges of SEK363 million (EUR41.8 million) (mainly due to a provision for a loss on the future sale of Widerøe) meant that the group recorded a loss at the net income level of SEK388 million (EUR44.6 million), but this was less than the SEK429 million (EUR49 million) loss in the same quarter last year.
By operating unit, Scandinavian Airlines saw EBIT before non-recurring items improve from a loss of SEK360 million to a profit of SEK288 million (EUR33 million) and Widerøe saw this result fall from SEK43 million to SEK40 million (EUR4.6 million).
The group results were flattered by a one-off positive effect arising from new pension accounting of SEK450 million (EUR52 million), but the underlying improvement of SEK204 million (EUR23.5 million) in the operating result represents creditable progress. Net debt fell from SEK7.8 billion at the end of Jan-2013 to SEK6.0 billion at the end of Apr-2013, helped by a sale and leaseback of spare engines, which realised SEK700 million (EUR80.5 million).
The company expects net debt to fall further by more than SEK2 billion (EUR230 million) in 3Q2013.
SAS' 'financial preparedness', or overall liquidity as a percentage of the group's fixed costs was 18% at the end of Apr-2013. SAS expects this measure to exceed its 20% target before the end of FY2013 as a result of the expected Widerøe sale proceeds of SEK2 billion, improved cash flow in the seasonally stronger 2H and limited capital expenditure this year.
SAS Group 2QFY2013 financial results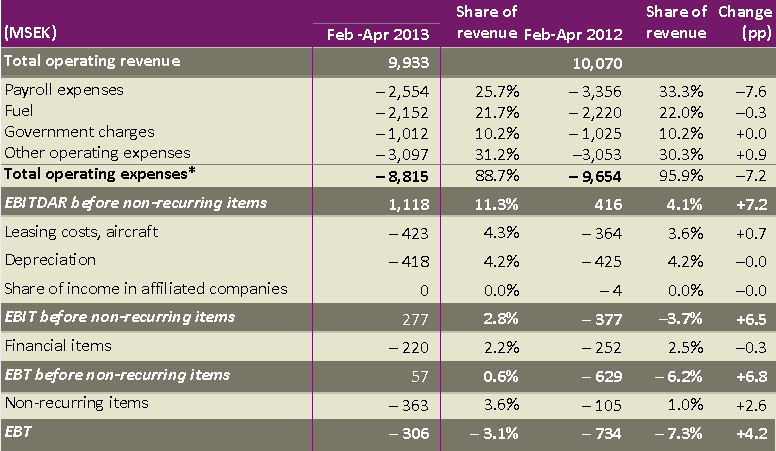 Revenues fall in spite of capacity growth
Revenues fell during the quarter by 1.3%, despite capacity (in ASKs) growing by 4.3%, although revenues would have increased by 1.6% at constant currency rates. Moreover, the revenue fall was attributable to non-passenger revenues, which fell by 9%, while passenger revenues grew by almost 2%.
For Scandinavian Airlines, passenger revenue per ASK fell by 1.3% on a currency adjusted basis as yield improvements (+2.7%) were more than offset by load factor declines (-2.3 ppt). In 2HFY2013, yield is likely to perform less strongly as SAS launches more new routes and sector lengths grow.
SAS Group traffic data 2QFY2013 (Feb-Apr) and 1HFY2013 (Nov-Apr)

ASK growth in the quarter was concentrated on European and intra-Scandinavian routes, where capacity growth was 8.1%. Intercontinental routes saw capacity up by 1.8%, while the three domestic markets saw capacity flat year-on-year.
Capacity growth has been led by an increase in the number of destinations offered by Scandinavian Airlines, from 95 in 2QFY2012 to 106 in 2QFY2013 (growth of 11.6%), although the number of daily flights per destination fell by almost 8% to 7.6. For the year as whole, SAS plans 50 new routes (the majority to open during the summer).
Scandinavian Airlines scheduled passenger traffic, yield, RASK and CASK*

Labour costs down sharply
The most significant cost item, labour (almost 26% of revenues in 2QFY2013) fell by SEK802 million (EUR92 million), or 24%. A one-off pension accounting effect of SEK450 million helped this item, but the underlying reduction of 12% outpaced the 5% cut in average headcount. SAS' 4Excellence Next Generation (4XNG) plan to reduce costs and improve liquidity sees a reduction of 1,000 full time equivalents in centralised admin functions, the majority of which should be implemented this year (300 already be the end of 2QFY2013).
Fuel costs (22% of revenues) fell by 3% in spite of increased capacity, reflecting lower fuel prices and favourable currency movements year-on-year. Scandinavian Airlines' currency-adjusted ex fuel unit cost fell by 10.7%. Without the benefit of the pension accounting adjustment, this fall would have been 3.6%. Of the SEK839 million (EUR96.5 million) reduction in operating costs before aircraft leases and depreciation, SAS attributes more than half (SEK470 million) to its 4XNG plan.
This plan involves new collective bargaining agreements with flying crew and maintenance personnel, new pension scheme arrangements, the centralisation of admin functions (81% of admin posts will be in Sweden in 2015, up from 49% in 2012), headcount reductions, outsourcing of ground handling and call centres and IT restructuring. The group targets a 15% unit cost reduction over the course of the plan.
SAS has signed a letter of intent to outsource ground handling activities to Swissport and signed an agreement with Sykes for the outsourcing of call centres. The company has been negotiating with Swissport on the ground handling deal for some months, but, in the words of Mr Gustafson, "it is complex and needs to take its time". Cost savings from the deal are not expected to be huge; the main driver is to switch costs from fixed to variable. Mr Gustafson hopes to complete the deal by the end of the year.
SAS Go and SAS Plus launched
In Jun-2013, SAS introduced new fare classes, replacing economy, economy extra and business class with 'SAS Go' and 'SAS Plus'. In launching these new fare classes, SAS described them as a "new service concept", saying that SAS Go is "for customers who want to have a lot" and SAS Plus is "for customers who want to have more".
Setting aside the hype, SAS Go looks comparable with full service economy class, offering a checked bag at no extra charge, newspapers, coffee or tea on board, seat selection and mobile check-in. SAS Plus looks quite a lot like business class, although starting prices are 30% less than the starting prices of current flexible fare types, SAS Plus includes two checked bags at no charge, SAS Fast Track, lounge access, meals and drinks on board and double EuroBonus points. All passengers receive breakfast on-board on domestic flights before 09:00.
This move re-emphasises SAS' credentials as a full service carrier, presumably in an attempt to remind passengers of the differences between it and LCCs such as Norwegian Air Shuttle and Ryanair, with whom it increasingly competes. Even with the achieved and targeted unit cost reductions, SAS remains a significantly higher cost carrier than these competitors and so it must attempt to justify its price premium and create at least some more attractive entry fares.
However, it is difficult to see the "new service concept" as much more than re-labelling and perhaps a little re-bundling of product features.
IT issues affect punctuality
SAS implemented of a new IT system in February, which impacted operations during the start-up phase and led to reduced punctuality, which was also hit by difficult winter weather.
SAS took what it describes as "robust measures" to correct these initial IT problems and punctuality in May-2013 was back at 89.3% after falling to 79.3% in Mar-2013 (9.5ppts below Mar-2012 levels) and 84.1% in Apr-2013.
Widerøe sale agreed
In May-2013, SAS agreed to sell 80% of its stake in Widerøe to a group of investors consisting of Torghatten ASA, Fjord1 AS and Nordland Fylkeskommune (the "Investor Group"). SAS will retain a 20% share in Widerøe but will have an option to transfer full ownership of Widerøe in 2016. The two carriers intend to continue their commercial cooperation after the sale is completed. This includes codeshares and the inclusion of Widerøe in SAS' FFP.
The transaction, which will generate proceeds of around SEK2 billion, is aimed squarely at improving SAS Group's financial liquidity and reducing debt. The deal includes the sale of seven SAS-owned Dash Q400 aircraft to Widerøe that it currently leases and the sale of a further three aircraft to a lessor for Widerøe to lease. This divestment, which is subject to competition authority approval, is an important element of the 4XGN programme.
Norwegian domestic FFP comes back
In May-2013, the Norwegian government overturned a ban on earning loyalty points with airlines on domestic air travel. The ban, which had been in place since 2002, was designed to promote competition after SAS acquired Norwegian carrier Braathens, giving it close to a monopoly position on a number of major domestic routes.
The growth of Norwegian Air Shuttle led the competition authority to review the ban before the government reversed it. Mr Gustafson told analysts on the 2QFY2013 results conference call that there might be around 200,000 people that could now be included in the group's Eurobonus scheme: "we want to ensure that SAS is the natural choice for frequent travellers".
Long-haul competition from Norwegian and others increase competitive threats

Asked what effect Norwegian Air Shuttle's nascent long-haul operations were having on SAS, Mr Gustafson told analysts that it was too early to see any noticeable impact. He noted that other competitors, such as Gulf carriers, were also adding long-haul capacity, but SAS had to "focus on our own network, destinations and feeder routes". For example, "50% of passengers have a final destination beyond New York" and SAS could offer a wide range of destinations with its Star Alliance partners.
Elsewhere, he said that SAS' new JV with Singapore Airlines was working well, delivering improved load factors and profits on the Singapore route. The Thai Airways-operated codeshare was also proving beneficial.
Fleet modernisation progressing; long-haul decisions pending
At the end of Apr-2013, SAS Group had 188 aircraft in service and nine leased out to other airlines. It also operated 12 wet-leased aircraft (four CRJ200, four S2000 and four ATR). SAS' plan to rationalise its short/medium-haul fleets around only one aircraft type at each of its three bases is progressing well: Oslo and Stockholm are already conforming to this and Copenhagen should be by this autumn.
The plan will see all SAS' MD80 and 737 Classics replaced by 2014 through leased aircraft – no significant capital expenditure is planned before 2016, when A320Neo deliveries are expected to arrive.
The long-haul fleet is already exclusively Airbus, with A330/340 aircraft, but SAS is reviewing its options to replace these aircraft, whose average age is now almost 11 years. It is reported to be considering A350 and Boeing 787 equipment and, according to Mr Gustafson, SAS will announce a decision soon.
SAS Group fleet at 30-Apr-2013

SAS Group aircraft types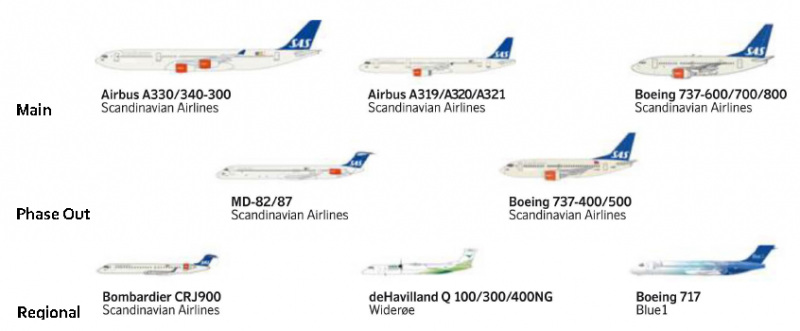 Progress on many fronts
SAS has made progress on a number of fronts in 2QFY2013 and in the weeks following the quarter end. It turned around a 2Q loss to achieve a profit at the operating level before non-recurring items and managed to reduce unit costs. It has moved towards its headcount reduction targets, continued to work on the outsourcing of ground handling, secured a buyer for its Widerøe subsidiary, thereby improving the group's liquidity, and refreshed its product offer.
However, as Rickard Gustafson said: "The earnings level is not yet satisfactory [...]. Our focus is directed to fully completing the restructuring measures and the forecast of achieving positive income for the full-year remains firmly in place".
Provided that "no significant unexpected external events occur", the Group retains its FY2013 targets for a positive EBIT margin of more than 3% and a positive pre-tax profit.
There leaves no room for let up in the 4XNG programme if SAS is to achieve its 2015 target EBIT margin of 8%.