SAS pays price of selling its soul, SkyEurope sees some light, Air France-KLM rises - SHARE WRAP
SAS (-15.3%) has been the market leader downwards in Europe this year, as it struggles for traction. So perhaps the only surprise when SAS made a market offering was that it was in fact 23.3% oversubscribed, helping the company raise SKR6 billion before costs. The inevitable effect was to drive the share price down even further, but it does give SAS a small buffer of cash now.
SAS share price: Jan-09 to Apr-09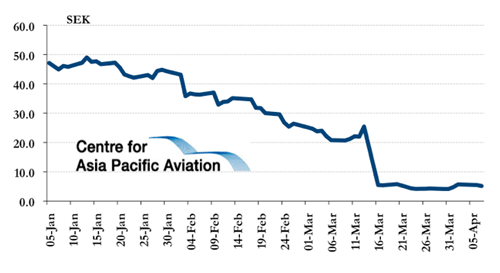 As Mats Jansson, President and CEO of SAS Group hopefully observed, "we will use the rights issue proceeds to strengthen our capital structure and to facilitate the implementation of Core SAS. After the implementation of Core SAS, we will have a more focused commercial offering, a more cost and decision efficient organisation, and be better positioned for improved profitability and to meet future challenges."
SkyEurope
There is perhaps some light at the end of the tunnel for SkyEurope (+13.0%), and it may not be the express train coming in the opposite direction - at least some investors think so. Reporting a small but significant 2.7% load factor improvement in Mar-2009, off a steeply reduced traffic base due to its diminished fleet (pax numbers down 39% for the month, year on year), SkyEurope also announced the arrival of a new CCO.

It doesn't take much to move a share price which has sunk as low as SkyEurope's, but there are still clearly some buyers out there who see there may now be some upside. The carrier is offering a large array of cheap fares over Easter, which should bolster its cash flow, as well as giving management a good idea of how things will go from here.
Meanwhile, in a market now almost immune to bad news, Air France-KLM shares (+5.1%) rose yesterday after earlier reporting ugly Mar-2009 results. Despite carrying 9.8% less passengers in the month (admittedly against a month last year that included Easter), at a 5.5% lower load factor, the airline's decline "was accompanied by a significant deterioration in unit revenues."
European selected airlines daily share price movements (% change): 08-Apr-09