San Diego International Airport: successfully fighting to grow, despite opposition to relocation
Analysis
San Diego International Airport capped off a solid 2014 with roughly 5.9% passenger growth, buoyed in part by long-haul flights to Tokyo and continued expansion by the facility's largest airline, Southwest Airlines.

It is welcome growth for an airport attempting to attract new international offerings with a finite amount of space and operational constraints stemming from the location of the airport's single runway.

After failed attempts in the middle of the last decade to relocate the airport to an area that would support potentially substantial economic growth for the community, San Diego finds itself working to maximise the offerings of its existing footprint through a two phase expansion to increase passenger throughput. The constraints place San Diego in an unenviable position as it competes to capture international service, but it is having some wins.
Airlines continue to add service from San Diego during 2015 after 2014 expansion
For the 12M ending Dec-2014, San Diego's total passenger enplanements and deplanements increased from 17.7 million year-on-year to 18.8 million. International passengers increased by 7.2% to 672,972 and domestic passenger throughput increased 5.9% to 18.1 million.
The airport had posted roughly 2.7% passenger growth year-on-year in 2013 to 17.7 million.
San Diego International Airport annual passenger growth: 2010 to 2013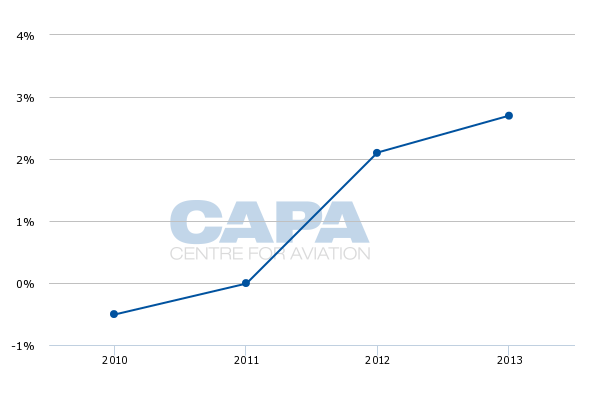 San Diego's first and third largest airlines measured by seats deployed – Southwest and Alaska Air – have expanded their presence at the airport during the last couple of years, which has helped it in 2014 to reach the highest levels of passenger throughput it had recorded since 2007 when it also posted 18.8 million passenger enplanements and deplanements.
San Diego International Airport capacity by airline (% of seats): 12-Jan-2015 to 18-Jan-2015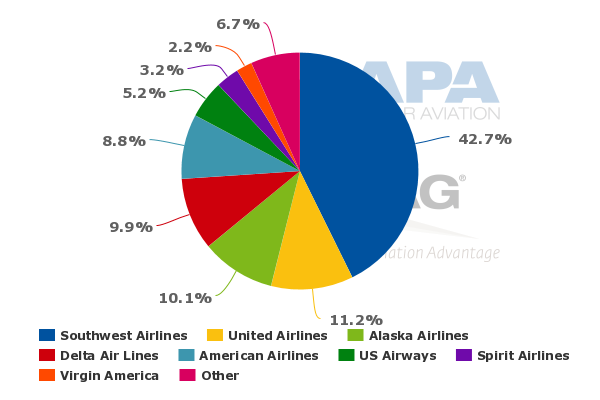 During 2014 Southwest added flights from San Diego to Dallas Love Field (part of the lifting of the Wright Amendment), New Orleans, Portland and Seattle. During the last couple of years Alaska Air has added intra-California service from San Diego to Fresno, Mammoth Lakes, Monterrey and Santa Rosa and transcontinental service to Boston and Orlando. It also now serves San Diego from Salt Lake City and operates service to the Hawaiian destinations of Kahului, Lihue and Honolulu.

Alaska is continuing its expansion from San Diego to Hawaii in 2015 with the launch of flights to Kona, while Southwest is planning to introduce flights from San Diego to St Louis and Milwaukee. Spirit Airlines also plans to introduce new service from San Diego to Denver, after cutting flights from Denver to Portland.
London and Tokyo remain San Diego's only long haul flights
Airlines offer service from San Diego to eight international markets – Los Cabos (Spirit and Alaska), London Heathrow (British Airways), Tokyo Narita (Japan Airlines), Calgary (WestJet), Toronto (Air Canada), Puerto Vallarta (Alaska), Mexico City (Volaris) and San Felipe (Seaport Airlines).
San Diego International Airport top international destinations by seats: 12-Jan-2015 to 18-Jan-2015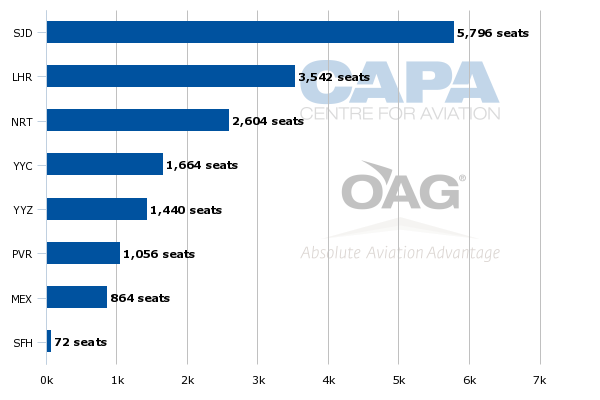 British Airways returned to San Diego in 2011 with flights to London Heathrow operated using Boeing 777 widebodies. The airline's service to San Diego dates back to 1988, but due to geopolitical events it has ended and restarted flights several times over the years. At one point the airline operated a Boeing 747 on the pairing with a stop-over in Phoenix. Prior to the restart, it ended flights to San Diego in 2003.
But after it finally forged an immunised joint venture with American Airlines, British Airways returned to San Diego with an ability to market onward connections to American's domestic network. Airline partnerships can greatly influence route decisions.

But San Diego should also generate a fair amount of O&D traffic for British Airways. A study by the Brookings Institution concluded that Tokyo (13%) and London (12%) were the top sources of foreign direct investment in the San Diego region. Those statistics were cited in an article by investigative news outlet Voice of San Diego in late 2014.

San Diego reached a major milestone in 2013 when Japan Air Lines (JAL) introduced flights operated by Boeing 787 widebodies from Tokyo Narita to San Diego. The airline operates the flights daily and for the first six months of 2013 its load factors were roughly 80% or above. JAL currently operates its 787s in a 186-seat configuration, but is undertaking a revamp to install "Sky Suites" business class seats that will decrease the density to 161 seats. The first reconfigured aircraft was due to enter service in Dec-2014.
Japan Airlines Load Factor from Tokyo Narita Airport (NRT) to San Diego International Airport (SAN): 2013 to Jun-2014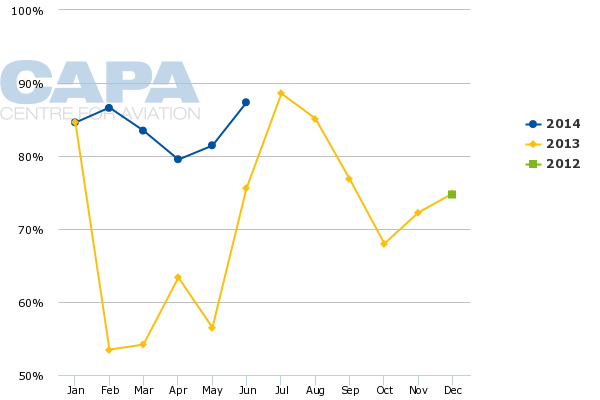 See related report: Japan Airlines to re-open Osaka-Los Angeles, consider New York-Sao Paulo cut during restructuring
San Diego pushes forward with new projects as rejection of airport relocation still stings
Like any other medium sized airport, a major goal for San Diego is to attract more long haul service. But San Diego has a unique set of challenges to overcome as it works to add service to key international markets.

San Diego has a single 9,000ft (2,750m) runway with tough terrain that has to be cleared. The approach from the east is steep, and some aircraft also have weight limits due to the climb rates required from the airport.

The single runway obviously also limits the overall number of operations in San Diego, which is a challenge when attempting to lure airlines to start new flights. In 2006 a proposal to move the airport to Miramar (the site of a Marine Corps air station) was rejected by voters. Former chair of the San Diego Airport Authority Joe Crave told local radio station KPBS in 2012 that if the measure had been approved, San Diego could offer an airport with four 10,000ft-runways.

It is unlikely that projected air passenger growth of San Diego's airport requires four runways, but obviously more than one would allow the city to offer a broader range of options to airlines.
A holistic airport/airline strategy would deliver major economic benefits to San Diego
After the relocation proposal was rejected the airport embarked on upgrades within the confines of the current operating environment. In 2013 the airport's "Green Build" project of terminal two was completed that included 10 additional gates, additional aircraft parking, a dual-level roadway, increased security lanes, expanded shopping and dining options. "These improvements will meet the airport's needs until we reach about 20-21 million passengers annually," the airport stated.

The airport is now weighing options to meet passenger demand through 2035 when throughput could reach 28 million annually, according to local news outlet the Times of San Diego. One of the decisions the airport authority needs to make is how it intends to revamp terminal one, which is the facility's original terminal. One option is demolishing the terminal along with the commuter terminal; however, phase two of expansion is limited to the current property of the airport.

It is hard to predict if San Diego will meet that 28 million passenger threshold by 2035. It would certainly be a much more realistic goal with the Mramar option, but controversy over moving the airport still simmers as the planning for phase two of the current expansion gets under way. There is definitely a mindset among some business leaders that the failure to get support for airport relocation has subdued economic development in the region. "No one knew that the global economy was going to be as important as it is. You're either prepared or you're unprepared," Marney Cox, chief economist for the San Diego Association of Governments told the Voice of San Diego. "The region decided to be unprepared."
San Diego needs to chart a course to remain competitive for the long term
As San Diego presses forward to maximise its limited space, passenger growth is moving at a steady pace, which is a welcome sign for any airport in a post-consolidation environment, but especially for a non-hub airport competing for more international service.

How San Diego plans to accommodate growth beyond the 2035 timeframe is unclear and in some ways seems light years away in terms of the airline business.
But it is a shorter window for airport planning, and for now the airport seems resigned to the fact that moving to a location that allows for more precious runway space is not an option. Making the most of a difficult position is the goal.
The airport is working hard to do that, but down the road the San Diego region may need to re-think how it intends to remain viable in the evolving global economy, particularly given its proximity to the burgeoning Asia market. The potential impact on job creation and economic development may eventually cause a rethink of a Miramar option.