Sacramento International airport: using positive momentum to grow
Analysis
Sacramento International airport is working to sustain momentum from record passenger numbers in 2017. In 2018 the airport is gaining new services from Air Canada and JetBlue. Its largest airline, Southwest, is planning new service to Hawaii from the airport, and Hawaiian Airlines is also planning new Sacramento-Maui service in 2019.

Situated in the capital city of California, the airport aims to use its momentum and a new incentive package to attract long haul service to Europe, marketing itself as an attractive secondary market to long haul low cost airlines such as Norwegian and WOW Air.

As it works to gain service to Europe, Sacramento remains on track to post record passenger levels again in 2018. The airport projects serving more than 11 million passengers in 2018.
Summary
Sacramento enjoys record passengers numbers in 2017, beating previous highs
Sacramento International airport posted 7.8% passenger growth in 2017, to 10.9 million passengers, which surpassed the previous record set by the airport, 10.7 million passengers in 2007.
Sacramento International passenger numbers from 2009 to 1H2018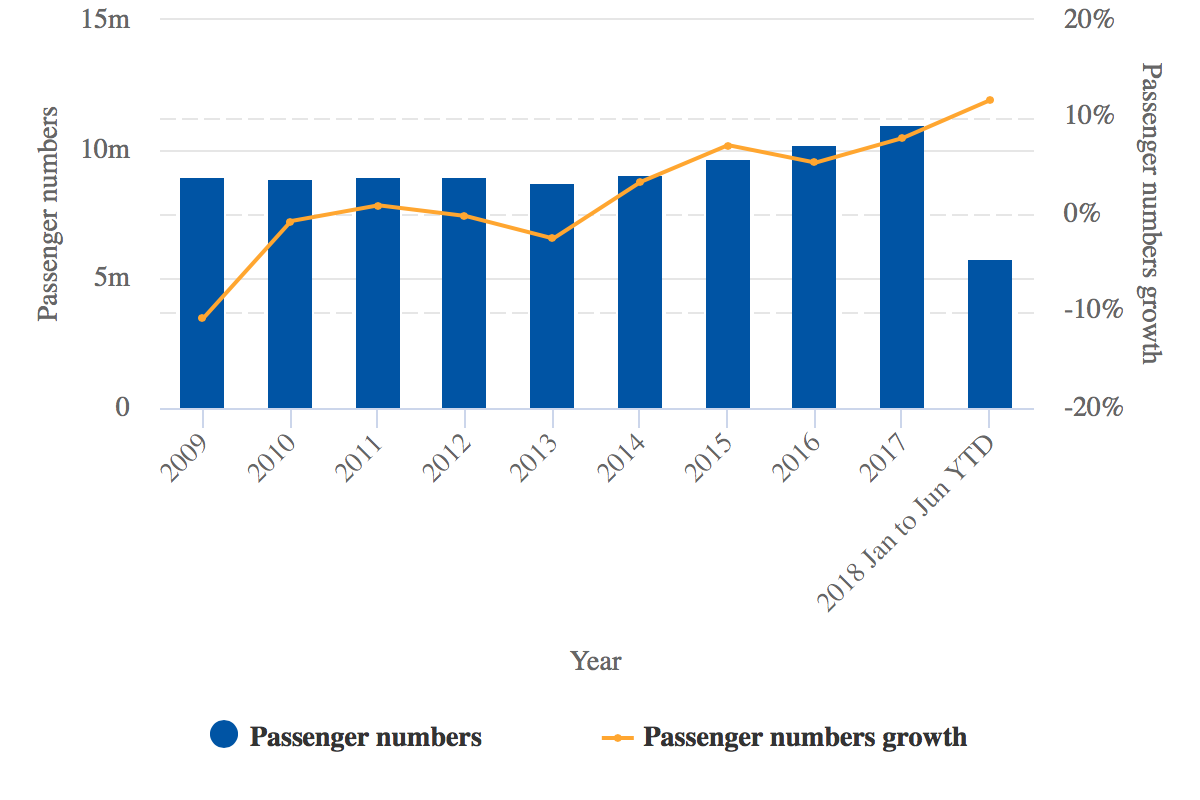 The airport continues to add new services in 2018 and these have included the return of Frontier Airlines, which is planning to launch service to Denver and Las Vegas in Aug-2018.

That service follows the launch of Air Canada's service from Sacramento to Vancouver, Southwest's flights to Orlando, seasonal service from JetBlue to Boston, and the resumption of seasonal service to Cabo San Lucas from Alaska Air Group.
A decent mix of service from LCCs and FSCs
Presently (as of late Jul-2018), Sacramento International airport has nonstop service to 37 destinations, 34 of which are domestic markets. Aside from Vancouver and Cabo, the airport's other international destination is Guadalajara, served by the Mexican airlines Aeromexico and Volaris.

Sacramento has a mix of service from airlines spanning full service and low cost airlines, and with the return of Frontier, the airport will also feature a ULCC on its roster. Southwest is the largest airline operating from the airport based on weekly departing frequencies, followed by Delta and United.
Sacramento International top airlines measured by weekly departing frequencies as of late Jul-2018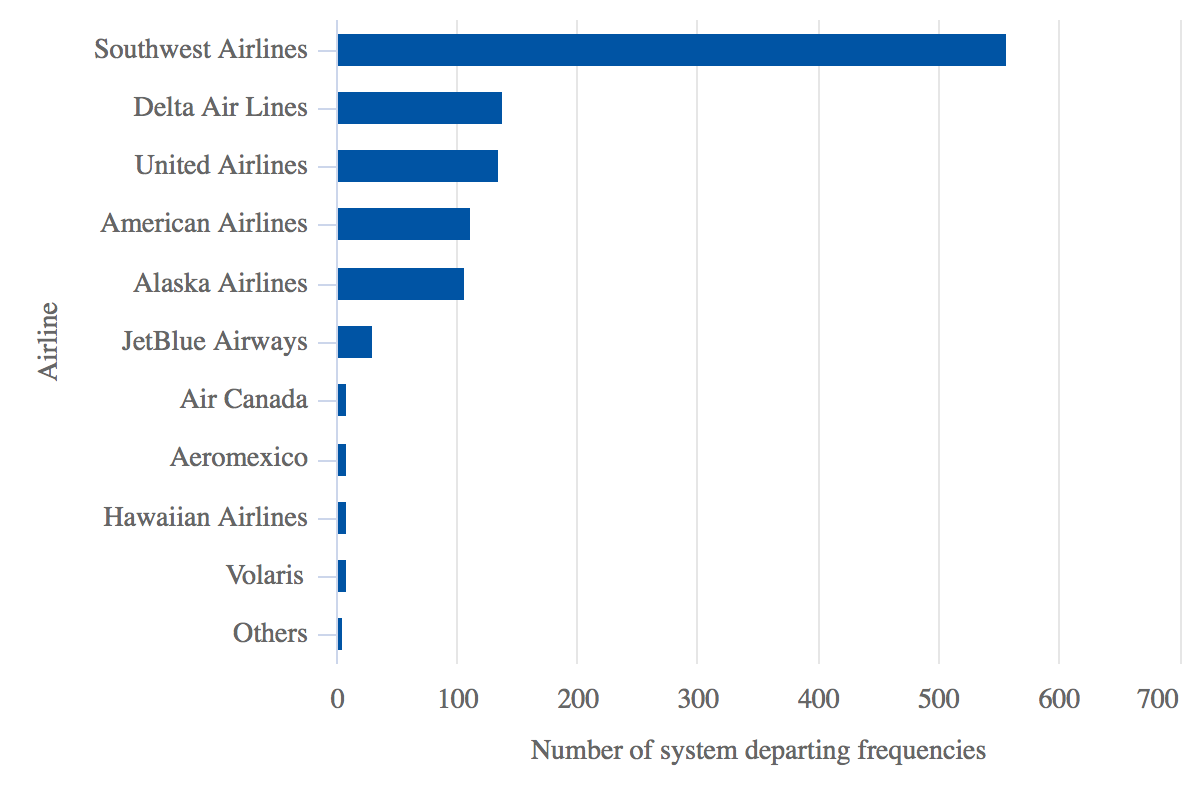 Given Southwest's dominant position at Sacramento, low cost airlines represent nearly 54% of the airport's departing frequencies.
Sacramento International percent of LCC vs FSC weekly departing frequencies as of late Jul-2018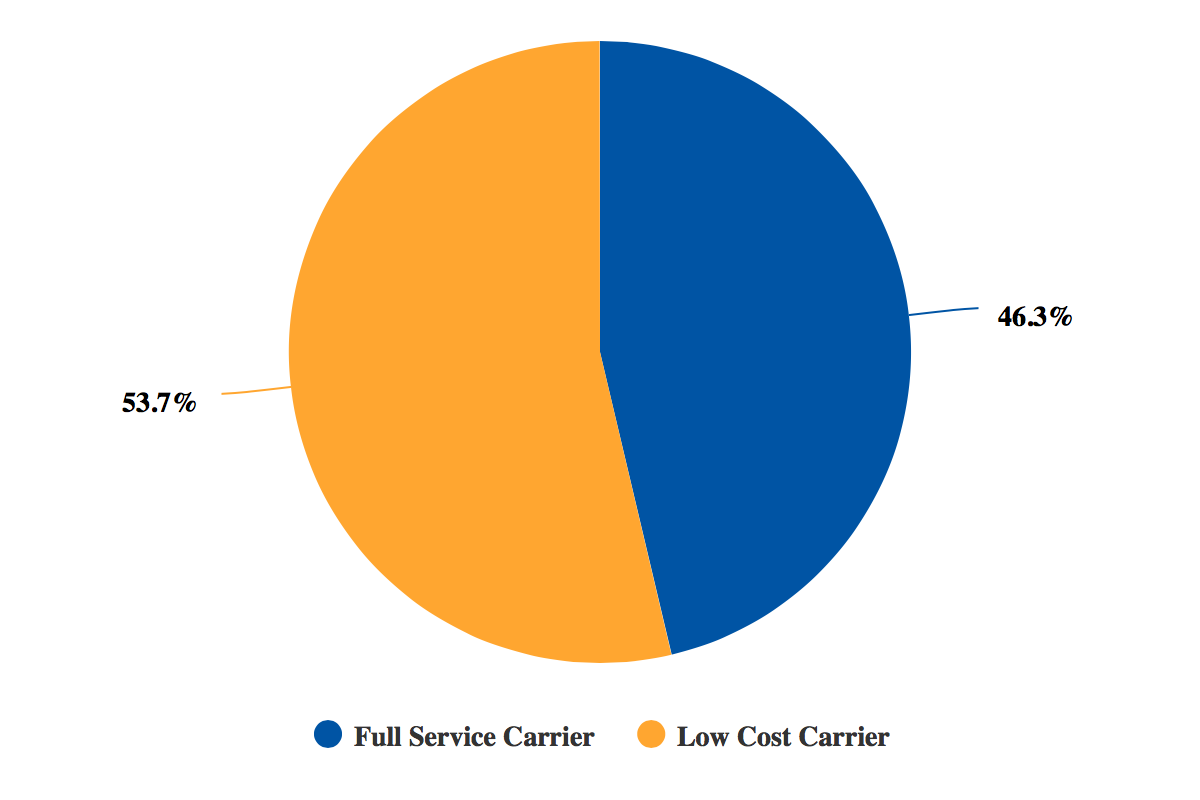 The airport's top five domestic markets based on departing frequencies are Los Angeles, Seattle, San Diego, Phoenix and Denver.
Sacramento International largest domestic routes measured by weekly departing frequencies as of late Jul-2018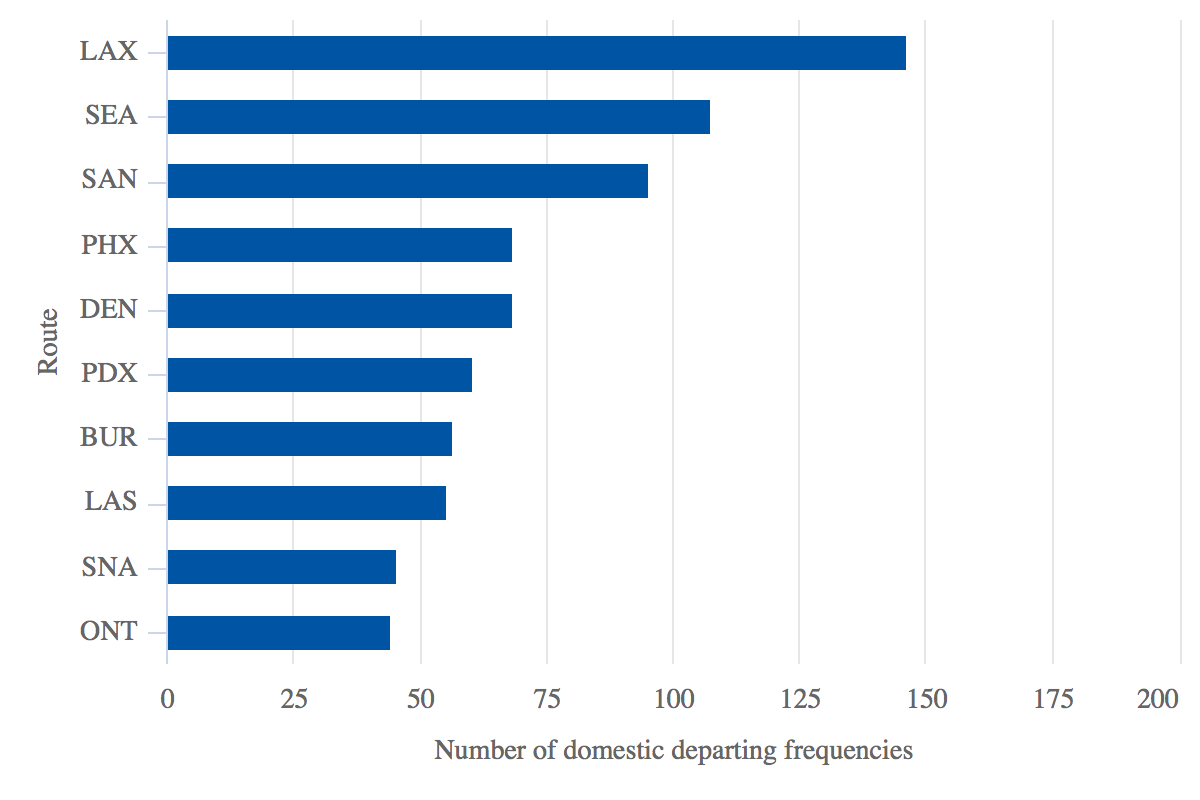 Sacramento aims to attract long haul, low cost service to Europe
At the beginning of 2018 the local news outlet The Sacramento Bee reported that Sacramento International was working to attract service to Europe. Further, that Sacramento county had approved an incentive package that would temporarily waive landing and facility fees and offer up to USD400,000 in marketing and advertising support. The paper stated that the waiver period could last 12, 18 or 24 months, depending on the type of service, and the incentives were greater for international flights.

Incentives to attract international services are the norm for US airports, especially non-hub airports. For example, the St Louis Post Dispatch reported that government agencies had offered USD800,000 in incentives and landing fee waivers for WOW Air's launch of service from St Louis Lambert International airport to Reykjavik in May-2018.

See related report: St Louis: WOW Air flights herald new opportunity in a mature US market
Pittsburgh International airport has awarded close to USD4.6 million in incentives to airlines since 2015. The non-US airlines serving Pittsburgh are Condor with service to Frankfurt, and WOW with flights to Reykjavik. At the recent CAPA Airline Leader Summit, airport CEO Christina Cassotis stated that airlines such as WOW and Condor stimulate traffic.

See related report: Pittsburgh airport: Ideally located, growing, and fulfilling network gaps

The Sacramento Bee reported that airport officials had held discussions with Norwegian Air Shuttle, Condor and WOW, and were touting Sacramento's proximity to Northern California tourist destinations.

WOW serves 13 destinations in the US, ranging from larger metro areas such as Chicago and New York to more medium sized and former hub markets including Pittsburgh and Cleveland. As of late Jul-2018, Condor offered service to 11 US markets, and Norwegian Air Shuttle US services totalled eight airports.

Oakland, which is approximately 130km from Sacramento, has service from Norwegian Air Shuttle to Barcelona, Paris, Copenhagen, Oslo, Rome and Stockholm, and all of that service is less than daily.
WOW serves nearby San Francisco, which is 141km from Sacramento. Oakland's proximity to Sacramento does not preclude those airlines from considering service to Sacramento; the question is whether enough local traffic can be stimulated to support service. Obviously incentives are a factor in an airline's evaluations and willingness to operate when it is considering the launch of service to a new market.
Conditions are ripe for Sacramento's ability to sustain positive momentum
As it works to make its long haul ambitions a reality, Sacramento International airport expects its passenger throughput in 2018 to exceed 2017's record levels, with 11.5 million passengers forecast to travel through the airport.

The growth is against a backdrop of a relative economic stability in the US state of California, where Sacramento is the capital city. Forbes has identified Sacramento as a boom real estate market, with a 9% change in home prices year-on-year.
Long haul, low cost airlines are giving smaller US airports hopes for expansion
Sacramento is another example of a medium sized US airport that is enjoying solid growth, and working to improve its long haul prospects.

It remains to be seen when, or if, Sacramento will attain long haul service to Europe, but perhaps the proliferation of airlines such as Norwegian and WOW is providing an opportunity for smaller US markets to expand their long haul offerings.