Ryanair up (on Aer Lingus' back). Aegean continues rise and SkyEurope loses gains
Ryanair (+2.0%) shares gained on Friday as the carrier created more problems for Aer Lingus (see below). New Star member-elect, Aegean Airlines (+4.5%), also continued its dream run.
SkyEurope (-8.3%) lost almost as much as it gained the previous day, as turbulence continues. And Italy's Eurofly (-6.0%) also lost more of the spectacular gain it made on 27-May-09.
For daily updates on American aviation stock prices and a complete wrap of the day's breaking news, sign up now for a complimentary subscription to America Airline Daily.
Europe selected airlines daily share price movements (% change): 29-May-09
Aer Lingus vs Ryanair (contd). O'Leary keeps the door open to another bid for Aer Lingus
It looks increasingly that this week's AGM is shaping up to be a critical one for Aer Lingus – or it will be if Ryanair CEO Michael O'Leary has anything to do with it. Lighting the fuse with his challenge to directors' remuneration, the offer is now there to help with a rescue of Aer Lingus – as it will, according to him run out of cash and need rescuing in the next 12-18 months.

And a third offer, to follow the two which were previously rejected when Aer Lingus' share price was at multiples of its current level, remains only "highly unlikely" – but not out of the question,
A clever tactic: remuneration proxies given to the Transport Minister
The next step in the onslaught came on Friday. Arguing that the Aer Lingus board has a pattern of ignoring or rejecting all of Ryanair's proposals, Mr O'Leary has delivered all 29.8% of the LCC's voting rights to the Irish Minister for Transport. This is a clever tactic, as it puts the ball entirely into the Minister's court to permit or deny the Ryanair proposal to reduce Board fees.

Mr O'Leary maintains that "Since the Aer Lingus Board continues to be controlled and run by the Irish Government and the trade unions (who between them have appointed the entire Aer Lingus Board) who have presided over an 80% collapse in its share price over the past two years (from over €3 in 2007 to under €0.60 in May 2009) Ryanair has accepted this reality and today announced that it has given a proxy over its 29.8% share of votes at the AGM in favour of the Minister for Transport, Mr Noel Dempsey on the two resolutions covering Non-Exec fees."

This means that, together with the 25% government shareholding, the Minister has a controlling vote on this issue. It will be hard for him, at a time where the media (and perhaps the public) are baying for reduced executive and board remuneration, as the weak economy drives up unemployment.

Says Mr O'Leary, "with Ryanair's votes in his pocket, the Minister for Transport can now alone decide whether fees of over €15,000 per Board meeting are reasonable in the case of Aer Lingus' Non Exec Chairman or fees of €4,000 per Board meeting are reasonable in the case of Aer Lingus' Non Executive Directors, all of whom are either Government appointees or trade union appointees like ICTU boss David Begg.
Mr O'Leary gets his point across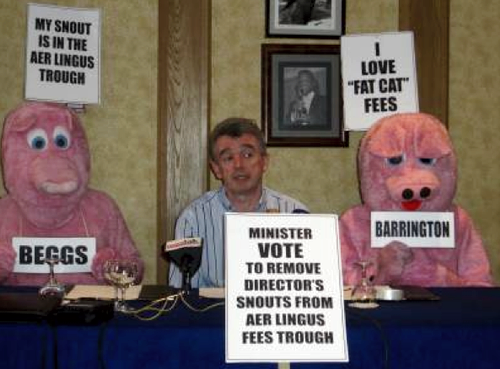 "If the Minister for Transport, Noel Dempsey, abstains or votes to protect these bloated Directors fees, then he too will have zero credibility when it comes to negotiations with Aer Lingus' trade unions and its workers on the significant cost reductions and productivity improvements necessary to return Aer Lingus to profitability and restore shareholder value."

Aer Lingus is beleaugured in the marketplace, but it is at home that Ryanair's continuing attacks must inevitably be taking their toll on the leadership of the flag carrier. Having already lost a CEO earlier this year, there must be at least a few key people in the organisation who are wondering if it is all really worth their fighting both battles much longer.