Ryanair expects losses in 3Q2010 and 4Q2010 on continued fare reductions; S&P affirms JetBlue
Air Arabia shares showed the largest gain, but Ryanair's slid 1.6% yesterday, after Europe's largest LCC stated it expects average fares would decline by up to 20% in 3Q2010 and 4Q2010, which would result in losses in both quarters (and hence for 2H2010).
However, the LCC has maintained its full-year profit guidance, stating it would be "substantially profitable, at a time when many of our competitors are losing money, consolidating or going bust".
1H2010 profits up 70%; passenger numbers up 15%; fares down 17%
In the six months to Sep-2009 (1H2010), Ryanair reported an 80% year-on-year increase in adjusted profit to EUR387 million, despite a 2% reduction in revenues to EUR1.8 billion, which was driven by a 17% reduction in average fares, and largely offset by a 15% growth in passenger numbers (to 36.4 million).
Operating profit increased 10 ppts to 30% in the three months ended Sep-2009 and was up 13 ppts to 26% in the half-year period.
Ryanair operating profit margin 1Q2005 to 2Q2010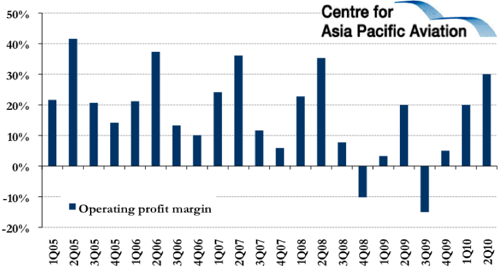 Sees "no point in continuing to grow rapidly in a declining yield environment"
Meanwhile, Ryanair CEO, Michael O'Leary, stated that the carrier has made "little progress" with Boeing on negotiations for an order for 200 aircraft for delivery from 2013 to 2016. The CEO stated the carrier would end its relationship with Boeing and confirm a series of order deferrals and cancellations if the negotiations are not completed by the end of 2009.
He added, while "we would prefer to grow", "we see no point in continuing to grow rapidly in a declining yield environment, where our main aircraft partner is unwilling to play its part in our cost reduction programme by passing on some of the enormous savings which Boeing have enjoyed both from suppliers and more efficient manufacturing in recent years".
Meanwhile, easyJet Founder Sir Stelios Haji-Ioannou, jumped in on the debt, questioning Ryanair's strategy to acquire more aircraft, speculating that Ryanair would be unable to find sufficient passengers to fill new aircraft.
Sir Stelios added, "my suggestion now, as he will not find enough passengers to fill his 100 additional aircraft, is to buy a piece of the Mojave Desert in California and start an aviation museum for his old aircraft. It could be another ancillary revenue stream alongside his charging for the loo".
S&P Affirms JetBlue Credit Rating; upwardly revises outlook
JetBlue's shares were up marginally yesterday (+0.2%) as Standard & Poor's Ratings Services affirmed its credit rating on the carrier and revised its outlook from negative to stable.
S&P based the revision on improved profitability and JetBlue's improving liquidity, with USD951 million in cash (or approximately 29% of the last 12 month srevenues), which, according to S&P, is better than the average for US airlines.
Also in the US, AirTran was upgraded by Next Generation, from 'Neutral' to 'Buy'. The LCC"s stock price was up 1.2% yesterday.
AirAsia sells an additional 48,000 shares
In the Asia Pacific region, AirAsia's shares were down 2.2% yesterday, on the same day the LCC announced that an additional 48,000 new ordinary shares of USD0.03 (MYR0.10) each, issued pursuant to the carrier's Employees' Share Option Scheme, will be granted listing and quotation with effect from 03-Nov-2009.
Selected LCCs daily share price movements (% change): 02-Nov-09