Romania's TAROM remains confident of reversing its fortunes despite facing huge competitive hurdles
Management of Romania's TAROM believes it will not slip into a scenario like Hungary's national carrier Malev, which ceased operations in Feb-2012, arguing that it has the "capability to adapt quickly". But TAROM executives will find a hard time proving their case as the Romanian carrier has recorded losses for four consecutive years and is expected to remain in the red in 2012.
TAROM faces significant pressure from LCCs, namely from Wizz Air, which is absorbing an increasingly larger part of its market. In addition, the airline's efforts to restructure and find a new business model are hindered by repeated delays of plans to sell 20% of the company. Eventually the Romanian carrier's full ownership should end up in private hands.
But it is unlikely that a private investor will step forward to purchase a minority stake in state-owned TAROM in the current European financial environment. Europe's economies are overall in bad shape, and there is an oversupply of small and medium airlines for sale whilst potential buyers are scarce.
The number of airlines looking to attract a new shareholder is particularly high in Central and Eastern Europe, and includes carriers such as LOT Polish Airlines, Slovenia's Adria Airways and Serbia's Jat Airways. TAROM General Manager Gabriela Bordea told CAPA during the IATA AGM in Jun-2012 that she had tried to explain to the Romanian government that it is "neither the right moment nor the best of ideas for the airline" to proceeded with the partial-privatisation of TAROM but she stressed "it is their decision".
See related articles:
TAROM's IPO is marred with uncertainty
The divestment of an initial 20% holding in the airline is part of a two-year precautionary loan arrangement worth EUR3.6 billion to the Romanian government by the International Monetary Fund (IMF) and the European Union (EU) concluded in Mar-2011, under which the lenders requested the country to address inefficient state-owned enterprises particularly in the energy and transport sectors. The initial agreement foresaw that the TAROM stake would be sold by the end of 2011, and this deadline has been pushed back several times. The preliminary initial public offering (IPO) prospectus was approved by Romania's capital market regulator CNVM in Apr-2012.
The latest reported target for launching the TAROM offering is Jul-2012 or Aug-2012, but Ms Bordea admitted in Jun-2012 that there could be no certainty that it would take place as scheduled or that the entire placing would be fulfilled.
Romania does not expect to raise a lot of money from the sale. According to reports in Romanian business newspaper Ziarul Financiar the country's transport ministry has lowered its expectations for proceeds from the sale to less than EUR10 million from an initial range between EUR20 million and EUR60 million. Ms Bordea said the prospective IPO would be open for all types of investors – strategic and financial, local and foreign.
Restructuring will continue without new investor
It is not clear if the Romanian government would use the proceeds of the sale to recapitalise the flag carrier (if a secondary public offering of 20% of TAROM take places as planned). Ms Bordea insists the company has no need for an infusion of capital and has the "possibility" to continue operations till at least 2013, by when the government could consider another attempt at an IPO. "If the 20% is not sold now we will wait for better times to do the placement and continue the restructuring. In my opinion TAROM first has to have a good financial balance and show a profit," Ms Bordea said.
Ms Bordea was elevated to the position of CEO in Mar-2011 replacing Ruxandra Brutaru, who had run the airline since Jan-2009. Ms Bordea joined TAROM in 1973 and served as director of sales and marketing prior to appointment as chief executive.
TAROM appears to be gaining some traction from its cost reduction programme after reducing its losses in 2011 to EUR58 million from EUR79 million for the year prior. Ms Bordea said she is aiming to reduce losses by a further 25% year-on-year in 2012, and bring the company back to profitability in 2013. The carrier reduced its losses by 50% during 1Q2012, she said.
TAROM net loss and revenue: 2011-2008
| | Net loss | Revenue |
| --- | --- | --- |
| 2011 | EUR58 million | NA |
| 2010 | EUR79 million | EUR218 million |
| 2009 | EUR55 million | EUR193 million |
| 2008 | EUR1.7 million | EUR257 million |
TAROM's restructuring plan is based on increasing revenue and reducing costs, but a more long-term strategic analysis of the carrier's model is currently being conducted by consultancy firm Roland Berger. As part of its drive to lower costs TAROM is focused on increasing fuel efficiency and aircraft utilization, reduce distribution costs and lower staff count through voluntary departures. It also has renegotiated the terms of its ground handling and catering contracts, which should deliver annual cost savings of EUR1 million and EUR660,000, respectively.
However, the bulk of the airline's cost cutting exercise is dependent of the restructuring of its fleet.
Streamlining of TAROM's medium-haul fleet is imperative
TAROM's fleet consists of 23 aircraft – four Airbus A318, one A310, four Boeing 737-700s, one 737-800, four 737-300s and nine ATR turboprops. Management has announced its intention to standardise the airline's its fleet to two types, one type for its domestic and regional operations which are currently operated with ATRs and a second type for its medium-haul network.
Ms Bordea confirmed to CAPA that a tender will be issued for a new narrowbody fleet, but the timing of an order is the decision of the carrier's owner, she said. Romania's Ministry of Transportation holds 97% of TAROM's shares. A 1.60% stake is held by Bucharest Henri Coanda International Airport, but this could change in the short or medium term.
The phasing out of the current aircraft will be gradual. The A318s are relatively young (TAROM received the first of its order for four of the type in Nov-2006) but demand for the aircraft is very low. The carrier is also attempting to return the last of three 737-800s to the aircraft's lessor. TAROM added the -800s to replace its A310 fleet after it suspended it long-haul operations, but the -800 version is too large for its current operations and the leasing rate it is now committed to paying is apparently exorbitant. The IMF has requested that TAROM remove from the -800s from its fleet quickly, or renegotiate the monthly lease rate to more current levels.
Two 737-800s were handed back to the lessor at the end of 2011 but TAROM is locked in for the third -800 until the end 2015 with the one-year pre-notice starting at the end of 2014.
TAROM Fleet Summary: 25-Jul-2012
LCCs overtake TAROM in Romanian seat share
LCCs have gained a firm foothold in the Romanian market and have gradually eroded TAROM's market share. Hungary-based Wizz Air is now the largest capacity provider in Romania with roughly 76,000 weekly seats whereas the country's flag carrier offers some 58,000 seats per week. Blue Air Transport, a Romanian LCC, deploys almost 42,000 weekly seats.
Wizz Air is also Romania's largest airline in terms of passenger numbers. The LCC increased boardings in 2011 by 23% to 2.7 million while TAROM's enplanements remained stable year-on-year at 2.2 million. Wizz Air has 10 180-seat A320 aircraft operating from four bases in Romania – Bucharest, Cluj-Napoca, Timisoara and Tirgu Mures. Six of these aircraft are stationed at Bucharest Airport.
Romania system capacity share by carrier (% of seats): 23-Jul-2012 to 29-Jul-2012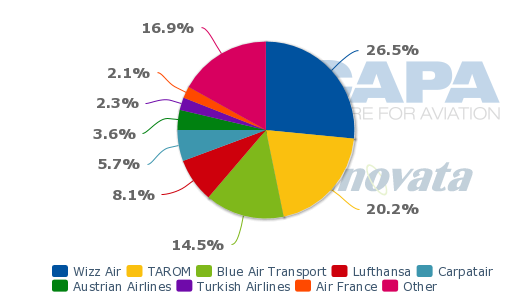 The inroad of LCCs into TAROM's market is even more pronounced on international routes. Wizz Air has a 29% share of seat capacity on international routes and TAROM just 16%, according to schedules in Innovata for the week 23-Jul-2012 to 29-Jul-2012. Blue Air holds a 15% share of weekly seat capacity.
TAROM operates on a network spanning 36 non-stop passenger destinations, comprised of 10 domestic airports and 26 international gateways. It does not operate any long-haul routes (it ended service on its last long-haul route to New York, which was operated with an A310, in 2003). About 61% of its weekly seat capacity is deployed on routes to/from Western Europe, 26% on routes to/from Central and Eastern Europe and 13% to the Middle East and North Africa – where it serves Amman, Beirut, Dubai International, Tel Aviv and Cairo.
Tel Aviv is TAROM's second largest route after Paris. Romania-Israel is a big local market and TAROM also offers a one-stop product for passengers heading between Europe and Israel or neighbouring Jordan and Lebanon. TAROM's transit traffic has benefited from the demise of Malev as TAROM has added capacity in Budapest to fill some of the void left by Malev in the local Hungary-Romania market as well as in the broader Eastern/Central Europe market.
TAROM international capacity by region (seats per week): 23-Jul-2012 to 29-Jul-2012
Domestic routes are a pocket of relief for TAROM
No-frills operators have not yet invaded the Romanian domestic market, owing to the small size of most routes. TAROM operates it domestic network with ATR equipment (seven 50-seat ATR 42-500s and two larger 68-seat 72-500s), and Ms Bordea said the small-capacity regional aircraft are well-suited for these operations.
TAROM has a very comfortable 75% share of domestic capacity in terms of seats, according to schedules in Innovata. Blue Air is trying to enter the market but has only an 8% capacity share whereas Carpatair, which is moving from a FSC to a more hybrid model, is concentrating most of its activity at Timisoara Airport where TAROM historically has not been a large player.
See related article: Romania's Carpatair is feeling the inroads of LCCs in its regional market
According to Innovata data, TAROM is the sole operator on nine of its ten largest domestic routes from its main hub at Bucharest Henri Coanda International Airport (also known as Otopeni Airport). It competes with Carpatair on only route, to Timisoara.
TAROM's strong position on the domestic market is a welcome relief against the relentless competition it faces on international routes. But the market is limited and the airline deploys only 26% of its weekly seat capacity on domestic routes versus 74% on international routes.
Romania domestic capacity share by carrier (% of seats): 23-Jul-2012 to 29-Jul-2012
Romanian Government lends TAROM a helping hand at its Bucharest base
TAROM operates from four bases in Romania, but Otopeni is its main base where it deploys about 56,300 seats per week according to schedules in Innovata. The other operating bases are at the regional airports of Cluj Napoca, Timisoara and Iasi near the east border of the country. TAROM flies just 5,300 seats in/out of Cluj Napoca Airport and approximately 3,600 seats at Timisoara. Wizz Air has bases at Cluj and Timisoara, although Timisoara remains, at least for now, Carpatair territory.
TAROM is still the largest airline at Bucharest Henri Coanda International Airport with about a 27% share of weekly seat capacity and a 38% share of flight movements, ahead of its main competitor Wizz Air which has a 21% share of seat capacity and a 15% share of flight movements. However, TAROM's market share is exceptionally weak for a national carrier at its home airport.
The airline competes head-to-head with both Wizz Air and Blue Air on five of its 10 largest international routes in terms of seat capacity. TAROM's presently operates to 36 gateways from Otopeni and Wizz Air to 24, according to schedules in Innovata.
TAROM top 10 international routes based on capacity (seats per week): 23-Jul-2012 to 29-Jul-2012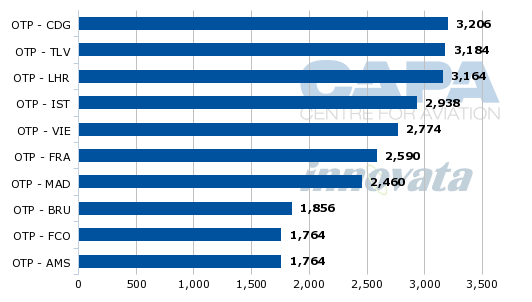 Competition on TAROM's top 10 international routes: 23-Jul-2012 to 29-Jul-2012
Wizz Air and most other LCCs operating to the Romanian capital such as Blue Air and Germanwings used to operate from Bucharest Aurel Vlaicu Airport (Baneasa) Airport, the city's secondary and much cheaper airport, but the airport was closed for commercial traffic on 25-Mar-2012. The budget carriers were forced to relocate their operations to Bucharest Henri Coanda and pay higher airport charges, on par with the charges paid by FSCs.
TAROM faces huge challenges in reversing its fortunes
The forced move to Otopeni has resulted in Wizz Air increasing its air fares; however, even with higher airport charges and taxes LCCs have a lower cost structure. TAROM's Ms Bordea enthusiastically argues that the Malev scenario will not apply to TAROM because it has the capability to quickly adapt, but thus far the carrier has not yet proven its ability to persevere.
TAROM became a full member of SkyTeam in 2010 but management is only now looking to unlock the real potential of being an alliance member. The airline has failed to recognize the new operating environment in Europe. It still operates a full service concept, including a business class, despite the short stage length of its route network and the reality that LCCs now operate on most of its international routes. TAROM faces multiple challenges including government interference, a high cost structure, an inefficient fleet and the lack of a market to sustain its FSC operation. It will be a daunting task to tackle all these deficiencies.