Reno-Tahoe airport: tech company growth prompts upside
Analysis
Reno International has had its share of ups and downs throughout the years but the airport logged 10% passenger growth in 2017, inching closer to pre-recession levels. During the past couple of years the airport has secured service to Denver and New York, JFK, and more recently, flights to Austin by ULCC Frontier.

Some of the growth is driven by shifts in Reno's economy as the region has attracted outposts from Apple, Tesla, Google and Amazon, which has helped to reduce the city's unemployment rate drastically during the past eight years.

All the elements are in place for solid growth at Reno's airport; but some challenges are looming, including a potential housing shortage in the Reno area and ensuring that the airport retains ample US Customs and Border Protection staffing in order to attract additional international service.
Summary
Reno reaches a major milestone in 2017 when passenger growth reaches 10% year-on-year as tech companies expand their presence in the region through billions worth of investments.
The airport has a mixture of services from full service airlines, low cost carriers, and now ULCCs – now that Frontier has returned to Reno with services to Denver and Austin.
Reno's sole international service is operated by Volaris to Guadalajara, but Vancouver appears to be on the airport's short list for additional service.
Reno hits double digit passenger growth as tech firms expand in the region
Reno's passenger numbers reached four million in 2017, a 10% increase year-on-year, which was its best performance since 2009. Year-on-year passenger growth at the airport contracted from 2010 to 2015.
Reno-Tahoe International annual passenger growth from 2009 to early 2018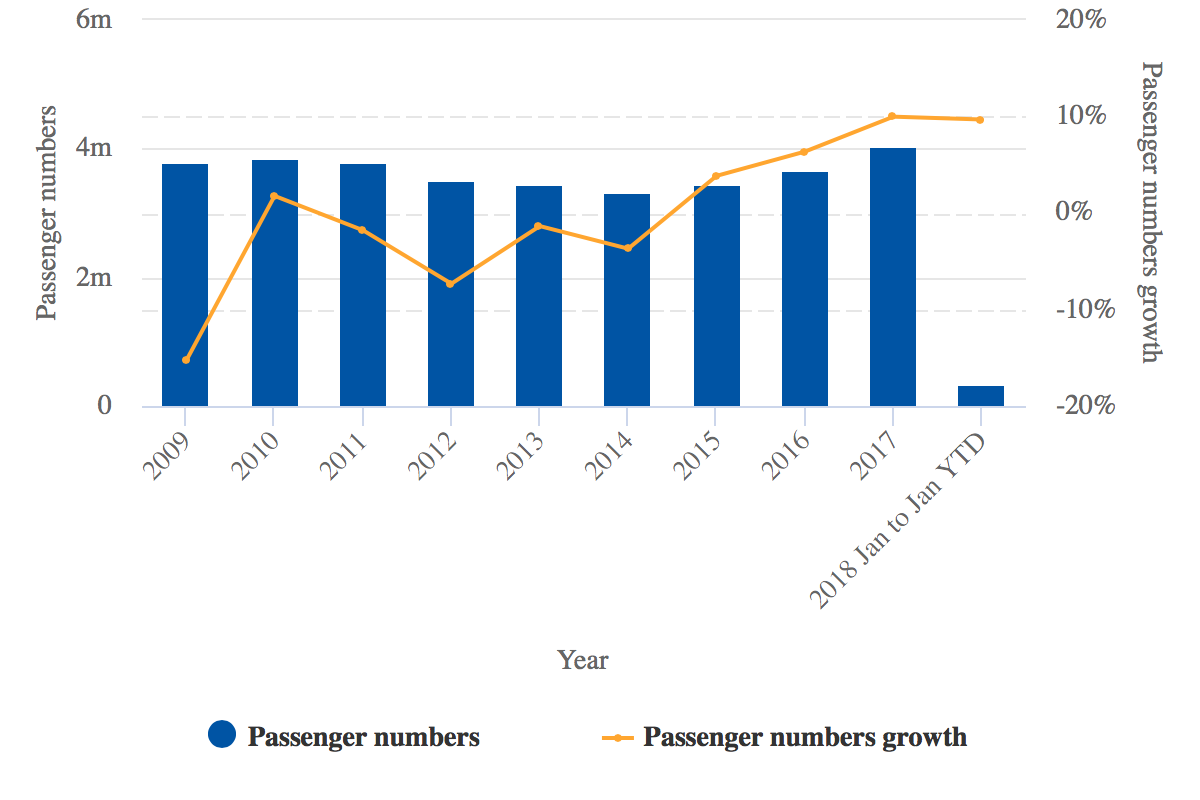 The growth coincides with economic diversification undertaken in the region. Reno is most known for its proximity to Lake Tahoe and its gambling industry, but as Bond Buyer has pointed out, Apple has recently opened a new USD4 million warehouse in downtown Reno and has pledged to double the size of a USD1 billion data centre it opened east of the city in 2012.

The publication also highlighted Tesla's lithium battery "gigafactory", which opened in 2016 in nearby Sparks. The expansion has helped drive Reno's unemployment rate from 14% in 2010 to 4% in early 2018, according to Bond Buyer.
Hybrid charter company has interest in Silicon Valley shuttle to Reno
Reno's largest markets measured by seats are in the US western region, with hub airports Los Angeles, Phoenix and Denver holding the second, third and fourth rankings.
Reno-Tahoe International top ten domestic destinations measured by seats for the week of 9-Apr-2018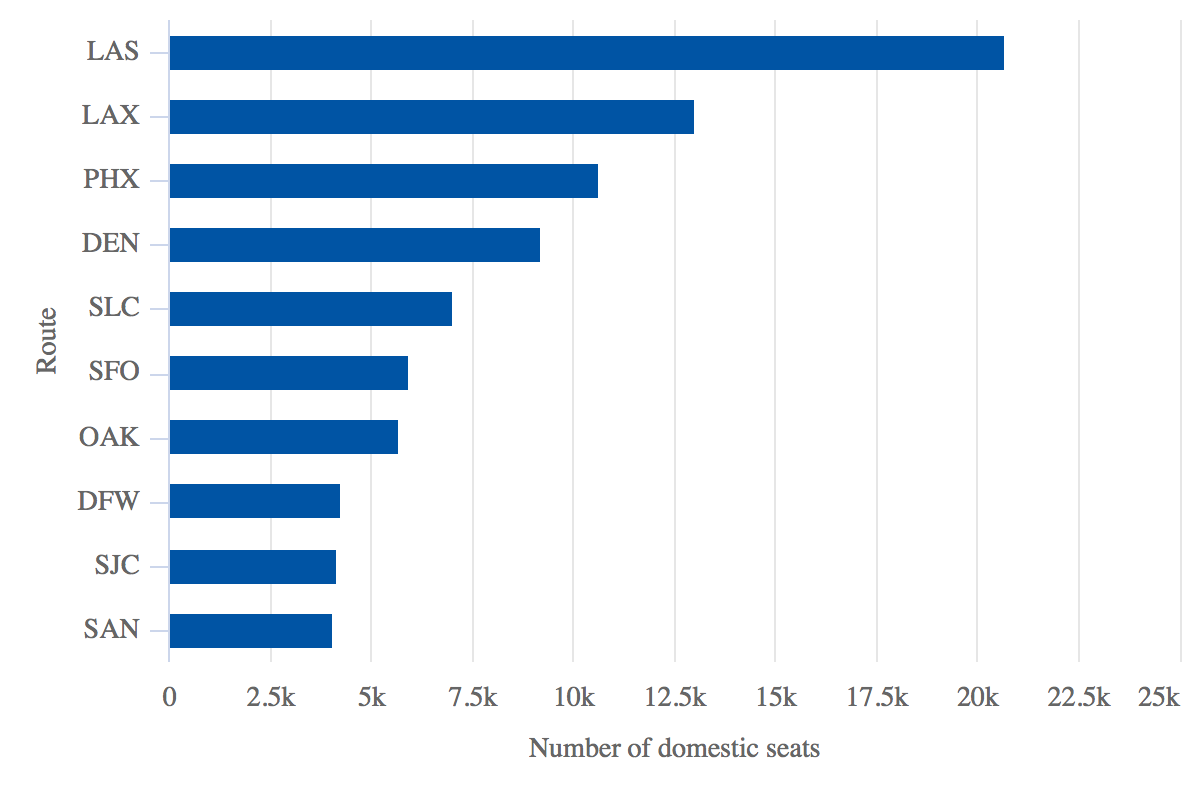 Southwest is Reno's largest airline measured by ASK deployment, and the airport also has services from the large network airline American to its hubs in Phoenix, Los Angeles and Dallas/Fort Worth. Delta operates flights from Reno to its hub in Salt Lake City, and United offers flights to its hubs in Denver, Los Angeles and San Francisco.
Reno-Tahoe International system ASKs by airline for the week of 9-Apr-2018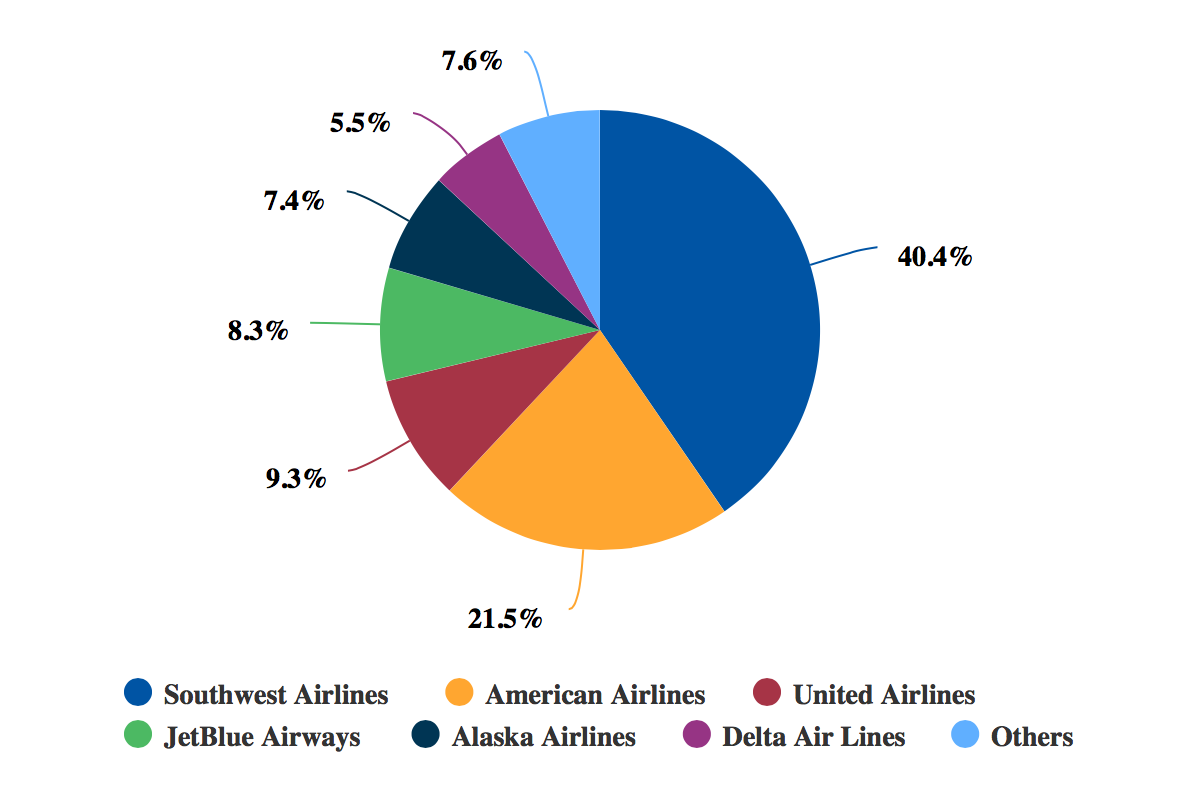 Reno's service footprint to airports near Silicon Valley includes Southwest's flights to Oakland, United's service to San Francisco and Alaska's and Southwest's flights to San Jose.

Those airlines do not show any signs of increasing service to the tech hub in the Silicon Valley, but Blackbird, a start-up that offers a hybrid-like charter model, is examining new service from Palo Alto to Reno.

Blackbird uses a proprietary logistics and demand software to determine underserved routes, calculate pricing and manage flight logistics. Its ability to use proprietary software is an example of how nimble technology start-ups can penetrate niche markets without the legacy systems and challenges that larger US airlines face.

"Reno is full of potential and is proving itself to be a hub for technology and innovation", says Blackbird CEO Rudd Davis. "We want to help support and fuel the growth taking place in the city by making Reno more accessible."
Reno works to improve Customs in order to secure additional international flights
During the past couple of years Reno has worked to secure service from JetBlue to New York JFK and Long Beach, and in 2018 to Austin, operated by the ULCC Frontier Airlines following the launch of flights to Denver in late 2017. Frontier last served Reno in 2007, before its ULCC transition after it was sold to Indigo Partners in late 2013.

In late 2014 Reno marked a milestone when the Mexican ULCC Volaris debuted flights from Guadalajara to Reno. The airline operates two weekly flights on the pairing with an Airbus A320 narrowbody.

The service remains Reno's sole international offering, after Thomas Cook in 2015 nixed plans to introduce flights to the airport from London due to inadequate US Customs and Border Patrol staffing, according to The Reno Gazette Journal. The publication cited a Thomas Cook spokesman stating that the three-hour processing time for the Airbus A330 that the airline was aiming to operate on the flight was unacceptable.

Nevada Business recently said that the Reno-Tahoe Airport Authority had obtained USD175,000 to support the salary for an additional customs officer, and had expressed an interest in securing services to Vancouver, in particular. However, Vancouver already has US customs pre-clearance, so staffing for that particular flight would not be an issue.
Vancouver is a viable possibility; service to Reno could be operated with narrowbodies that could presumably be efficiently processed by customs officers. It could be a low risk route for WestJet or its new ULCC Swoop debuting in 2H2018, especially if RTAA can entice the airline with incentives to launch new service. WestJet is Vancouver's second largest airline, holding a 24% seat share for the week of 9-Apr-2018.
Reno appears to have realistic ambitions for air service development
Close to a decade after a recession swept over most of the US, Reno has worked to diversify its economy, shrewdly positioning itself as an attractive market when tech companies are continuing to expand outside the confines of Silicon Valley, making a broader contribution to the US economy.

Reno does face some challenges in its housing market, since the expansion of tech opportunities in the area has driven up home prices – inventory has fallen behind demand as more residents relocate to the area for tech jobs.

But the overall outlook for Reno continues to look promising, and the region is working to capitalise on opportunities that have emerged from the region's economic fortune. At the same time, the airport appears to have reasonable ambitions in developing air service, and appears poised to grow its annual passengers to five million in the not too distant future.