Record traffic for AirTran in Dec-2009; Double-digit RASM reductions for WestJet in 4Q2009
AirTran Airways set new December records for traffic, capacity and enplaned passengers in Dec-2009, with traffic (RPMs) rising 5.3% on a 8.2% capacity (ASMs) increase, and the number of enplaned passengers up 1.7% to over 1.9 million. Load factors, however, were weaker, down 2.1 ppts to 77.7%.
AirTran Airways capacity (ASKs) growth: Feb-2004 to Dec-2009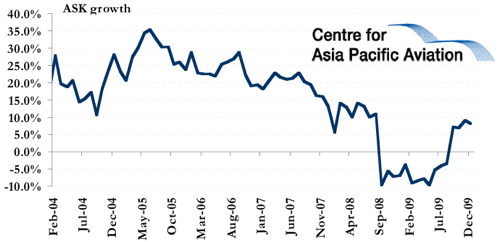 In the full year, the LCC handled 24.0 million passengers, a 2.5% year-on-year reduction, as the carrier reduced capacity (ASMs) by 2.2%. Load factors were up marginally, gaining 0.2 ppts to 79.8%.
WestJet expecting double-digit RASM reduction in 4Q2009; record load factor in Dec-2009
WestJet CEO, Sean Durfy, upon the release of the carrier's Dec-2009 traffic results, stated it expects 4Q2009 RASM to be "in line" with its previous guidance of an 11-13% decline.
However, this is an improvement from a 15.5% decline in 3Q2009, although Mr Durfy, in late Dec-2009, stated the airline is "still nervous" about the general outlook for the North American economy. The CEO expects a recovery as early as 2Q2010.
The recent revenue softness for WestJet is attributed to the challenges experienced in the transition to the new SabreSonic reservations system and also reflects a reduction in the airline's average fare. Mr Durfy previously stated WestJet is now offering more fare sales than in the past, as passengers continue to use discretion when purchasing fares amid the global financial downturn and competitor, Air Canada, adopts aggressive pricing strategies.
However, these fare reductions have helped the Canadian LCC report a record load factor of 81.7% in Dec-2009, a 0.8 ppt year-on-year improvement, as the carrier's capacity (ASMs) increase of 7.0% was more than offset by an 8.1% traffic (RPMs) gain. In the full year, the carrier reported an average load factor of 78.7%, a 1.4 ppt reduction.
The carrier added that it benefited from WestJet Vacations' increased popularity, a number of new vacation destinations and "considerable progress" in its call centre service levels since its reservation system cutover in Oct-2009.
Versant Partners, meanwhile, raised its stock target from CAD14 to CAD16, on expectations of traffic and unit revenue improvements in 2010.
46 million passenger for easyJet in 2009
Across the Atlantic, easyJet reported improved passenger number and load factor statistics in Dec-2009, with passenger numbers up 9.3% to 3.4 million, and load factors up 3.4 ppts to 85.4%.
In the full year, the carrier handled 46.1 million passengers, a 3.4% year-on-year increase, with an average load factor of 86.0% (up 1.4 ppts).
Tiger Airways planning to raise USD196 million in IPO
In the Asia Pacific region, Tiger Airways announced plans to raise up to SGD273 million (USD196 million) in its IPO, through the sale of 165 million shares valued at between SGD1.35 and SGD1.65, representing 30% of total shares. The pricing reflects a price-to-earnings ratio of 11.4 to 13.9 times its 2011 earnings forecast.
The LCC plans to use the funds to support aircraft orders, pay off loans and establish new bases. Current stakeholder, Indigo Partners plans to sell 5.8% of its stake in the sale, while RyanAsia will also sell down some of its stake if the issue is oversubscribed. The carrier launched its investor roadshow for the IPO on 06-Jan-2010.
Selected LCCs daily share price movements (% change): 06-Jan-2010