Raleigh Durham airport: solid growth and bright prospects ahead
Analysis
Raleigh Durham International airport is another US medium sized airport that is enjoying solid growth and route expansion with the addition of nine new routes during 2017 on nearly 6% passenger growth.

Delta Air Lines has been building up its presence in Raleigh during the past three to four years and now holds a leading market share at the airport. Raleigh has a somewhat balanced mix of full service and low cost airlines, and the ULCC Allegiant was the airport's fastest growing airline in 2017. Raleigh has service to major long haul markets in London and Paris and, similarly to most mid-sized US airports, eventually aims to land direct services to China.

Raleigh also remains in the running for Amazon's second headquarters, and by some measures, has a decent chance of winning the coveted position as Amazon's US east coast home.
Summary
Raleigh Durham International airport continues to log solid passenger growth, buoyed by Delta's decision to build out Raleigh as a focus city.
The airport has a relatively balanced airline portfolio, ranging from FSCs to LCCs and ULCCs.
Delta's decision to make a push from Raleigh helps fuel the airport's growth
Raleigh Durham International airport handled 11.7 million passengers in 2017, a 5.6% increase year-on-year. Since 2014, the airport's growth has been 4% or higher, peaking at 10.3% in 2016. For 1H2018, Raleigh Durham's year-on-year passenger growth was 10%.
Raleigh Durham International airport annual passenger numbers from 2009 through 1H2018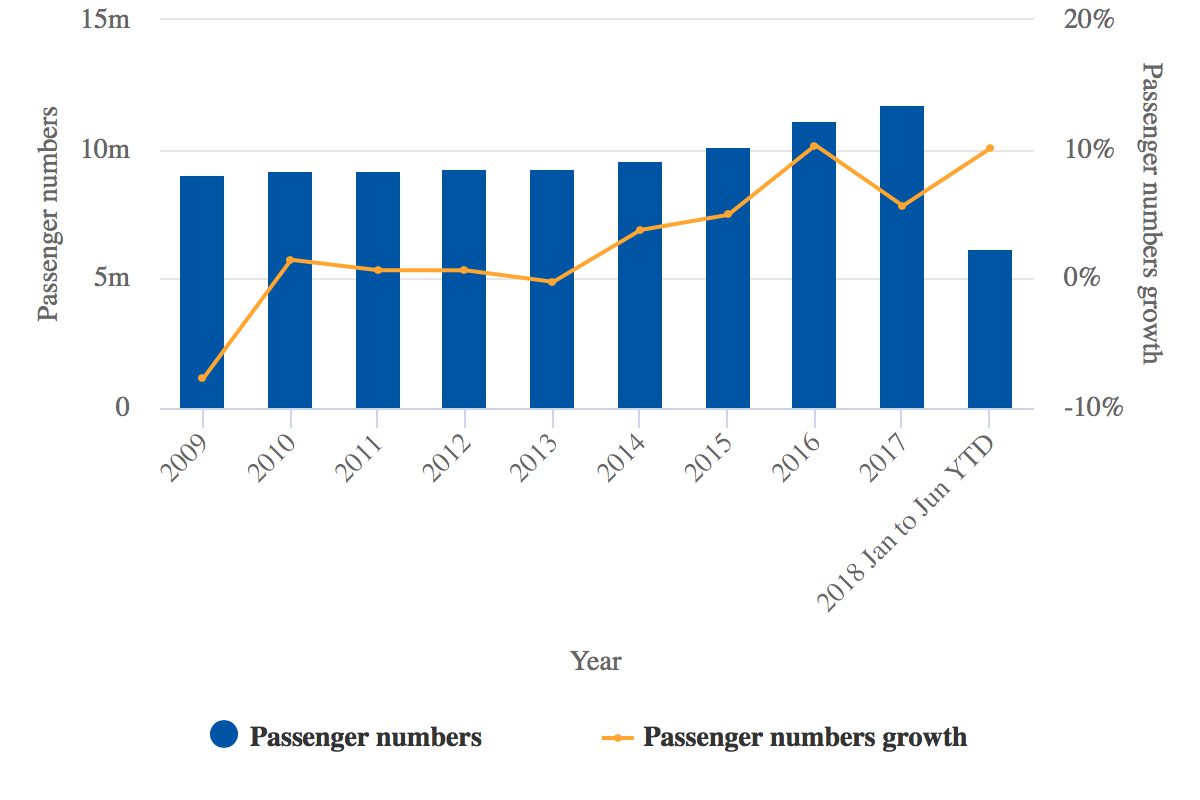 Part of the airport's solid growth during the past few years is due to Delta's decision to create a focus city in Raleigh. Delta also operates focus cities at Boston and its former hub in Cincinnati.

Delta intends to make the most of the fact that Raleigh is a fast growing city with strong high tech and biotechnology sectors. The airline had noted that, given the region's economic strength, no one airline had more than 15% share of the Raleigh market.

As a result, Delta has opted to invest in and build up its presence in Raleigh, in 2017 holding a 30.8% market share at the airport, followed by American's 26.3% share and a 20.5% share for Southwest.

Delta has deemed Raleigh a great success story, and "as we are investing the returns are going up", Delta president Glen Hauenstein concluded in Dec-2017.
Raleigh Durham has a fairly balanced airline roster, with FSCs, LCCs and ULCCs
During 2017, airlines introduced nine new routes from Raleigh, including new flights to San Francisco operated by Virgin America, new service to Austin by Delta and Frontier, and the inauguration of flights to New Orleans by Allegiant and Southwest Airlines. Frontier also added service to Las Vegas, and Delta's expansion from Raleigh in 2017 included flights to Nashville, Seattle and Newark.

The ULCC Allegiant Air added service from Raleigh to Cincinnati in 2017, and was also the airport's fastest growing airline, at the same time posting 26.8% growth year-on-year. Allegiant offers less than daily flights from Raleigh to Cincinnati, Destin, Orlando Sanford, New Orleans, Punta Gorda and Tampa.

Raleigh has a good mix of full service, low cost and ultra low cost representation. The ULCC Frontier operates 67 weekly departing frequencies from the airport as of late Jul-2018, and LCC JetBlue offers 62 departing frequencies.
Raleigh Durham International airport system weekly departing frequency by airline as of late Jul-2018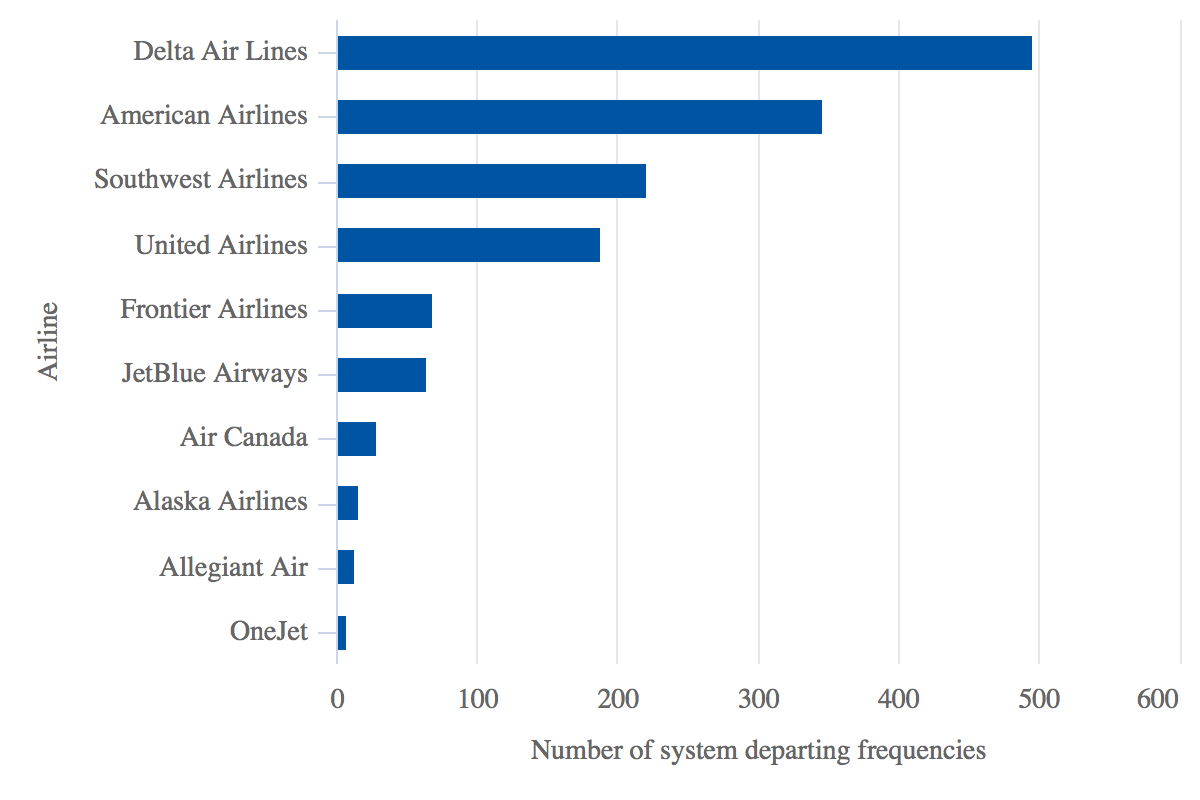 Frontier is planning to push from Raleigh in 2018 with the launch of six new cities, which brings the total number of destinations the airline serves from the airport to 27. The new markets are Cancún, Montego Bay, Punta Cana, Fort Myers, West Palm Beach and Phoenix.
Raleigh Durham lays the groundwork for coveted nonstop service to China
Raleigh also has services to two important European markets – Paris (operated daily by Delta with a Boeing 767) and London Heathrow (operated daily by American with a 777).

Nonstop flights to China are also on Raleigh's wish list, but airport officials realise that type of service takes years to cultivate. A report by the local news outlet The News & Observer quoted airport officials noting that an effort like winning service to China could take up to seven years.

At the same time, Raleigh is laying groundwork to support longer-haul flights. The airport is in the process of preparing environmental studies for a new 11,500ft (3500m) runway to replace the existing 10,000ft (3048m) runway.

The News & Observer has reported that airport officials believe Raleigh can support three weekly flights to China with capacity of more than 300 passengers. However, that was before the administration of US President Trump levied billions of tariffs on Chinese goods. It is not clear whether the tariffs will have any long term effects on traffic between the US and China.
Raleigh appears to have a good chance of landing Amazon's second headquarters
Raleigh is also one of 20 candidate cities for Amazon's second headquarters and in some tech circles, the city is considered a front runner. The publication GeekWire recently surveyed its readers regarding which of the 20 cities vying for Amazon's new headquarters was the most appealing from a liveability perspective.

Raleigh emerged at the top of the list, ahead of New York City and Washington, DC. One survey does not necessarily dictate the winner, but the Raleigh region's attributes include a large pool of tech talent pool and a lower cost of living than some cities on Amazon's finalist list.
Reports have also surfaced that Apple was considering building a new campus in the Raleigh area.
Raleigh Durham is poised for a continued solid growth trajectory
Raleigh Durham International airport is capitalising on the region's favourable economic growth and strong technology sector to build network utility, featuring representation by airlines spanning all business models.

The region's tech sector continues to build strength, which is resulting in Raleigh garnering favourable attention from tech titans, including Amazon and Apple.

All of those elements are coalescing to create ample opportunity for Raleigh to continue its positive growth trajectory.