Qantas undergoes a metamorphosis as it attains 90 years of operations
Analysis
As one of the oldest airlines in the world reaches a milestone, it is its youthful low-cost offspring, Jetstar, that offers a launchpad for the group's future, along with a frequent flyer programme that any business would leap through burning hoops to own. And there's still some life in the old dog itself. Now led by the man who established Jetstar, Alan Joyce, Qantas now looks to contain stiff domestic competition and to Asia for its international future.
In 2020, Qantas will be 100 years old. On 16-Nov-2010 it celebrates a mere 90 years of operation. Rare among prominent flag carriers in not bearing its home nation's name, the roots of the airline's being are buried deep in outback Australia, in what was originally a private company, Qantas and Northern Territory Aerial Services. This later changed to Qantas Empire Airways as international services began in 1934 and this became its sphere of activity when the airline was nationalised in 1947 and all of its domestic routes passed to a new entity, Trans-Australia Airlines (TAA). Renamed Qantas Airways Ltd in 1967, the international airline bought the domestic successor of TAA for AUD400 million in 1992 and began a process of privatisation.
It was at this time that Qantas' first big decision about its future became necessary. The first step towards an IPO, in Mar-1993, was to acquire a cornerstone investor for 25% of the new company. The two main bidders were Singapore Airlines and British Airways. It is a matter for speculation how the nature of Australia's flag carrier – and indeed its national airline system - would have evolved, had SIA won that first important contest. In fact it came very close, but some last-minute fast footwork by the British carrier captured the prize. The subsequent public offering was completed two years later. BA maintained its holding until 2004, when it sold its then-diluted 18.5% share.
In Qantas' chronology of its first 90 years, one short sentence notes "Qantas launches new domestic low-cost carrier, Jetstar". That brief mention belies the importance to the Qantas Group of what is one of the more successful airline models in the world.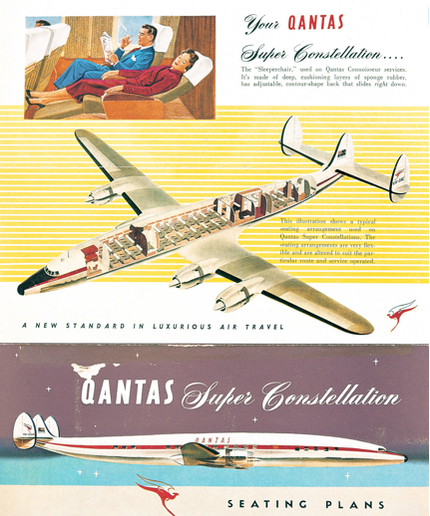 Qantas' development of its "two-brand strategy" was undoubtedly its most remarkable and successful strategy – and arguably its commercial salvation - over the past decade. Its origins can be traced back to the collapse in 2001 of its main competitor, Ansett Airlines – which in turn was provoked by the arrival of Australia's first genuine new low-cost airline, Virgin Blue. As Virgin Blue capitalised on Ansett's departure, Qantas at first watched helplessly as the new entrant gobbled up market share.
The full service airline had gorged on a history of regulation and weak competition domestically and was now attempting to match blows with a carrier whose point-to-point unit costs were at least 50% lower. Attempts to cut fat were initially met with resistance from unions but the airline's culture and management was in any event not up to adjusting to this new threat.
Against a background of failed attempts by US and European network airlines to establish low-cost subsidiaries, Qantas' advisors recommended "segmenting" the carrier's product between leisure and full service markets, using different seating on various aircraft. This quickly confused and alienated premium passengers and, after some rethinking, an independent subsidiary, Jetstar, was established in 2004.
The feared cannibalisation of the parent's product did not materialise. Six years on, this airline – now the biggest low-cost airline in the region by revenue passenger kilometres – represents Qantas' main hope for future growth. It is expanding domestically and internationally, while Qantas contracts. Jetstar will also be the vehicle used to establish in new markets as Asian aviation booms over the next decade, using the cross-border joint-venture model, to complement its Singapore and Vietnam operations.
The premium brand is still valuable and is responsible in no small part for capturing the sizeable corporate market share. But its profitability domestically on jet routes is stalling in these price-conscious times, although the turboprop subsidiary, Qantas Link, has a near-monopoly of regional markets. Qantas also complements Jetstar operationally and codeshares with the low-cost subsidiary. Today however the mainline carrier's greatest asset is its brand leverage in generating ever-increasing profits in one of the most successful frequent flyer programmes in the world, where membership stretches to one in every second Australian household.
The year 2007 saw the inglorious rejection of a proposed move to delist the group by taking it private, a failure which, in retrospect, was fortuitous. Had the potential investors at that time loaded the airline with debt, while simultaneously splitting it into its various parts (FFP, aircraft ownership, Jetstar etc), there is a better than even chance that the mainline carrier would have been bankrupted in 2009/10. The planned break-up, similar to the model that saw Air Canada split out its valuable frequent flyer programme and other activities, was to have uncovered the "true" value of the airline by exposing its the component parts. This continuing problem for the complex airline entity, of generating equity valuations at least equal to the sum of its parts, let alone a premium, is a global one.
On board a Qantas flying boat 1938: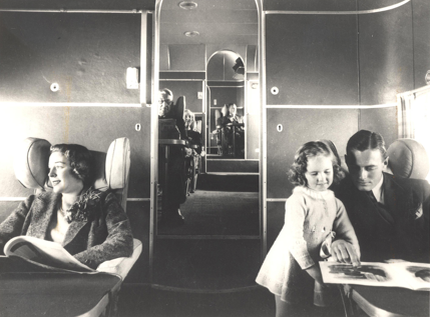 Qantas' future as a full service airline must assuredly be to link with another airline. Following its 1990s ownership history, it was with some irony that Qantas came very close to buying British Airways in 2008, just before the global economy melted down. Apart from that near-miss, Qantas has come close to, or been very interested in some form of combination with each of Air new Zealand, Malaysia Airlines and Garuda International. If Virgin Blue's codeshare arrangement with Etihad were to evolve into something bigger, Qantas may even come to wish that partnership option had been pursued a little more actively.
Qantas suffers the inevitable difficulties of all international airlines at the end of long routes, with no opportunity for the transfer traffic that is the fuel of modern airline strategy. The carrier's great strength however, has been its powerful position in the domestic Australian market. With 65% of total capacity and nearly 90% of the corporate business in a country which has, so far at least, felt little of the cold winds of economic downturn, it appears well anchored. But domestic leisure yields continue to slide, as both Tiger Airways and Virgin Blue compete in a relatively small market, each threatening to add capacity against sluggish growth next year.
The dual positioning, as low fare and full service airline, along with an almost recession proof FFP, offers sound risk management opportunities. But, aside from the complex direct competitive issues it must deal with, Qantas and Jetstar have suffered major setbacks in their long-term planning as a result of aircraft failures, matters well outside their control.
These go much deeper than recent engine problems with the A380. The delays in delivery of the super-jumbo were not initially particularly painful for Qantas, as they would otherwise have arrived in the midst of the global financial crisis. And spare capacity can temporarily be pulled in to cover much of the gap left by grounding six of the larger aircraft. If that problem is resolved in weeks rather than months the situation should be retrievable. But damage containment is not where management's chief priorities would wish to be right now.
The continuing delays to the B787 are however providing a real drag on the potential of long-haul Jetstar operations. In addition to the 50 firm orders, Qantas Group originally had more than 50 additional purchase orders but later cancelled 15 of them and deferred another 15, along with adjusting the mix of B787-8 and B787-9s. Using cost-effective A330s in their place as an interim measure has been a consolation, but the core long haul policy was woven around the capabilities of the Dreamliner. Each delay is hurting. But the multi-layered profile of the Qantas group is so far fortunately showing much greater resilience than the complex fibres that make up the next generation machines it plans to fly.
Qantas and Jetstar's fleet and orders
| Operator | Aircraft manufacturer | Aircraft type | In service | On order | Grand total |
| --- | --- | --- | --- | --- | --- |
| | | | 42 | 48 | 90 |
| | | A321 | 6 | | 6 |
| | | | 7 | | 7 |
| | | | 17 | 2 | 19 |
| | | | | 14 | 14 |
| | | 737 (CFMI) | 16 | | 16 |
| | | 737 (NG) | 38 | 25 | 63 |
| | | | 29 | | 29 |
| | | | 27 | | 27 |
| | | | | 50 | 50 |
| Grand Total | | | 182 | 139 | 321 |
Qantas share price growth: Nov-2009 to Nov-2010