Qantas throws gauntlet to unions by grounding fleet and locking out union employees
Analysis
Qantas CEO Alan Joyce has thrown down the gauntlet on union strikes by grounding 108 domestic and long-haul aircraft effective at 5pm on 29-Oct-2011.
"I'm taking an unbelievable decision to ground this airline," Mr Joyce said in Sydney. He says Qantas is forced to ground its fleet after locking out employees members of the ALAEA, TWU, and AIPA unions from 8pm 31-Oct-2011. These unions fly and maintain Qantas aircraft. "This is a very tense environment. Individual reactions to this lock-put may be unpredictable," Mr Joyce said at a press briefing in Sydney. Mr Joyce said the grounding, an extreme scare tactic, would go on for as long as it takes for unions come to terms – but expectations are the unions will quickly settle.
"This course of action has been forced upon us by the extreme and damaging course chosen by the leaders of the three unions. It is now over to them. The ball is in their court. They must decide just how badly they want to hurt Qantas," Mr Joyce said.
The remarkable step is almost unprecedented in Australian aviation history - the previous wholescale dispute, when Australia's pilots withdrew their services, occurred some 22 years ago, resulting in the closure of all large scale commercial operations for an extended period. At that time, military transport aircraft and foreign airlines were used to maintain a skeletal system in a dispute that lasted for weeks and resulted in almost a halving of the number of pilots eventually re-hired by the airlines.
Screens at Qantas' terminal at Sydney Airport announce the grounding, which went into affect at 5pm Sydney time on 29-Oct-2011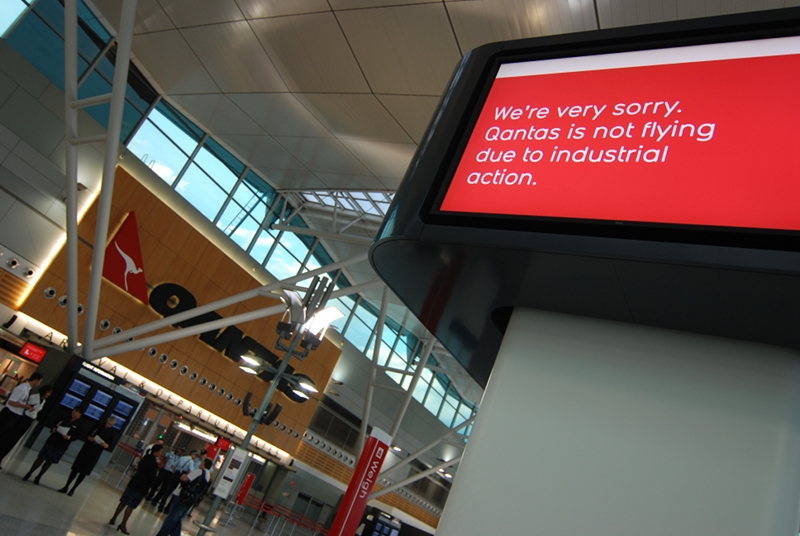 Mr Joyce said Qantas management foresaw the possibility employees would walk off their jobs prior to the lock-out commencing at 8pm on 31-Oct-2011. Because of the uncertainty, Qantas pre-emptively grounded operations affected by the three unions: Qantas mainline domestic and long-haul. Unaffected are regional flights under the QantasLink subsidiary, all domestic and international Jetstar flights and trans-Tasman flights between Australia and New Zealand operated by Qantas' Jetconnect subsidiary.
"As a precautionary measure, we have decided to ground the Qantas international and domestic fleet immediately," Mr Joyce said at a special media briefing in Sydney on the afternoon of 29-Oct-2011.
See related article: Virgin Australia responds to Qantas grounding; looking to bring in foreign aircraft domestically
Qantas management today issued the following statement:
QANTAS RESPONDS TO INDUSTRIAL ACTION
SYDNEY, 29 October 2011: Qantas today announced that, from 8pm AEDT on Monday 31 October 2011, it will lock out all employees who will be covered by the industrial agreements currently being negotiated with the Australian Licenced Engineers Union (ALAEA), the Transport Workers Union (TWU) and the Australian and International Pilots Union (AIPA).
This step is being taken under the provisions of the Fair Work Act in response to industrial action taken by these unions. The financial impact of action taken to date has reached $68 million and the action is costing Qantas approximately $15 million per week in lost revenue. Approximately 70,000 passengers have been affected and more than 600 flights cancelled.
Pilots, licenced engineers and baggage, ground and catering staff are essential to Qantas operations and the lock-out will therefore make it necessary for all Qantas aircraft to be grounded. For precautionary reasons, this will take place immediately (as at 5pm AEDT, Saturday 29 October 2011). Aircraft currently in the air will complete the sectors they are operating. However, there will be no further Qantas domestic departures or international departures anywhere in the world. This will have an estimated financial impact on Qantas of $20 million per day.
Jetstar flights, QantasLink flights and Qantas flights across the Tasman operated by Jetconnect will continue. Express Freighters Australia and Atlas Freighters will also continue to operate.
Requirements for employees are as follows:
Until the lock-out commences, all employees are required at work as normal and will be paid.
Once the lock-out commences:
o employees who are locked out will not be required at work and will not be paid.
o employees working overseas will not be locked out and will continue to be paid.
o all other employees are required at work and will be paid as normal.
Customers booked on Qantas flights should not go to the airport until further notice. A full refund will be available to any customer who chooses to cancel their flight because it has been directly affected by the grounding of the fleet. Full rebooking flexibility will be available to customers who wish to defer their travel.
Assistance with accommodation and alternative flights, as well as other support, will be offered to customers who are mid-journey.
A massive escalation of the confrontation
Following yesterday's stormy AGM, there was no hint that such a step was imminent, although the unions - notably the Transport Workers Union, which accounts for baggage handlers, catering etc - had announced plans for a 48 hour strike next week. Whether something has occurred in the meantime to provoke concern about safety and integrity of the aircraft is not clear. But the state of feelings on either side of the dispute has been deteriorating and, with always some extremists threatening action, the move was clearly felt necessary prior to a lockout. In recent weeks, CEO Alan Joyce has received death threats and some executives' car windows were reportedly smashed in staff car parks.
Substantial losses will result to Qantas' income
CEO Alan Joyce had already last week announced an AUD15 million weekly loss due the strike threats to date. This figure will sharply increase those losses. Only about half of Qantas' costs are direct operating costs, of a total of some AUD13 billion in annual costs, meaning that all other overheads will continue to drain resources - at the same time as revenue from Qantas operations will cease.
With industrial disruption threatening to put Qantas' peak season Christmas period in jeopardy, today's announcement comes at a time when business and tourism travel is relatively light. It would be reasonable to assume that forward bookings had already been showing substantial downturns.
Departure screens at Qantas' terminal at Sydney show all flights cancelled, while only some arriving flights made it in prior to the grounding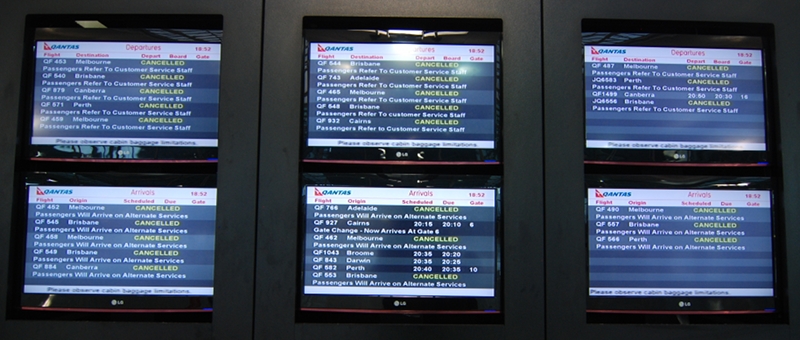 Most of Qantas' terminal at Sydney airport has been closed down