Qantas sees no recovery in sight, Chinese carriers see boost from National Day Holiday
Analysis
Qantas shares remained stable yesterday, as Chairman, Leigh Clifford, stated the global economic outlook remains "uncertain", with the carrier yet to see any substantial recovery in underlying business conditions.
However, Mr Clifford stated the carrier is well placed to weather the downturn and to take advantage of opportunities when a recovery eventuates.
According to Mr Clifford, "we are yet to see substantial improvements in underlying business conditions. Many factors are in play that could affect the timing of the recovery. Uncertainty is also being created through significant capacity increases, domestically and internationally, by Qantas Group competitors, some of whom enjoy very favourable taxation and other arrangements…With the strengths of its two flying brands, strong management and dedicated people, the Qantas Group is well-positioned to withstand this period of downturn and will be ready to grasp opportunities fully during the eventual recovery".
Asia Pacific selected airlines daily share price movements (% change): 21-Sep-09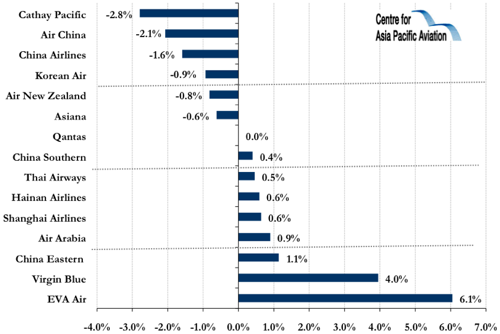 China prepares for largest National Day Holiday in the country's history
Meanwhile, China's airlines are preparing for the largest National Day Holiday in the country's history, with an estimated 200 million expected to travel during the holiday period, a 13% year-on-year increase, while tourism revenue is expected to exceed CNY100 billion (USD14.6 billion). According to the National Tourism Administration, almost 92% of the population will travel during the holiday, compared to only 47% during the May Day holiday.
China Eastern, Shanghai Airlines, Hainan Airlines and China Southern Airlines gained yesterday (21-Sep-2009), although Air China and Cathay Pacific slipped, by 2.1% and 2.8%, respectively.
JAL lenders considering dividing carrier into 'new' and 'old' segments
While the Japanese stock market was closed yesterday, speculation on Japan Airlines' restructure continues to flow.
Japan Airlines' lenders, including the Development Bank of Japan, are reportedly considering approaching the Japanese Government for increased involvement in JAL's rehabilitation, citing a major deterioration in its operations. The lenders are also reportedly calling for a streamlining the carrier's operations, including the separation of the company into distinct entities – a 'new section' to comprise of profitable routes and healthy operations, and an 'old section', which would comprise of unprofitable routes and segments.
See related report: Japan Airlines dances with SkyTeam and oneworld. Three weeks that will reshape North Asian aviation
Jet Airways sees marked improvement in load factors in Aug-2009
The Indian market was also closed yesterday. However, Jet Airways reported a slight improvement in passenger numbers in Aug-2009 (up 1.0% to 987,489), with a marked improvement in load factors, of 8.1 ppts to 78% in the month. Cargo volumes still remained in negative territory, slipping 2.4% year-on-year.