Qantas maintains the regional rage against Virgin Australia, contracting Alliance Airlines
Qantas will enhance its domestic competition with Virgin Australia by making new pushes into regional Australia via a short-term partnership with Alliance Airlines, primarily a fly-in, fly-out operator serving the mining and resource sector. Alliance will operate an initial 19 services a week between Brisbane and Emerald with Fokker F100 aircraft, which with 100 seats are of higher capacity than the 74-seat Q400s Qantas normally uses – as well as the 68-seat ATR72 aircraft recently introduced by Virgin Australia, which broke Qantas' near monopoly on the route.
Qantas' regional network is primarily operated by subsidiary QantasLink, which CEO Alan Joyce has termed the "quiet achiever". But since Virgin Australia's push into the highly profitable regional Australia market in Oct-2011, Qantas has experienced a greater challenge to its dominance. It has already re-deployed 115-seat 717s from the west coast to the east coast and announced new frequent flyer lounges in regional centres. The high yielding regional market is the end-game for Virgin Australia to challenge Qantas more effectively. It does not score the major points in terms of market share, but it does deliver considerably higher average yields.
Virgin enters the Emerald market, and Qantas grows
Prior to the Qantas-Alliance Airlines agreement, which will see Alliance's F100s for a short while selectively replace Qantas Dash 8s, the Brisbane-Emerald market was already poised to grow. Virgin entered in Jan-2012 and its Apr-2012 seasonal capacity increase was matched by Qantas, thus increasing weekly capacity by upwards of 15%. Once the F100s are in the market (likely in early 1H2013, although Qantas will not disclose exactly when), Qantas' capacity will rise upwards of 35% from Sep-2011 levels.
Brisbane Airport to Emerald Airport seats per week, one way: 19-Sep-11 to 21-Oct-12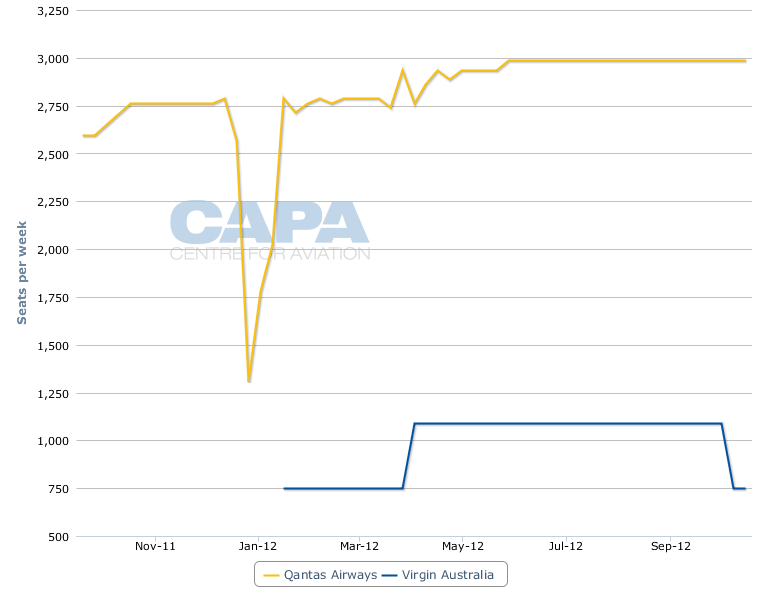 Alliance is able to deploy the F100 following security upgrades at Emerald airport that as of 01-May-2012 now permit jet aircraft to land. Qantas is using Alliance to deploy capacity on a short-term basis of an undisclosed length. Qantas, and other operators like Skywest and Virgin, have previously used Alliance to provide short-term capacity boosts. Once the short-term contract is over, Qantas will likely evaluate moving its own 717s or possibly 737s into the market.
With Alliance's short-term capacity, there will be approximately 5,000 total weekly seats from Brisbane to Emerald, which has a population of approximately 10,000. That is indicative of the country's strong resource industry, which in Emerald consists primarily of coal. The number of passengers at Emerald has doubled over the past five years, according to the Australian government.
Emerald is one of QantasLink's largest markets and in Feb-2012 placed 35th place on the ranking of the 55 largest domestic Australian routes based on available seats, according to the list compiled by the Bureau of Infrastructure, Transport and Regional Economics. (The route was previously not included as it was a sole operator service, which are excluded from the ranking.) Similarly, Brisbane-Gladstone in May-2011 entered the ranking for the first time as the 54th most popular route, climbing to 32nd place six months later in Dec-2011. Gladstone was Virgin Australia's inaugural ATR destination, which commenced in Oct-2011.
In Feb-2011 Qantas announced that after 29 years of serving Gladstone it would finally open a lounge for its elite frequent flyers in a recognition of a changing market: local reports indicated Gladstone would be Virgin Australia's first ATR destination, ending Qantas' near monopoly on the route. That assertion was vindicated six months later when Virgin confirmed Gladstone as its first destination. (Qantas already has a lounge in Emerald.)
The Brisbane-Emerald partnership is notable given Alliance is a competitor to fellow FIFO operator Network Aviation, which Qantas acquired in 2010 to better capture the growing FIFO market. In addition to Qantas previously calling on Alliance for short-term capacity deployment, Qantas codeshares on Alliance's service from Adelaide to another mining centre, Olympic Dam. Also in the FIFO market (and competitor to Alliance and Network) is Skywest, in which Virgin Australia in Apr-2012 took an equity stake, further cementing a partnership announced in Jan-2011.
See related article: Virgin Australia stake in Skywest supports long-term growth of regional and resource markets
Qantas' Network division also operates F100s, indicating Alliance is able to better mobilise capacity for Qantas' need. Qantas is skipping a battle to concentrate on the country-wide war with Virgin Australia.
Brisbane-based Alliance was formed in 2002 and went public in Dec-2011. In FY2011, 75% of its revenue was from FIFO and 6% from wet lease contracts, which is how the Brisbane-Emerald route with Qantas will be operated.
Alliance Airlines revenue breakdown: FY2011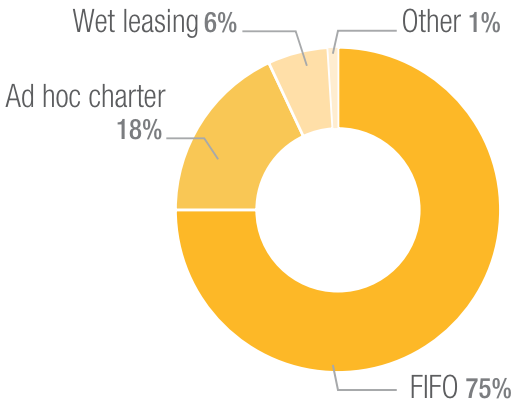 Alliance relies on affordable used aircraft. Its fleet age in Dec-2011 averaged 18.8 years although cycles (29,500 on average for its F100s) were lower due to the type performing fewer flights than in regular passenger transport operations. In the same month its fleet included 18 F100s, two F70LRs and five F50s.
Alliance Airlines fleet growth history: 2002-2011

717" height="268" />
Qantas continues to grow in face of slowing demand
Qantas CEO Alan Joyce also announced Qantas would grow other points in its domestic network, including re-introducing 747-400 service between Sydney and Perth and upgrading more Melbourne-Perth services to the A330, which features a more comparable product to Virgin Australia's new A330s (outfitted with the business class seats found on Singapore Airlines' regional fleet). Virgin's A330s will be deployed on the Melbourne-Perth market this year having entered the Sydney-Perth market last year. Qantas will also increase its frequency on the triangular Melbourne-Sydney-Brisbane market following Virgin Australia's own frequency increases.
Triangle frequency comparison, number of flights per week: Jul-2010 versus Feb-2012
Qantas' growth is to maintain a 65% market share as competitor Virgin Australia also grows due to its move upmarket allowing it to diversify yield mixture and appeal to more market segments.
See related article: Qantas and Virgin Australia pursue different, but equally logical, strategies to grow domestically
While Qantas is adding capacity at a time of slowing growth, even receding on some trunk markets, the story is more positive in regional markets like Brisbane-Emerald, where fares have been high and Qantas has enjoyed some of its highest margins, allowing it to add capacity at lower yields but still maintain profitability.
The regional market does, however, represent the final flying market where Qantas enjoyed a near monopoly; its trans-Pacific duopoly with United Airlines ended in 2008; its business class grasp was challenged in 2011 and, pending final government review, its partnership with South African Airways is likely to be terminated after the existing 12 month extension of its competition-approved codeshare, forcing Qantas and SAA to compete in the Johannesburg market. Qantas' Jetstar and frequent flyer divisions remain the group's charmed entities, but its frequent flyer division – which in some years posts profits larger than the airline divisions – will progressively face renewed competition with Virgin Australia, as it rolls out its programme into a separate division to maximise profits. As Virgin declared earlier this week, "Velocity Frequent Flyer will be a key driver of future growth." Qantas' competitive landscape has been rewritten in the nearly two years that John Borghetti has been at the helm of Virgin Australia.
Background information
Alliance Airlines route map with key mining and resource overlay: 2011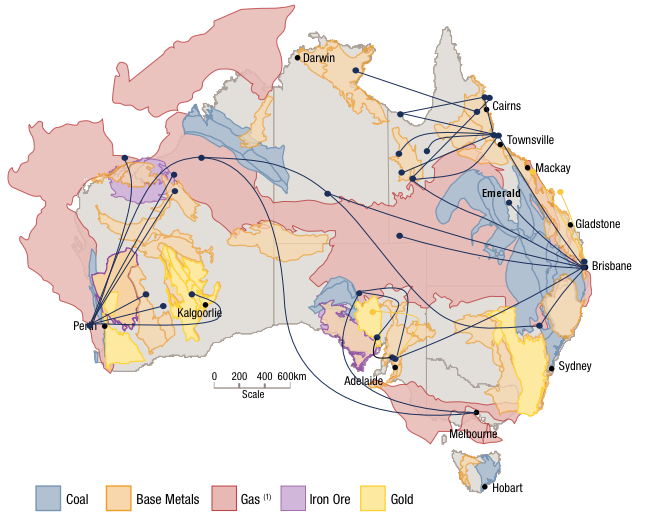 Alliance Airlines consolidated historical and forecast income (in AUD000's): FY2009-FY2012F
Alliance Airlines key operating metrics (in AUD000s): FY2009-FY2012F