Qantas' international yield collapses by 24.6% in May-2009. Fares in free-fall
Qantas' international business is in serious strife. The Group's international yields, or the average price paid per distance flown, for Qantas and Jetstar collapsed by 24.6% in May-2009 (excluding exchange rate influences), according to the Centre for Asia Pacific Aviation's estimates. Domestic yields fell 8.7%, after an up-tick in April. These stark yield figures reflect the enormity of the challenge management faces to steer Qantas back into profitability amid the economic downturn and fiercely competitive airline environment.
Last week's B787 deferments and cancellations are understandable given the cash strain the airline is under with yield numbers like this, and the likely future capacity profile the airline will need to adopt to pull out of its current nose dive.
Qantas' domestic vs international yield (% change year-on-year): Jul-2008 to May-2009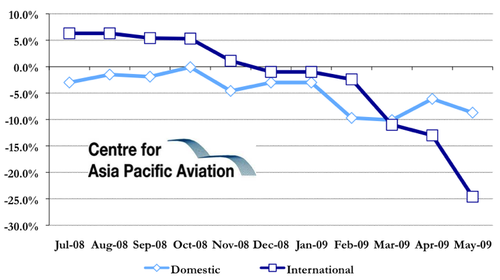 Overall Group passenger numbers decreased 2.8% year-on-year, with Jetstar leading the way again.
Qantas Group passenger number growth: Mar-08 to May-09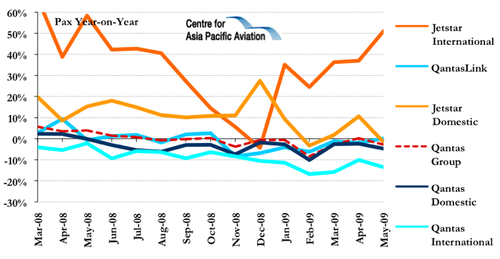 Only Jetstar International and QantasLink grew their capacity in May-2009, year-on-year.
Qantas Group ASK growth: Mar-08 to May-09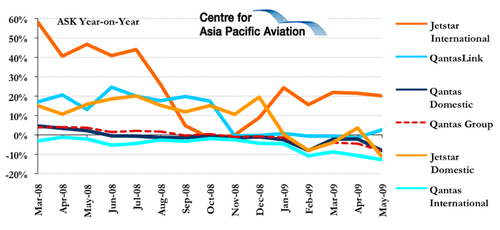 As a result, all segments (except QantasLink) reported improved load factors in May-2009, but more work will need to be done in this area if Qantas is to regain some semblance of control over prices.
Qantas Group PLF growth: Mar-08 to May-09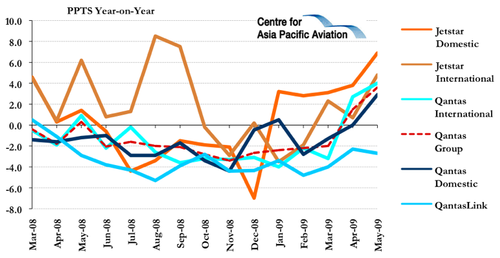 Outlook: Bleak
Ongoing economic turmoil and increasing capacity in many of its core markets, particularly the incursions by Middle East carriers internationally, and Virgin Blue/Tiger Airways domestic, make for a bleak near term outlook for Qantas.
The carrier's shares were up 2% in early trade in Sydney thismorning, in line with the overall market.