Qantas first half 2008/09 financial and traffic results
Qantas Group reported a profit before tax (PBT) of AUD288 million and net after tax profit of AUD216 million, on revenues of AUD7.9 billion.
I. Financial highlights
Profit before tax
Qantas mainline profitability fell 76.2%, to AUD199 million. This was "underpinned by domestic business", suggesting that capacity reductions and softening competition from a willing Virgin Blue has helped the carrier maintain yields on the key Melbourne-Sydney-Brisbane routes.
Jetstar branded airlines held up better overall, even while expanding capacity by 13.4% during the period (although there was no breakdown between domestic and international). Jetstar shed 48.2% of profit, still returning a relatively healthy AUD72 million PBT (although fledgling Jetstar Pacific, the group's Vietnam minority share, cost the group AUD5.3 million in losses in the half).
Qantas profit before tax, 1H09 (to 31-Dec-09)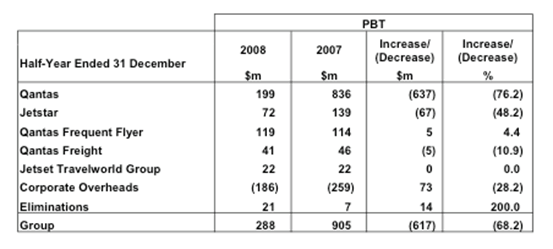 Qantas Group operating profit margin and net profit margin: 2005 to 1H2009 (Financial year ended 30-Jun)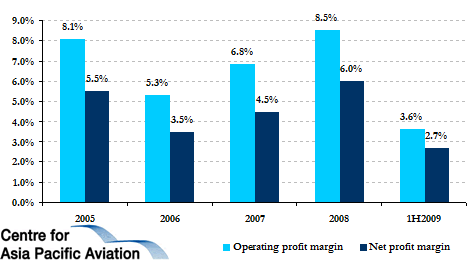 Yields
Total domestic yield (Qantas, QantasLink and Jetstar) "excluding exchange" decreased by 2.0%.
Total international yield (Qantas and Jetstar), excluding exchange, actually increased by 3.4%. However, with a shift in the Australian dollar of up to 31%, this number does not provide a great insight into how yields have actually moved.
Capacity reductions
Qantas has made what it describes as "decisive reductions in capacity to mitigate traffic decline". However, as global conditions deteriorate, these reductions in fact will probably need to be more "decisive" in the near future.
The reductions include retiring four B747-300s, whose impact will be felt most domestically.
Total capacity in 2H09 is to be reduced by 4% compared with 2H08 and the planned growth for the 2009/10 financial year will be cut from 10% to 2%. This implies some acceleration of withdrawal from service of older equipment, as there is no mention of deferrals of aircraft purchases (here the delays in deliveries of the B787 are proving to be a blessing).
Cost reduction programme
Qantas is to begin a deeper round of cost cutting, with a new target of AUD1.1 billion reduction to 30-Jun-10. Savings are to be "reduced growth-related savings" and "reduced fuel efficiency savings".

Meanwhile it expects to achieve the target of AUD550 million reductions for the full year FY09.
Frequent Flyer Programme
This performed well, achieving a PBT of AUD119 million, an increase of 4.4% on the previous half year. The "favourable result is due to the successful launch of the new AnySeat and Retail rewards program from 1 July 2008, and the direct earn financial card strategy."
This gain was despite AUD15 million (+22%) in additional costs due to "the re-launch of the program.
Other group investments
Despite stiff competition in the South Pacific, Fiji's Air Pacific has held up well, still delivering a AUD4.1 million profit for the half. The Vietnamese Jetstar Pacific investment however lost AUD5.3 million.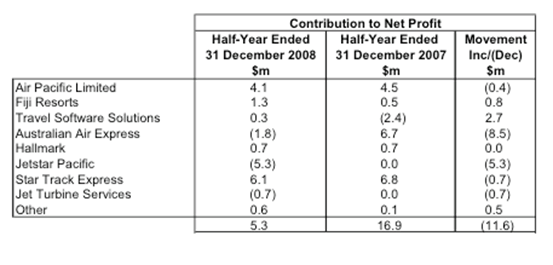 Balance Sheet
Qantas still retains a strong balance sheet, although gearing increased to 52% during the period. The group retains a cash balance of AUD2.8 billion, with a standby facility of AUD 500 million.
Qantas group balance sheet at 31-Dec-08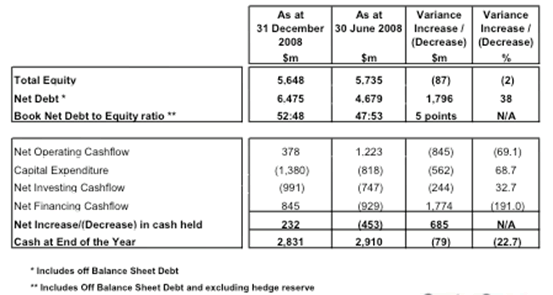 II. Traffic highlights

The two brand strategy is again delivering dividends, as can be seen from the respective performances of the group (including Jetstar) and Jetstar separately.
Qantas Group passenger number growth and passenger load factor: 2005 to 1H2009 (Financial year ended 30-Jun)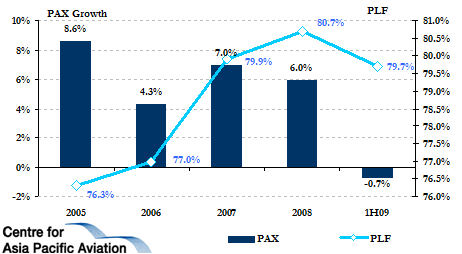 Jetstar passenger number growth and passenger load factor: 2006 to 1H2009 (Financial year ended 30-Jun)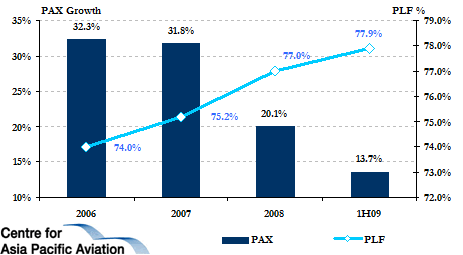 III. The outlook
"While fuel prices have eased over the past few months, the offset of weaker demand is mitigating these savings. In the current economic and competitive environment, cost savings have been passed on to passengers where possible, including via reduction of surcharges.
"Qantas reconfirms that it expects 2008/09 PBT to be around AUD500 million. This remains subject to no further significant change in market conditions and fuel prices."

If so, even despite the serious state of global economies and the impact of remarkably high fuel prices in the first half, this will still feature reasonably well in light of historical Qantas results:
Qantas profit before tax: 1999 to 2009F (Financial year ended 30-Jun)