Qantas domestic yields improve; Air NZ yields suffer; China Eastern/Shanghai merger approved
During the month, Air New Zealand Group yield contracted by 12.4%, driven by a 10% reduction in short haul yields and a 14.7% slump in international yields. Passenger numbers were down by 4% in the month (to 931,000), while load factors gained 3.3 ppts to 80.0%.
Qantas, meanwhile, experienced an improved 4.8% reduction in domestic yields, while international yields continued their slump, down 27.2% in the month. While there appears to be no end in sight for the carrier's international yield decline, the signs are more positive in the domestic market, with Qantas and QantasLink increasing domestic fares by up to AUD10 a sector on 14 key routes on 01-Dec-2009, the largest increase for the Group since the start of the global financial downturn in 2008.
Virgin Blue, meanwhile, saw passenger load factors fall 2.0% in Oct-2009, with load factors also slightly weaker, down 0.6 ppts to 82.2%.
Air New Zealand and Qantas Group domestic and international yield growth (%): Jul-2008 to Oct-2009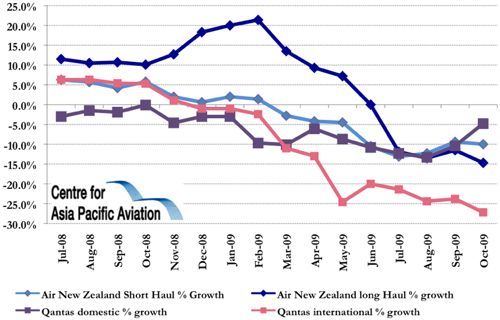 China Eastern rose 4% after the airline stated it gained regulatory approval for a share placement, pushing it closer to a state-backed merger with smaller rival, Shanghai Airlines (whose shares remained unchanged yesterday).
In the Middle East, Air Arabia shares slumped 9.6% yesterday, outpacing the overall reduction in the Dubai (-7.3%) and Abu Dhabi (-8.3%) stock markets, on continued concerns regarding the Dubai World Debt Crisis.
Indian jet fuel prices reduced
Meanwhile, in India, SpiceJet, Kingfisher and Jet Airways shares all gained yesterday, by 3.7%, 1.0% and 0.9%, respectively, as Indian Oil Corp (IOC), Bharat Petroleum Corp and Hindustan Petroleum reduced Indian jet fuel prices by approximately 1.1%, effective 01-Dec-2009. Fuel prices were increased by approximately 2.4% on 15-Nov-2009.
Malaysia Airlines' shares fell 3.8% yesterday, as the carrier confirmed that Airbus has deferred the delivery of the carrier's six A380 aircraft on order by eight months. The first aircraft will now be delivered in Aug-2011, with each subsequent aircraft to be delivered at one-month intervals.
Asia Pacific selected airlines daily share price movements (% change): 28-Nov-09