President Trump's new infrastructure plan: potential for aviation and private airport financing
Analysis
It has been a long time coming, but on 13-Feb-2018 U.S. President Donald Trump finally announced his infrastructure plan, which amounts to USD1.5 trillion.
There have been suggestions in the past that his focus would be directed more towards how to deal with the country's deteriorating road, bridge, and water infrastructure, but in the event there were several initiatives to stimulate private sector interest in the airport sector.
This is welcome, as there is some – but not a great deal of – positive news for those airports that are reliant on public sector support. Included is a proposal to limit FAA oversight of non-aviation development activities at airports, which could act as a further spur to private sector investment activities and there are proposed changes to rules on the airline approval requirement for airport lease and P3 deals, and to the cap on the number of airports that can be included in the privatisation programme at any one time.
"We will build new roads, and highways, and bridges, and airports, and tunnels, and railways all across our wonderful nation." President Donald Trump's inauguration speech, Jan-2017
Summary
Infrastructure proposals are delivered as ACI again calls for USD100 billion capex on U.S. airports to 2021.
The FAA's budget looks likely not to be increased, including that of the Airport Improvement Programme.
There is no sign of an elimination of the federal cap on local Passenger Facility Charges.
An Infrastructure Incentives Programme could be introduced to spur additional dedicated funds from States, localities, and the private sector, on a matching funds basis.
The Airport Privatisation Pilot Programme could be extended, potentially to include any U.S. commercial airport.
There is a proposal to limit FAA oversight of non-aviation development activities at airports, which could act as a further spur to private sector investment activities.
The future of tax-exempt and private activity bonds remains unclear though there is the possibility of a positive change. The issue is subject to a pending House bill.
The power of airlines to veto a lease or P3 deal may be reduced or eliminated
The White House is recommending changing the Airport Improvement Plan (AIP) to allow incentive payments for accelerated construction.
Surprisingly, the two main Washington airports were earmarked for potential disposal, possibly to private interests.
ACI warns again on infrastructure needs
The Trump plan was delivered at a time when, once again, Airports Council International-North America (ACI-NA) and other organisations warned that there was a need for USD100 billion to be allocated to airport infrastructure through to 2021.
Added to this the implication that not all of that was going to come from the traditional sources of bonds (of which the 'tax-free' status is in doubt, and it doesn't apply now anyway where there is a private lessor or P3 investor); and that like it or not (many municipalities still do not),
FAA and AIP funding to fall
The first consideration is what current initiatives affect the public sector in its relations with airports.
Much of the funding for runways comes from the government, from the Federal Aviation Administration (FAA's) Airport Improvement Programme (AIP), which is paid for out of taxes. The government's FY2019 Budget proposals for the FAA and the Department of Transportation (DoT), announced at the same time as the infrastructure plan, include USD3.35 billion for the AIP in FY2019 – the same as the current funding level, but USD250 million less than the USD3.6 billion included in the Senate version of the FY2018 DoT spending bill. So, no positive change there.
(There is one welcome development. The White House is recommending changing the AIP to allow incentive payments for accelerated construction).
Indeed, the FAA's budget as a whole will reduce, from the USD16.9 billion the Senate approved for the agency in its version of the FY2018 DoT spending bill, to USD16.1 billion.
No obvious support for eliminating the Passenger Facility Charges (PFCs) cap
Furthermore, the administration's budget request does not endorse calls from airports to eliminate the federal cap on local PFCs. The Senate version of the FY2018 DoT appropriations bill proposes to raise the PFC cap from USD4.50 to USD8.50 for originating passengers.
The PFC was introduced in 1990, allowing commercial service airports to implement a fee (initially USD1-2) per enplaned passenger, both outbound and inbound. This to be collected by the airlines for remittance to the airport sponsor (usually the city, state or county authority) in order to offset financial shortages arising from airport capacity and development demands. So again, an opportunity to enhance an important revenue stream may be sidelined.
There seems to be a fundamental disagreement of principle here because at the same time the White House is calling for extending the PFC streamlining programme from non-hub to small hub airports. This prompted the CEO of the American Association of Airport Executives to demand that "If Washington is serious about airport infrastructure investment, it will move quickly to approve the bipartisan proposal on PFCs … and allow airports to utilise local dollars for investment immediately".
ACI-NA concurs, insisting that "Congress should give airports the locally controlled self-help they need to finance infrastructure projects by eliminating the federal cap on the PFC".
Positive move: the number and size of airports that can participate in the Programme
Turning to President Trump's infrastructure plan, the most significant element is that it would make it easier for more airports to participate in the Airport Privatisation Pilot (lease) Programme, which the White House says will "reduce barriers to alternative project delivery".
Under current law, 10 airports are allowed to participate in the programme, up from the original six when the Programme was instigated in 1996. But it is still the case that only one of those airports may be a large hub. The White House is proposing to remove the limitation on the number and size of airports that can participate in the programme.
This is one of three key demands of the pro-privatisation lobby in the U.S., and the campaigning just to get to this stage has been going on for many years. It is a significant breakthrough.
One of those lobbyists is Robert Poole of the Reason Foundation, who has been active in the field of airport privatisation in the U.S. for many years and has been an adviser to past Presidents (even first coining the word privatisation). He echoes many others, including S&P's Global Infrastructure Practice, when he argues that "private investors would love to invest in U.S. airports, but the regulatory construct limits their capacity to do that".
"While other countries offer airport investors a welcome mat, U.S. policy presents them with an obstacle course", is the opinion of Mr Poole, who would like to see all U.S. airports open to the potential for privatisation, even if many of them would not, for one reason or another, be attractive to investors. It may be impractical for a government to move from 10 airports to 400 in its privatisation portfolio.
FAA oversight of airport non-aviation development could be limited
One of those reasons for investors not to be attracted might be the lack of potential for non-aeronautical development.
The case of Chicago Midway ('large hub') airport makes for a good example of the value of that revenue stream. Two attempts were made to lease that airport out between 2009 and 2013. Both ended in failure and collectively put the privatisation 'drive' back by several years.
While, in fact, neither failure came as a result of limited non-aeronautical opportunities, Midway offered little to investors in the way of enhanced non-aero revenue generation because of physical constraints, and such revenues were essential because aeronautical revenue avenues would have been strictly controlled under the terms of the lease.
Chicago Midway Airport – 'the world's busiest square mile'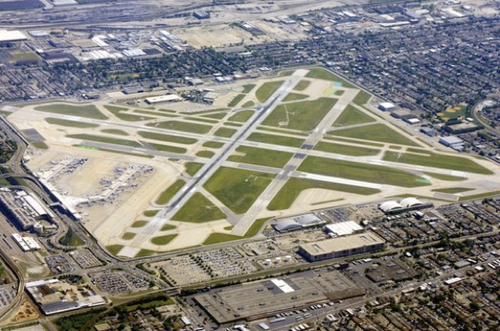 So it is interesting to learn that the administration is now proposing to "limit FAA oversight of non-aviation development activities at airports". The White House indicates that agency reviews of non-critical airfield infrastructure, such as terminals, access and service roads, and hangars, can burden the FAA and slow project delivery.
Any indication that the delivery of any type of infrastructure and what goes in it will be speeded up – be it a terminal, an MRO building, office block, car park, or shops and restaurants – is a welcome development for potential investors.
Some slight movement on bond anomalies...
Another concern of the privatisation lobby has been the government's attitude to Private Activity Bonds (PABs), particularly towards the tax advantages they offer. PABs are common in public-private partnership (P3) deals, which are increasingly financing and building U.S. airports.
The regulations affecting PABs are of paramount importance where private sector airport investment is concerned. If you are a private investor and you put money into an airport, unless the airport has a slot on the Privatisation Programme you can't take any revenue out of it, thus there is no return on investment. You can wait for years for inclusion on a slot, but most will not do that (and so the relaxation of the number and size of airports on the lease Programme that was referred to earlier is critical).
But there are impediments to investment via the P3 mechanism as well. Government airport operators can issue tax-exempt bonds to generate infrastructure investment revenues, but that avenue is not permitted for private companies that enter into long-term P3 lease agreements.
The Reason Foundation's Poole points to one glaring example of this anomaly.
When the Luis Muñoz Marin Airport in San Juan was privatised by lease in 2013 the lessee, Aerostar Airport Holdings (a consortium of U.S. and Mexican interests), had to pay off the airport's existing (tax-exempt) bonds. To do so they had to issue (taxable) bonds of their own, at a higher rate of interest.
Moreover, any large capital investment there has to be financed at taxable rates. Collectively, this amounts to a de-facto tax on private investment, which is considered to be inferior to public sector investment.
A 2017 report from the Congressional Research Service suggests several policy changes that might increase the attractiveness of U.S. airport privatisation, and this one tops it. It says clearly, "offer the same tax treatment to public and private airport infrastructure bonds".
The statement from the President on 13-Feb did not directly address this issue, though it is subject to a pending House bill anyway. Instead, it offered a proposal for USD6 billion to be found to "expand private activity bonds".
That is rather vague and was seized on by ACI-NA, which said, "Congress should maintain the tax-exempt status of public purpose municipal bonds and private activity bonds to ensure that airports can continue to finance critical infrastructure projects. In addition, Congress should exclude interest earned on airport private activity bonds from the alternative minimum tax and allow advance re-funding on all municipal bonds".
There is some light at the end of the tunnel. The statement did offer to consider changes to PABs which, if adopted, would appear to enable an airport's current revenue bonds to be assumed by the acquirer, rather than having to be defeased or paid off (see the San Juan case, above).
…More movement on airline veto power over lease/P3 deals
The final part of the equation where the U.S. privatisation lobby is concerned is that the arcane law whereby any airport lease and/or P3 transaction has to be ratified by (a) 65% of all the airlines operating at the airport and (b) airlines representing 65% of the annual landed weight at the airport – a double super-majority requirement – should be reduced or eliminated.
This law was again evident in the first attempt to lease Chicago Midway Airport when Southwest Airlines (which currently has 94% of seat capacity and 89% of movements share there, according to CAPA Airport Profiles) was slow to come around to the idea.
While this is not directly an infrastructural matter the Statement did include a welcome proposal to reduce the airline approval requirement from this current double-65% super-majority to a single simple majority.
Collaborative incentives to require fund matching and could include the private sector
One very important aspect of the Presidential statement is that he introduced the suggestion of an Infrastructure Incentives Programme, calling for 50% of requested federal funds – USD100 billion – to be used to create an "Incentives Programme to spur additional dedicated funds from States, localities, and the private sector." The administration indicates that applications "will be evaluated on objective criteria". Eligible projects would require a local match of at least 80%.
USD50 billion of the requested funds would be designated for infrastructure projects in the rural U.S. The bulk of funds would go to governors and give states "the flexibility to prioritise their communities' needs". Where airports are concerned, presumably much of the allocated funding would go to those with infrastructure needs that have no chance of being met by private funding input.
Similarly, USD20 billion is proposed to be allocated to a 'Transformative Projects Programme'. The White House suggests that this programme "will focus on projects that could have a significant positive impact on States, cities, and localities, but which may not attract private sector investment". This programme would require a local match of at least 50% for project planning and 20% for construction.
So, there is not a great deal for airports to grasp on to in respect of public funding for infrastructure projects unless they are rural, or they can convince Washington they would be "transformative". However, at least there are indications of collaborative measures that could be taken with the private sector on a fund-matching basis, and at least one of the demands of the privateers – the expansion of the Privatisation Programme – looks like it has a chance of being realised.
The Plan offers some hope to airports in need of capital and to those who wish to see those airports privatised as a method of attracting that capital. Actually, it probably offers a little more than was expected, and the Privatisation Programme expansion is – by the standards of previous administrations – pretty radical.
On the whole, the programme is somewhat mundane, but is dramatically enlivened by an appendix that lists examples of the potential divestiture of state assets. There is quite an array of them, including properties held by federal agencies across the country and, right there in Washington, and Virginia – the George Washington Memorial Parkway.
Washington airports could be leased
The biggest surprise is that both the Ronald Reagan National and Dulles International airports, the two main ones that serve the capital and its metropolitan region, made the cut onto the potential disposal list, on the grounds that the assets "would be better managed by state, local, or private entities".
A new edition of the CAPA Airport Finance and Privatisation review is in preparation. Before the Presidential announcement on infrastructure was made, much consideration was being given as to which airports might be future prospects for privatisation, in addition to those that are either going through a process now or which might soon be (Westchester, St Louis Armstrong, Nashville et al). The report is scheduled for publication in Apr-2018.
The two Washington airports would most likely not have been considered as privatisation prospects under any scenario, on security grounds alone. It is a testament to the new thinking that where airport infrastructure and investment is concerned, just about anything is now possible.
Of course, much of this is subject to reaching a bipartisan deal with the Democrats – so far in the President's term, that has proved to be a thorn in his side across many issues.
For further information on the airport capacity, financing and privatisation please see the report: US Airport privatisation is set for a boost in 2018 - but regulatory clouds gather