Portland International Airport pushes 20 million passenger threshold
Analysis
There is no doubt that Portland International airport has cemented its status as a perennial customer favourite, having been named the best US airport for the seventh consecutive year by Travel and Leisure magazine.
Portland is also pushing passenger levels to record numbers, posting 38% growth in passenger numbers from 2008 to 2018, when throughput inched closer to the 20 million threshold.
The airport's service profile is strong for its size and, unlike some other medium sized airports that have lost seasonal, long haul international flights, Portland has retained that service and added new ULCCs to its airline roster.
Summary
Portland International Airport's annual passenger levels are pushing the 20 million threshold
Portland International airport posted 4.2% passenger growth year-on-year in 2018, to 19.8 million, which puts the airport within striking distance of 20 million passengers during 2019.
The ratings agency S&P has calculated that the airport's emplanements from fiscal years 2014 to 2018 had a compound annual growth rate of 5.8%.
Portland International Airport: annual passenger growth from 2008 to May-2019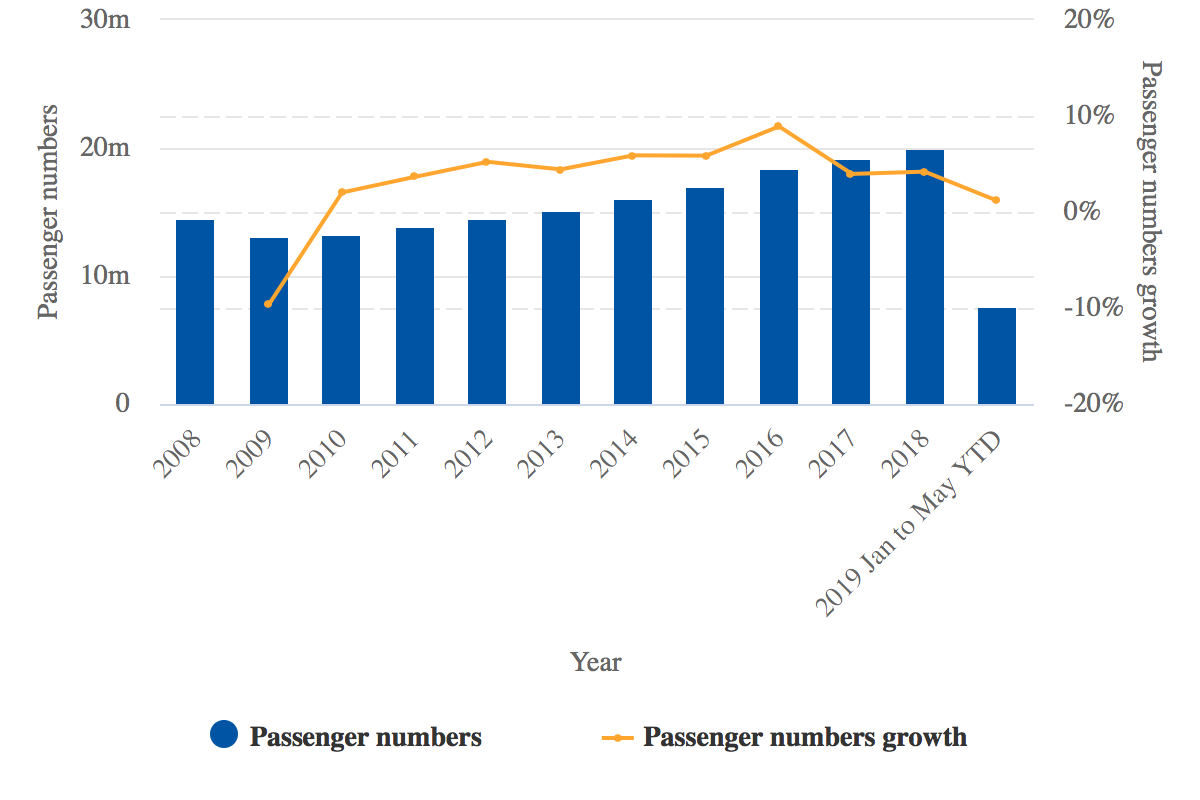 It is a solid performance for a US west coast airport that in some ways resides in the shadow of Seattle Tacoma International airport, which has long been a hub for Alaska Air Group. Seattle is now also a hub for Delta Air Lines, serving as the airlines West Coast gateway to Asia.
But Portland is a strong mid-sized US market, with the state of Oregon consistently posting economic growth above the US national average. S&P has also stated that the region's unemployment rate is lower than the US National average.
Alaska Airlines has long been Portland's largest airline. Portland is the company's second largest hub by departing frequency (behind Seattle) and Alaska represents 49% of Portland's departing frequencies as of mid-Jul-2019.
Southwest Airlines is the airport's second largest operator, representing a 14.7% share of the airport's departing frequencies.
Portland International airport: system percentage of departing frequencies by airline, as of mid-Jul-2019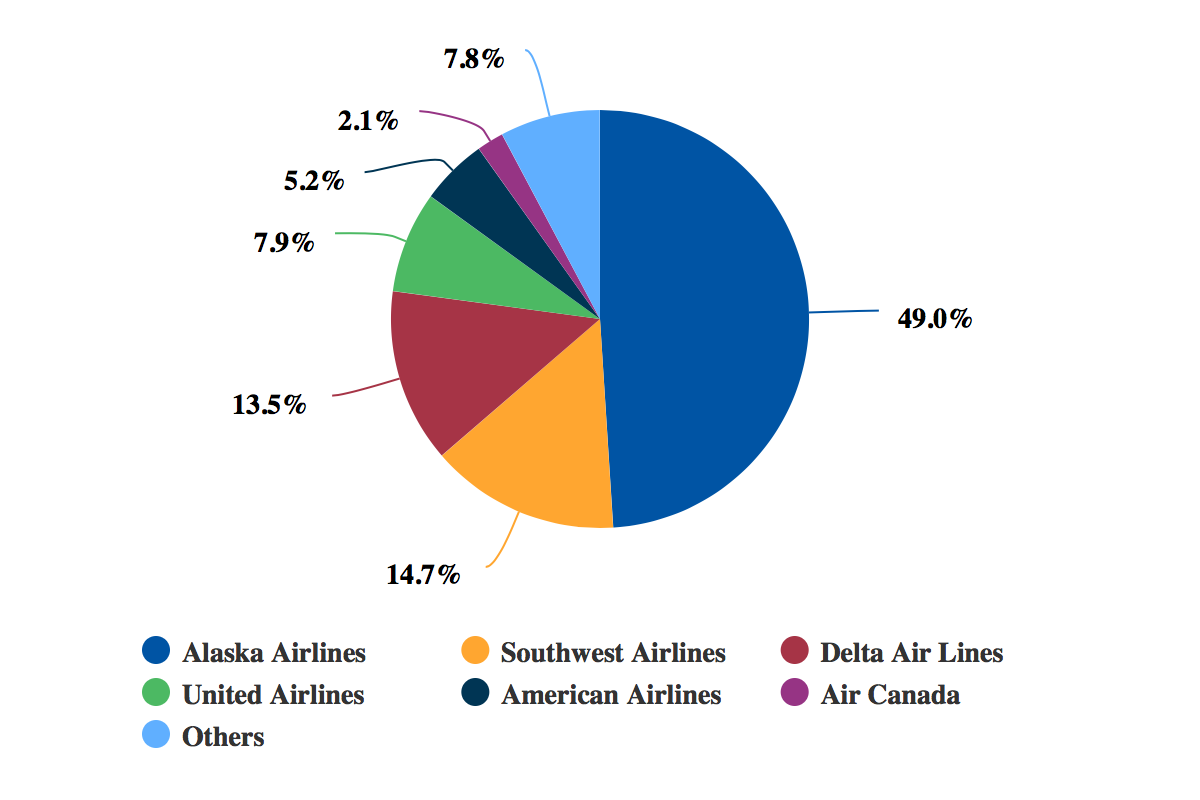 Portland regains seasonal long haul flights and adds new services from a third ULCC
Data from CAPA and OAG show that as of mid-Jul-2019 Portland featured nonstop service to 66 destinations, 57 of which were US domestic markets.
Its long haul destinations to Europe were seasonal flights to Frankfurt operated by Condor, Icelandair's seasonal fights to Reykjavik, and Delta's seasonal service to London Heathrow. Delta also operates flights from Portland to the Amsterdam hub of its JV partner Air France-KLM.
The return of seasonal fights is no doubt welcome, as some other airports of similar sizes in the US have not had seasonal flight renewals by some airlines. Delta is not resuming seasonal flights between Pittsburgh and Paris, and Lufthansa has decided to end services from San Jose Mineta International airport to Frankfurt.
Portland has also welcomed a new ULCC to its network roster – Sun Country Airlines. Sun Country joins fellow ULCCs Spirit and Frontier in operating from Portland.
Presently (as of mid-Jul-2019), Spirit operates three daily roundtrip flights from Portland to Las Vegas and Frontier operates daily service to its Denver hub.
Portland welcomes a potential switch of Tokyo flights from Narita to Haneda
Delta has operated flights from Portland to Tokyo Narita since 2004 and recently won tentative approval to operate fights to Haneda airport, closer to the centre of Tokyo, after new slots for US airlines were opened up at Haneda International airport.
In total, Delta was tentatively granted rights to operate to Haneda from five airports. In its application for those Haneda slots the airline stated that Portland was the sixth largest US west coast-Asia market and noted that Delta had invested heavily in the Portland-Tokyo Narita route during its 15 years of serving the market.
The Portland-Tokyo Narita route was also Delta's test bed for offering an upgraded experience to Main Cabin customers, including hot towels, better food options and a welcome aboard cocktail.
The airline also stated that "Portland brings a unique mixture of business and leisure traffic. Portland has significant corporate presence, headlined by Nike but also including household names like Columbia Sportswear and Intel."
When the DoT tentatively approved Delta's proposed flights from Portland to Tokyo Haneda, the airport welcomed the news declaring: "Travelers can say goodbye to 90-minute commutes into the city from Narita – and instead get to central Tokyo in less than 30 minutes."
Portland International also stated that demand for services to Japan was continuing to grow – since 2012 the airport has experienced a 71% increase in passengers travelling to the country. During 2018 Portland's total international passenger levels jumped 15.4% year-on-year, to 862,166.
Portland is preparing for continued growth, with USD2 billion in improvements
The airport has recently completed an extension of its Concourse E, which will result in six additional gates for Southwest Airlines in the summer of 2020. A new terminal is planned for completion in 2025 that will support annual passenger levels of 34 million.
Those projects and others are part of improvements to the airport for a total cost of USD2 billion. According to Oregon Business, the projects are being funded by airlines and revenue bonds.
Portland takes steps to cement its status as a consistent passenger favourite
Portland International Airport has long been a passenger favourite and as its passenger levels continue to climb, the airport is working to remain a favourite among travellers.
Similarly to other mid-sized US airports, Portland is undertaking projects to ensure that it can handle the projected growth and maintain its status as an airport held in high regard by passengers – which is something of a rarity in the US airline industry.
Its growth during the past few years has been impressive. Barring any major economic changes, Portland's growth should continue on a solid trajectory.