Porter Airlines win surprisingly shuts Air Canada out of downtown Toronto airport slots award
Analysis
A somewhat surprising awarding of the final 16 slots at Toronto City Island Billy Bishop Airport to incumbent Porter Airlines, which now holds 172 of the 202 available slots at the convenient downtown airport, comes with Porter's decision to once again shelve plans for an initial public offering (IPO) after failing in April 2010 to develop any interest in the CAD120 million (USD116 million) offer. An analysis of the slot issue tells the story of why Porter, which says it is profitable, was awarded the slots. Porter also shelved plans to raise private funding, adding that market conditions were little different than when it originally advanced its first IPO attempt.
Porter has indicated that an IPO is definitely in its future but is now awaiting improvements in the markets before proceeding, an exact time frame unknown but unlikely to be in the short-term. At the time of its first IPO attempt it was valued at CAD340 million, including its ownership of the City Centre airport terminal.
Porter sees steady cash without IPO
The airline cited sufficient in-house funding for its expansion plans for putting off its IPO. It achieved profitability in 2010 and is relying on continued profitability. The question is the impact of Air Canada's competition on one of its prime business routes: Toronto-Montreal. Considering that is only one of a number of routes for the Q400 operator, the impact could be minimal, except that Porter is also facing stiff competition from WestJet and Air Canada in the Toronto Pearson-Montreal market.
Porter flew 1.5 million passengers in 2010 as its load factor improved from 47.9% to 54.2%. Traffic last year was up 87.7% to 589.9 million revenue passenger miles.
Porter Airlines Available Seat Miles (2009 to 2011)
Porter Airlines Revenue Passenger Miles (2009 to 2011)
Porter Airlines Passenger Load Factor (2009 to 2011)
Porter has several stakeholders, including EdgeStone Capital Partners and GE Asset Management who are said to want to sell their respective 18.3% and 14.6%, stakes. Some 42.6% is held by Porter CEO Robert Deluce and partners which include Chair Donald Carty, who hails from American Airlines. Another 21.4% is owned by OMERS Administration Corporation's OSI Transportation Corp. Dancap Private Equity has a 3.1% stake.
Slots tell competitive tale
The 16-slot award seemed to contravene the desires to increase competition in Canada by retaining Porter's monopoly status on all but one route out of the airport – Toronto-Montreal, which is served by Air Canada Express Sky Regional Airlines with 15 daily flights. The additional slots likely would have provided competition on the Toronto City-Quebec route as well.
Even so, Porter is eyeing new service to Washington DC for its next expansion. The new slots, which equate to eight daily return flights, could give Porter the opportunity to launch the service in 2012. In its announcement about the slot win President Robert Deluce was playing his cards close to his chest saying only specific route announcements will be made as plans are completed next year. He suggested the slots would be used for new destinations, but in response to CAPA queries Porter told CAPA they might be used for a mix of US and Canadian markets.
Air Canada now holds a monopoly position between Toronto Pearson and Washington National with 2,000 weekly seats in the market. Similarly, United, a Star Alliance partner with Air Canada, holds the monopoly position to Washington Dulles with 2,252 seats in the market. Porter's penetration would then be a welcome, albeit small addition to a monopoly market.
"It is disappointing that we have been denied the opportunity to expand our services and choice for travelers from Toronto City Centre at this time," Air Canada told CAPA. "However, Air Canada remains committed to the island airport, encouraged by the customer response we have received since resuming flights there this spring."
In determining monopoly, Toronto airports considered collectively
Airport Coordination Ltd (ACL), a UK company specializing in slots allocations appointed by the Toronto Port Authority (TPA), indicated that its position was based on the fact that Porter does not enjoy a monopoly in the markets it serves but competes against both Air Canada and WestJet albeit out of Toronto Pearson Airport.
And ACL would be right, according to CAPA's analysis of the points on Porter's route system and its destinations. Indeed, analysis reveals that, while Porter may enjoy a virtual monopoly out of Billy Bishop, it is outgunned on all of its routes when counting services out of Toronto Pearson. Not to be overlooked is the monopoly Porter does enjoy on convenient Toronto air routes, which do not require passengers to travel significantly far out of the city, thus giving Porter an advantage, especially with business travellers. It is a scenario similar to London City airport and Tokyo Haneda, which attracts a pricing premium for its convenient location.
Porter destinations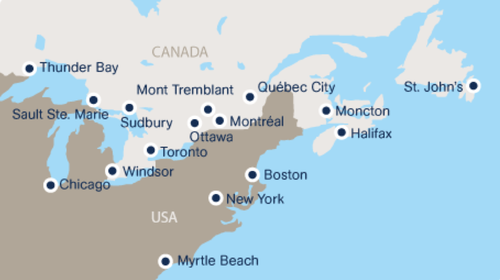 In its trans-border markets, it also competes against Delta, Continental, American and United. It looks as if its seasonal Myrtle Beach service, with 140 weekly seats in the market, is its only true monopoly route.
Continental, at one time, served Porter's Newark-Toronto City route but abandoned the market in the wake of its merger with United, making the 16 slots available. However, Continental and Air Canada both compete against Porter in the market with many, many more seats.
Competing requests
ACL received competing requests from Air Canada and Porter, for the 16 available slots that would max out the airport's 202 available slots. It listed three criteria for awarding the slots to Porter: year-round slot operations, a desire to increase and diversify destinations and assuring the needs of the traveling public are met. Both airlines planned year-round operations.
"As both Air Canada and Porter intend to operate on a year-round basis, and neither is a new carrier at the airport for the 2012 year, the 'route diversity' criterion was determinative, Director ACL International James Cole told CAPA. "This gave priority to the use of slots for new and underserved routes out of BBTCA."
CAPA analysis confirms that Porter has competition with Air Canada at Billy Bishop with about 7,300 seats in the market to Air Canada's 6,900.
Toronto Pearson International Airport to Montreal Pierre Elliott Trudeau International Air by carrier
(seats per week, one way, 19-Sep-11 to 18-Mar-12)
CAPA analysis also confirms that competition from between Toronto City and Pearson airports is also robust with Air Canada at about 19,224 seats in the Toronto-Montreal market compared to Westjet's 7,800. That means Porter's 7,300 seats compete against Air Canada's combined approximate 25,000 seats and WestJet's 7,800. Consequently, at least in the Toronto City-Montreal market there is plenty of competition.
Porter's Toronto City-Quebec Service, with 1,330 weekly seats, also completes with Air Canada's Toronto Pearson-Quebec service, as it does with the service between the two cities provided by Westjet. Air Canada has about 3,000 seats in the market while WestJet has just over 1,000.
Toronto City Centre Airport to Quebec Airport by carriers (seats per week, one way, 19-Sep-11 to 18-Mar-12)
Porter pares back its business markets between mid-December and January in favor of more service to Halifax, Moncton and Thunder Bay. The cuts include the Toronto-Montreal-Quebec routes as well as Newark.
Toronto Pearson International Airport to Quebec Airport by carrier (seats per week, one way,
19-Sep-11 to 18-Mar-12)
Porter also competes with Air Canada and WestJet on Toronto-Moncton with Air Canada's 2,688 seats and over 1,000 weekly seats to Porter's 490 seats.
In addition, the approximately 1,260 seats in the Sudbury market compete against the 2,000 weekly seats fielded by Air Canada. Similarly, Air Canada has just over 1,700 seats in the Sault St. Marie market compared with the 1,400 weekly seats Porter schedules from Toronto City. Porter's 2,170 seat at Thunder Bay competes with the 3,257 from Pearson by Air Canada and the 1,750 fielded by Westjet.
The story is retold at Halifax where the 6,903 seats provided by Air Canada dwarfs both Westjet at just over 3,000 seats and Porter at 1,610.
At Boston, Porter's 2,170 seats compete against Air Canada and Delta out of Pearson. Likewise at Chicago, Porter competes against United (4,208 seats), Air Canada (2,803) and American (2,350).
Toronto Pearson International Airport to Moncton Metropolitan by carrier Area
(seats per week, one way, 19-Sep-11 to 18-Mar-12)
Unbalanced slot position comes from deal made before launch
Porter's unbalanced slot position at Billy Bishop is partially owing to the sweetheart deal made with the Toronto Port Authority (TPA) for the majority of slots. It must also be said that Porter has spent more than CAD50 million on improving and developing the airport.
Before it launched service, Porter entered into a sweet commercial carrier operating agreement with the Toronto Port Authority (TPA), giving it virtual control of the airport. Under Porter's agreement with the TPA, the carrier was initially entitled to not less than 95 of the 120 slots then available at BBTCA. Porter was subsequently granted the remaining 25 available slots when they were not used by any other carrier.
Under international slot standards for slot-constrained airports, enshrined in Porter's agreement with the TPA, new entrants are typically allocated up to 50% of new slots, with the balance to incumbents. An independent study showed slot capacity to be 202, now that the new terminal is completed. Porter's agreement with TPA calls for it, as the sole incumbent carrier at the airport coupled with its historical use of slots, to operate 112 of the 202 slots. Under the TPA agreement, Porter is also entitled to be allocated at least 50% of the 90 unallocated slots for a total of 157 with the remaining 45 slots allocated to new entrants.
Given Porter's position as a minority player on the Canadian scene, ACL's argument rings true but its near-monopoly position and deal with the Toronto Port Authority must give pause to competition advocates. Still, given how few competitive airlines there are in Canada, the argument can be made on its behalf if for no other reason that the innovation in the airline and service it has created.