Pittsburgh airport: ideally located, growing, and filling network gaps
Pittsburgh International Airport has been one of the more successful former hubs, having embraced its new profile as an O&D market; the airport's leadership has worked hard to build a service profile that fits the needs of the region's residents, and caters to the growing technology sector in the area.

The airline marks a major milestone during the US summer season when China Eastern operates nonstop seasonal charter service from Shanghai. That service will allow China Eastern to gain some insight about demand patterns to a medium-sized city such as Pittsburgh. Direct service to Asia is essentially on top of every midsize US airport's wish list.

Pittsburgh is also working to fill in domestic network gaps to the US west coast and scored a key win with the launch of new direct service to Seattle, which is scheduled to start in Sep-2018. The airport is working hard to bolster flight options to the US west coast as passengers' preference is to avoid connections when travelling to that region of the country.
Summary
Pittsburgh charts impressive passenger growth while growing its service footprint to Europe.
The airport is taking a positive step in its quest to add service to Asia when China Eastern launches charter flights from Shanghai to Pittsburgh in Aug-2018.
Pittsburgh is also making strides in bolstering its service to the US west coast as the region's technology sector continues to grow.
Airline incentives and passenger levels both grow at Pittsburgh International
Pittsburgh posted an 8% growth in passengers year-on-year in 2018 – its highest level of growth since 2010.
Pittsburgh International Airport annual passenger numbers and growth: 2012 - Apr-2018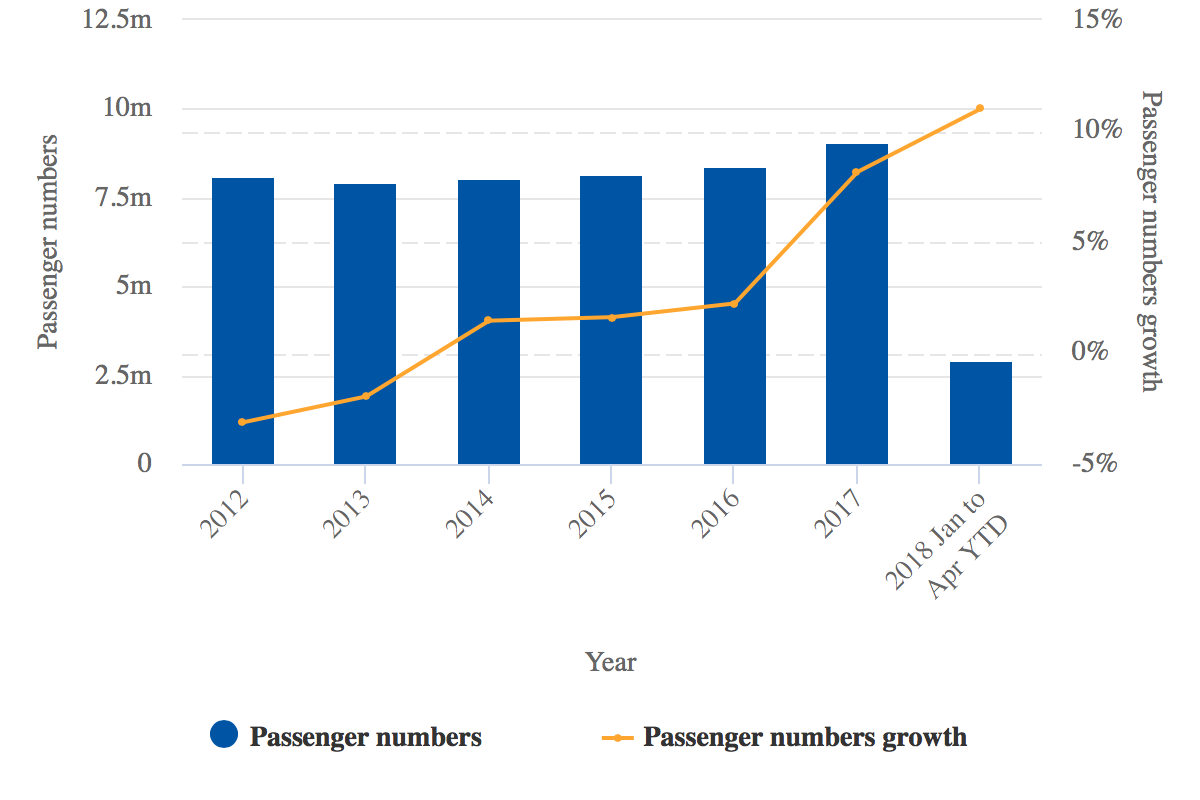 In 2018 Delta Air Lines is upgauging its seasonal flights to Paris from a Boeing 757 to a 767 widebody, which features 26 business class seats. During the past year Pittsburgh has also welcomed new service from WOW Air, with flights to Reykjavik. Each airline has expanded services upon their seasonal return at the airport in 2018.

Speaking at the recent CAPA Airline Leader Summit, airport CEO Christina Cassotis stated that airlines such as WOW and Condor stimulate traffic. The airport has used incentives to attract new service, and (citing reports in the Pittsburgh Tribune) CAPA has previously highlighted that more than USD4.6 million in incentives have been awarded to airlines serving Pittsburgh since 2015.
During that period Pittsburgh has grown its number of nonstop destinations from 37 to 65 (for the week of 11-Jun-2018)

See related report: US smaller airports using incentives to attract new LCC services
Pittsburgh has high hopes for new charter service from Shanghai
Pittsburgh is marking a major milestone in its quest to gain service to Asia when China Eastern launches charter service from Shanghai to the airport in Aug-2018. The airport partnered with VisitPittsburgh and the Idea Foundry to secure the charter flight.

The airline is operating a three class Boeing 777-300ER on the service, and Ms Cassotis remarked that the service was a hug step forward, particularly for nonstop service to China. "The charter-to-scheduled service model has been successfully adopted in other parts of the world", she said. "We are the first US market to tap into China's fast-growing tourism market with this type of business model."

It remains to be seen whether the charter service by China Eastern will eventually result in scheduled flights by the airline to Pittsburgh, but the airport and its partners have been steadfast in their quest to develop service to Asia. Charter flights to China were originally scheduled for the summer of 2017, but according to the Post Gazette the flights were postponed in order to give the tour operator CAISSA Touristic more time to sell tickets for the service.
More west coast flights for Pittsburgh, and the region's tech industry grows
Improved service to the US west coast is also a big focus for Pittsburgh. Close to a year ago, Ms Cassotis remarked that the airline needed more flights to San Francisco, San Diego, Seattle and Los Angeles.

At that time, Ms Cassotis stated that gaps in west coast coverage were frustrating for the airport's passengers, who were working to take advantage of spin-offs from Carnegie Mellon and the University of Pittsburgh. She cited the growing high tech community in the Pittsburgh area and many companies from the Silicon Valley and Seattle that were basing operations in Pittsburgh. Large technology companies Google, Uber and Facebook all have a presence in the Pittsburgh region.

The airport secured a key victory in filling west coast service gaps when Alaska outlined plans to launch service between Pittsburgh and Seattle in Sep-2018. Pittsburgh is a finalist in the competition for Amazon's second headquarters, and a link to Seattle certainly does not hurt the city's chances in the competition.

More recently, United has stated that it plans to expand service between Pittsburgh and its hub in San Francisco. Previously, the airline implemented a hiatus on the route in Jan and Feb but will now operate the flight year-round, and plans to add a second daily flight on the pairing from Jan through Oct.

During the past year Spirit has joined Southwest in operating service from Pittsburgh to Los Angeles, filling a service gap created by American when it cut service on the pairing in early 2017.
The Pittsburgh region and its airport undergo valuable transformations
Pittsburgh has transformed itself from a steel-dependent region to a growing technology hub, with economic contributions from the medical and education industries. In 2017 WalletHub ranked Pittsburgh as the third best US city in which to live.

Pittsburgh International Airport has also worked to respond to the city and metro region's transformation while undergoing its own evolution from a hub for a major airline to an airport that focuses on supplying the best service footprint for its O&D passenger base.