Picking US airline winners: who the gamblers think will prosper – or not
Analysis
One thing that emerges clearly from the reports of US airlines over the past three months is that none of them sees a quick end to this economic slump. And nothing changes with this week's new 2Q2009 reports.
Some – like Allegiant and AirTran - see opportunities for themselves, but that is because their low cost models are designed for this environment.
In the following share price index graphs, we have looked at share price performance of a selection of carriers only since the beginning of Apr-2009. That was about the time when lots of "green shoot" talk gained currency. Since then, doubts have emerged and, despite the recent run of positive moves on Wall Street, the outlook is at best still uncertain.
American Airlines, AirTran, Southwest, Delta, Continental, Allegiant, US Airways and United Airlines share price index: Apr-2009 to Jul-2009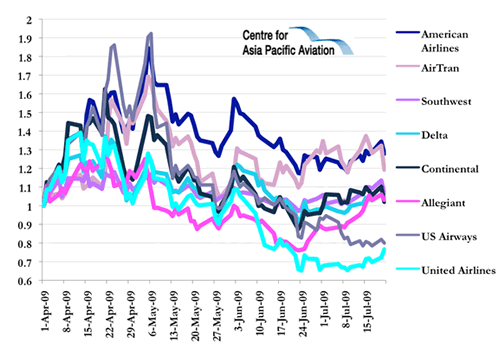 Of the above-the-line carriers, Southwest had been performing well, although yesterday's results and outlook shook the market. In doing so, it dragged several LCCs down, including AirTran, which reports today. Allegiant, which reported positively on the 2Q09 earlier this month, has largely maintained momentum.
AirTran's results will therefore come at an important time, where confidence is wavering and where the long grind of recession still looks for airlines.
The under-performers
US Airways, after an extravagant rise in Apr-2009, has rapidly fallen out of favour and United, despite its 6.0% price rise yesterday, remains in the basement of investors' choices.
US Airways reports on Thursday. If the now-fragile looking Dow turns down over the next couple of days and the carrier announces a weak result, there could be some significant downside for this lagging investment.