Philadelphia International Airport retains a solid position in the US Airways/American Air network
Analysis
Philadelphia International Airport seems to be holding its own within the combined network of American and US Airways, with most of its long-haul service available prior to the merger remaining intact.

After the two airlines decided to merge, questions surfaced about whether Philadelphia would maintain its status as a gateway to Europe given its proximity to legacy American's hub at New York JFK. But the airports cater to different markets, and US Airways/American has a lock on several markets from Philadelphia to Europe.

Similar to other US airports lacking service to Asia, trans-Pacific flights are a major target for Philadelphia as plans are under way for a runway extension to support aircraft carrying more fuel. New flights to Asia are not on the immediate horizon, but in the short term, Philadelphia travellers have efficient one-stop service through Doha with Qatar's service from the airport.
Philadelphia maintains its passenger levels in tough market post-consolidation
During the last few years, passenger levels have held steady at Philadelphia at roughly 30 million. Year-on-year passenger growth increased 1.9% in 2012 and 0.8% in both 2013 and 2014.
Domestic passenger growth has also remained at steady levels, roughly 26 million, increasing 0.5% and 0.7%, respectively, in 2013 and 2014. The airport's international passenger growth surpassed domestic in each of those years, increasing 2.9% in 2013 and 1.4% in 2014.
Philadelphia International Airport annual passenger numbers: 2008 to 2014: Total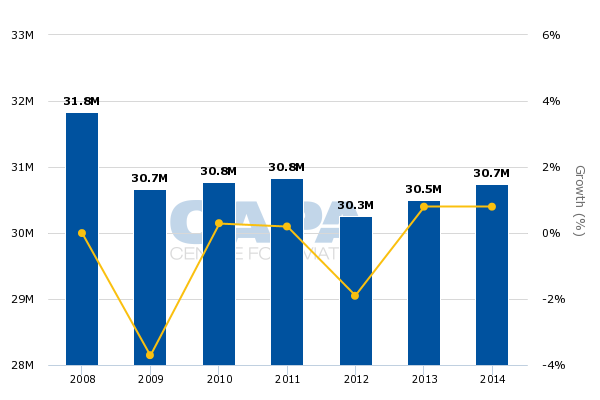 Philadelphia International Airport annual passenger numbers: 2008 to 2014: Domestic
Philadelphia International Airport annual passenger numbers: International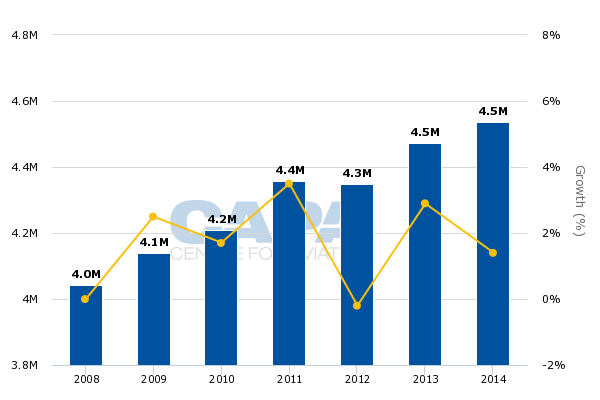 Philadelphia is roughly 189km from New York JFK, a hub for legacy American and a key airport for its joint venture with fellow oneworld partners British Airways and Iberia. But as previously reported by CAPA, Philadelphia and JFK have different catchment areas, and for now there seems to be enough demand to fuel long haul overlap in some markets.

See related report: The "new" American Airlines' hubs: Philadelphia has potential to retain trans-Atlantic flying

Presently, Philadelphia has year-round service by US Airways/American to Amsterdam, Brussels, Dublin, Frankfurt, Madrid, Manchester, Munich, Paris and Tel Aviv. It also has seasonal service to other secondary European markets including Athens, Barcelona, Glasgow, Lisbon, Rome, Shannon, Venice and Zurich.
Most of that service has remained intact at this point in the merger. Seasonal flights between Philadelphia and Edinburgh operated by US Airways in 2014 did not resume in 2015, and instead American began operating flights to Edinburgh from JFK.

Current overlap of trans-Atlantic service by US Airways and American in Philadelphia and JFK includes Barcelona, Dublin, London Heathrow, Manchester, Madrid, Paris, Rome and Zurich.
It is not surprising that most of the routes operated by US Airways from Philadelphia to Western Europe have remained intact after the merger. In the majority of the markets US Airways is the sole operator and presumably can command a price premium. It faces competition from Lufthansa on service to Frankfurt, Delta on service to Rome and London Heathrow.
American/US Airways' joint venture partner British Airways also operates between London and Philadelphia, which provides some benefit to the business tie-up. British Airways now has feed from Philadelphia – the sixth largest US metro area – that was not previously available through its tie-up with Philadelphia's largest airline. US Airways represents nearly 75% of Philadelphia's seats on offer and 73% of its ASMs. British Airways now has access to connecting passengers in the sixth largest US metro area.
Philadelphia International Airport capacity by airline (% of seats): 25-Jun-2015 to 5-Jul-2015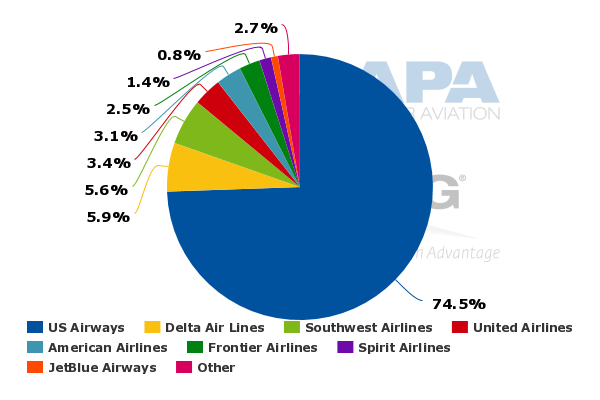 Philadelphia International Airport capacity by airline (% of ASMs): 25-Jun-2015 to 5-Jul-2015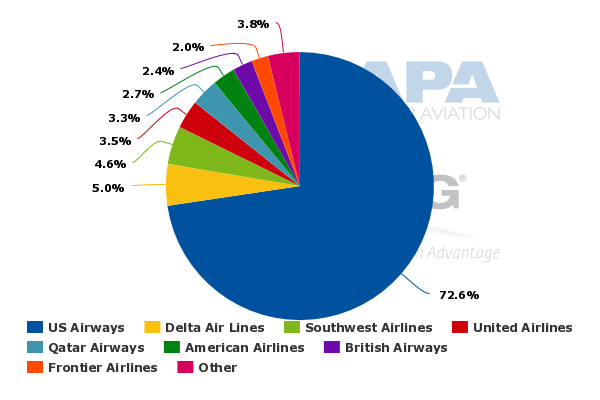 Philadelphia has enjoyed increased service to London Heathrow in 2015 after American/US Airways added a second daily flight and Delta launched service to Heathrow in order to connect passengers onto markets operated by its joint venture partner Virgin Atlantic from Heathrow. Data from CAPA and OAG show that for the week of 29-Jun-2015 overall one way seats on the route have grown 49% to approximately 7,925. British Airways holds a 41% share, US Airways represents 43% of the seats and Delta has a 16% share.
Philadelphia seeks the ultimate prize – long haul flights to Asia
Philadelphia recently received requisite approvals to extend runway 9R-27L by roughly 457m (1,500ft) and taxiways will be added to the extensions as part of a larger capacity enhancement programme. Airport officials have stated the extension would reduce aircraft queues during peak travel times and support aircraft carrying heavier loads of fuel from long-haul destinations.

Ultimately Philadelphia aims to secure direct flights to Asia, but competition for trans-Pacific flights among US airports is intense. Prior to its merger with American in late 2013, US Airways in 2008 secured rights to operate service from Philadelphia to Beijing, but relinquished its authorisation in 2009 due to the economic downturn. American has just completed a major push to Asia from its hub at Dallas/Fort Worth, adding service to Beijing, Hong Kong, Seoul, Shanghai and Tokyo Narita, so the possibilities of American adding new trans-Pacific flights from Philadelphia are slim.

Representatives of the Philadelphia City Council and airport officials have also met with Korean and Asiana in the past about launching new flights. But it can take years for any of those types of discussions to bear fruit.
Qatar Airways provides efficient connections to Asia while Philadelphia seeks direct flights
Philadelphia secured a major boost in its long-haul flights in 2014 when Qatar Airways launched service to its Doha hub. In Jan-2016 the airline is replacing the 259-seat Boeing 777-200LRs it operates on the single daily flight with a 283-seat Airbus A350 widebody.

Qatar's service also enables Philadelphia travellers one-stop easy connections to Asia through Doha. The airline serves 45 destinations in the Asia Pacific region, and is a partner with American in the oneworld alliance even though the airlines are on opposite sides of the contentious dispute over alleged government subsidies to the three Gulf airlines. American/US Airways and Qatar both benefit from a codesharing pact in Philadelphia.

Recently, the Dallas Morning News quoted Emirates CEO Tim Clark explaining that Philadelphia had approached the airline about potential service, noting "they've always been hugely supportive of our expansion here [in the US]". Mr Clark remarked that Philadelphia has been a target for expansion by Emirates, which will serve 10 US destinations once it starts flights from Dubai to Orlando in Sep-2015. Emirates serves 41 destinations in the Asia Pacific region.

Philadelphia will continue to court Asian airlines, and with the mission profiles of the Airbus A350 and Boeing 787, it could secure direct trans-Pacific flights in the medium term. But for now Qatar's service at least gives passengers smooth access to Asia through Doha.
ULCCs flock to Philadelphia in an attempt to stimulate traffic
Philadelphia has also garnered new service from ULCCs Frontier and Spirit Airlines in 2015. Frontier has added service to Houston, Minneapolis, Atlanta, Chicago O'Hare and Charlotte in 2015 after introducing service to Miami, Orlando, Tampa and Cancun in 2014.

Frontier has declared that ist costs are 30% to 40% lower than American's, and given the cost advantage, the company believes it can offer lower fares in the market to stimulate traffic. But American, which has been facing increased low cost competition in Dallas and elsewhere in its network, has declared that it is matching fares with its low cost competitors and competing aggressively.

See related report: Frontier Airlines' rapid network changes continue. A return to Philadelphia now with a ULCC mindset

Spirit has also heightened competition for US Airways/American in the Philadelphia market in 2015, adding flights to Atlanta and Chicago O'Hare after launching service from the airport in 2013 to Dallas//Fort Worth. Spirit also serves Las Vegas and Myrtle Beach from Philadelphia.
Although changes may still be in store for US Airways/American's network once the complex passenger system cutover is complete in 2015 and other integration milestones are met, Philadelphia, much like Charlotte, has settled into its place in the larger network. Philadelphia in particular has a solid O&D passenger base, which coupled with connections available in the combined network help make it a complement to other hubs.
Service from US Airways/American may remain at current levels in the short to medium term, but the airport is also working to build prospects for additional domestic and long haul flights from other airlines. As that work continues, maintaining a stable passenger base can be deemed a success in the consolidated US market.