Panama's Copa pursues more rapid expansion with Las Vegas, Curacao, Liberia and potentially Recife
Analysis
Panama's Copa Airlines is continuing its rapid expansion by opening at least three new routes in June, which will increase its hub of Americas operation at Panama City to a market leading 59 destinations. As is typically the case with Copa, the carrier is evenly distributing its network expansion in 2012 to different regions with Las Vegas in North America, Curacao in the Caribbean, Liberia in Central America and potentially Recife in South America being added. Again typical for Copa, all the routes are not currently served by any carrier and Copa will initially operate them with less than daily frequency.
Las Vegas will become Copa's seventh destination in the mainland US after Chicago, Los Angeles, Miami, Orlando, New York and Washington (Chicago was launched last month). Curacao will become Copa's 13th destination in the Caribbean while Liberia will become its second destination in Costa Rica after San Jose and its seventh destination in Central America (eight including Panama City itself). Recife will likely become Copa's sixth destination in Brazil and 29th in South America.
According to distribution systems, Copa will launch Panama City-Curacao service with four weekly flights on 12-Jun-2012. Panama City-Liberia will launch with two weekly flights on 24-Jun-2012 and Panama City-Las Vegas will launch on 27-Jun-2012 with three weekly flights. Panama City-Recife is also expected to be launched in June or possibly later in 2012. The initial schedule and start date for Recife is yet to be loaded onto distribution systems.
Copa typically adds new routes in two batches every year – one in June and one in December. The June routes are typically announced in January. Copa has not yet formally announced its new Jun-2012 routes but has already added Curacao, Las Vegas and Liberia to the network map on its website, suggesting a formal announcement is imminent.
Copa Airlines destinations as of Jun-2012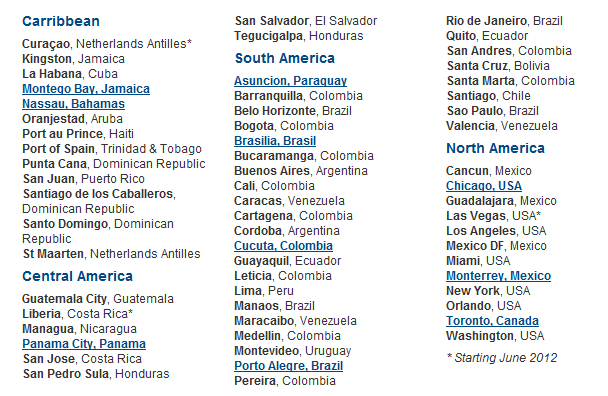 The expansion comes as Copa plans to increase capacity by about 20% in 2012, which as CAPA previously reported will be achieved through a mix of new routes and additional frequencies on existing routes. Copa usually launches a route with a few weekly flights and gradually adds frequencies over time. A majority of its routes are now served daily and several are served with multiple flights per day with frequent capacity upgrades.
Copa plans to take delivery of 12 Boeing 737-800s in 2012 while returning two 737-700s. This will give Copa a group fleet at the end of 2012 consisting of 83 aircraft, including 39 737-800s, 18 737-700s and 26 E190s. Currently the group has 73 aircraft with 56 based in Panama City and 17 aircraft based in Colombia, where the group's Colombian subsidiary operates domestic services and several routes feeding the Panama City hub along with a handful of point-to-point international services.
Copa's group network to surpass 60 destinations
Some of the capacity gains for 2012 will be driven by the year-round impact of the five routes added in Dec-2011. Copa added a record nine destinations in 2011, giving it a total of 59 destinations including 56 destinations linked with its main Panama City hub. From its much smaller Bogota hub, Copa now serves nine domestic and seven international destinations including two domestic destinations that are not also served from Panama City – Leticia and Santa Marta.
While Copa is now only the sixth largest airline group in Latin America by revenue, it is the leading player in the increasingly important intra-Latin America market (which includes Mexico, Central America, South America and Caribbean). Intra-Latin America is one of the fastest growing international markets in the world, recording 14% RPK growth in 2010 and 9% through the first 11 months of 2011, according to data from Latin American airline association ALTA. It is a highly profitable market as it is relatively under-served and has a LCC penetration rate that is near zero. Copa has been cashing in on its leading position in this market as it has been one of the most profitable airlines in the world over the last several years on a net margin basis.
Copa is uniquely positioned to continue benefitting from growth in the intra-Latin America market because of the strength of its perfectly located Panama hub. With a hub in middle of the Americas, Copa is able to serve with narrowbody aircraft secondary cities throughout the region which otherwise wouldn't be viable. Its network is designed to bring together dozens of small city pairs with over 70% of its city pairs accounting on average for less than 20 passengers per day. On the bigger and more competitive city pairs, Copa offers more frequencies than just about every other carrier because it has six scheduling banks, more than twice as many as any other intra-Latin American hub.
Tocumen Airport terminal expansion nearly complete
Copa also has more space to expand than its rivals as Panama City's Tocumen Airport is close to completing a terminal expansion project that will add 12 gates for a total of 34. Some of the new gates, which initially were slated to open in mid-2011, will open this month and all 12 are expected to be in service by April.
About half of Copa's Panama City traffic is transit traffic. A new transit tax proposed by the Panamanian Government threatens to slow down the rapid growth of Copa and Panama City Tocumen Airport, as CAPA reported last month. But the tax has since reportedly been reduced from USD2.50 to USD1.25 per passenger, which should minimise the impact, at least in 2012, although the concern is the tax could be increased over time.
See related article: New tax on transit passengers could lead to slower growth at Panama's Tocumen Airport and Copa
As in the case with all its new destinations, Copa will rely heavily on transit traffic for the new destinations it is adding in June. In Latin America, Copa has historically targeted underserved destinations while in North America it has targeted large destinations with limited services to Latin America, recognising that its unrivalled hub allows it to significantly cut transit times to destinations throughout the Americas.
Copa to operate first international intra-Latin America jet route at Liberia
Liberia, the second largest airport in Costa Rica, primarily has domestic flights and international flights from North America. There are a limited number of flights to Europe and there is currently only one international route to any destination in Latin America or the Caribbean: a four times per week ATR 42 turboprop flight to San Salvador that was launched by TACA in late 2010.
Liberia Airport international capacity share by carrier (seats per week): 16-Jan-2012 to 22-Jan-2012
Liberia is located in Guanacaste province, an increasingly popular eco-tourism and beach holiday destination on the Pacific coast that has been seeking to attract more international services. The airport, which is operated by a consortium that includes Houston Airport System, opened a new terminal earlier this month that is designed to handle a significant increase in international passenger throughput.
Copa will help Liberia open up a new market with huge potential as most tourists in northwestern Costa Rica have traditionally come from the US or Canada. Copa will significantly improve transit times for passengers seeking to travel to Liberia from throughout South America and the Caribbean because Copa's Panama City hub serves a significantly higher number of destinations than TACA's hubs in San Salvador and San Jose. Copa will only initially serve Liberia with two weekly E190 flights on Thursdays and Sundays, but this should be sufficient given Liberia's leisure focus.
Copa's strategy with the Caribbean has been to open up new connections with Latin America, exploiting the fact that most Caribbean islands have little to no connections with nearby Latin America. Curacao is a bit different in that its proximity to South America means it has always attracted more flights from Latin American carriers than most islands in the Caribbean. But Curacao doesn't currently have any flights to Central America, a void Copa will look to fill with its four weekly flights (three of which will be served with E190s and one with 737s).
Curacao Airport international capacity share by carrier (seats per week): 16-Jan-2012 to 22-Jan-2012
Most of the existing Latin American services at Curacao connect the Dutch Caribbean island with nearby Venezuela, where there are limited connections to other South American destinations. Local carrier Insel Air serves four destinations in Venezuela while Dutch Antilles Express serves two. Curacao-Caracas is also served by Venezuelan carriers Avior and Vensacar.
Elsewhere in Latin America, Curacao is linked to Bogota with a daily Avianca flight. Insel Air also operates two weekly flights to Medellin in Colombia and three weekly flights to Paramaribo in Suriname while Surinam Airways operates three flights on a Curacao-Port of Spain-Paramaribo routing. In addition, Brazil's Gol serves Curacao with one weekly flight from Brasilia.
See related article: Curacao's InselAir plans pan-Caribbean strategy starting with Aruba
Copa typically focuses on islands in the Caribbean that attract a mix of both business and leisure travel rather than islands with economies that are entirely tourism focused. There are increasing economic ties between the Caribbean and Latin America that Copa has been able to exploit as its hub of Americas is within a short flight of most Caribbean destinations.
Copa to become first non-Mexican Latin American carrier at Las Vegas
Las Vegas McCarran is one of the world's biggest airports but currently has no scheduled services to any destination in South America or the Caribbean. Mexico is well served from Las Vegas, with three Mexican carriers operating over 10,000 weekly seats at McCarran. But Mexico will not be a market Copa will target as it would require significant backtracking. Copa will instead offer new attractive connections from Las Vegas to markets throughout South America, Central America (excluding Mexico) and the Caribbean.
Las Vegas McCarran International Airport international capacity share by carrier (seats per week):
16-Jan-2012 to 22-Jan-2012
Attracting Copa is a big win for Las Vegas McCarran Airport, which has aggressively been seeking to attract new international carriers. Copa will help bring into Las Vegas more tourists from Latin America (excluding Mexico). This is a relatively small but growing market for Las Vegas, which is becoming an increasingly popular destination for Latin Americans given the relatively weak US dollar. The Las Vegas-Latin America (excluding Mexico) market is now served primarily via other US hubs such as Dallas and Houston.
Copa could become first non-Brazilian Latin American carrier to serve Recife
At Recife in northern Brazil, Copa is poised to become the airport's fourth international carrier and the only carrier with international services to any destination in Latin America. American now operates daily services from Miami, TAP has six weekly flights from Lisbon while Condor serves Recife with one weekly flight from Frankfurt. No Brazilian carrier currently operates international flights at Recife.
International passengers heading from Recife to northern South America or Central America now have to backtrack through other Brazilian cities, primarily Rio de Janeiro or Sao Paulo, or backtrack via Miami. Copa will offer significantly improved connection times to Central America, north South America, the Caribbean as well as parts of North America.
Recife Guararapes International Airport international capacity (seats per week): 16-Jan-2012 to 22-Jan-2012
Copa has rapidly expanded its Brazilian network in recent years, focussing on underserved secondary cities. Brasilia and Porto Alegre were added in Jun-2011, giving the carrier six Brazilian destinations along with Belo Horizonte, Manaus, Rio de Janeiro and Sao Paulo.
Brazil's secondary cities are growing rapidly and are attracting large increases in domestic capacity. But internationally they predominately remain linked only to Lisbon and Miami. As reported by CAPA in Aug-2011, five additional secondary Brazilian cities were identified by Copa last year as potential new destinations. Recife, which has a population of 3.3 million, was on this list as well as Salvador, Fortaleza, Curitiba and Belem.
Copa's list of potential new destinations also included Las Vegas along with two other US cities: Boston and San Francisco. Curacao was one of four potential new Caribbean destinations along with Barbados, the Cayman Island and the Virgin Islands. Liberia was not on this list, indicating Copa only began evaluating it in recent months, persuaded perhaps by fast-growing inbound tourist figures for Costa Rica's Guanacaste region and an attractive package from the airport.
See related article: Copa reports record 2Q profit, upgrades forecast on strong intra-Latin America demand