Outlook bleak on recession fears – AAPA
"Slowing economic growth is having a very serious impact on travel demand" - that is the verdict from the Association of Asia Pacific Airlines (AAPA), reviewing the latest set of weak traffic data for Jul-08. Member airlines carried 12.6 million international passengers in Jul-08, 0.6% fewer than in the same month last year, although traffic measured in RPK terms grew slightly, up 0.8%. Traffic data from the International Air Transport Association (IATA) for Asia Pacific airlines has been trending closely with the AAPA results and Jul-08 results are also expected to be weak.
AAPA vs IATA Asia Pacific international passenger traffic (RPK) growth (% change year-on-year): Jan-07 to Jun-08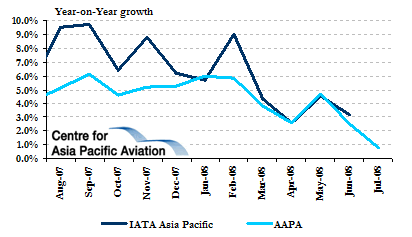 International capacity (measured in ASKs) continued to outstrip demand, rising 2.5% year-on-year, resulting in a 1.3 percentage point deterioration in the average international passenger load factor, to 78.4%.
AAPA international passenger capacity (ASKs) vs traffic (RPKs) growth (% change year-on-year): Jan-07 to Jun-08
Perhaps more concerning was the performance of Asian international freight markets - a traditional bellwether for the health of the global economy. AAPA members' international air cargo traffic fell for the second month in a row, down 5.5% in Jul-08 (as measured in FTKs. However, the average cargo load factor rose marginally to 66.6%, as a result of a 5.9% reduction in flown capacity.
AAPA Director General, Andrew Herdman, stated, "the outlook for the remainder of the year remains bleak, with most of the world's major economies now struggling to avoid recession". He added, airlines are moving quickly to cut back non-performing routes, reducing capacity in line with expected lower demand, and working closely with airports and other key service providers to eliminate unnecessary costs throughout the business, in order to survive the current crisis".
But not all AAPA members, particularly Cathay Pacific and Singapore Airlines, are reading from the script and are forging ahead with strong capacity growth in the current environment to maximise traffic over their hubs. The cutbacks are mainly seen at the periphery of the region, with AAPA members in North Asia and the South Pacific shouldering much of the capacity restraint.
The weak cargo market sounds warning bells. But Asia's expanding airlines could be betting that a deterioration of the global economy will in turn help deflate the oil price. If this happens, global networks can be maintained and strong hubs can deliver the necessary yield to sustain acceptable earnings (or losses). But if oil fails to drop in sync with the global economy, the capacity knives will have to come out.