Oil prices still volatile. The perils of hedging
Oil prices ended a three-day rally on Thursday, again triggered by weaker-than-anticipated US economic data. After a three-week slump, which saw the price of WTI crude down to almost USD60 per barrel in late May-2010, oil prices have recovered to spend most of the first two weeks of Jun-2010 around USD75 per barrel.
Signs of improving underlying demand, coupled with renewed confidence in some of the Euro zone economies that were threatened by the sovereign debt crisis, have increased confidence in oil markets. US economic performance continues to be a lingering concern, with recent jobless figures and economic output levels worse than anticipated.
Lower capacity utilisation at refineries has eased some of the supply side pressure on oil prices. While US crude stockpiles reported another increase (1.3 million barrels) during the week, distillate stocks, particularly gasoline, were lower. The appreciation of the euro against the US dollar has also prompted investment in oil futures.
For the week to 15-Jun-2010, oil prices were up 6.9%, to USD76.84 per barrel. Prices have stayed above USD70 per barrel for the past three weeks.
WTI spot price: Jun-2009 to Jun-2010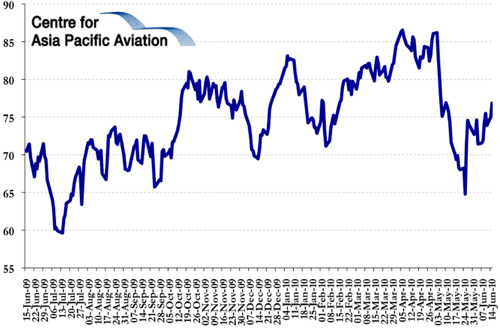 To hedge or not?
For airlines, the continued oil price volatility creates headaches. US Airways President, Scott Kirby, stated spoke this week against hedging of fuel purchases, saying it is hard to rationalise because of the asymmetric risk on the down side. "We are not hedging," he said. "That doesn't mean it's the right decision. The cost to hedge is really expensive, that's a big chunk of earnings and the benefits only kick in if oil rises beyond USD90 per barrel." See related report: US Airways President Scott Kirby cautiously optimistic: It's different this time
Jet fuel prices continue to lag behind the increase in crude prices but are still more than 10% up on where they were one month ago. New York Harbour and Singapore recorded the smallest increases, up 3.7% and 2% respectively. Gulf Coast, Amsterdam and Los Angeles prices were all up between 4% and 5%.
Daily jet fuel prices (kerosene, cents per gallon) at New York, US Gulf Coast, Los Angeles, Amsterdam, Singapore: Nov-2009 to Jun-2010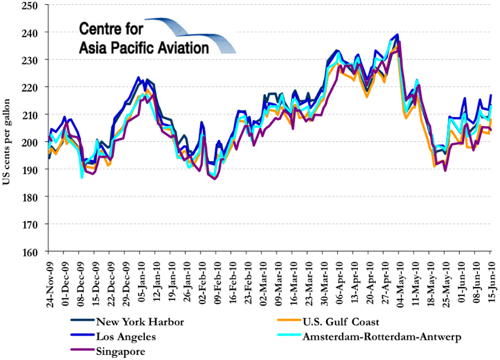 Daily jet fuel prices (kerosene, cents per gallon) at New York, US Gulf Coast, Los Angeles, Amsterdam, Singapore vs Crude Spot price (WTI, USD per barrel): 08-Jun-2010 to 15-Jun-2010
| | 08-Jun-10 | 09-Jun-10 | 10-Jun-10 | 11-Jun-10 | 14-Jun-10 | 15-Jun-10 | one week Change | 12 month Change |
| --- | --- | --- | --- | --- | --- | --- | --- | --- |
| New York Harbor | 205.64 | 207.00 | 211.00 | 208.85 | 208.9 | 213.29 | 3.7% | 15.9% |
| U.S. Gulf Coast | 198.14 | 202.00 | 206.00 | 203.6 | 202.9 | 208.04 | 5.0% | 14.7% |
| Los Angeles | 208.21 | 211.59 | 215.34 | 212.18 | 211.6 | 216.9 | 4.2% | 16.4% |
| | 203.95 | 206.67 | 211.28 | 209.47 | 207.73 | 212.94 | 4.4% | 12.8% |
| | 200.24 | 199.17 | 202.14 | 205.24 | 205.12 | 204.29 | 2.0% | 9.5% |
| WTI Spot* | 71.88 | 74.38 | 75.48 | 73.89 | 74.99 | 76.84 | 6.9% | 8.9% |