Oil back below USD50 per barrel, is bio-fuel dead?
Oil prices are now trading at levels not seen since May 2005, threatening the bio-fuel sector, as the economic news out of the world's biggest economy goes from bad to worse. The Conference Board reports the US Leading Economic Index decreased 0.8% in Oct-08 and stated the economy "is unlikely to improve soon, and economic activity may contract further in the near term".
Worse than expected job losses and a deferral of a review of a restructuring plan for the US auto industry sent US shares tumbling on 20-Nov-08, with the Dow Jones Industrial Average slumping 437 points or -5.5%.

Several US airlines were savaged again, with United leading the falls (-12%) and Southwest Airlines (whose fuel hedges are now looking like massive liabilities) down 10.5%. JetBlue, US Airways, WestJet and AirTran were all sold off heavily. But not all the US carriers were sold off, with Alaska Air, Allegiant (with its fleet of ageing aircraft becoming more economical by the day) and Continental all attracting some buying interest.
North America selected airlines daily share price movements (% change): 20-Nov-08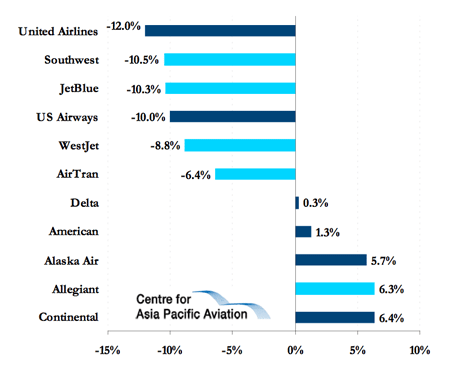 A falling economy is expected to keep downward pressure on oil prices, with some market analysts now forecasting a three-four year bear market on oil, as experienced in the early 1908s.

Falling oil demand and weak prices are expected to hamper - but not imperil - progress in the development of bio-fuels, which the airline industry is relying on for long-term environmental and efficiency benefits. Ethanol distillers and farmers in the US, for example, are already struggling to cope with over-capacity and collapsing margins, according to some reports. Air New Zealand recently confirmed it would be testing a bio-fuel powered flight next month.