NovoAir becomes Bangladesh aviation market's newest airline in Jan-2013
Analysis
A new airline entered Bangladesh's skies in 2013 with the launch of NovoAir on 09-Jan-2013.
NovoAir will become the fourth scheduled operator in the domestic Bangladeshi market, joining Biman Bangladesh Airlines, Regent Airways and United Airways Bangladesh, with its launch occurring less than 12 months after the suspension of GMG Airlines' operations on 30-Mar-2012.
Launching the service, NovoAir MD Mofizur Rahman noted the potential in the domestic Bangladesh market, while adding that international service may be launched after an initial domestic focus in the first year of operation.
Mr Rahman noted "demand for domestic flights is on the rise due to a gradual increment of people's income. But the local airlines are yet to tap the full potential. So we want to give another option for the local air travellers." Mr Rahman said the carrier's initial focus would be on providing improved service and competitive fares, combined with the introduction of new systems technology, "we're going to introduce Self-Service Web and Kiosk, E-Payment Facilities, Frequent Flyer programme, Valet Assistance Services", Mr Rahman said.
Mr Rahman is a former group captain in the Bangladesh Air Force with more than 25 years of flying service. He is joined in the carrier's senior management team by Arshad Jamal who holds the position of director and CFO and Faiz Khan, chairman and CEO, according to the carrier's website.
Bangladesh gets another full service airline in a domestic market without LCCs
While Bangladesh has a market environment that should support LCCs, development on this front has been limited, with no LCC operations in the domestic market and LCCs holding only a 14% capacity share internationally to/from Bangladesh, according to Innovata.
NovoAir is continuing the status quo, intending to provide premium services for business and leisure travellers in Bangladesh, according to Mr Rahman.
Air traffic has been gradually increasing on domestic routes in recent years with the growth in business and domestic tourism. Overall however the Bangladeshi aviation market has underperformed its potential in the past decade, with the government capping foreign airline activity in order to protect Biman Bangladesh.
Local airlines carried 627,000 passengers on domestic routes in 2011, up 20% year-on-year, although data is not yet available for 2012. Yields also remain weak in the market.
Civil Aviation and Tourism Minister M Faruk Khan, speaking at the carrier's launch, said demands for airlines are increasing on both domestic and international routes as income levels have improved. He said the demand for air connectivity in the country has increased due to the poor condition of road links. "Nowadays more corporate and business officials are choosing air routes for saving their time," he said.
NovoAir is a well-established aviation services company
NovoAir has a unique position in the market. The start-up is part of the wider Novo Air aviation services company that already includes diversified activities such as third party passenger and air cargo transportation, travel and holiday services and high-end aviation technology solutions. Since launching in 2007, NovoAir was engaged in multiple facets of aviation services, including representing China Southern Airlines and Tiger Airways as general sales agent for Bangladesh.
Operating from Dhaka, which has a 50% capacity share of the domestic and 88% share of the international market in the current week based on OAG data, the carrier will initially operate up to four daily services to Chittagong (the nation's second largest airport with 31% domestic capacity share and the only other international airport, with 12% international capacity), one daily service to Cox's Bazar (a popular tourist destination) and one to Jessore (the nation's third largest domestic airport), with Dhaka-Sylhet to be launched later. The airline will soon add two more destinations – Rajshahi and Syedpur – as it plans to increase the number of daily services to 10 in two months, according to Mr Rahman. According to the Civil Aviation Authority Bangladesh, there are three international airports in Bangladesh (Dhaka, Chittagong and Sylhet) with seven domestic airports and two short take-off and landing ports, with one new domestic airport under construction.
On the popular Dhaka-Chittagong route, the carrier is offering up to four daily services (26 weekly services) in direct competition with Biman Bangladesh Airlines, Regent Airways and United Airways. This will add 1,274 weekly seats to the route, which already has 5,940 weekly seats offered by incumbents (for a total of 7,214 weekly seats, an increase of around 20%). In 2011 an estimated 419,000 O&D air passengers travelled between the two cities, up 10% on the previous year with average fares of USD72 each way.
NovoAir will compete with Regent Airways and United Airways on services from Dhaka to Cox's Bazar and Jessore, adding 343 weekly seats on both sectors to the existing 609 and 1,218 weekly seats offered respectively. These two routes had an estimated O&D demand of 55,000 and 105,000 p/a, respectively. On the Dhaka-Sylhet route, NovoAir will compete with Biman Bangladesh, United Airways Bangladesh and Regent Airways, adding 245 weekly seats to the existing 2,678 weekly seats, according to Innovata.
Operators on NovoAir start-up routes
Origin

Destination

Weekly Frequency

Competitors

26 with 49-seat aircraft

Biman Bangladesh (15 times weekly with mix of 222-seat, 314-seat and 169-seat aircraft for 3302 weekly seats on the route)

Regent Airways (35 times weekly with 50-seat aircraft for 1750 weekly seats)

United Airways Bangladesh (24 times weekly with 37-seat aircraft for 888 weekly seats)

Cox's Bazar

7 with 49-seat aircraft

Regent Airways (Seven times weekly with 50-seat aircraft for 350 weekly seats)

United Airways Bangladesh (Seven times weekly with 37-seat aircraft for 259 weekly seats)

7 with 49-seat aircraft

Regent Airways (14 times weekly with 50-seat aircraft for 700 weekly seats)

United Airways Bangladesh (14 times weekly with 37-aircraft for 518 weekly seats)

Five with 49-seat aircraft

Biman Bangladesh (six times weekly with mix of 222-seat and 314-seat aircraft for 1424 weekly seats)

United Airways Bangladesh (Four times weekly with 226-seat aircraft for 904 weekly seats)

Regent Airways (seven times weekly with 50-seat aircraft for 350 weekly seats)
Bangladesh remains a small aviation market
The domestic Bangladesh market is a small market, with under 300 weekly services and under 22,000 weekly seats, according to OAG. The domestic market, over the past two years, has seen little growth, a situation exacerbated by the closure of GMG Airlines, which had an 8% domestic capacity share this time last year.
At present, Regent Airways is the largest operator by weekly departures, with around 45% of total departures (compared to around 42% for United Airways and 12% for Biman Bangladesh Airlines), although the three major domestic carriers have a relatively even capacity (seats) share in the current week, all around 33%, as a result of Biman deploying larger aircraft on its domestic routes than its competitors.
Domestic market information: Week commencing 11-Feb-2013 vs 11-Feb-2012 (excluding NovoAir)
Carrier

Frequency

Feb-2013 vs Feb-2012

Seats

Feb-2013 vs Feb-2012

Capacity share

Feb-2013 vs Feb-2012

32

71

7074

12271

33.6%

47.1%

126

126

6804

6804

32.4%

26.1%

119

92

7154

4916

34.0%

18.9%

0

56

n/a

2072

n/a

7.9%

Total

277

345

21032

26063

100%

100%
International destinations on the agenda for NovoAir amid an increased government focus on expanding international access
While its network will remain entirely domestic in its initial launch phase, NovoAir is reportedly also considering international destinations including Bangalore, Chiang Mai, Kathmandu, Kolkata and Yangon.
While international traffic to/from Bangladesh has experienced steady growth in recent years, it is a market dominated by foreign operators, which now hold over 70% of capacity to/from Bangladesh (Biman Bangladesh Airlines has only a 22% international capacity share in the week ended 17-Feb-2013).
While the Bangladeshi aviation market has been characterised by an essentially protective policy since the Bangladeshi Government suspended its short-term open skies trial in 2007, this could slowly be changing, with the Civil Aviation Authority of Bangladesh (CAAB) showing signs of signing new ASAs to expand international access into the high-potential market.
Bangladesh capacity (by carrier per week): 11-Feb-2013 to 17-Feb-2013
In Nov-2012, the CAAB stated it set a new strategy for its air service negotiations, with plans to seek more international frequencies and to allocate several frequencies to others. The Ministry of Civil Aviation and Tourism has sought expanded frequencies to Singapore and Saudi Arabia and had plans to negotiate with Canada for direct services between the two nations.
The government also said it would allow Bhutan's state-owned airlines to operate more Thimphu-Dhaka-Kolkata services. Meanwhile, the CAAB has redistributed 55 international frequencies of GMG Airlines to Regent Airways and United Airways due to the closure of GMG Airlines.
The CAAB allocated 16 additional frequencies to United Airways on Dhaka-Malaysia, Dhaka-Singapore and Dhaka-Bangkok routes. It also allocated 39 frequencies to Regent Airways on Dhaka-Malaysia, Dhaka-Singapore, Dhaka-UAE, Dhaka-Hong Kong, Dhaka-Kolkata, Chittagong-Kolkata and Dhaka-Bangkok routes. The Ministry has decided that if GMG Airlines resumes operation in future, the frequencies will be reallocated among all.
According to the CAAB's website, Bangladesh has bilateral agreements with 43 countries, with 17 airlines operating to/from the country. Bangladesh, in Sep-2009, signed a horizontal aviation agreement with the European Commission, "restoring legal certainty to the bilateral air services agreements between Bangladesh and eight EU Member States", according to the EC.
Launch of NovoAir a notable development for Embraer
The carrier will operate passenger service with two pre-owned 49-seat Embraer E145 jets. The two ERJ 145s were last operated by Flybe in an agreement with Airstream International. For Embraer, the launch of NovoAir is a key development as it seeks to grow its presence in South Asia, with NovoAir becoming the first carrier in Bangladesh to operate the aircraft type.
In a release coinciding with the carrier's launch, Embraer said its jets are now in service with 85 airlines in 51 countries around the world and NovoAir becomes the 13th operator of its commercial aircraft in the Asia-Pacific region, where an Embraer aircraft takes off once every 45 seconds, according to the manufacturer.
NovoAir fleet information: Feb-2013
"NovoAir's decision to buy the ERJ 145 reflects the potential for 50-seat regional jets to develop markets with small units of capacity," said Embraer commercial aviation VP Asia-Pacific, Alex Glock. "The operating economics of used aircraft today can be quite attractive in lower density markets, such as Bangladesh, where 50-seat jets have the ability to build airline networks and frequency, as they have done in other parts of the world."
NovoAir will fill the gap left by GMG Airlines less than a year ago, in a market characterised by poor road conditions and increased air service demand. The carrier is starting slowly but with plans to further boost local schedules and expand into the international market. NovoAir plans to become the airline of choice for business travellers in Bangladesh with a good quality and most importantly, reliable flight schedule. It enters a domestic market which remains small and volatile, with the domestic market seeing capacity peaks and troughs for much of the 2000s, with a couple of years of rapid growth (in 2008 and 2011), driven mainly by Regent Airways and United Airways, both of which have seen double-digit growth.
APPENDIX: NovoAir fleet and network
NovoAir route map: Feb-2013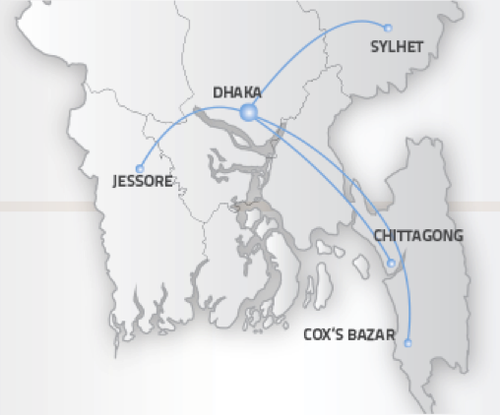 NovoAir initial schedule: Feb-2013
NovoAir fare charts
Airports in Bangladesh
Dhaka Airport monthly operations: Feb-2004 to Feb-2013
NovoAir E145 aircraft
NovoAir E145 aircraft