Norwegian Air Shuttle 2Q2015 back to operating profit. Long haul load factor 91%; leasing draws near
Analysis
Norwegian's 2Q2015 results show further positive momentum after FY2014's slump into losses. Not only did unit revenue grow, driven by a sharp increase in passenger load factor, but also unit cost fell.
However, the fall in unit cost (and more than half of the improvement in operating profit versus 2Q2014) was due to lower fuel prices. Norwegian's ex fuel unit costs have risen year on year for the past three quarters. The current quarter, 3Q2015, will be the key to FY2015 results and Norwegian's management appear comfortable with booking trends and the yield outlook.
Norwegian also gave data on its long haul network, two years after its launch. Passenger numbers in 2Q2015 more than doubled from 2Q2014 and the long haul load factor was 91% in 1H2015. Norwegian must now prove its claim that this part of the business can make a positive contribution to profits. And it has no time to relax: its next new business, aircraft leasing, will be fully operational in 2016, when it plans to lease out all four A320neo aircraft due from Airbus.
Norwegian's Operating result is back into profit in 2Q2015
In 2Q2015, Norwegian Air Shuttle's net result improved by 153% year on year to NOK325 million (EUR38 million). The reported EBIT result turned around from a loss of NOK85 million to a profit of NOK521 million (EUR61 million).
CAPA's preferred operating profit measure is EBIT before other gains/losses (which are mainly related to currency movements and fuel hedging contracts), which improved by NOK533 million from a loss of NOK113 million to a profit of NOK420 million (EUR49 million). Revenues increased by 16% to NOK5,861 million (EUR683 million).
For 1H2015, the net result was a loss of NOK213 million (EUR56 million), versus a loss of NOK465 million in 1H2014. The 1H2015 operating result (before 'Other losses and gains') was a loss of NOK305 million (EUR120 million), versus a loss of NOK992 million last year.
See related report: Norwegian Air Shuttle narrows its 1Q2015 loss thanks to lower fuel, but it's still a heavy loss
Norwegian Air Shuttle 2Q2015 financial highlights
With its 2Q2015 results, Norwegian has continued its revenue growth trajectory of recent years and, more importantly, returned to the path of rising operating profit that was interrupted by a loss in 2Q2014.
Norwegian Air Shuttle revenue and operating profit* 2Q2009 to 2Q2015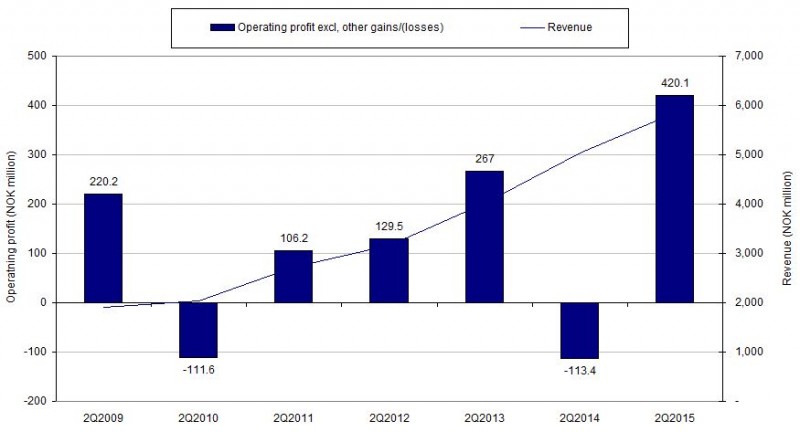 ASKs were up 8% and load factor up 5ppts
Norwegian increased its available seat kilometres (ASK) by 8% in 2Q2015, much slower than the 41% growth for the same period last year, but similar to its 7% growth in 1Q2015. The average sector length increased by 6% in 2Q2015, reflecting Norwegian's focus for growth in its long haul network this year, while its short/medium haul network maintains capacity roughly at last year's level. Passenger numbers increased by 9% and RPKs by 15%.
Norwegian's load factor gained 5.4ppts to 85.2%, continuing the strong gain of 1Q2015 and the first time that its 2Q load factor has beaten 80%. It has fallen short of other leading LCCs on this measure in the past and it is still below the 90%-plus levels achieved by Ryanair and easyJet in the quarter, but this improvement is welcome.
Norwegian Air Shuttle 2Q2015 traffic data


Norwegian Air Shuttle ASKs and passenger load factor 2Q2005 to 2Q2015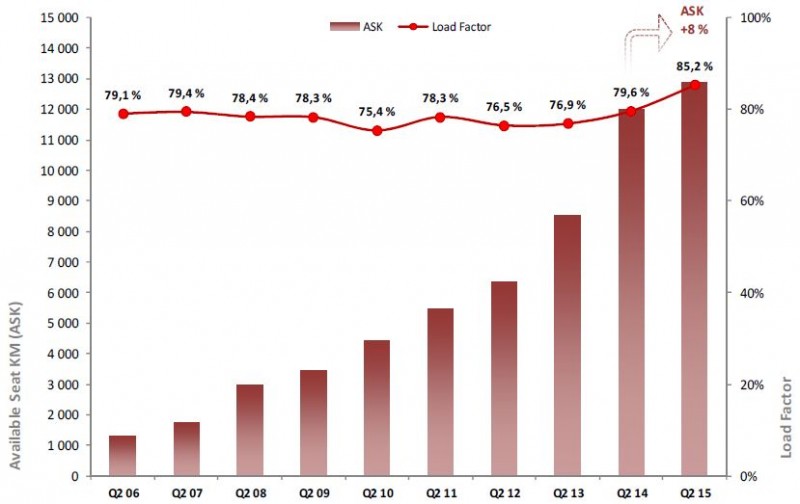 Norwegian's revenue grows by 16%
Revenue grew by 16%, faster than the 8% increase in ASKs in 2Q2015. Passenger revenue increased by 14%, but ancillary revenue continued to outpace this, with growth of 25%. Ancillary revenue grew by 14% to NOK125 per scheduled passenger, mainly due to long haul operations and increased sale of pre-sold packages. Ancillaries were 17% of revenue in 2Q2015, up from 15% a year earlier.
Other revenue jumped by 62%, driven by increased cargo activity as a result of the long haul expansion.
Norwegian Air Shuttle 2Q2015 revenue by activity (NOK million)
| | 2Q2014 | 2Q2015 | Change | % of 2Q2015 total |
| --- | --- | --- | --- | --- |
| Passenger | 4,249 | 4,831 | 13.7% | 80% |
| Ancillary | 687 | 857 | 24.7% | 17% |
| Other | 107 | 173 | 61.7% | 3% |
| Total | 5,043 | 5,861 | 16.2% | 100% |
Domestic revenue and international revenue both increased at the same rate of 16% year on year in the quarter. This follows several years of domestic revenue growth at a lower rate than international revenue growth.
Capacity growth in Norwegian's domestic markets has been minimal, and possibly negative, so this suggests a firmer pricing environment.
Norwegian Air Shuttle 2Q2015 revenue by region (NOK million)
| | 2Q2014 | 2Q2015 | Change | % of 2Q2015 total |
| --- | --- | --- | --- | --- |
| Domestic | 1,173 | 1,362 | 16.1% | 23% |
| International | 3,870 | 4,498 | 16.2% | 77% |
| Total | 5,043 | 5,861 | 16.2% | 100% |
Norwegian's passenger revenue per ASK (PRASK) grew by 6% year on year, while the strong performance of ancillaries and other revenue pushed total revenue per ASK (RASK) up at the faster rate of 8%, an acceleration on the 6% RASK growth of 1Q2015.
Growth in RASK was almost entirely due to the load factor gain, since revenue per RPK was up only 1%. Unit revenue probably also benefited from the weaker NOK, although Norwegian does not quantify this effect.
Norwegian Air Shuttle unit revenue development (NOK) 2Q2015 versus 2Q2014
| | 2Q2014 | 2Q2015 | Change |
| --- | --- | --- | --- |
| PRASK* | 0.35 | 0.37 | 6% |
| RASK** | 0.42 | 0.45 | 8% |
Norwegian's costs increased by 6%, less than ASKs
Operating costs, excluding other gains and losses, grew by 6%, less than the increase in ASKs and revenue. Fuel costs fell by 11%, in spite of the capacity increase and the weakening of NOK versus USD, thanks to lower fuel prices and Norwegian's limited fuel hedging. At the end of 1Q2015, the company had hedged 25% of its fuel needs for the remaining part of the year and, at the end of 2Q2015, it has now hedged 28% for 2H2015.
According to CAPA's calculations, the lower average fuel cost per ASK paid by Norwegian in 2Q2015 was responsible for NOK311 million out of the total operating profit improvement of NOK533 million.
Ex fuel costs increased by 13%, faster than the increase in ASKs and revenue. Labour costs grew 7%, roughly in line with capacity, but faster than the 3% increase in average man-labour years. Sales and distribution costs rose at the disproportionate rate of 32%, due to increased credit card commissions in international markets and more sales through travel agents. Maintenance costs also increased sharply, up 39%, due to additional engine overhaul expenses and the weaker NOK versus USD.
Norwegian Air Shuttle 2Q2015 operating costs
| NOK million | 2Q2014 | 2Q2015 | Change |
| --- | --- | --- | --- |
| Personnel | 771 | 826 | 7.1% |
| Sales/distribution | 107 | 142 | 32.3% |
| Fuel | 1,639 | 1,452 | -11.4% |
| Airport & ATC | 716 | | 8.5% |
| Handling | 473 | 533 | 12.7% |
| Maintenance | 333 | 461 | 38.6% |
| Other expenses | 470 | 486 | 3.4% |
| Other losses/(gains) | -28 | -100 | 255.0% |
| Leasing | 469 | 520 | 10.8% |
| Depreciation | 179 | 245 | 36.9% |
| Total operating costs | 5,128 | 5,340 | 4.1% |
| Total costs excl other losses/gains | 5,156 | 5,440 | 5.5% |
| Total costs excl other losses/gains ex fuel | 3,518 | 3,989 | 13.4% |
CASK fell by 2%, all thanks to lower fuel prices
Total cost per ASK (CASK) fell by 2% to NOK0.42 in 2Q2015 (note that this differs from the figure published by Norwegian of NOK0.40, since the company excludes depreciation costs from its calculation).
The fall in unit cost was entirely due lower fuel prices. Ex fuel CASK increased by 5%, in spite of the longer average sector length, which might normally be expected to lead to lower ex fuel CASK. If Norwegian's fuel cost per ASK had remained at the same level as in 2Q2014, we calculate that its total CASK would have been up by 3% year on year.
Norwegian Air Shuttle unit cost development (NOK) 2Q2015 versus 2Q2014
| | 2Q2014 | 2Q2015 | Change |
| --- | --- | --- | --- |
| CASK* | 0.43 | 0.42 | -2% |
| ex fuel CASK | 0.29 | 0.31 | 5% |
Norwegian's quarterly RASK vs CASK growth differential continues to improve
As with RASK, CASK was also inflated by currency movements and the key to an improved operating result was that RASK growth outperformed CASK growth. In FY2014, RASK growth under-performed against CASK growth, but the differential between the two became less negative with each quarter, turning positive in 1Q2015 and improving further in 2Q2015.
Norwegian Air Shuttle year on year development of unit revenue (RASK) and unit cost (CASK) by quarter 1Q2015 to 2Q2015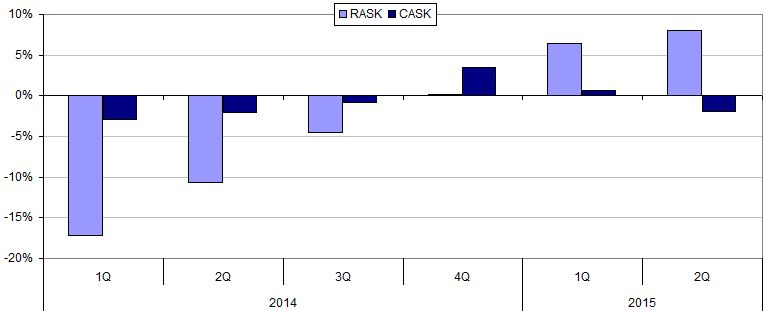 Norwegian has all to play for in 2H2015
As noted earlier, the return to a trajectory of rising operating profits in 2Q is welcome, but the key to Norwegian's FY profitability is 2H (in particular 3Q, the summer peak).
Norwegian's outlook for the year is largely unchanged, with total ASK growth still planned to grow by 5%, driven by long haul expansion, and a unit cost reduction target of between 5% and 7%. CFO Frode Foss told analysts on a conference call to discuss the 2Q2015 results that the unit revenue outlook was slightly more positive than previously on long haul, but did not quantify this.
No FY2015 profit target has been set, but the improvement from last year in 2H will need to be even greater than the NOK688 million improvement in 1H if Norwegian is to match or beat 2012's record operating profit of NOK732 million (excluding other gains/losses).
Norwegian Air Shuttle operating profit* by half year 2009 to 2015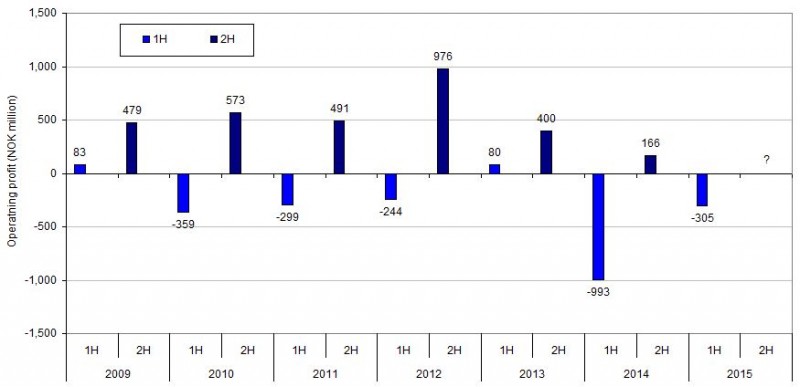 Norwegian's long haul load factor was 91% in 1H2015 in spite of rapid growth
CEO Bjorn Kjos used the 2Q results presentation as an opportunity to provide an update on Norwegian's long haul network, which launched just over two years ago. The long haul network has carried more than 1.7 million passengers in that time and has achieved load factors consistently in the high 80% region (its 1H2015 load factor was 91%). It carried 324,000 passengers in 2Q2015, more than twice the 139,000 carried in 2Q2014.
The growth rate will be slower in 2H2015, but Norwegian plans growth in long haul ASKs and departures of 30% in 2015. For 2016, growth in long haul departures is expected to be 34%, with ASKs increasing at the higher rate of 38 % as the long haul network grows its average sector length and larger wide bodies join the fleet.
Norwegian Air Shuttle long haul network operating data and targets
| | 2013 | 2014 | 2015 | 2016 |
| --- | --- | --- | --- | --- |
| ASK (million) | 1,571 | 8,087 | 10,500 | 14,500 |
| Growth | | 415% | 30% | 38% |
| Legs | 769 | 3,683 | 4,800 | 6,450 |
| Growth | | 379% | 30% | 34% |
| Load factor | 89% | 87% | n/a | n/a |
| Pax | 192,579 | 941,265 | n/a | n/a |
| Growth | | 389% | 34% | 34% |
Perhaps sensibly, given the risks of growing too fast and the regulatory delay that Norwegian has suffered in receiving a US foreign carrier permit for its subsidiary Norwegian Air International, its long haul expansion plans have been trimmed once more.
See related reports:
The number of long haul departures planned for 2014 was 4,300 in Jul-2014, but figures released by Norwegian with its 2Q2015 results presentation show that the actual number was 3,683. The number of departures planned for 2015 has fallen from 5,500 in Jul-2013 to 4,800 planned as at Jul-2015.
Norwegian Air Shuttle planned annual long haul departures 2013 to 2016: change of plan Jul-2015 versus Jul-2014 and Jul-2013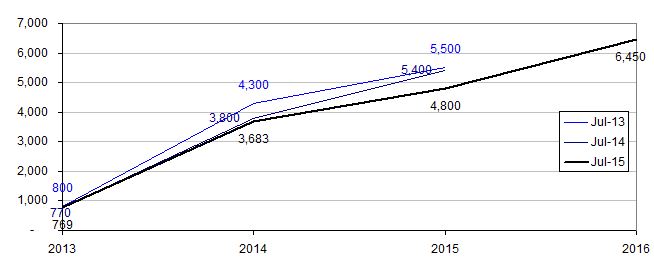 Long haul: Norwegian has reached "critical mass"
Mr Kjos said that the long haul business had now reached a critical mass and that it would make a positive contribution to profits in the future. He added that 2016 would not see further significant changes in the long haul destinations in the network, but he expected to add long haul services to other cities in Europe in addition to those in Scandinavia and London Gatwick that already have intercontinental operations. The 787-9 aircraft to be delivered in 2016 would be deployed at bases where there was greatest demand, mainly Gatwick.
Norwegian's difficulties with achieving profitability coincided with the start of its long haul operations, which is a business with different characteristics to short and medium haul. Its long haul traffic and load factor data are impressive, but it is now vital that Norwegian can demonstrate that these difficulties are behind it.
See related report: Norwegian Air Shuttle: 2014's heavy losses and record debt place the focus on growth and costs
Norwegian Air Shuttle monthly long haul passengers and revenue (NOK million) May-2013 to Jun-2015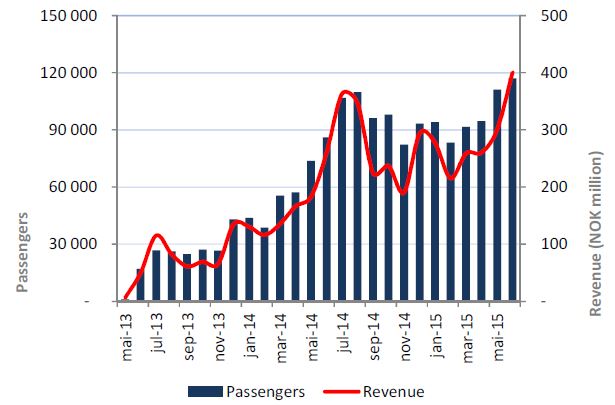 Norwegian Air Shuttle monthly long haul ASK (million) and load factor (%) May-2013 to Jun-2015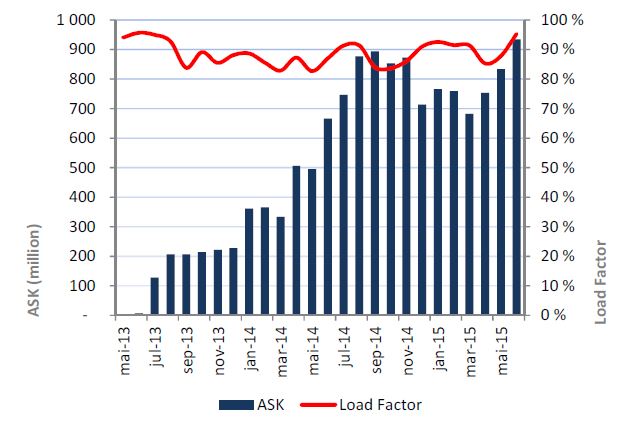 Boeing 787-9s to join the fleet and the A320neos are to be leased out in 2016
The airline's wide body fleet, which consisted of seven 291 seat Boeing 787-8 aircraft at the end of 2014 (five leased and two owned), has grown by one owned 787-8 to a total of eight this year. It will grow further in 2016 with the addition of four leased 787-9 aircraft with 344 seats. Three more 787-9s are due in 2017 and two in 2018.
The narrow body fleet consisted of 83 Boeing 737-800s and five 737-300s at the end of 2014. All the 737-300s will be returned to lessors by the end of 2015, together with two 737-800s, but there will also be ten new 737-800s delivered this year.
Next year, Norwegian will take delivery of 17 737-800 aircraft and return seven to lessors, for a net gain of ten narrow bodies. It will lease out to third parties the four A320neo aircraft that are due for delivery in 2016 and, most likely, the 12 A320neos due in 2017 (when its first Boeing 737MAX aircraft are due). Mr Kjos said that Norwegian was currently in discussion with three possible lessees in connection with the 2016 A320neo deliveries.
Norwegian Air Shuttle fleet plan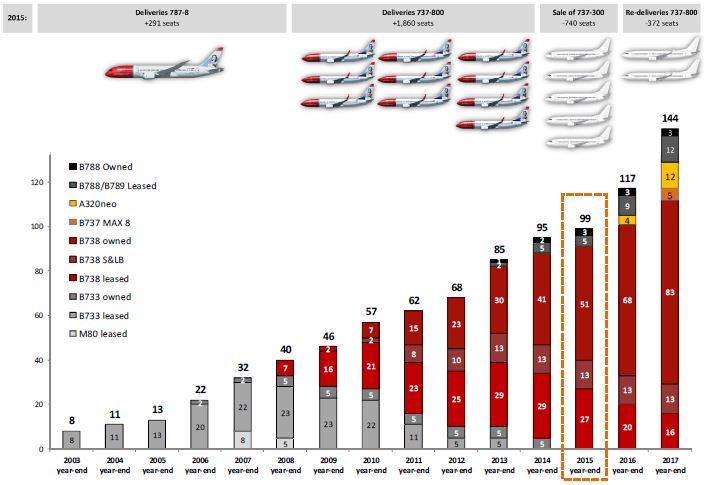 Leasing is a different business with different
The leasing business previously announced by Norwegian, as a vehicle to offload surplus aircraft orders, is now close to being a fully active operation. This is a model that some Asian LCCs, such as AirAsia and Lion Air, as well as Kuwait's Jazeera, have adopted. Although aircraft lessors are often more profitable than aircraft operators, leasing is a separate business from running an airline and requires a different skill set (not to mention balance sheet).
Moreover, lessors generally build a portfolio of assets based on their judgment of market conditions and in order to spread their risk. By contrast Norwegian is committed to large orders for narrow body aircraft over many years and may need to lease its surplus aircraft to competitors.
See related report: European narrowbody aircraft deliveries to surge. Wizz Air joins in with an order for 110 A321neos
Just as one new business, namely long haul, appears to be performing better, Norwegian is taking on another that is even more different to its core business.