North American aviation outlook: optimism prevails for (early) 2019
Analysis
North American airlines have a reasonably positive outlook for 2019 even as uncertainty over trade and fuel lingers, and as predictions of a recession in 2020 gain momentum.

Fuel prices are fluctuating wildly as 2018 comes to a close, which means most airlines are pledging to keep their capacity growth rational during 2019 and should stick to those promises.

For now, most of North America's largest international operators feel optimistic about the performance of their international markets in 2019, with the exception of a couple of weak areas. Those airlines also cite strong corporate demand trends heading into 2019 even as stock markets are enduring wild swings in their performance.
Summary
Despite lingering uncertainty over trade, North American airlines are maintaining positive views of demand heading into 2019.
Some large airlines in North America are promising lower capacity growth in 2019 and wild swings in fuel prices could foster rationalisation in supply.
Delta and United do not see any negative effects from trade spats, yet
Even as the US and China reached a 90-day truce in their trade dispute during Dec-2018, doubts are growing about a permanent solution being reached in a reasonable period of time.

Throughout most of 2018 companies have warned that the tit-for-tat levying of tariffs would result in price hikes for consumer goods and supply chain disruption. In spite of that, US consumer confidence has remained fairly robust in 2018. Confidence levels dropped slightly in Nov-2018, according to the Conference Board, which also concluded that consumer expectations had weakened somewhat due to a less optimistic view of business conditions and personal income prospects. But overall, the board concluded, US consumers believe solid economic growth should continue into 2019.

US airlines also believe solid demand, particularly among corporate customers, should remain strong into early 2019. At the end of 3Q2018 the conclusion of the management of Delta Air Lines was that the company had recovered approximately 40% of the decline in corporate fares that it had posted since 2014. Shortly after the close of 3Q2018 Delta's executives also stated that a survey of its corporate clients had shown that 90% of corporate travel managers expected to maintain or increase spend in 2019.



Recently Delta Air Lines president Glen Hauenstein stated that the airline had not seen any meaningful impact from changing trade policies.

"Our Pacific based revenues, and China specifically, have done quite well in the quarter [3Q2018], especially given some of the added capacity that we had put into the market with our recent launch of Atlanta-Shanghai doing well within our range of expectation. So we haven't seen it", (the impact), Mr Hauenstein stated.

United has also cited solid corporate demand and premium bookings into early 2019, with a caveat that business bookings are typically done more close in – approximately five weeks out. At the end of 3Q2018 the company management also concluded that for the future there had been no marked decline in business class sales of flights to China as a result of trade disruptions.

For American, its business demand remains robust, with domestic corporate revenues increasing 10% year-on-year during 3Q2018.
Some of North America's largest airlines stick to promises of lower capacity
Fuel prices have jumped as much as 40% year-on-year in 2018 but have tumbled as the year comes to a close, which has created some jitters among investors that capacity could rise in the near future.

Southwest Airlines has made no changes to its previous declared projections of 5% capacity growth in 2019 compared with 2018, and both Delta and American have also pledged lower capacity growth.

Overall, current projections show a slight uptick in North America's system seat capacity in 2019. But with OPEC hinting at production cuts in 2019, fuel costs remain hard to pinpoint, which means North America's airlines are likely to remain cautious about their capacity growth.
North America system ASK growth from 2015 to mid-May-2019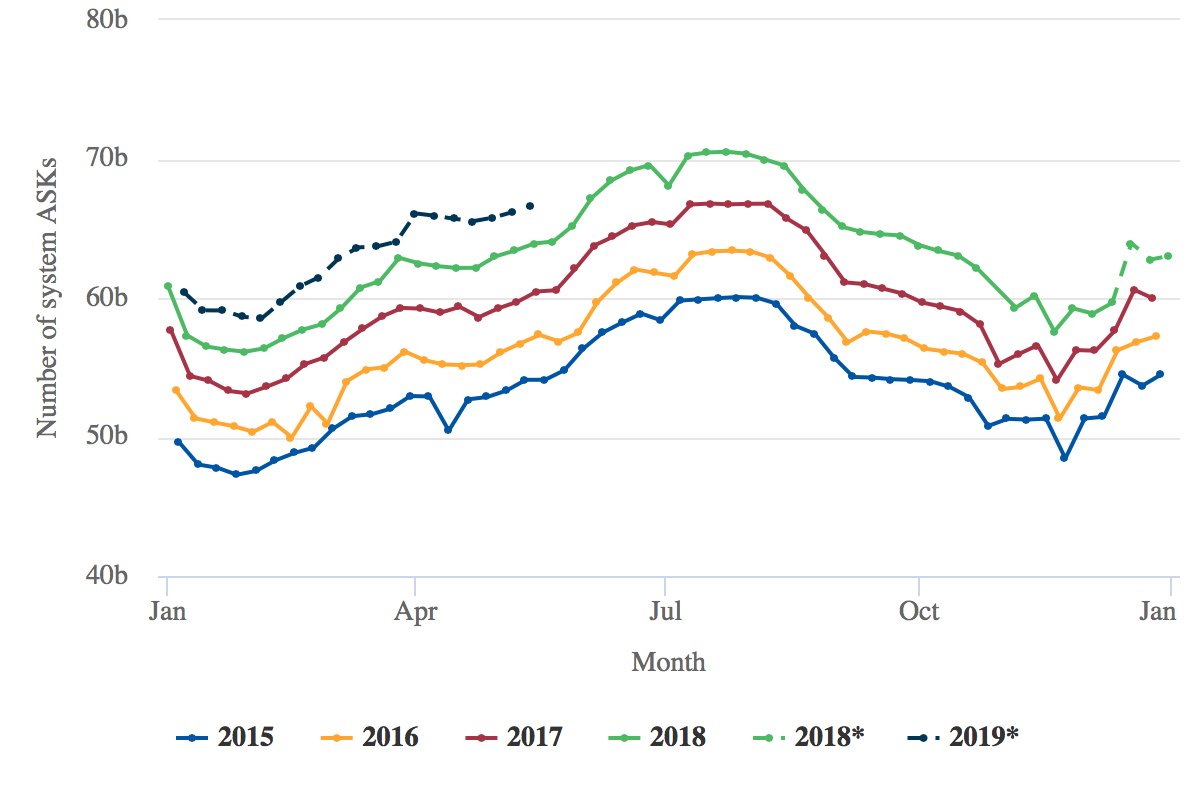 International demand remains strong for North American airlines in early 2019
Overall, North America's largest airlines remain bullish about both domestic and international demand heading into 2019.

United is expressing a level of bullishness regarding demand in late 2018, domestically and on international flights to Europe and Asia. The trans Atlantic was a stand-out performer for most North American airlines in 3Q2108.

There are some lingering headwinds in Brazil and Argentina as those countries face continued currency pressures – at one point, Argentina's currency has depreciated by 40% during 2018 – but for now it seems that conditions on international routes in those markets are not getting any worse.

Management at Canada's largest airline, Air Canada, recently said that the country's economic growth had been strong, and a recent trade deal among the US, Canada and Mexico had removed a certain level of uncertainty. Overall: "We continue to see strong demand fundamentally", company CEO Calin Rovinescu recently stated. "Obviously, we're not going to have a full crystal ball to predict what happens in 2019, but so far so good." Canada's GDP growth should settle in the 2% range in 2019.
Canada's WestJet aims to right the ship during 2019
Some capacity pressure in Canada's domestic market during 2018 has resulted in the country's second largest airline – WestJet – cutting its 4Q2018 capacity growth by 6ppts and although its projected 2019 capacity growth of 6.5% to 8.5% remains high, its domestic forecast is for growth of 1% to 3%. Expansion of its Boeing 787 fleet and fleet expansion at WestJet's ULCC subsidiary Swoop are driving the eye-catching capacity. Swoop is growing its fleet from six to ten aircraft by YE2019.
WestJet fleet summary as of early Dec-2018

WestJet has experienced some growing pains in 2018, posting its first loss in 13 years in 2Q2018 and recording an ROIC performance well below its stated targets of for the year. Its 12M trailing ROIC at the end of Sep-2018 was 5.5%, significantly below its stated goal of 13% to 16%.
WestJet is pledging 2% to 4% unit revenue growth in 2019 and is working to regain lost ground in a historically strong earnings performance. In addition to launching its new ULCC Swoop in mid-2018, WestJet has undergone a CEO change in 2018 and pilot strife.
Both WestJet and Air Canada face more domestic competitors in 2019 as ULCC Jetlines aims to make its long-planned debut and ULCC Flair continues to expand. Based on fleet projections from Jetlines, Flair and WestJet, Canadian ULCCs will add close to 20 aircraft during the next couple of years.
Confidence in North America remains high, for now
Even though a certain amount of uncertainty driven by trade disputes continues to overhang North American airlines, they are maintaining solidly positive views regarding demand for early 2019.

Once the 90-day shaky trade truce between the US and China ends and businesses start to lap the imposition of tariff tit-for-tat, some clarity could emerge about the medium term implications of the trade spat. A growing number of economists are starting to predict trade tensions could spur the beginning of a global economic slowdown in mid-to-late 2019.