North America is the long-haul bright spot for Chinese airlines
Analysis
When North America turns its attention to the international market, it has lately been Turkish Airlines and the Middle East network carriers that capture the public eye. But not to be overlooked are airlines from mainland China. Since mid-2012 China Southern made the first notable upgrade to its Los Angeles route by up-gauging from the 777-200 to A380. Air China has increased Los Angeles and New York services and launched Houston. Hainan Airlines is planning Chicago and now Boston while China Eastern is waiting on new 777-300ERs to double its presence. Further growth comes from Canada too, which in Jul-2013 expanded its air service agreement with China.
This growth is not coincidental. Chinese carriers look favourably at North America more than any other long-haul market. Competition is lower and easing of the visa application process is seeing demand rise. Actual or announced Chinese growth in North America is pale to what is to come. There are challenges: international marketing and perception is weak, and this impacts yields. With time they will get there and change North America-Asia traffic flows as well as alliances and partnerships.
Improved visa processing facilitates market growth
Growth in the United States market has increased in recent years as the US has improved visa processing efficiency, such as by decreasing processing time. Making visas easier to obtain and seeing subsequent traffic rises seems like a straightforward calculation, but it is one sorely missed by many governments. It can become such an acidic point that public grievances are aired, as numerous groups in the UK have done.
Those looking to explain the more supportive position of the US, point to the relationship forged when Delta CEO Richard Anderson sat on then-Secretary of Commerce Gary Locke's Travel and Tourism Advisory Board from 2009 to 2011. In 2011 Locke became the Ambassador to China, allowing him to leverage his understanding of tourism to facilitate improvements to the visa regime, a topic that has even reached President Obama. The nearly 1.3 million non-immigrant visas issued in mainland China (almost all to Chinese nationals) in 2012 was more than double that three years prior. In 2012, 14% of non-immigrant visas to the US were issued in China. Further growth is expected as Ambassador Locke pushes for the US to open additional visa processing offices, which handle the interviews required of most applicants. Non-immigrant visas in 2012 were processed in just five mainland Chinese cities: Beijing, Chengdu, Guangzhou, Shanghai and Shenyang, leaving large swathes of the country unserved.
Non-immigrant visas issued in the People's Republic of China and year-over-year change: 2003-2012*
Looking at overall visitor arrivals from China (not all visitors need a visa for each entry), there were about 1.5 million Chinese visitors in 2012, about triple that from 2009. China in 2012 was the seventh-largest source of visitors to the US, behind Canada, Mexico, the UK, Japan, Germany and Brazil. The correlation between visas issued and subsequent visitors is unsurprising.
Visitors from mainland China to the US and year-over-year change: 2003-2012*
Unspecified countries/regions of Europe are looking to make their visa application for Chinese nationals easier. European Commission VP Antonio Tajani told the official China Daily in Jul-2013 that the current process is too time consuming. The People's Daily hinted electronic applications may be introduced. A formal announcement is expected in Nov-2013. Mr Tajani, explaining Europe's interest in facilitating visitor growth, remarked of the Chinese: "They have a lot of money and a lot of time."
China and Canada expand bilateral agreement
While the US and China have had ample room in their bilateral for a number of years, the situation appears tighter between Canada and China, although the bilateral arrangement remains confidential. While capacity in late 2012 and early 2013 saw little movement, mid-Jun-2013 saw an across-the-board increase, unseen in the US for example. There are few local factors in Canada that would explain this; school holidays did not commence until the end of Jun-2013. It is possible capacity increases were made available prior to the official signing of the expanded bilateral. Such exceptions are not unusual if countries are nearing a finalisation. Canada is known to have a stringent bilateral policy.
Canada to China (seats per week, one way): 19-Sep-2011 to 19-Jan-2014
Details on the expanded bilateral are few, except that it includes, with immediate effect, greater capacity, destination points (although a 2005 revision already had an upper limit of nine points), and greater support of Chinese sixth carrier routes and general third-country codesharing.
China Eastern on 20-Jul-2013 increased Shanghai Pudong-Vancouver services from 11 weekly to 14 weekly with A330-200. This follows increases from Air China (boosting Beijing-Vancouver from seven to 11 times weekly in May-2013) and China Southern (increasing Guangzhou-Vancouver services from three times to seven times weekly in Jun-2013).
Air China is the market leader from the Chinese side
Air China is the largest Chinese carrier in the US, and its position was fortified with capacity increases earlier in 2013. Air China's 2013 capacity to North America will be 183% greater than in 2003. Air China in Jul-2013 launched four weekly Beijing-Houston services with 777-300ER, and from 31-Mar-2013 boosted its New York JFK service from seven weekly to 11 weekly and moved the operation to all-777-300ERs. A decade ago Air China only had a three times weekly Beijing-New York service.
As CAPA previously wrote of Air China's change in North American operations:
The 777-300ER carries slightly fewer passengers but has 16% more cargo volume, according to Boeing.

Air China 747-400 versus 777-300ER configuration: 2013

Air China's 777-300ER seats 9.5% fewer passengers, with the biggest reduction in economy class, which goes down to 261 from 292 on the 747-400. Business class stays the same at 42. First class drops from 10 to eight seats on the 777-300ER, consistent with the general de-emphasis of first class, but also the logistics of its bigger and non-angled first class product in a four-abreast (1-2-1) configuration, making a 10-seat configuration difficult.

Overall capacity for Air China between Beijing and New York will increase 42% while economy class will only increase 40%. Although significant, this is not as large as the 78% capacity increase China Southern faced when it up-gauged its Guangzhou-Los Angeles daily service from 777-200 to A380.

With the frequency increase, New York becomes Air China's third North American city to see service above a single daily flight. The first city to see regularly scheduled flights above daily was Vancouver in Jun-2010. Capacity has drifted up and down since but in the northern summer season Air China plans to offer for the first time double daily service to the western Canadian city, which has significant ties to Asia, in part because of relative long-haul proximity, 8515km. Air China is able to serve Vancouver with A330s whereas other points are a stretch for A330s or require longer-range widebodies.

Air China's second North American city to receive more than once daily service was Los Angeles in Sep-2011. From Mar-2013 the service goes regularly double daily with 777-300ERs. Air China is the only operator between Beijing and LAX although the city sees daily Shanghai service from each of American (777-200), China Eastern (A340-600) and United (777-200). (American's service can fluctuate to six weekly.) China Southern also serves LAX from Guangzhou with a daily A380 flight.

Air China's sole other North American service is to San Francisco, which it launched in Apr-2006. So far in 2013 the service is planned to remain a single 747-400 flight. Air China shares the route with United Airlines, which operates a daily 747-400 service. There is reciprocal codesharing, unlike in New York.
United States to China (seats per week, one way): 19-Sep-2011 to 30-Jun-2013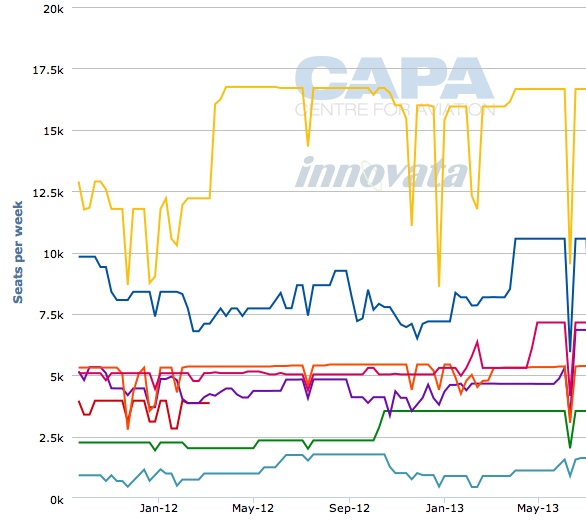 See related report: Air China builds its N American network while Hainan Air to use A330 instead of 787 to Chicago
Hainan Airlines is punching above its weight, and could soon prove innovative
Hainan Airlines punches above its weight considering the restrictions it faces owing to it operating from Beijing, where local carrier Air China has first preferences on long-haul routes.
As CAPA previously wrote:
Under China's one route, one airline policy, only one Chinese carrier is allowed to operate a long-haul service. Exceptions are made, typically for Air China to fly key routes out of Shanghai (including Frankfurt and Sydney). Shanghai is the home of China Eastern, which is not allowed the reciprocity to fly long-haul from Beijing. Although the two – and China Southern – are state-owned, they are competitive with each other and only Air China is considered the "flag carrier", a status that grants it associated perks.

Beijing as a base has the potential advantages of supporting high-yielding traffic since it is the country's capital as well as facilitating convenient long-haul transfers. Beijing's geography in the north gives it shorter routings to Europe and North America than Shanghai, China's only other city to support large amounts of premium long-haul traffic. Guangzhou is home to China Southern, which has garnered the limelight in the past year or two because of its faster international expansion than its two peer airlines, but premium traffic is weaker. China Southern tried unsuccessfully to operate A380 services from Beijing, the proposal being rejected by the CAAC.

Hainan Airlines' disadvantage is having to share the globe with Air China. As the country's largest international airline Air China already serves many long-haul points, meaning Hainan would have a difficult time flying alongside Air China on those routes, although Air China and Hainan do both fly from Beijing to Moscow.

Hainan's long-haul network has thus comprised secondary points like Berlin and Seattle that Air China did not serve. That changed in 2012 with Hainan's intent to open Beijing-Chicago. This raised an interesting issue. Air China does not serve the route itself, instead codesharing with Star Alliance partner, United, something that clearly does not carry the same regulatory weight as flying with its own metal. Using this opening, Hainan considers Beijing-Chicago its first prime long-haul route.

In its eagerness to establish internationally, Hainan has had false long-haul starts in the past, briefly operating Shenzhen-Sydney. It would of course prefer more first tier cities, but has found some niches that work. Seattle performs nicely and at Berlin Hainan partners with local carrier airberlin for onward feed.
Hainan is seeking an expansion in North America, with intent to serve Chicago and Boston. Hainan last decade applied to link Beijing and Boston but had to postpone plans due to delays with the 787. Hainan is regarded as China's most international and forward thinking carrier. It is thus unfortunate it does not have an open remit to fly internationally. But Hainan is likely to continue to persevere and forge a greater relationship with its North American partner American Airlines. The relationship is mutual as American, unlike Delta and United, does not have a Chinese partner. After Chicago and Boston, Hainan could turn its attention to under-served traffic flows between China and the southern US by serving American's hubs at Dallas and Miami. Both are also ideal locations for onward codeshare service to Latin America to tap into the largely under-served China-Latin America market. Air China's entry into Houston and Qantas' entry into Dallas in recent years gives weight to the local traffic possibilities as well as for connections.
See related reports:
China Eastern's 777-300ERs will see increased presence
China Eastern is strapped for long-haul capacity. Save for a small number of A330-200s that have limited range to North America, China Eastern is waiting on new long-haul aircraft. In 2014 the carrier will receive the first four of 20 777-300ERs to expand its long-haul presence. These will initially be used to replace its five A340-600s, which serve Los Angeles, New York JFK and Paris CDG with a daily frequency. Net long-haul/ultra-long-haul widebody growth will likely occur in 2015, but even then China Eastern has flagged its intentions to first bring Los Angeles, New York JFK and Paris CDG from a daily to double daily operation. Once that move is complete, China Eastern's US capacity will increase by upwards of 70% depending on the final configuration of the 777-300ER.
After frequency is increased, China Eastern will consider new destinations. There is still some time to go and the carrier has not given hints where, except that North America is stronger than Europe. As no other Chinese carrier operates long-haul routes from Shanghai, China Eastern has the pick of the lot, unlike China Southern or Hainan's dilemmas. Hubs of Delta, its US partner, could be sustaining. Delta is building an Asian network out of Seattle, which sees service from Asian carriers ANA, Asiana, EVA Air, Hainan Airlines and Korean Air. Although Hainan is present in Seattle with a daily A330-200 service to Beijing (due to move to 787-8), China Eastern would have the advantage of Delta's network and its own Shanghai home base. Delta is the second-largest domestic carrier at Seattle. While Delta serves Shanghai from Seattle, its evening arrival into Shanghai and mid-day departure from Shanghai is not ideal; China Eastern could offer better times, capturing a different segment of the market. Seattle could be served with A330-200s and would not require 777-300ERs.
Seattle/Tacoma largest seats in domestic market ranked on carrier: 29-Jul-2013 to 4-Aug-2013
Delta's mighty fortress at Atlanta could also be an option. Korean Air is the sole Asian carrier serving Atlanta, facilitating not only Seoul-Atlanta manufacturing links but also cleaning up the market from Asia with a one-stop option that China Eastern could bite into, as well as using Atlanta for onward flows. An especially intriguing scenario is if China Eastern used Atlanta as a hub to connect passengers onwards to Latin America, a strong region for Delta in Atlanta (although using Atlanta is circuitous). China Eastern currently relies on its European partners for Latin American traffic. European hubs have an advantage as visa requirements are either less stringent or at some airports are not required to make an international transfer, unlike in the US.
Delta's middle America hubs at Detroit and Minneapolis have not done well for foreign traffic, and to some extent not even for Delta, no doubt due to the declining point-to-point traffic associated with Detroit's downfall. But China Eastern does not need to serve Delta hubs exclusively; with just a fraction of the Chinese population travelling, and the middle class growing, future passenger flows can be created once a route is implemented and China Eastern works with the Chinese tour agencies that have a firm grasp on the market. Beyond Vancouver in Canada, Toronto is served from Shanghai by Air Canada but not any of China's Big 3 carriers, although Hainan does not seem to have reported success in the city. Cathay Pacific serves Toronto less than twice daily, in contrast to its large presence at US cities, and also serves the city with its sub-fleet of 777-300ERs that do not have first class. If Cathay has troubles attracting premium passengers, the challenge would likely be greater for mainland Chinese carriers.
China Southern has fewer options but still possibilities, and a partnership with Delta
China Southern is double-disadvantaged: its primary hub at Guangzhou is further south than Beijing or Shanghai, requiring large widebody aircraft that limit thin routes (China Southern's 787-8s are unlikely to make it deep into the US; China Eastern cancelled its 787-8 order as the aircraft could not fly from Shanghai to the US east coast). Guangzhou also has little premium traffic. At its second hub in Beijing, China Southern is in a similar position as Hainan: Air China gets first dibs on long-haul routes, and the lucrative ones have been taken. An advantage China Southern has over Hainan, however, is its largest presence at Beijing; China Southern is the second-largest carrier there while Hainan is fourth.
Beijing Capital International Airport system seat capacity by carrier: 29-Jul-2013 to 4-Aug-2013
China Southern, like China Eastern, could follow a strategy of flying into Delta hubs. There were unconfirmed reports of China Southern looking to fly its 787s to Toronto and New York. China Southern also has the capacity available for about a daily A380 long-haul service, but finding routes for its A380s has proven difficult. Some flexibility (excluding an overhaul of route authority rules) will come once China Southern receives 777-300ERs.
The future: deeper partnerships, including JVs and ATI
Existing partnerships between North American and Chinese carriers may be important but are largely not strategic beyond codesharing. This is partially due to regulatory constraints that in the US limit ATI to markets where there is an open skies agreement, which there is not between China and the US. China Southern in 2012 mooted it would like an ATI agreement to the US, but ATI would have to come prior to open skies. The US, however, has taken the view that open skies is a precedent for ATI.
Just as Chinese and North American carriers were relatively aloof to each other but have now grown closer, no doubt their relationships will continue to build in the years ahead, and not just through passenger traffic.
Learning and exchanges are important too
It is certainly good to have beyond gateway access and trans-Pacific cooperation on a deeper level than exists today. But not to be over-looked are opportunities to share experience and even staff exchanges (regulators permitting). It can be hard to quantify such actions, and indeed a quantitative assessment may show they are only a cost centre. But there are tangible benefits. Chinese carriers are eager to be brought up to speed on best practices. KLM has been instrumental in working with China Southern, and other affiliated airlines, on how to structure international connecting tickets, for example. There are also staff exchanges that are more integrated than staff rotations that occur at the global alliances. Such actions would be well received by airlines and regulators, showing the all-critical relationship is not just about profit and loss.
Delta for example not only has a relationship with its Chinese SkyTeam partners but takes a notable role in the larger community – a conference sponsorship, for example. The benefits flowed back when Delta successfully managed to swap slots with Chinese partners despite slot swapping being a murky process. This contrasts to American Airlines' much earlier experience with Beijing slots being so difficult to change that it cancelled its inaugural flight mere hours before departure.
See related report: Delta Air Lines improves China position with better slots from partners China Eastern & Southern
In addition to KLM's work, Air China benefits from its relationship with Cathay Pacific. In addition to a limited route network partnership and aircraft ordering cooperation, there are numerous staff exchanges and meetings, including at the most senior level. This arrangement is highly complex given the cross-equity and political environment of Hong Kong now being part of China. The KLM arrangement has fewer compounding factors; it is largely driven by KLM's interest in seeing its partners succeed. The main carrier left out of international learning is Hainan, which has no alliance or deep strategic partner to turn to. Hainan is considered the most international and forward thinking of China's major carriers, so foreign learning could boost an already strong platform. Hainan has a slight gravitation to oneworld via partnerships with American and airberlin (it also has a partnership with Etihad, which runs a tight ship); perhaps these are channels to explore for cross-learning.
US carriers may not match the internationalisation of the Dutch, but they have experience Chinese partners could learn from. For instance, US carriers manage large and diverse fleets amongst numerous bases that are far from each other. They have also been through deep restructures that have made them more efficient, a goal Chinese carriers would like to achieve as well. Frequent flyer programmes were invented in the US and some of the industry's most robust and profitable programmes remain in the country. Chinese carriers will increasingly need to differentiate themselves, and boosting their loyalty programmes is a good way to start. Then there are cultural matters that can help international marketing, which Chinese carriers are still learning. North American counterparts could likewise do with cultural learning; this is not a one-way partnership.
The North American carrier most likely to have the strongest growth in mainland China is United Airlines. United intends to use its 787 to open service to secondary Chinese cities. Delta is likely to grow a bit more in mainland China but only to Beijing and Shanghai. Its strategy is to serve secondary Chinese cities via partners China Eastern and China Southern, which have hubs in those cities. American has the least encouraging growth profile but this is likely to change as it grows closer to Hainan Airlines, which not only could help boost traffic flows but could offer more ideal slots than what American could gain on its own. Air Canada meanwhile has flagged its intent to grow in Asia as it expands its widebody fleet, but details are few.
As CAPA previously wrote of United's plan for China:
United Airlines looks set to be the first North American carrier to introduce non-stop service to secondary cities, with CEO Jeff Smisek telling local media that its Boeing 787s will open cities like Chengdu, Chongqing, Xi'an and Wuhan.

Such services will bring the China-North America market to a new stage of development, critical since from the Chinese perspective it is expected to be the healthiest and most stable long-haul market. Yet the balance for the long-term will be weighted towards US carriers, which not only will have a larger domestic market than China for at least a decade, but also have regional traffic around Latin America to feed to long-haul routes, whereas Chinese carriers' regional traffic around Asia is more hotly contested.

While North American carriers have lagged behind in serving secondary Chinese cities, the development from European carriers is still recent. Inhibiting US-China traffic growth are political and network restrictions. Stringent visa procedures for Chinese nationals have restricted US-China traffic growth, although gradual loosening is occurring and showing benefits; Air China says its business has picked up after waiting times were reduced and visa grants increased 40%.

China's secondary cities, aside from growing Liaoning province in the northeast, are typically more inland, giving less operational freedom to North American carriers whereas for European carriers the cities are closer than Beijing and Shanghai and can be reached with medium-range aircraft, as Finnair does Chonging-Helsinki with an A330.

China's inland cities are operationally accessible to North American carriers today, but United's selection of using the 787 for such services can be more ideal. Besides the significant operating cost reductions afforded by the twin, its long range but medium capacity opens cities carriers would not have been able to sustainably serve or would have had to serve with larger-capacity aircraft and so have to offer less than daily frequency.
See related reports:
China to North America (seats per week, one way): 19-Sep-2011 to 30-Jun-2013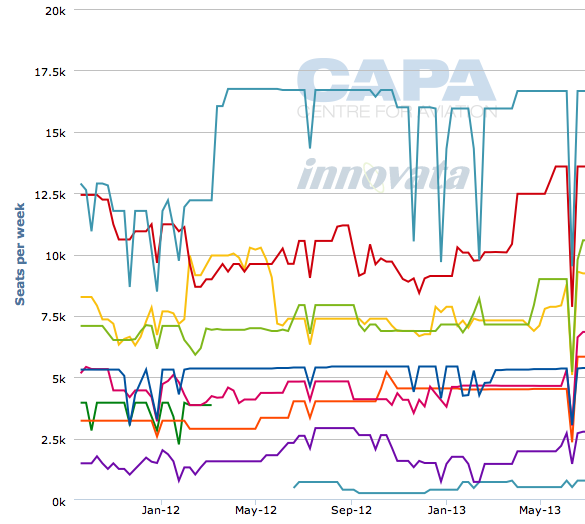 Outlook: a market with lots of growth, but airlines must overcome inertia
There remains significant growth to be unlocked between China and North America, and demand will only increase as visa procedures continue to be less onerous. But few carriers are taking a holistic growth resulting in them not reaching their potential. Delta has its eye on partnerships versus secondary cities while United is favouring secondary cities. A number of sixth freedom carriers, in Japan and Korea especially, are too happy to pick up the slack, and indeed have already made the outbound Chinese market a core part of their business. Connecting traffic can be volatile but some unusual traffic flows established in decades past quietly remain, a reminder of the power of moving first with a good brand. But it is difficult to describe this as a threat. The China-North America market will grow so much the players can change and there is room for many. Rather than having an external threat, the concern is internal inertia to unlock growth.