Myanmar's Aviation and Tourism System: a comprehensive country report from CAPA
Analysis
CAPA – Centre for Aviation has published a 100-page report covering the Myanmar Aviation and Tourism sector.
As one of the world's hidden travel gems, Myanmar is rapidly beginning to open its doors wide to foreign tourism. Foreign and home grown airline capacity is proliferating, although it is not always the case that other infrastructure is able to keep pace. Equally, the flurry of new capacity and new airline entry suggests that there will be casualties along the path to profitability. Meanwhile,
The report's comprehensive data sets cover economic conditions, tourism trends, hotel capacity, airline and airport developments – all supplemented by unique in-depth analysis from CAPA's regional analysts.
The Myanmar report is available free on request to CAPA Members. For non-members an introductory price of USD395 is available for a limited time. Please contact info@centreforaviation.com to receive your copy
Extracts from the 100-page report
Profile of the Myanmar tourism market:
….As a result, after years of stagnation inbound tourism started to accelerate from 2012, a trend which intensified in 2013 when foreign visitor arrivals grew by 93.0% year-on-year and crossed the 2 million mark. The government is targeting 3 million visitors in 2014.
Total foreign visitor arrivals in Myanmar 2008-2013
Profile of the Myanmar hotel market
For the last few years the growth in annual visitor arrivals by air has outpaced the growth in the number of hotel rooms. The 51.7% growth in visitor arrivals by air in 2013 has further stretched the sector. International standard hotel rooms have become increasingly scarce in Myanmar, and only a few hotels are able to meet the needs of most foreign tourists.
Supply of Hotels in Myanmar: 2008 to 2013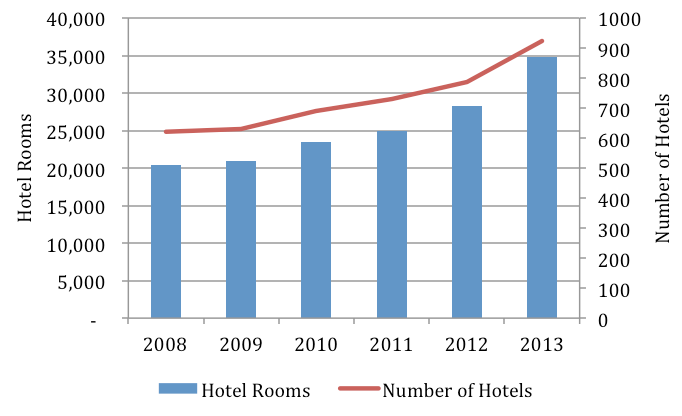 Myanmar's main airport infrastructure projects:
Modernisation of Yangon International Airport
Overview profile of the Myanmar airline market:
Myanmar's domestic aviation market has 4 million annual passengers ... and EIGHT airlines
Myanmar recorded 3.8 million domestic passengers in 2013, an increase of 8% over 2012. The international market is smaller, consisting of 2.7 million passengers in 2013, but has grown twice as fast since Myanmar began opening up in 2011 following several years of EU and US sanctions.
Myanmar annual domestic passenger traffic and year-over-year growth: 2010 to 2013
The Myanmar domestic market is extremely fragmented with no single airline accounting for more than a 20% share. Of the eight carriers currently operating scheduled domestic services, four have started since the beginning of 2011 – Air KBZ (2011), Asian Wings (2011), Golden Myanmar (1Q2013) and Mann Yatanarpon (1Q2014).
The four longstanding domestic carriers include Myanma Airways, Air Bagan, Yangon Airways and Air Mandalay. Government owned Myanma Airways has the largest fleet and network as it operates to several rural destinations the private carriers will not serve. (The government also previously owned a portion of Myanmar Airways International, which only serves the international market, but this stake was sold in 2013 to KBZ Bank.)
Mandalay-based Mann Yatanarpon is the newest entrant and took delivery of its first ATR 72-600 in late Jan-2014 followed by a second aircraft in late Mar-2014. Mann Yatanarpon is in the process of becoming the sixth competitor on the main domestic routes, including Yangon to Mandalay, Heho and Nyaung-U and Mandalay to Heho, Nyaung-U, Tachileik and Mytikyina.
Heho, the gateway for Inle Lake, and Nyaung-U, the gateway to the ancient temple town of Bagan, are the largest domestic airports after Yangon and Mandalay. Tachileik, located in the east on the border with Thailand, and Mytikyina, located in the north near China, are the fifth and sixth largest airports in Myanmar based on passenger traffic for 2013.
Myanmar top 10 domestic airports based on passenger traffic: 2013 vs 2012
A detailed section covering the LCC market:
Six LCCs currently serve Myanmar
Six low-cost carriers currently serve Myanmar. This includes five foreign carriers – Malaysia AirAsia, Thai AirAsia, Thailand's Nok Air, Singapore-based Jetstar Asia and Tigerair Singapore. Jetstar Asia became the first LCC to serve Myanmar in 2005. Thai AirAsia launched services to Yangon in 2006 while its sister carrier Malaysia AirAsia entered the market in 2010. Nok and Tigerair both launched services to Yangon in 4Q2013.
Golden Myanmar, which launched services in early 2013, is Myanmar's only local LCC. But it remains small, operating just one domestic and two international routes with a fleet of two A320s.
LCCs currently operate 94 weekly international flights from Myanmar, according to OAG data. Thai AirAsia is the market leader with 35 weekly frequencies or five daily flights, with four on the Yangon-Bangkok route and one on Mandalay-Bangkok. Malaysia AirAsia also operates two daily flights on Yangon-Kuala Lumpur, giving the AirAsia Group a 52% share of total LCC capacity.
Myanmar international LCC capacity share (% of seats) by carrier: 14-Apr-2014 to 20-Apr-2014
Analysis of Myanmar's airline marketplace, with in depth analysis of the key companies
Myanmar Airlines International looks to focus expansion on North Asia, starting with Osaka
Following MAI's relative success on Yangon-Guangzhou, where it only competes with China Southern, the carrier is keen to focus expansion on North Asia. MAI has been evaluating several potential North Asian markets over the last two years and has recent experience operating charters to Hong Kong, Korea, Japan as well as other destinations in mainland China.
Japan is most likely MAI's next scheduled destination as the carrier recently stated it was preparing to launch thrice weekly service to Osaka for the start of the next northern hemisphere winter season. MAI also has said it aims to serve Tokyo Haneda and Fukuoka in the near future along with potentially Seoul in South Korea and Dubai in the UAE.
MAI's future network map also envisions potential routes to Hong Kong and New Delhi.
MAI current and potential future network
MAI sees a window of opportunity to launch new scheduled services to North Asia as China, Korea and Japan are all large and fast-growing source markets for Myanmar's emerging tourism sector. These markets are also not as competitive as MAI's existing routes within Southeast Asia. Significantly there is no LCC competition in the Myanmar-North Asia market.
All Nippon Airways (ANA) is currently the only carrier operating non-stop flights in the Myanmar-Japan market with daily service from Tokyo Narita. Korean Air and Asiana both now serve Myanmar but Myanmar-South Korea is potentially a large enough market to support a third carrier.
From Hong Kong, only Dragonair serves Myanmar. The Myanmar-China market has service from all thee of the Chinese majors but there are several routes which are not yet served non-stop, including Shanghai. (Dubai is also an unserved market from Myanmar because while Qatar Airways serves Yangon, Emirates has not yet entered the market.)
MAI plans to expand its A319 fleet
MAI has been looking to lease additional A319 aircraft to support new medium-haul routes. A MAI source tells CAPA that three additional A319s could be added by the end of 2014.
MAI currently has three A319s, one of which is not in service following a 14-Apr-2014 ground incident in Yangon which damaged the aircraft along with a Golden Myanmar A320. All three A319s were added in 2013 and are leased from ILFC.
MAI also leases all five of its A320s, four of which are currently in services. Four of its A320s are very old – between 21 and 23 years – while one of its A320s and its three A319s are 11 to 15 years old, according to the CAPA Fleet Database.
As MAI takes more A319s, some of the older A320s could be phased out, resulting in a younger fleet. MAI, however, is not generally in the market for new aircraft and given its current low utilisation rates is likely to continue having the oldest average fleet among Southeast Asian flag carriers.
Profiles of Myanmar's existing and proposed airlines, as well as each major airport:
Established in 1948, Myanma Airways is the national domestic carrier of Myanmar, based in Yangon. The airline, which is wholly owned by the Myanmar Government, operates scheduled services to all major domestic destinations from its main base at Yangon International Airport.
Myanma Airways Fleet Summary: as at 24-Jun-2014
| Aircraft | In Service | In Storage | On Order* |
| --- | --- | --- | --- |
| Total: | 11 | 3 | 14 |
| ATR 42-320 | 1 | 0 | 0 |
| ATR 72-212 | 2 | 0 | 0 |
| ATR 72-500 | 2 | 0 | 0 |
| Beech Aircraft Corporation BEECH1900C | 1 | 0 | 0 |
| Beech Aircraft Corporation BEECH1900D | 1 | 0 | 0 |
| | 0 | 0 | 4 |
| | 0 | 0 | 6 |
| Cessna Aircraft Company CESSNA208B | 2 | 0 | 2 |
| | 0 | 0 | 2 |
| Embraer ERJ190-100IGW(AR) | 2 | 0 | 0 |
| Xian Aircraft Industry Company Y7-MA60 | 0 | 3 | 0 |
Firm orders include those placed directly by the operator and by lessors assigned to the operator, from 23-Jun-2014 onwards.
Myanma Airways projected delivery dates for aircraft purchased from OEMs and leased from lessors new aircraft order pipelines as at 23-Jun-2014
Myanma Airways stage lengths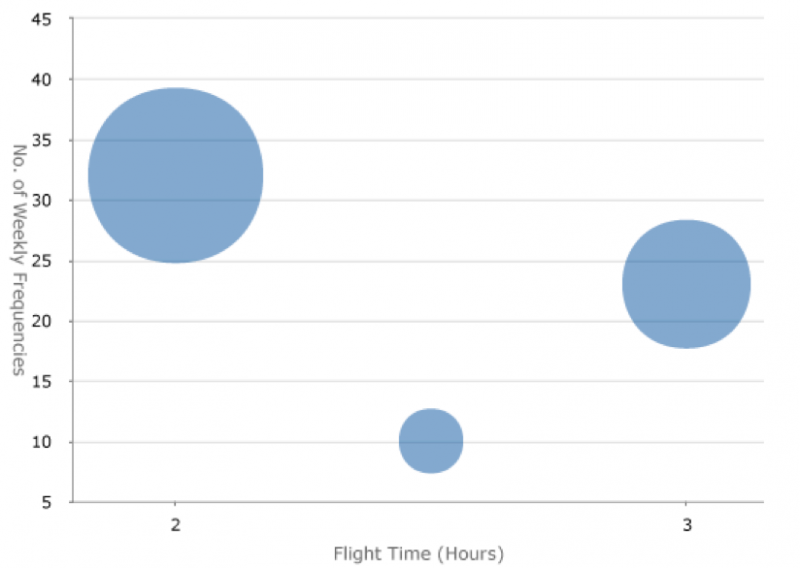 The Myanmar report is available free on request to CAPA Members. For non-members an introductory price of USD395 is available for a limited time. Please contact info@centreforaviation.com to receive your copy