Moving on up; Dubai's run to the top, as Hong Kong and Bangkok fall from grace
Analysis
Selected Asia Pacific airports passenger traffic: Jan-2009 to Jun-2009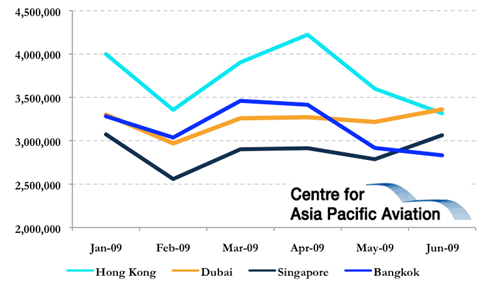 For the first six months of the year, Hong Kong was still the largest of the group under review, handling 22.4 million passengers. Dubai handled 19.4 million, ahead of Bangkok's 18.9 million and Singapore's 17.3 million.
However, the latest passenger statistics reveal that Dubai handled 3.36 million passengers in Jun-2009, about 55,000 more than Hong Kong. Singapore handled approximately 3.1 million for the month, overtaking Bangkok, which handled 2.8 million as Thai Airways haemorrhages cash.
While the Asia Pacific airports continue to shrink, as home carriers scale back capacity to deal with plummeting passenger numbers, Dubai continues to go from strength to strength, with just one month of falling passenger traffic this year and double-digit growth in Jun-2009. The Middle East aviation market (and the new generation sixth freedom models employed by the region's major airlines) has proved highly resilient to the downturn.
Selected Asia Pacific airports passenger traffic growth (%): Jan-2009 to Jun-2009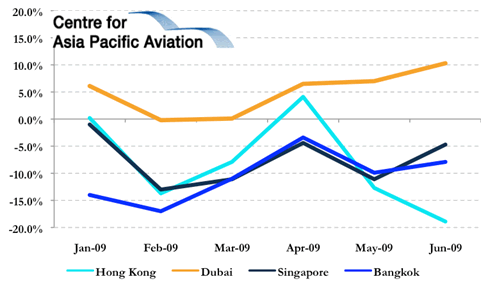 Dubai's passenger traffic has increased 5.0% over the past six months and was up an impressive 10.3% in Jun-2009. This contrasts with the significant falls in traffic at the other hub airports, with Singapore down 7.6% in 1H2009, Hong Kong dropping 8.4% (-18.9% in Jun-2009 alone) and Bangkok losing a worrying 10.7% (-7.9% in June), although the unrest in Thailand over late 2008 and early 2009 has contributed heavily to the half year downturn.
If the first half trends continue through 2H2009, then Dubai would handle around 39.3 million passengers for the full year, not too far short of Hong Kong. (Note, this is not a forecast). A more buoyant Chinese economy could be Hong Kong's saviour, however, even if cross-Strait flight enhancements continue to draw traffic away from the SAR airport.
1H2009 & 2H2009 projected passenger traffic at selected Asia Pacific airports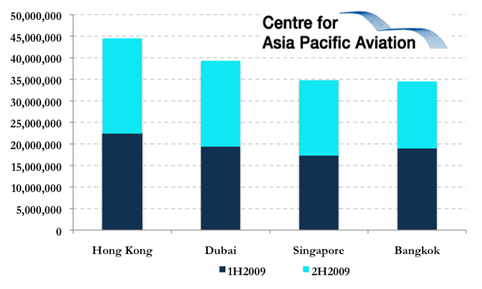 According to ACI, Dubai was the the sixth largest airport worldwide in terms of international passengers in 2008, and has consistently been the fastest growing of the Top 20 international airports over the past five years. If Dubai's trajectory continues, it could climb ahead of Hong Kong, Frankfurt and Amsterdam in international passenger throughput over the next few years, becoming the largest international airport outside Europe. As it stands at the moment, only Hong Kong, Amsterdam Schiphol, Paris Charles de Gaulle and London Heathrow are larger.
Busiest airports by international passenger traffic (2008)
| Airport | Passengers | % growth |
| --- | --- | --- |
| | 61.3 million | -1.2% |
| | 55.8 million | +1.6% |
| | 47.3 million | -0.7% |
| | 47.2 million | +2.0% |
| | 46.7 million | -0.8% |
| | 36.6 million | +9.3% |
| | 36.3 million | +3.0% |
| | 32.2 million | -5.5% |
| | 30.4 million | -2.3% |
| | 30.1 million | +2.7% |