Montreal receives first Asian service with Air China's Beijing flight, and hopes others will follow
Analysis
Montreal airport, Canada's fourth largest, is finally receiving its first Asian service with Air China planning to launch three weekly flights in Sep-2015 from its Beijing hub. The flights are planned to continue to Havana, a strategically important destination for the Chinese government, which Air China will fulfil as the flag carrier. There are not yet local pick-up rights available, placing large cost pressure on the Montreal-Havana sector, but even with fifth freedom traffic the tag will challenged for profitability. Air China's Beijing-Montreal flight will be a part of its pending joint-venture with Air Canada.
Montreal hopes Air China will bring a domino affect observed in Boston, where one Asian service gradually brought more. The dynamics are different in Montreal, but with time there are opportunities for new services. Shanghai and Hong Kong are the obvious targets based on unserved O&D traffic flows. Air Canada is unlikely to open service, making Montreal dependent on foreign carriers. Shanghai's China Eastern however is likely tied up with its Toronto service while Hong Kong's Cathay Pacific may prefer to wait until it has A350-1000s. Hainan Airlines, which is supplementing its Beijing hub with Shanghai long-haul services, could be a contender in the future.
On 20-Sep-2015 Air China expects to open three weekly flights to Montreal from its Beijing hub. Beijing will be Air China's second Canadian destination after Vancouver, which Air China serves with upwards of two daily 777-300ERs. Air China does not serve Toronto as Hainan Airlines applied for the Beijing-Toronto service before Air China, and China generally permits only one Chinese carrier on a long-haul route.
Hainan Airlines had planned to launch Montreal service in 2015 and even applied before Air China, but Air China received approval. Air China's Montreal-Havana service comes as the carrier seeks to find new markets after focusing much growth in recent years on the US. Air China will grow services to Australia/New Zealand and also launch service to Africa with potentially two destinations (Addis Ababa and Johannesburg), making Air China one of the few carriers to serve every inhabited continent.
See related reports:
Air Canada is the leader in the Canada-Asia market followed by Cathay Pacific. Of the mainland Chinese carriers, China Eastern is the largest. China Eastern serves Vancouver and Toronto.
Canada to NE/SE Asia (seats per week, one way): 19-Sep-2011 to 18-Oct-2015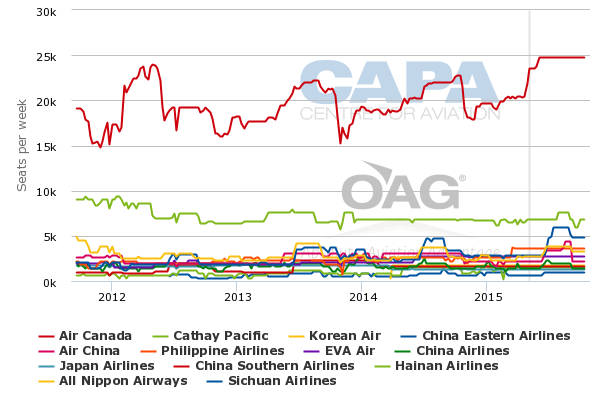 China Eastern's lead comes despite Air China being the clear leader in the broader China-North America market.
China to North America (seats per week, one way): 19-Sep-2011 to 18-Oct-2015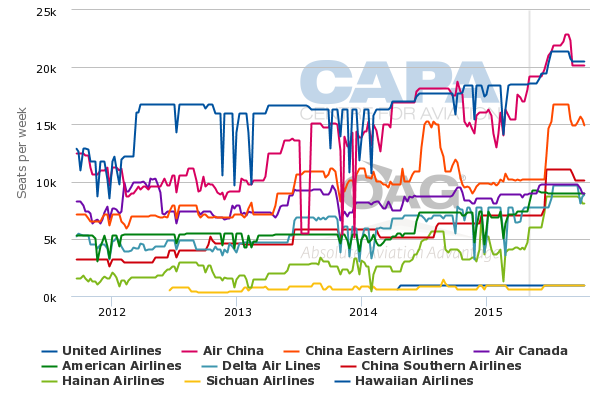 Air China does not (yet) have fifth freedom rights between Montreal and Havana
Air China's Beijing-Montreal leg is relatively straight forward and builds on the growing demand from China to Canada (as well as the US), which has seen further increases due to recent 10 year visa policies between China and Canada and the US. Air China will also have a role in Asian traffic beyond Beijing. Montreal's current Asia traffic is served via other North American gateways.
Air China and Air Canada announced in Nov-2014 their intent to form a revenue sharing joint-venture between China and Canada. They expect it to come into force by the end of 2015. This builds on Air China's other announced long-haul joint-ventures, with Air New Zealand and the Lufthansa Group.
See related reports:
The more curious part of the routing is the Montreal to Havana sector. So far Air China does not have fifth freedom rights between Montreal and Havana, meaning the Montreal-Havana sector – on Air China's 311-seat 777-300ER – will probably incur large losses. Even with local pick-up rights, Air China may struggle to achieve profitability on the sector.
The Montreal-Havana route is virtually unserved; in 2015 the only scheduled flights are from Air Transat, offering only two during the year. Most Canadian-Cuba services bypass the capital of Havana and instead serve resort destinations, such as Varadero. Varadero has the most seats of any Cuban airport to Toronto and Montreal. However, as Varadero is about 60 miles from Havana, Air China could work with operators to sell Havana with onward ground connections to other Cuban destinations, provided Air China receives local pick-up rights. Air China would likely offer low fares and have the advantage of its widebody service whereas most other Canada-Cuba services are flown on narrowbodies.
While Air China's Montreal selection may reflect commercial imperatives, the continuation to Havana is politically motivated and Air China, as the flag carrier, does sometimes needs to fly "strategic" routes. This is the case with its forthcoming Beijing-Johannesburg service.
See related report: Air China's entry into Addis Ababa and Johannesburg would further China's objectives in Africa
Montreal Pierre Elliott Trudeau International Airport to Cuba (seats per week, one way): 19-Sep-2011 to 18-Oct-2015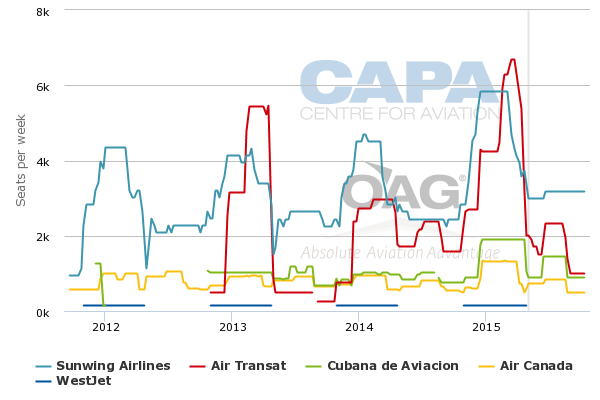 Air China brings Montreal its first Asia service. Toronto has 10 Asian services and Vancouver has 17
Air Canada had hoped to open service from Montreal to Beijing, viewing Beijing and Beirut as Montreal's largest unserved opportunities. Air Canada applied for Beijing slots in 2012 but did not receive slot times that would permit viable service. Beijing has been congested but the airport has also often been able to make slots available and at favourable times when a route is deemed important.
"We were unsuccessful in obtaining a commercially viable second slot, intended to launch service between Beijing and Montreal and also Calgary. By that I mean the scheduled departure and arrival times for the second slots were simply not feasible. But we are determined to try again in the future," Air Canada CEO Calin Rovinescu said in a 2013 speech. Air China's entry, and its pending JV with Air Canada, make it unlikely for Air Canada to pursue a Montreal-Beijing service in the medium-term.
Air China brings Montreal its first Asian service. This compares to 10 Asian services from Toronto (five served by Air Canada) and 17 from Vancouver (six served by Air Canada).
Toronto-Asia services summary: 21-Sep-2015 to 27-Sep-2015
Vancouver-Asia services summary: 21-Sep-2015 to 27-Sep-2015
Shanghai and Hong Kong top un-served Asian markets from Montreal
Montreal hopes Air China's route will spur other Asian carriers to look more closely at Montreal, following the domino affect observed at Boston where JAL's Tokyo Narita service there was followed by Hainan Airlines to Beijing and Cathay Pacific to Hong Kong. Montreal and Boston have different demand profiles, with Boston being stronger by most accounts. But Montreal should be able to secure more Asian services in the medium-term.
Beijing had been Montreal's largest un-served Asian destination. With the Air China service, the next top un-served destination is Tokyo, according to OAG Traffic Analyser. However, given the large number of Tokyo connections via Toronto and Vancouver, a Montreal-Tokyo service may be too competitive. Shanghai and Hong Kong become the next largest un-served destinations and most likely to have service to Montreal although perhaps not immediately given lower demand than from Beijing.
Air Canada has not publicly expressed interest in linking Montreal with Shanghai and Hong Kong (it serves both Asian cities from Toronto and Vancouver), leaving potential service to foreign carriers.
For Shanghai, locally-based China Eastern will likely focus its eastern Canadian effort on Toronto. China Eastern has only three weekly flights to Toronto and is transitioning from an A340-600 operation to 777-300ER. China Eastern could be expected to grow Toronto before looking at Montreal. A new China-North America dynamic in 2015 is Hainan Airlines operating trans-pacific flights from Shanghai Pudong in addition to its Beijing hub. However, Hainan is so far only offering Shanghai-North America flights to destinations it already serves from Beijing.
See related report: China Eastern, Delta and Hainan Airlines' new routes accelerate US-China aviation development
Cathay Pacific has been rapidly growing in North America but likely considers Montreal too small for its all 777-300ER ultra-long-haul operation. The introduction of A350-1000s from 2018 changes the dynamic. Although Hong Kong has lower point-to-point demand from Montreal than Shanghai, Cathay would be able to take advantage of large connections beyond Hong Kong. Hainan Airlines would be more restricted in beyond Shanghai connections.
Montreal should receive more Asian services with time
Although there do not seem to be any further Asian flights in Montreal's near future, the pace of change in the Asia-North America, and particularly from China, makes predictions dangerous. Air China's service will certainly bring more attention to Montreal and could accelerate other airlines' plans. Montreal does face the operational challenge of having a night curfew. Both Cathay Pacific and EVA Air have departures during midnight hours from Toronto. These flights arrive back in Asia in the morning, allowing a full work day or onward connections.
China shows solid visitor growth to Canada while Japanese and Korean arrivals fluctuate.
Over the long-term, the trend of Asian growth is unfailingly up and Montreal can reasonably anticipate at least steady growth from North Asia. The recent trends are encouraging, as the following graphs show.
Annual Chinese arrivals to Canada: 2008-2014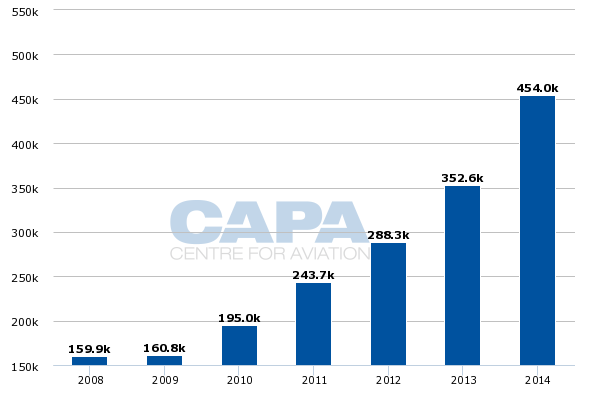 Annual Japanese arrivals to Canada: 2008-2014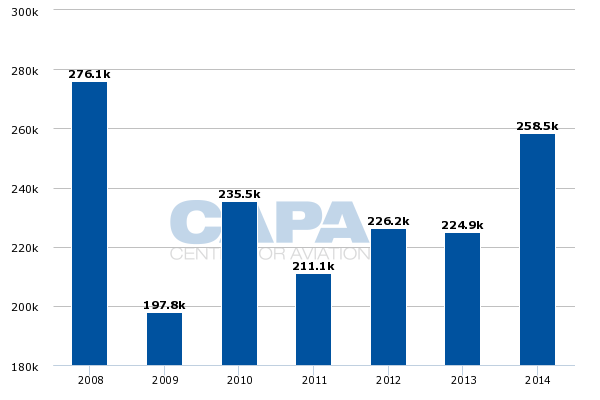 Annual Korean arrivals to Canada: 2008-2014