Middle East fleet outlook: widebody popularity increases, Airbus to grow market share
Analysis
The 163 aircraft ordered at last week's Dubai Airshow will keep the Middle East region with almost as many aircraft on order as in service. While the show was marked by Emirates' order for 50 B777s, adding to the carrier's all-widebody fleet, widebody aircraft currently comprise just over half the region's fleet but are set to grow. Widebodies comprise more than 70% of aircraft on order in the region.
Boeing and Airbus will see their market share increase, but Airbus more so, eventually accounting for more than half of all aircraft in the region and Boeing accounting for just over a third. These latest aircraft orders add to an already substantial order backlog by airlines in the region. Most of the orders are concentrated in the hands of the Gulf region's three largest sixth-freedom airlines: Etihad Airways, Qatar Airways and Emirates. The 163 orders from the show were from airlines and leasing companies and had a combined total value at list prices of just under USD32 billion.
Airbus and Boeing both took major orders from Middle East carriers, but Bombardier and Antonov also announced orders.
Middle East fleet: 25-Nov-2011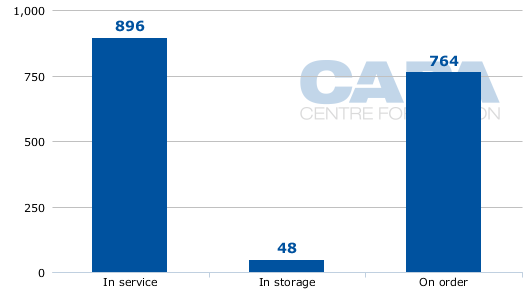 Order highlights
On the first day of the airshow, Dubai's Emirates placed a record order for 50 B777-30ER, a deal worth around USD18 billion at list price. About half of these will be used to replace the carrier's mix of older and smaller B777s and A330s and its long-range A340s. The remaining half can be deployed to open a handful of ultra-long-haul routes and thicken capacity on existing routes or more medium/long-haul routes. The B777s will complement the carrier's higher capacity A380, as it moves to coalesce its passenger fleet around three types – the A380, A350 and B777 – by the end of the decade.
See related article: What another 50 Emirates B777-300ERs means: some growth, replacement and competition for others
Despite Emirates' order, the B777's popularity in the region will, for now, decrease as the A320 increases significantly and the A350 is delivered. The prospect of a new B777 variant could propel the type back into being the single most common type of aircraft in the region, reflecting the need for carriers to merge large numbers of capacity across large distances. Perhaps surprisingly the A320 is the next most common type of aircraft in the region, reflecting the smaller and more regional operations of the Middle East's non-network carriers as well as Etihad and Qatar finding use for the narrowbody workhorse, particularly on routes with little premium traffic.
Most popular aircraft types in service for the Middle East: 25-Nov-2011
Most popular aircraft types on order for the Middle East: 25-Nov-2011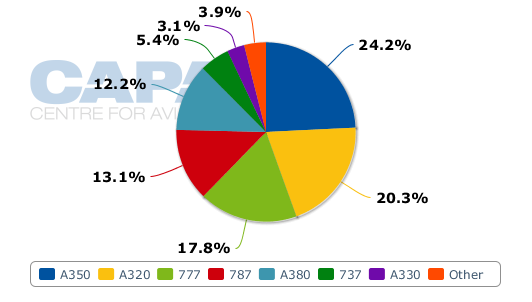 Not to be outdone, Airbus sealed its much talked about deal with Qatar Airways for 50 A320neos and 5 A380s, albeit not without some smoothing of ruffled feathers for the carrier's outspoken CEO, Akbar Al Baker. The deal was worth about USD6.4 billion at list prices. The airline also took the option to buy 30 more A320neos and five additional A380s.
The A320neo order highlights Qatar Airways different strategy from the all-widebody Emirates. Qatar Airways is adding not only long-haul routes, but a slew of medium-haul routes this year. The carrier plans to add 15 destinations in 2012, including Perth, Helsinki, Zagreb, Baku and Tbilisi, but also destinations closer to Qatar, including Gassim, Zanzibar, Kigali and Mombasa. The aggressive expansion in 2012 follows an equally aggressive 2011, with the airline adding 14 destinations and a 15th – the Chinese city of Chongqing – to follow before the end of the year.
Qatar Airways also ordered two B777Fs from Boeing as it plans to grow its freighter fleet. The airline also announced – threatened, perhaps – that it is looking at up to 15 B767Fs, as Airbus may be unable, or unwilling, to develop a passenger to freighter conversion for the airline's existing fleet of A330s.
The widebody orders are propping up the type's share of aircraft orders in the region. Widebody aircraft currently account for 53.9% of aircraft in service and 71.1% on order. For both aircraft in service and on order in the region, widebody frames account for 62%.
Middle East fleet breakdown for aircraft in service: 25-Nov-2011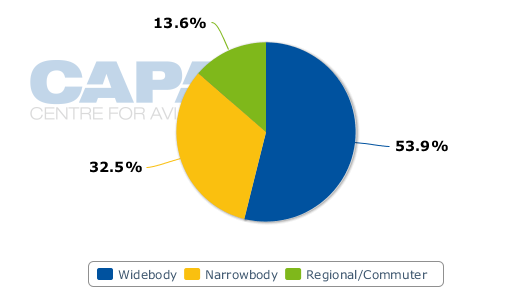 Middle East fleet breakdown for aircraft on order: 25-Nov-2011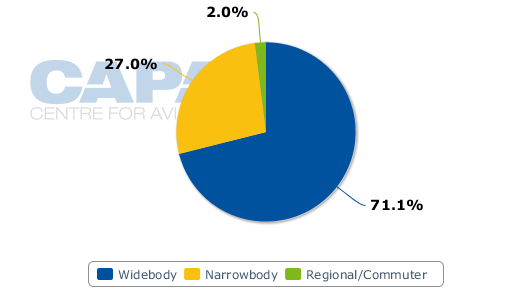 Oman Air has picked up an order for six B787s, taking the aircraft off the hands of Kuwait's Aviation Lease and Finance Corp (ALAFCO). Oman Air was to have leased the aircraft, but ALAFCO has been divesting itself of its B787 orders, of which it had 22 at one point. Earlier this year, the leasing company signed a deal to transfer eight B787s to Saudi Arabian Airlines and lease another four to the carrier.
For Oman Air, the B787s form the backbone of its long-haul fleet development programme. The aircraft will be used to update and modernise the airline's fleet, supplementing and then replacing the airline's A330s on routes into Asia and Europe. Oman Air also has another six B737-800s and two E-175s on order.
In addition to the B787 sale to Oman Air, ALAFCO finalised an MoU signed at the Paris Air Show earlier this year for 30 A320neos and expanded the deal by another 20 aircraft, to a total of 50. The leasing company also took options for 30 more to be finalised by year-end, taking the total value of the deal as high as USD4.6 billion. ALAFCO is already in negotiations with potential A320neo customers, even though the aircraft will not commence delivery until late 2015.
Bombardier also made an appearance at the airshow with a commitment for its new CSeries from Turkish LCC Atlasjet. The carrier signed an LoI for 10 of the larger CS300 variant and includes options for five more CSeries aircraft. The LoI is expected to be firmed up within the next two months.
Bombardier is targeting CSeries sales in the Middle East, opening up a new Bombardier Commercial Aircraft regional sales and marketing office in Dubai to serve the Middle East and African markets. Qatar Airways has been vacillating about an order for the aircraft for three years, although both sides have not given up on the order. Bombardier considers airlines operating in Turkey and the Middle East to be prime candidates for CSeries aircraft.
See related article: Atlasjet order for CSeries continues Bombardier's push into new growth markets
Just under half of all aircraft in service with carriers in the Middle East are from Airbus. With Airbus accounting for 66% of aircraft on order, its share of aircraft in service and on order is 55%. Boeing's equivalent share is 35%. As carriers have not shown interest in the Bombardier CSeries or the new narrowbody aircraft from emerging manufacturers – the C919 from COMAC, MS-21 from Irkut or Sukhoi Superjet – Airbus and Boeing will continue their dominance.
Middle East fleet breakdown by manufacturer for aircraft in service: 25-Nov-2011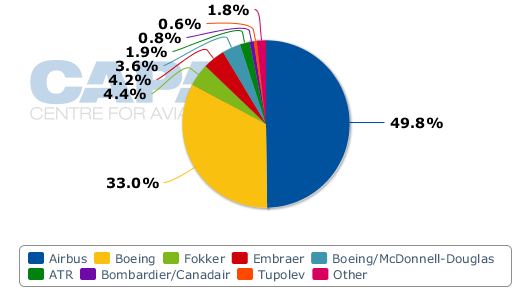 Middle East fleet breakdown by manufacturer for aircraft on order: 25-Nov-2011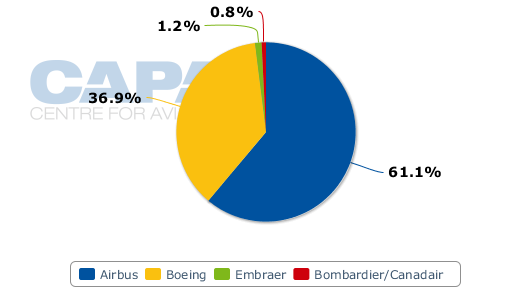 As the order books of airlines in the Middle East continue to swell, it seems that even the most ambitious of forecasts for the region are insufficient. Airbus' latest forecast is that the Middle East will need 1921 commercial aircraft with the regional fleet to almost treble, reaching 2260 by 2030. Boeing's forecast is even more aggressive, with an outlook for 2520 aircraft and a regional fleet of around 2710 aircraft. Boeing estimates that two thirds of all orders will be for expansion rather than replacement.
With almost 1000 aircraft already on the order books of Middle East carriers, more orders are certain to come as smaller carriers and LCCs sort out their fleet plans over the next few years.
Total orders for the region
Current Middle East aircraft orders
| Carrier | Orders |
| --- | --- |
| | 248 |
| | 193 |
| | 96 |
| | 64 |
| | 42 |
| | 37 |
| | 37 |
| | 34 |
| | 31 |
| nasair | 27 |
| | 19 |
| | 18 |
| | 14 |
| | 11 |
| | 7 |
| | 6 |
| | 4 |
| | 4 |
| | 1 |
Between them, the 'big three' – Emirates, Etihad and Qatar – have more than 500 aircraft on order. More than 80% of the aircraft are widebodies, with deliveries stretching all the way back to 2022.
Emirates, Qatar Airways and Etihad Airways outstanding orders
| Carrier | | A320neo | | | B747 | | B787 |
| --- | --- | --- | --- | --- | --- | --- | --- |
| | | | 70 | 73 | 5 | 100 | |
| | 9 | 50 | 60 | 10 | | 14 | 30 |
| | 20 | | 25 | 10 | | 10 | 31 |