Middle East airlines' worldwide premium revenue share up 50% since economic crisis hit
Analysis
Middle East airlines are benefiting from the global economic slowdown, winning a greater share of dwindling worldwide premium traffic and revenues. An analysis by the Centre for Asia Pacific Aviation of IATA premium traffic reports since the middle of 2007 shows a dramatic increase recently in the Middle East's share of global premium traffic and - more importantly - revenues.
In Nov-08, one dollar in every eight spent on premium air fares across the world involved Middle East travel - compared to one in twelve just a few months earlier.
The Middle East economy remains relatively strong and the region's Business and First travel demand has held up better than others to date.
Bigger share of premium traffic and better yields
Routes linked to the Middle East now account for 12% of worldwide premium revenues and slightly over 11% of premium traffic numbers. Prior to the onset of the global economic crisis, the Middle East region accounted for 8% of worldwide revenue and just under 9% of traffic. Notably too, the change, where the premium revenue share has overtaken the traffic share implies that Middle East airlines are also enjoying better yields than their rivals.
Premium revenue share and traffic share on Middle East routes: Jun-07 to Nov-08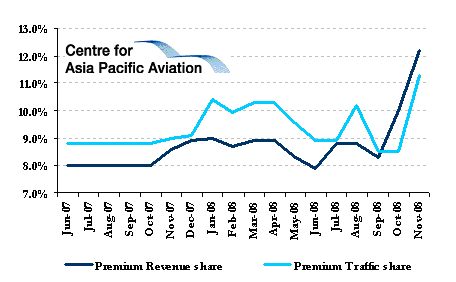 While a couple of months do not constitute a trend, the evolution suggests the emerging Middle East sixth freedom airlines are living up to their potential to become powerful forces in global aviation, directing increasing amounts of sixth freedom and origin-destination traffic over their hubs.
This is an extract from the soon-to-be-published 2009 edition of the Centre's free Middle East Aviation Outlook report. To pre-order your free copy, please click here.