Middle East airlines leverage crisis to establish as Next Gen aviation power
The "Next Generation" of airline activity - using new long-haul aircraft to operate non-stop to any point on the globe in an increasingly liberalised marketplace - is fast becoming a reality as Middle East airlines expand aggressively into a contracting market.
The Middle East region's airlines have broken away from the rest of the industry, stealing market share in an audacious capacity-led push to establish as the new force in global aviation. Extreme financial pressures inflicted by the global economic downturn mean their competitors are virtually powerless to combat the onslaught.
Since October last year, the Middle East carriers have been growing their international capacity by greater than 5% year-on-year, against a tide of capacity reductions by their rivals. The 13.1% increase in international capacity by the Middle East region's carriers in Mar-2009 was the most rapid pace of growth since April last year - and came on top of a solid base in the heady days of early 2008.
IATA international capacity (ASK) growth by region (% change year-on-year): Apr-2008 to Mar-2009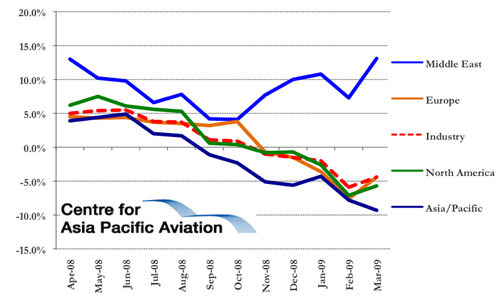 And importantly, the additional capacity is translating into growth in demand, albeit at levels well below supply. IATA observed, "Middle Eastern carriers were the only ones [worldwide] to experience growth [in RPKs] in March (+4.7%). This is an improvement from the 0.4% growth in February, and represented an expansion of market share, but this was out of balance with the 13.1% increase in capacity".
IATA international capacity (RPKs) growth by region (% change year-on-year): Apr-2008 to Mar-2009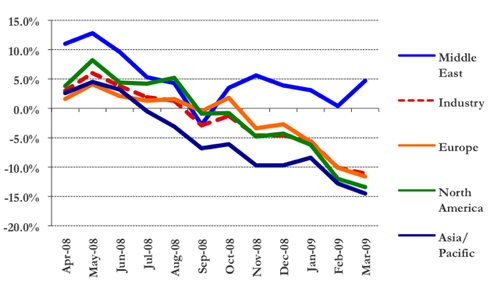 But this discrepancy is not solely due to the local carriers' expansion. Many other airlines have ramped up capacity, especially into the Gulf, as their own markets have turned down.
Airports data supports trend
Reviewing world airport data for Mar-2009, Airports Council International (ACI) stated the improvement in worldwide volumes was "led by the Middle East", whose airports reported a 0.8% increase in passenger numbers (the only region to report growth), against a worldwide decrease of 10.7%.
ACI Airports Middle East passenger numbers growth: Apr-08 to Mar-09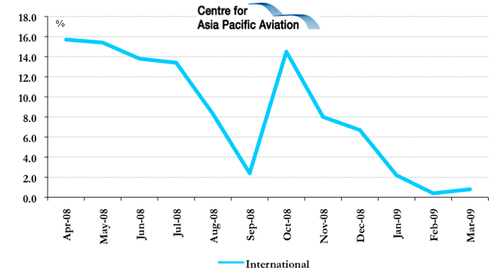 Combining domestic and international passenger numbers, the Middle East airports registered a 0.1% increase in March against a worldwide 8.3% reduction - a slight improvement on February's lows.
ACI total passenger number growth: Apr-08 to Mar-09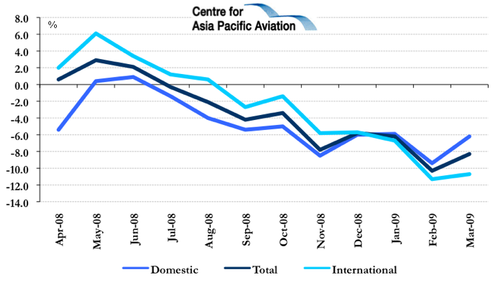 Big share of near term deliveries
The influence of Middle East airlines is set to accelerate as they take delivery of significant numbers of aircraft over the next two years, helping them expand their networks and add frequencies to existing destinations.
In total, Middle East airlines will add 114 aircraft to their fleets in 2009 (8% of worldwide deliveries) and 122 in 2010 (9% of the total). There have been no cancellations or reports of order deferrals by the Middle East carriers (although Emirates has reportedly expressed some concerns about specific issues on some of their new A380s).
Worldwide aircraft deliveries by region and % of total: 2009 and 2010
Region

2009

2010

Aircraft

% of total

Aircraft

% of total

419

31%

480

34%

437

32%

417

30%

199

15%

239

17%

114

8%

122

9%

Other

203

15%

155

11%

Total

1372

100%

1413

100%
Worldwide aircraft deliveries by region: 2009 and 2010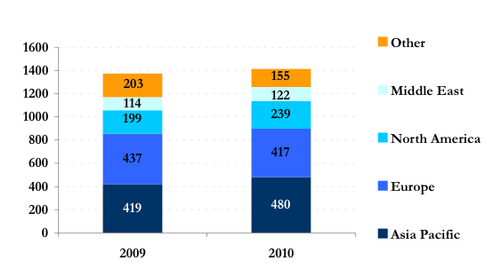 Bigger proportion of widebodies
But looking at widebody aircraft only, which are predominantly operated on long-haul international routes, Middle East airlines are taking delivery of 21% of the world's widebodies this year (50 aircraft in total) and 13% of the global total in 2010. North American carriers are scheduled to take delivery of just 18 new widebodies this year.
These proportions could increase if the loss-making Asian and European airlines defer or cancel more of their orders, as looks probable. The Middle East carriers, with their strong financial backing and more resilient traffic, are expected to be less inclined to cancel orders.
Widebody aircraft deliveries by region and % of total: 2009 and 2010
Region

2009

2010

Aircraft

% of total

Aircraft

% of total

83

35%

157

44%

64

27%

72

20%

18

8%

54

15%

50

21%

45

13%

Other

19

8%

27

8%

Total

234

100%

355

100%
Widebody aircraft deliveries by region: 2009 and 2010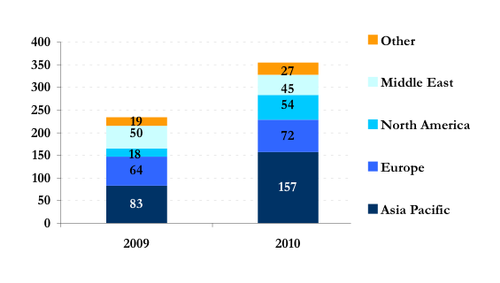 The Middle East carriers also account for 6% of worldwide narrowbody deliveries this year and 7% in 2010, presaging a surge in intra-Middle East flying (including LCCs) in what is still an immature market.
Narrowbody aircraft deliveries by region and % of total: 2009 and 2010
Region

2009

2010

Aircraft

% of total

Aircraft

% of total

373

33%

345

33%

336

30%

323

31%

181

16%

185

17%

64

6%

77

7%

Other

184

16%

128

12%

Total

1138

100%

1058

100%
Narrowbody aircraft deliveries by region: 2009 and 2010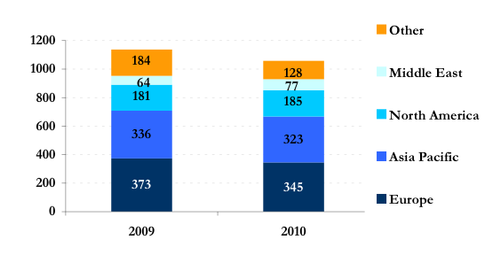 Outlook: Downturn accelerating the shift in the balance of power
The extent and duration of the current global economic downturn will exact powerful influences on the structure of global aviation. A long-term shift in share of premium demand and revenue to the Middle East airlines could be one such outcome - a prospect that is rattling rival carriers and airports.
Lufthansa Chairman & CEO, Wolfgang Mayrhuber, last week called (24-Apr-09) on regulators and industry participants in Europe to "react strategically and operationally" to moves by Middle East airlines to apply "excessive capacities".
Mr Mayrhuber declared the rapid growth of the Middle East airlines "is not oriented towards regional demand, but aim clearly towards forceful expansion and are being unflatteringly cast upon the market. Thereby they are exploiting the geographic location, as well as immense external and internal cost advantages".
He added, "the continued consolidation of European air traffic is one option, whereby the economic boundaries here, are visible to the buyers".
For non-Middle East carriers, safety in numbers appears to be one of the only ways forward. For carriers where mergers and consolidation are not an option, the slow and painful process of strangulation has begun.