Mexican airlines review Part 3: Volaris believes it can rebound from a tough 2013
Mexican ultra low-cost carrier (ULCC) Volaris is exuding confidence that it can attain margin expansion in 2014 even as it predicts an economic rebound in Mexico will not take hold until the second half of the year.

Volaris' bullishness follows a challenging 2013 for all of Mexico's carriers as the country's GDP was a weak 1%. The weak economy resulted in yields at both Aeromexico and Volaris sinking, and Volaris recording a loss for 4Q2013 and a 30% fall year-over-year in profits for FY2013.

After battling pressure from Aeromexico at its third largest base in Guadalajara during 2013, Volaris predicts some rationality should be restored to the market in 2014 even as it establishes a new base in Monterrey, which will increase capacity in a market important to all four of Mexico's major carriers.
Volaris find its tough to compensate lower yields with higher load factors
Volaris recorded overall passenger growth of 20.5% during 2013 to 8.5 million customers. Its domestic passenger growth increased roughly 23% year-on-year to 7.1 million passengers.
Volaris annual passenger numbers: 2010 to 2013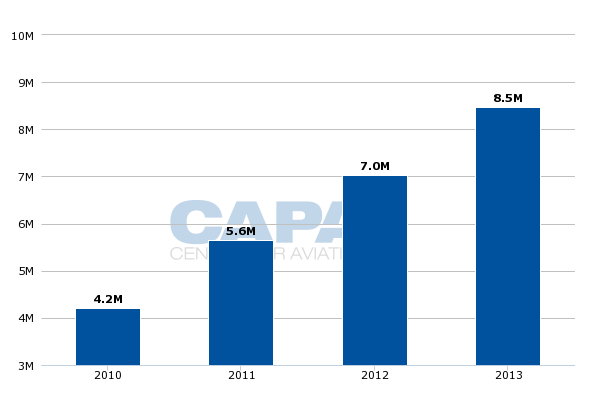 But Volaris had to endure a weak fare environment to achieve that growth as its yields for 2013 dropped 7%. Its average fare declined nearly 10% for FY2013 and nearly 17% during 4Q2013. Volaris' estimated break-even fare for FY2013 was USD111, but its actual average fare for the year was USD95.

See related report: Aeromexico and Volaris continue to face weak yields in a sluggish Mexican economy

The weak Mexican economy essentially caused fares to plummet, which resulted in an inability by Volaris to offset the lower fares by higher load factors. Its load factors for FY2013 remained essentially flat year-on-year, and dropped 1.7ppt during 4Q2013.
Volaris establishes Monterrey base as its loads look to be stabilising
Near the beginning of 2014 Volaris remarked that in 1Q2014 it was starting to compensate for the continuing price deterioration with higher load factors as its load in Jan-2014 increased 3.6ppt year-on-year to 80.7%. The carrier's load factors for Feb-2014 remained roughly flat year-on-year at 80% while its cumulative loads for the first two months of 2014 increased 1.6ppt to 80.9%. Previously, Volaris has estimated load factors in the low to mid 80s for FY2014.

During 1Q2014 Volaris is also establishing a base in Mexico's third largest airport by arrivals, Monterrey, through the addition of eight new markets supported by the operation of three A320s at the airport. Monterrey joins Volaris' four other bases in Mexico – Mexico City, Guadalajara, Tijuana and Cancun.
Based on seat deployment, Volaris is the largest carrier in Guadalajara, the third largest in Mexico City, the leading carrier in Tijuana and fourth in Cancun (with an 8% share) behind US carriers American, United and Delta.

Currently, Volaris represents a roughly 6% seat share in Monterrey compared to its competitors, which hold substantially higher shares. Aeromexico has a 32% share, and Interjet and VivaAerobus (which is based in Monterrey) each hold shares of approximately 25%.
Monterrey Escobedo International Airport capacity by carrier (% of seats): 17-Mar-2014 to 23-Mar-2014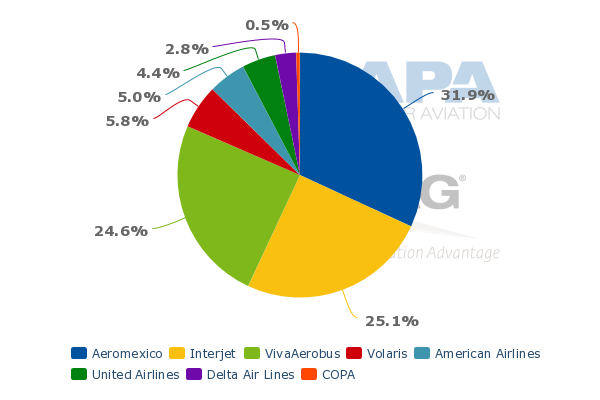 Based on current schedules in CAPA and OAG (17-Mar-2014 to 23-Mar-2014) Volaris operates flights from Monterrey to Guadalajara (competing with Aeromexico, Interjet and VivaAerobus), Mexico City (also competing with those three carriers) and Tijuana.

Beginning in late Mar-2014 Volaris is adding service from Monterey to Chihuahua, Ciudad Juarez, Cancun, Culican, Puerto Vallarta, Los Cabos, Merida and Veracruz.
Once all the services begin, Volaris will serve six of the top 10 domestic routes from Monterrey, which could add to pressure on VivaAerobus.
Monterrey Escobedo International Airport top 10 domestic routes by seats: 17-Mar-2014 to 23-Mar-2014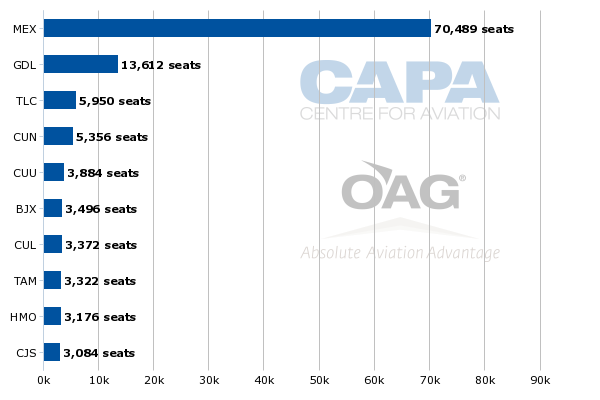 Even as all four of Mexico's major carriers – Aeromexico, Interjet, VivaAerobus and Volaris – are targeting bus passengers, VivaAerobus and Volaris bill themselves as low-cost carriers while Interjet has more of a hybrid product and Aeromexico is a full-service carrier.
VivaAerobus offers service to all eight of the new markets Volaris is launching from Monterrey. On three of those routes, Los Cabos, Puerto Vallarta and Merida, it is the sole carrier.
Carriers and their respective seats share on Volaris' new routes from Monterrey
See related reports:
Volaris could become more of a threat to VivaAerobus if Monterrey is successful
Volaris' weekly seat counts on the new routes from Monterrey range from roughly 344 to 688, so its capacity won't match its rivals, including VivaAerobus. But an injection of additional lower fares is likely to dilute pricing for all carriers in those markets, and further pressure VivaAerobus, which recently opted to shelve an initial public offering scheduled for early 2014 after concluding market conditions were too unpredictable to ensure it secured favourable returns from accessing the public markets.

During 1Q2014 Volaris estimates that roughly 33% of its capacity is in direct competition with VivaAerobus – which is the smallest exposure it has to its three main rivals.
But if the base in Monterrey proves successful, Volaris will no doubt look to expand in Monterrey to capture the price sensitive travellers all the major Mexican carriers are targeting.
Volaris' competitive capacity outlook: 1Q2014

Privately-held VivaAerobus, faced the same market realities during 2013 as its Mexican rivals, and likely saw its yields affected just as severely. Although it can fall back on a pledge of lower costs, it is also in the process of incorporating new A320 aircraft into its fleet during 2014 that will eventually replace its fleet of 19 older Boeing 737-300 classic narrowbodies.
VivaAerobus is likely to face some cost creep during 2014 as it digests all the training and financing expense of the new aircraft while operating less fuel efficient jets.

Given that flux, perhaps Volaris sees an opportunity in Monterrey to promote its newer Airbus narrowbody aircraft for travel at similar fare levels as VivaAerobus. Volaris also recognises that it may need to enlarge its presence in Monterrey, which has the highest per capita income in Mexico.
Volaris identifies several new US transborder destinations
Despite Volaris' establishment of a new base in Monterrey, the carrier estimates that about 16% of its estimated 12% to 14% capacity growth during 2014 will be deployed in international markets, giving the airline some cushion if a domestic rebound fails to materialise.
Presently, about 17% of Volaris' seats are dedicated to international operations compared with 12% at Interjet and 1% at VivaAerobus. Aeromexico obviously has the most outsized international presence at 28%.

Volaris has not revealed any new international destinations for launch in 2014, but it introduced new service from Guadalajara to San Antonio and from Guadalajara and Mexico City to Phoenix in Dec-2013, which is driving some of its international capacity growth in 2014.

Its next move should be interesting. Although Volaris has previously stated it has identified roughly 150 international routes it can access with a stage length of 321km, including destinations within Latin America, it most recently has outlined several untapped US transborder markets it presently does not serve that feature large Mexican populations.
Some of those unserved cities include New York, Philadelphia, Washington DC, Atlanta, Dallas, Houston, Austin, Albuquerque, El Paso, Tucson and Tampa.
Transborder destinations Volaris has identified with larger Mexican populations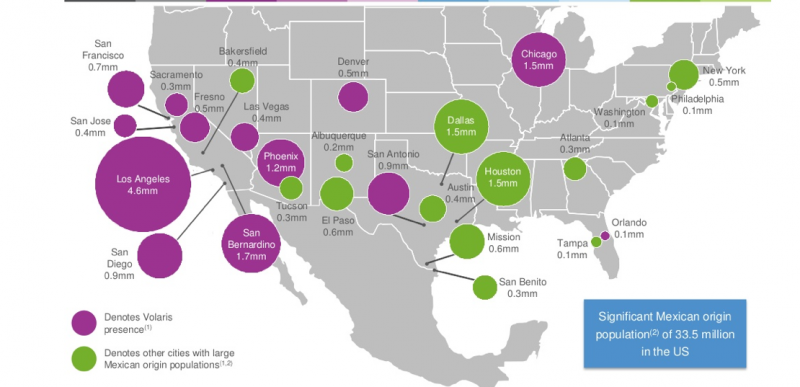 See related report: Newly public Mexican LCC Volaris sees ripe opportunities inside and outside Mexico
Like all Mexican airlines, Volaris faces short-term uncertainty
As it stands, Volaris has previously indicated that the economic recovery in Mexico would take full effect in 2H2014, and it is basing its predictions of margin expansion on boosting ancillary revenue and containing costs (with the caveat of full prices and exchange rates holding steady around current levels).

Over the long term, Volaris remains bullish on the prospects of Mexican travellers migrating from bus to aircraft, basing its optimism on both shorter travel times and lower fares. The carrier estimates Mexico is nearly three times the size of the US state of Texas, and the travel time from Tijuana to Cancun is similar to the distance between San Francisco and New York.

Travelling that distance by air cuts off 36 hours from a bus trip and costs 15% less than a bus fare, according to Volaris.
Volaris' estimates of bus travel potential and actual fare differentials from Tijuana to Cancun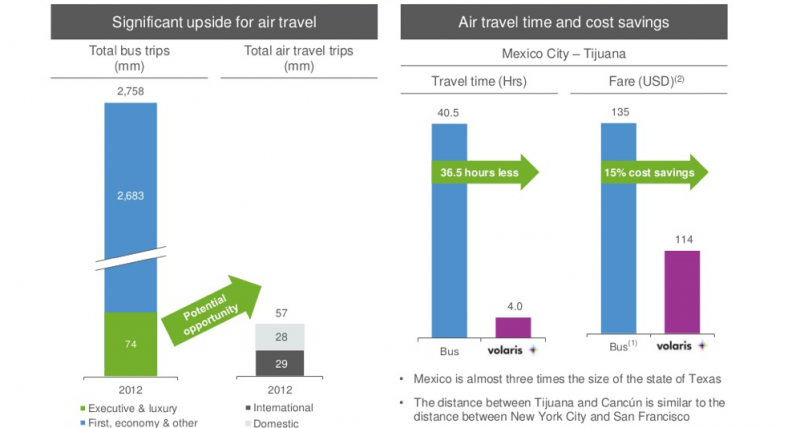 Those data points are promising for the long term, but Mexico's recent economic weakness is still creating some overhang for Volaris.
Since its debut on the New York Stock Exchange in Oct-2013 its stock has fallen about 35% (based on 17-Mar-2014 closing price). Some of the decline is likely uneasiness among investors over Volaris' prospects of maintaining its profitability in 2014 as Latin America's second largest economy has declared GDP growth of close to 4% compared to 1% in 2013. Mexico's original estimates for GDP in 2013 were 3.5%, so the country has a bit of hole to climb out of to meet its economic aspirations.

In the meantime Volaris needs to ensure that some of the pricing traction it recaptured at the start of 2014 remains intact and that its expansion does not become a drag on its favourable cost base.
If Mexico's economic aspirations for 2014 begin to look unachievable, all of the country's airlines may need to temper their growth expectations to ensure their viability to capture their fair share of bus passengers once consumer confidence is restored.