Macquarie Airports and Fraport higher as Ferrovial and Aeroports de Paris eases
Shares in airports worldwide continued to rise yesterday, with Macquarie Airports leading the increase, gaining 4.9%. Australian Infrastructure Fund's shares rose 2.7% as new airlines continue to enter the market and existing airlines expand capacity to capture a larger share of the Australian market, including Tiger Airways (see below).
Sydney Airport is trailing other Australian airports in terms of passenger performance so far in 2009.
Airports of Thailand's shares gained 3.7% yesterday following the release of its Jun-2009 traffic results, which shows improvement from the previous month:
Passenger numbers: 3.6 million, -13.6% year-on-year;

International: 2.2 million, -20%;
Domestic: 1.4 million, -1.4%;
Bangkok International Airport: 2.8 million, -7.9%;

International: 2.1 million, -20.2%;
Domestic: 758,616, +59.3%;

Don Mueang: 107,699, -72.8%;
Chiang Mai: 202,288, -7.0%;
Hat Yai: 103,102, +3.5%;
Phuket: 341,923, -8.6%;
Chiang Rai: 49,581, +2.5%;

Cargo volume: 90,812 tonnes, -22.5%;
Aircraft movements: 27,126, -11.4%.
In Europe, shares in Ferrovial, parent of BAA, eased 0.2% amid reports the UK Government is considering a "special administration" regime for BAA to ensure the continuation of the airport owner's operations if it declares bankruptcy.
Selected airports daily share price movements (% change): 20-Jul-2009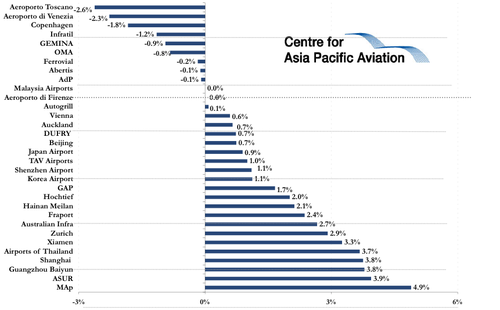 Melbourne welcomes additional Melbourne-Sydney Tiger services – edited press release
Tiger commenced services on the route in early Jul-2009 with up to four services per day. This new announcement will increase the airline's flights on one of the busiest routes in the world to up to nine flights per day in each direction between the two cities, effective 04-Oct-2009.
From Melbourne, Tiger currently operates direct services to Adelaide, Alice Springs, Canberra, Gold Coast, Hobart, Launceston, Mackay, Sunshine Coast, Sydney, Perth and Rockhampton.