Macquarie Airports and Aeroports de Paris lower, Ferrovial and Airports of Thailand up
Macquarie Airports' (MAp) shares dipped 3.3% on Friday (03-Jul-2009) on the back of a 1.3% fall in the Sydney ASX 200 index. The sell-off came despite the introduction of two new high profile carriers at Sydney Airport, Delta Air Lines and Tiger Airways, providing valuable long and short-haul capacity injections amid the downturn (see below).
MAp also reported an increase in its foreign ownership level from 35.0% to 35.2%. Australian Infrastructure Fund's shares went against the trend, rising 1.5% on Friday.
Elsewhere in Asia, airport stocks were mixed, with Malaysia Airports, Japan Airport Terminal and Hainan Meilan International Airport's shares down 3.2%, 2.4% and 2.3%, respectively. Positive performers in the region included Airports of Thailand, Korean Airport and Shenzhen Airport, which went up 1.9%, 1.7% and 1.4%, respectively.
European airport stocks were generally lower, with the operator of Rome Airport (Gemina) down 3.7%. The parent of BAA, Ferrovial's shares fell 1.1% on Friday, an improvement from the previous day's fall of 1.5%. Recent British government moves suggest that the sale of BAA's airports may be postponed.
Selected airports daily share price movements (% change): 03-Jul-09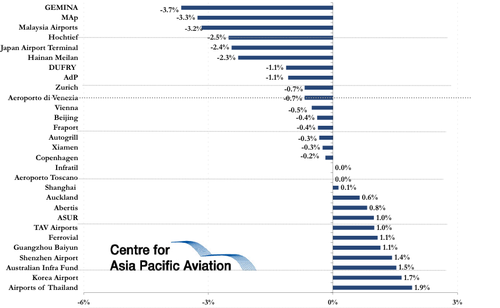 Sydney welcomes two new carriers – edited press release
Sydney Airport welcomed the launch of services by two new carriers, Delta Air Lines and Tiger Airways, on Friday (03-Jul-2009).
Delta is the world's largest airline and operates services from Los Angeles to Sydney - a sector contested now by four airlines, including United Airlines, Qantas and V Australia.
Tiger commenced operating on Australia's busiest route (and fifth busiest worldwide), the Sydney-Melbourne sector, which had more than seven million passengers last year.
Sydney Airport CEO, Russell Balding, stated the arrival of the two new carriers on the one day was "great news for Sydney and a vote of confidence in the future development of Sydney Airport".
Mr Balding added, "Delta's entrance into the Australian market shows again that Sydney Airport is an attractive destination for international carriers. It is a real win for Sydney. It will boost tourism to Sydney and provides travellers with more choice when travelling between North America and Australia…Tiger will be expanding its network by adding the Sydney-Melbourne route and this is another win for Sydney. Sydney is Australia's biggest tourist attraction and the extra choice Tiger Airways provides will give people from Melbourne an extra. The entry of Tiger Airways into the Sydney market is a real boost for domestic tourism. Tiger will be operating from the T2 Terminal".