Lufthansa SWOT: new low cost platforms are smarter strategy than resorting to protectionism
Analysis
The Lufthansa group reported an operating margin of 3.9% in 2014, up from 3.5% in 2013 (based on its operating result before restructuring and project costs). However, adjusting 2013 for the change in depreciation policy implemented in 2014, its margin would have been fallen by 0.7ppts year on year, the result of a damaging pilot strike and weak pricing. Lufthansa expects a significantly improved result in 2015, when ASK growth will be 3%, although it expects unit revenue to fall. All its capacity growth will be on the long haul network, where unit revenue was weakest in 2014.
The development of strategic joint ventures to resist growing long haul competition from Gulf-based airlines makes sense. Its growing use of lower cost platforms in both short haul and long haul point to point markets is also welcome, but Lufthansa faces an ongoing challenge in taking its pilots with it on this course of action. Moreover, Lufthansa's protectionist instinct as a response to competition may have short term delaying value - but if it is intended as a serious strategy, it is high risk.
We consider Lufthansa group's strengths, weaknesses, opportunities and threats in the context of these, and other, issues.
STRENGTHS
1. The Lufthansa group contains some strong brands
Lufthansa's brand and those of its principal subsidiaries SWISS and Austrian command strong loyalty in their home markets. Lufthansa itself aims to become Europe's only five star rated airline brand.
2. Lufthansa has good multiple passenger brand positioning
The airlines within the Lufthansa group occupy positions across a range of market segments, both in terms of product/service offer and national geographies. The Lufthansa brand includes premium and economy cabins, long haul and short haul and offers a full range of services.
Germanwings is in the short haul point to point lower fares segment. The growing Eurowings subsidiary, with lower unit costs than Germanwings, aims to extend the group's presence in the budget segment, both short haul and long haul, with an emphasis on leisure routes. Plans to develop a sub-fleet of reconfigured wide bodies on point to point leisure routes under the full service Lufthansa brand will address a further niche market segment.
3. Lufthansa includes world-leading aviation services
In addition to its flying activities, the Lufthansa group is a global leader in the provision of a number of aviation services. These include airline catering (LSG SkyChefs) and MRO (Lufthansa Technik), both of which are the biggest in the world in their respective fields. These activities have provided more stable levels of profit through the cycle than the more volatile flying businesses.
Lufthansa aims to increase the proportion of its revenues generated outside its core hub-based flying operations from 30% today to 40% by 2020 (this includes revenues from its growing point to point flying operations).
4. Lufthansa's balance sheet is strong
Historically, Lufthansa management has favoured a more conservative approach to its balance sheet than most other airlines. This means that it has lower levels of debt and a strong cash balance.
Although this is arguably inefficient from a financial theory point of view, pushing up its weighted average cost of capital (because the cost of debt is typically less than the cost of equity), this provides it with a welcome cushion in a downturn. In the past, this has also provided it with an acquisition war chest, allowing it to take a leading role in the consolidation of the airline sector in Europe.
5. The Lufthansa group has multiple hubs in the heart of Europe
The Lufthansa group (including its minority stake in Brussels Airlines) has five hubs: Frankfurt, Munich, Zurich, Vienna and Brussels. The first four of these, operated by the group's fully owned airlines, are located relatively close to one another in the centre of the European continent. Through the coordination of schedules and pricing, this allows it to offer a wide range of destinations and frequencies. It also allows it to develop its network from each hub with a particular geographic focus where this adds to the overall efficiency of its operations.
6. Lufthansa is the leading airline group for European coverage
The Lufthansa group has a stronger presence in Europe, judged by seat capacity, than the other two major European legacy airline groups. According to data from OAG for the week of 6-Apr-2015, the Lufthansa group's seat capacity in the continent is 54% more than that of Air France-KLM and 33% more than IAG's.
Note, however, that Ryanair's seat capacity within Europe almost matches the Lufthansa group's and, given higher load factors, Ryanair carries more passengers.
Top ten airline groups ranked by seats from Europe to Europe 6-Apr-2015 to 12-Apr-2014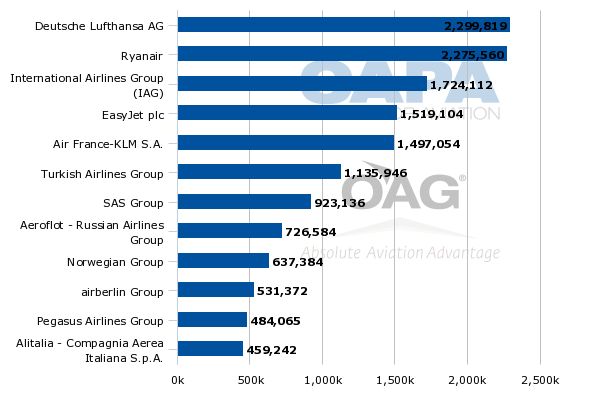 Moreover, although its capacity in Western Europe is much bigger than in Eastern/Central Europe, the Lufthansa group has a better balance between the two halves of Europe than the other two groups. Almost one quarter of its European seats are in Eastern/Central Europe, compared with 13% for Air France-KLM and 10% for IAG(week of 6-Apr-2015, source: OAG).
It has more than four times IAG's seat capacity in Eastern/Central Europe and a little under four times Air France-KLM's. Given that air traffic growth rates are typically higher in the east of the continent, this ought to position Lufthansa well to capture more of this growth than its Big Three rivals.
7. Lufthansa is the leading airline group between Europe
and
Asia
Pacific.
The Lufthansa group operates more direct seats from Europe to Asia Pacific than any other airline group. The Asia Pacific region offers higher growth rates than North America and Europe and so this is an advantage for Lufthansa relative to its European Big Three rivals.
However, it also means that it is more exposed to the growing competition from the Gulf Three (Emirates, Qatar Airways and Etihad) and Turkish Airlines as they attract traffic flows between Europe and Asia Pacific via their hubs in the Middle East and Turkey.
Top ten airline groups ranked by seats from Europe to Asia Pacific 6-Apr-2015 to 12-Apr-2014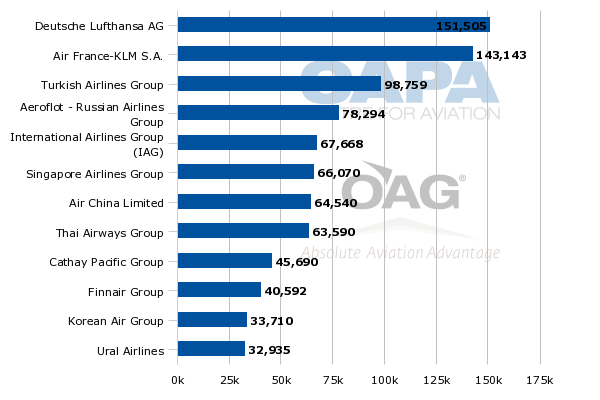 8. Joint ventures/alliances cover a large proportion of Lufthansa's network capacity
Lufthansa has developed a strong position in its use of joint venture agreements with United Airlines, Air Canada and All Nippon Airways. Such arrangements, when approved by competition authorities, allow the participants to coordinate schedules and prices and typically provide significant unit cost enhancements. This helps to resist growing competition from Gulf carriers on Asia Pacific routes (but does not repel it).
Lufthansa's JV agreements cover the USA (its biggest international destination country by ASK), Japan (number three international destination) and Canada (number seven) and account for 37% of its international ASKs. The planned JV with Air China would include Lufthansa's number two destination country and take the proportion of its international ASKs covered by JV arrangements to 43%. Factoring in short haul traffic that is connecting into these JV destination countries, around half of its capacity by ASKs is covered by JVs.
See related reports:
WEAKNESSES
1. Lufthansa has a high cost base
Lufthansa says that its SCORE cost savings programme contributed EUR2.5 billion to the group's bottom line between 2012 and 2014. Nevertheless, it is still among the higher cost European airlines, as measured by cost per available seat kilometre, when account is taken of its average trip length.
The scatter plot below, of CASK versus average trip length, shows that the group sits well above the trend line for European full service carriers. Although it also generates a premium in its unit revenue (revenue per ASK, RASK), this high cost structure leaves it vulnerable to a demand downswing and to growing LCC competition in short/medium haul markets.
Moreover, many other European FSCs are more cost efficient than Lufthansa and long haul carriers in the Gulf and in Asia that compete with Lufthansa for Europe-Asia traffic not only have CASK levels that are comfortably below the European FSC trend line, but also have a very high quality product.
Unit costs (cost per available seat kilometre, USc) and average sector length for Lufthansa Group and selected other European airlines 2013*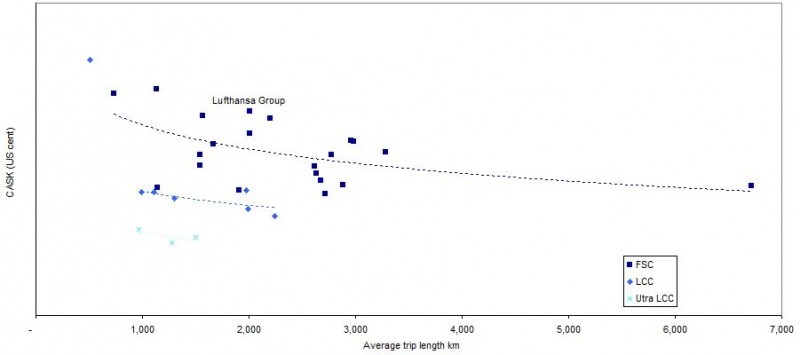 2. Lufthansa's industrial relations are strained
According to Lufthansa, industrial action by its pilots lowered the group's operating profit by EUR232 million in 2014 (this includes the impact of strikes by security personnel). Pilot strikes have continued into 2015 as both parties struggle to resolve their differences, ostensibly over pilot retirement age and pension benefits, but also related to the increasing use by the group of lower cost vehicles avoiding the central collective labour agreement.
Although CEO Carsten Spohr has shown consistency and resolve in pressing ahead with the establishment of these vehicles, their successful operation will require the cooperation of all staff groups.
3. Lufthansa was slow to respond to the LCC competitive threat
Low cost carriers began to establish successful pan European operations in the mid 1990s. Nevertheless, and in spite of owning its low cost subsidiary Germanwings for many years, Lufthansa did not start to use its own LCC aggressively until 2013.
Moreover, Germanwings is not even the right vehicle, since its cost base is too high to be classed as a true LCC. Lufthansa's more recent decision to transfer a large number of Germanwings routes to Eurowings, which it will also use to expand its budget offer into Austria and Switzerland in addition to long haul markets, highlights this point.
Moreover, it has owned Eurowings for as long as it has owned Germanwings, but has apparently only recently woken up to its potential for improving cost efficiency.
4. Lufthansa's preoccupation with selective protectionism perpetuates a negative culture
Although there may be some short term strategic value in seeking regulatory protection against new strong competitors, Lufthansa's preoccupation with protectionist measures both diverts resources and ingrains a backward looking culture. In contrast with the more proactive approach taken by the IAG group, this tends to preclude exploring partnership and other options that would prepare a platform for future expansion.
One effect is to funnel strategic options into subsidiaries whose costs and effectiveness are often questionable - and which if unsuccessful result not only in internal disruption, but also diversion of resources.
OPPORTUNITIES
1. Lufthansa's new lower cost platforms provide options for growth
Lufthansa made a strategic decision to transfer point to point European routes that do not touch its hubs at Frankfurt and Munich to Germanwings. This process began in 2013 and has now been completed. However, as noted above, Germanwings is not sufficiently low cost and its pilots are covered by the same collective wage agreement as the mainline pilots. Lufthansa now plans to expand its use of Eurowings, whose pilots operate outside the collective agreement and whose unit cost is some 20% lower than that of Germanwings (according to Lufthansa).
Eurowings will assume the operation of 55 Germanwings routes at the start of the winter season on 25-Oct-2015 and Lufthansa has so far indicated that Eurowings will take over a further five routes in summer 2016. The expansion of Eurowings on both short haul and long haul should not only provide the group with more cost competitive operations in point to point markets, but should also increase Lufthansa's bargaining power with labour groups over the reform of labour practices and terms in its mainline operations (although its mainline pilots object to this, as noted above).
Moreover, the Eurowings brand will move into long haul markets, operated by SunExpress, a 50/50 joint venture company co-owned by Turkish Airlines. This new long haul low cost operation will launch six long haul destinations from Cologne/Bonn in summer 2016.
See related reports:
As noted above, Lufthansa also plans to develop a sub-fleet of wide bodies reconfigured to provide seating better adapted to point to point leisure routes. This will operate under the full service Lufthansa brand and so will not be a wholly new vehicle, but it is a further example of creating options for growth.
2. Lufthansa's cultural change is slow, but offers potential
In spite of the difficulties with persuading its pilots to embrace necessary change, strategic developments by the Lufthansa group in recent years demonstrate some capacity for its culture to evolve. An instinct to complain about new competitive business models as unfair (see below) suggests that it is not yet sufficiently focused on putting its own house in order, but the establishment of its new lower cost vehicles has at least given it some options in fighting this competition.
As Mr Spohr emphasised at the publication of Lufthansa's 2014 financial results, "sticking to uneconomical structures is not an option for our future". If he can persuade all labour groups of the need to accept and act upon this as a matter of urgency, Lufthansa may still have an opportunity to re-establish its competitiveness.
3. Greater Lufthansa group integration would provide greater efficiencies
The national airlines in the Lufthansa group continue to operate as distinct brands, each with its own fleet, operations and labour structures. Lufthansa itself, SWISS and Austrian (and Brussels Airlines, which is only 45% owned by Lufthansa and so strictly not part of the group) have all been part of the same group for almost six years, but the degree of integration appears to be less than seen at merged groups in North America (such as Delta after the acquisition of Northwest and the merger of United and Continental).
There are a host of historical and cultural reasons why integration within the Lufthansa group (and within other large European airline groups) has been slower. It is also true that progress has been made with the centralisation of certain administrative, financial and procurement functions. Nevertheless, a greater degree of integration would offer increased efficiency to the Lufthansa group.
THREATS
1. LCC competition remains
As noted above, Lufthansa is increasing its presence in the LCC segment of the market with Eurowings. However, Germanwings, its main brand in this segment until now, is not competitive on costs against Europe's leading LCCs and we do not have details of Eurowings unit cost. Growing LCC competition remains a threat to the Lufthansa group, particularly as competitors such as easyJet and Ryanair are now targeting the high yield business travellers that are vital to legacy airline profitability.
See related reports:
Lufthansa's biggest hub, Frankfurt, remains minimally penetrated by LCCs. However, penetration of the European short/medium haul market from Germany excluding Frankfurt and Munich by LCCs other than Germanwings was around 27% in 2014, according to CAPA research published in a previous report.
See related report: Germanwings has preserved Lufthansa's market share, but still has too many legacy issues for a LCC
2. Gulf competition is here to stay
As with LCC competition on short haul, competition in long haul markets from the Big Three Gulf carriers (Emirates, Qatar Airways and Etihad) and Lufthansa's Star Alliance partner Turkish Airlines is not going to go away. For example, Lufthansa's India network provides important feed through Frankfurt into its US network, but the more extensive India networks of Gulf based airlines is taking an increasing share of this traffic through their own hubs.
See related reports:
The Gulf carriers' network of secondary European cities is also taking Europe-Asia traffic that used to connect through Frankfurt. As noted above, Lufthansa has an extensive European network, but much of this is feed for its long haul network. The flipside to its strong European presence is that it is more vulnerable to the growing presence of the Gulf carriers, and of their European partners, in Lufthansa's hinterland.
Lufthansa is alone among Europe's Big Three legacy airline groups in not embracing Gulf competitors in some form (IAG codeshares with Qatar Airways, which it also brought into oneworld and which now also owns 10% of IAG: Air France-KLM codeshares with Etihad). By contrast, Lufthansa continues to be vocal about what it sees as unfair competition from Gulf-based airlines. Moreover, it withdrew from codeshare agreements with Turkish Airlines in 2013 (although the use of SunExpress to operate the new long haul Eurowings-branded routes suggests an improvement in its relationship with Turkish).
See related report: Lufthansa ends codesharing with Turkish Airlines. A full rift would mean new strategies for each
Perhaps the biggest threat: Lufthansa's protectionist instincts
Lufthansa CEO Carsten Spohr recently called for the renegotiation of bilateral air service agreements with the UAE and Qatar to protect against an "oligarchy" of carriers in the Gulf (Reuters, 17-Mar-2015). This was a further example of Lufthansa's instinct to call for protectionist barriers to defend against competitors with disruptive new business models.
Setting aside arguments concerning the validity of claims that the Gulf-based airlines are government subsidised and that they provide unfair competition, this instinct is a threat to Lufthansa because it implies that its mindset is not yet completely right.
It must devote all its energies to taking action to fight competition by restructuring its own operations and by developing relevant strategic partnerships. It is attempting to do these things more than at any time in the past, but must go further and fully overcome the damaging instinct to complain about unfair competition.
The simple fact is that, even if the Gulf carriers could be stopped or at least slowed down, there will always be a new competitor with a better way of doing things. In future it will come from China, maybe from somewhere else in Asia, or perhaps from a low cost European competitor. But it will come and Lufthansa should focus on self-improvement and not on seeking increased protectionism.