Lufthansa marginalises Air France in clever Alitalia move
So, now we know. When Chancellor Merkel and Italian Prime Minister Silvio Berlusconi sipped coffee and Chianti last week, they were really talking about Milan, not about Alitalia.
The new Lufthansa Italia will be based at Milan Malpensa Airport, operating short haul to European cities. According to Lufthansa, "the new airline blends traditional Lufthansa values, notably (= German) reliability and high quality, with Italian flair."
By committing to ensure a role for Malpensa (but not too much of a role just yet), Lufthansa entrenches itself as Sr Berlusconi's ticket for re-election. And the Italian PM can be a very helpful friend, adorned as he is too with a handy selection of media outlets.

While others around it have flourished, Malpensa has suffered greatly as Alitalia wound down its operations there over the past two years.
Milan Malpensa International Airport pax numbers and growth: Jan-07 to Oct-08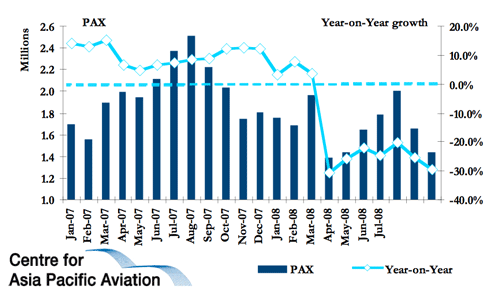 In making its move, Lufthansa significantly undermines the French/Air France-KLM bid for a minority share and partnership in CAI's residue of Alitalia.

First of all, Berlusconi's interest in a solution for the dying Alitalia becomes diluted, as he has now assured his power base in northern Italy that it will continue to be served by a major network airline. Lufthansa Italia offers a basis for a new Italian "flag" carrier, even if all else fails. There is nothing to stop Lufthansa selling down some of the ownership to local interests for example.

And secondly, by establishing a competing Italy-based airline in Milan, it makes life much more difficult for a re-energised Alitalia – in turn meaning that Lufthansa would be able to leverage any possible interest in Alitalia more effectively than would Air France-KLM. The Italian PM has ridden the populist anti-French wave very well so far, after the carrier's "arrogant" bid for Alitalia earlier in the year was rejected.

So, Air France-KLM's bid for the CAI partnership becomes much more contentious. From looking to be the natural purchaser and partner, the French team now finds itself in a seller's market once again, with the Lufthansa/Merkel/Berlusconi team on the other side.

Clearly, after Lufthansa's announcement, the German carrier will be favoured in Sr Berlusconi's discussions with his CAI white knights – at the same time, giving the big businessmen a little more negotiating room. Perhaps M. Sarkozy should be catching the train down to offer the Italian PM some vintage champagne, to help things along.

But the new airline does not immediately offer a renewed hub role for Malpensa. Despite statements by the airport management that this will now form part of Lufthansa's hub strategy, that does not necessarily mean it will become a hub. Indeed, with nearby Zurich and Vienna already flagged as hubs (apart from its home airports), Milan would only further dilute the flows which could be expected through them.

As the announcement stated, "with an initial fleet of six aircraft, Lufthansa will be offering the best of connections from northern Italy to major European destinations from February 2009". Connections to other hubs are very different from establishment of a new northern Italian hub.
The increasingly complicated juggling act that Lufthansa is playing, with its alliances and hub networking, has algebraically increased the risk of upsetting some part of the scheme. You simply cannot make every city in Europe a hub.
In the circumstances, it was therefore no surprise that Austrian Airlines' shares fell nearly 10% yesterday, either because of the likely impact that a Milan-based German/Italian airline would have on its operations, or because of rumours that the EC might have problems accepting Lufthansa's steep demand that Austrian's government owners must tip in the odd EUR500 million to cover the airline's debt.
Austrian Airlines share price: 03-Sep-08 to 26-Nov-08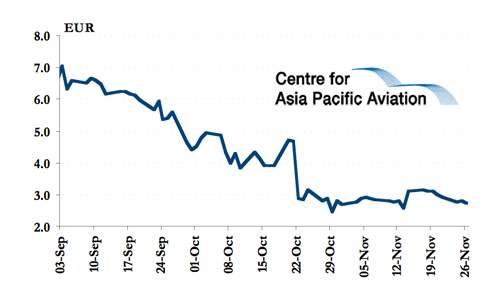 Here too, Air France-KLM might wish to pour a little fuel on the competitive fire, as skirmishes between the two continue across Europe.

Notably absent from these has been British Airways. But with the new APD tax on UK flights, Gordon Brown probably can no longer afford to fly down to Rome to exercise his Italian.